It is candy box time! And in our specialty kitchen store, we have an entire aisle devoted to various forms of candy molds. They range from silly and sweet to elegant and decadent. They also come in different materials – each one with a unique place for use in the kitchen. Have you seen this happy aisle? If not, you can see some of our options here. It gets us excited with every visit. And if you have been around here for any amount of time, you know we like filling our candy molds with chocolate!
Chocolate, when prepared properly, mimics the shape and texture of the mold you put it in. That is why so many chocolatiers are obsessed with taking care of their molds. They do not want them to scratch or wrap, because it will impact the result of their chocolates. And of course they only use the best. What molds work the best for chocolate and is one really better than another? Here is a breakdown of each material and the unique advantages and disadvantages you can expect from each one:
These heavy plastic molds are created for candy-making professionals looking for durable molds to help them create artisanal chocolates. With proper use, the polycarbonate mold does not warp or flex. It will maintain its shape with outstanding strength and stiffness. These molds are microwave, freezer, and dishwasher safe. And the chocolates come out so easily with just a couple of stiff raps on the counter. They are a bit more expensive and some people hesitate at the cost of these molds, but the truth is they are the easiest to use, last the longest, and produce the most beautiful confections time and time again.
High-grade silicone molds are super convenient and versatile. They are dishwasher safe, freezer safe, microwave safe, and oven safe. And the non-stick properties and flexibility make them perfect for easy release. They also come in such a fun selection of shapes including building blocks, robots, and rainbows. The main drawback of silicone is it is super flexible and isn't as easy to fill with a smooth finish. Silicone also holds onto the heat a little longer, and so it will take chocolate longer to firm and set up. It can also pull the chocolate out of temper and will take a bit of a learning curve if you haven't used them before. Another thing to keep in mind is that silicone can be more porous than other materials, so chocolates from these molds might look a little dull when you pull them out.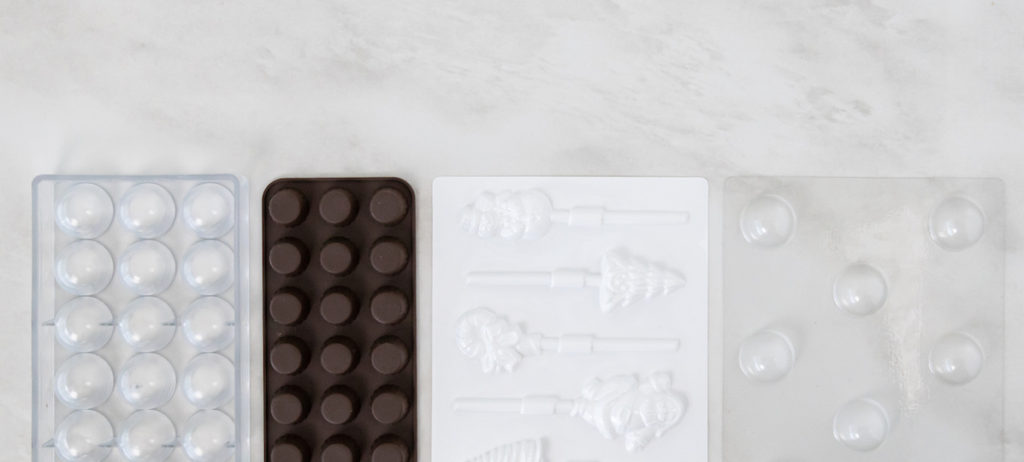 White plastic candy molds are known for use with hard candy. You can safely use these molds at hardball temperatures up to 350℉. You can even use them in the oven, as long as you adhere to the temperature ratings. They set up fast and clean up easily. And while you can use these molds for chocolate, we just don't like them as much because we can't see underneath to make sure all the spaces are full. So if you do use the white molds for your chocolate candy box, we recommend a couple of extra taps on the counter to make sure all of the chocolate has settled in the bottoms and there are no bubbles.
The majority of our candy molds in the store are made from FDA-approved clear plastic. Do NOT mistake these clear molds for our white, hard candy molds. If you fill the clear molds with liquid for hard candy suckers or put them in the oven, they will melt. The clear molds work best for gelatin, candy melts, and of course chocolate. And because they are clear, you can see every nook and cranny to make sure you have layered chocolate in all the right places. They are super easy to fill, and as long as you temper the chocolate properly, you don't need to season or grease the molds. The biggest difference we notice is the plastic molds are a little flimsy, and it can be tricky to finish and unmold the chocolate once it sets up. But, when done properly, the finished products all come out beautifully!
Candy molds are such a fun and easy way to make homemade goodies for family, friends, or neighbors. And they are the perfect tool for professionals and amateurs alike. Did you know you can use candy molds in a wide variety of applications too? The most common use is for food items like chocolates, candy melts, gelatin shapes, and ice cubes. But you can even use them for arts and crafts like homemade bath bombs, soaps, candles, and crayons. With the right candy molds, you can build on old traditions or establish some new ones of your own. And chocolate making with candy molds is a fun way to create memories in the kitchen. We can't wait to see what candy molds you decide to try out this season!