When working with cocoa powder, brownies are usually one of the first recipes to come to mind. Who doesn't love warm, gooey, chocolate goodness straight from the oven? But when the box recipes are so easy and delicious, very few people bother with making brownies from scratch. But the truth is, homemade brownies are super easy and can be just as delicious as long as you use the right ingredients. So we went on the hunt for a tasty and easy recipe for brownies made completely from scratch. We loved this recipe because it allows the flavor of the cocoa powder to shine. And now you can bring this classic to your kitchen with a few simple ingredients and take all the credit for yourself! It is also the best excuse to whip out your favorite Gygi brownie spatula.
For this recipe, you combine the dry ingredients in a large bowl and combine the wet ingredients in a medium bowl. And then add the wet ingredients to the dry ingredients. The batter will be pretty thick, but that is exactly what you want. And depending on the type of cocoa powder you use, these brownies can be rich and fudgy, or have a more mild flavor and lighter texture. We did test these brownies with different cocoa powders and the verdict was a bit of a surprise. So many people loved a natural cocoa powder for brownies to get that classic flavor. But the Dutch-processed cocoa powder also made some excellent brownies. During testing, we also found out that because this recipe doesn't call for any leavener, you can use whatever cocoa powder you have on hand.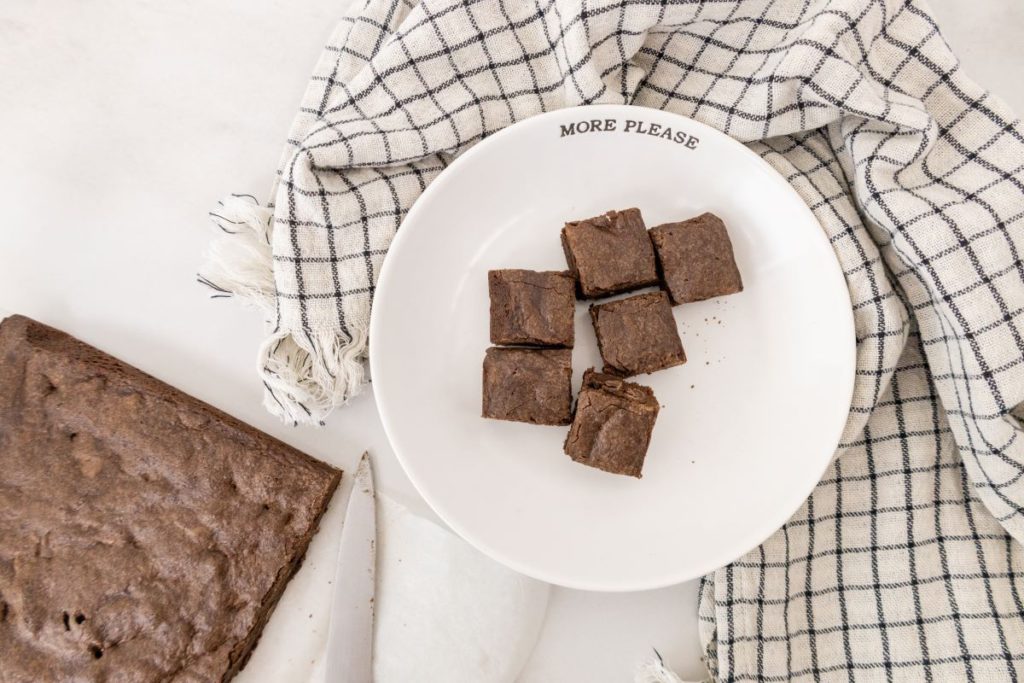 Print Recipe
Ingredients
1 cup granulated sugar (198g)
¾ cup flour (112g)
⅔ cup cocoa powder of your choice (54g) sifted
½ cup powdered sugar (58g) sifted
¾ tsp Kosher salt
2 large eggs room temp
½ cup butter (113g) melted
2 Tbsp water (30g)
1 tsp vanilla (5g)
Optional: ½ cup Ghirardelli semi-sweet chocolate chips (88g)
Optional Frosting
5 Tbsp unsalted butter (70g)
5 Tbsp unsweetened cocoa powder (45g)
1 Tbsp vanilla extract (15g)
2 Tbsp milk (27g)
1½ cups powdered sugar (200g)
Instructions
1

Preheat oven to 325℉. Prepare an 8x8" baking dish with cooking spray. Line with parchment paper and spray again.

2

In a large bowl, combine sugar, flour, cocoa powder, powdered sugar, salt, and chocolate chips.

3

In a medium bowl whisk eggs, butter, water, and vanilla.

4

Mix the wet ingredients into the dry ingredients just until combined. Batter will be pretty thick.

5

Pour the batter into prepared pan and smooth the top with a spatula.

6

Bake for 35-40 minutes, check for desired internal temperature, and cool completely before slicing. The longer you let the brownies cool, the firmer they will be.

7

For the frosting, melt butter in a microwave-safe bowl.

8

Sift in the cocoa powder and beat with a hand mixer until smooth.

9

Stir in the vanilla and milk until completely combined.

10

Slowly add the powdered sugar until incorporated, then beat with the hand mixer on medium speed for about 1 minute until the mixture is creamy and smooth.

11

Use immediately on cooled brownies. Or store covered at room temperature for up to 24 hours.
Notes
Note: How do you tell when brownies are done? You can try the toothpick and crumb trick, but we prefer something a little more exact. The internal temperature will tell you what type of brownie you are going to get. Baking to 165℉ will create a ooey-gooey brownies, 190-200℉ fudgy brownies, and 210℉ firmer, cake-like brownies. How long should you let your brownies cool? We don't know. We have never made it that far.