There is absolutely nothing wrong with a basic brownie. They are the perfect little dessert if you are looking for something easy and delicious. But every once in a while we need to change things up. And there is something so decadent and luxurious about red velvet that makes us swoon every, single, time. The gorgeous red coloring, the irresistible flavor, the smooth spread of cream cheese frosting–we are obsessed! And getting it in brownie form? Pure heaven. If you are a fan of red velvet too and are looking to mix things up, here is a perfect recipe for red velvet brownies. Even if you are not used to making brownies from scratch, you can nail this recipe and you absolutely must try it!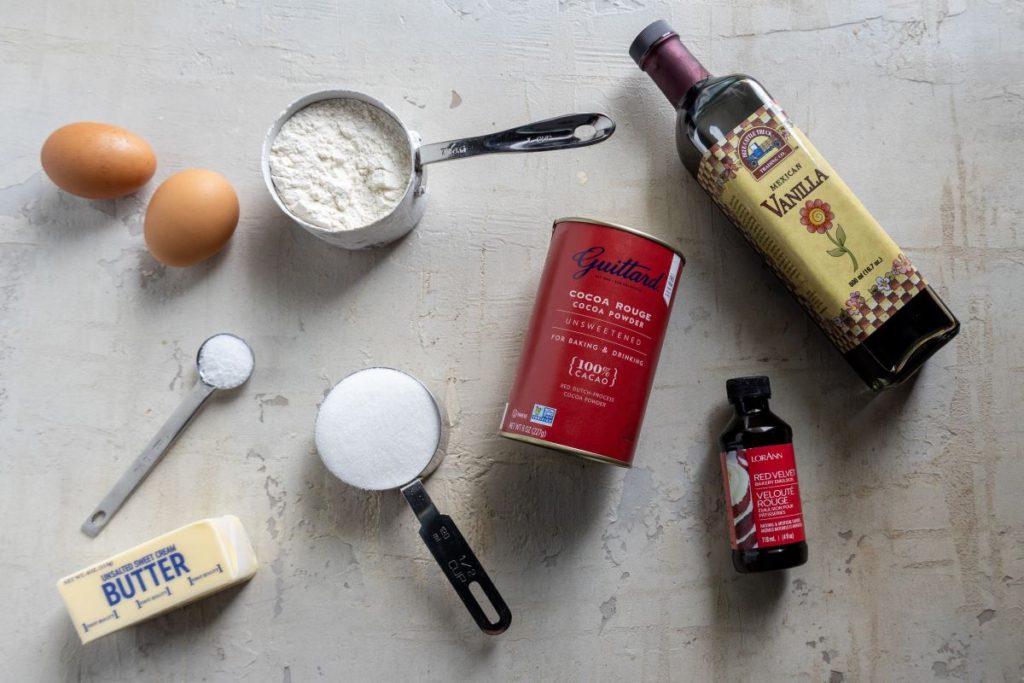 What makes these red velvet brownies so tasty? One–we use Guittard Cocoa Rouge cocoa powder. You can swap for a different Dutch cocoa powder of your choice, but the Cocoa Rouge already has a bit of a reddish tint to it, making it perfect for red velvet. It also has a higher percentage of fat (22-24%), to help add some moisture and density to the brownies. And the flavor of this cocoa powder is very subtle, so it is the perfect dessert for people who aren't as interested in fudgy, chocolate flavor. Two–we also use the LorAnn Bakery Emulsion in Red Velvet Emulsion for both color and flavor. This key ingredient has a touch of sweetness to it that is so unique and will make the velvety flavor stand apart from any other kind of brownie you have tasted. And the color is absolutely stunning.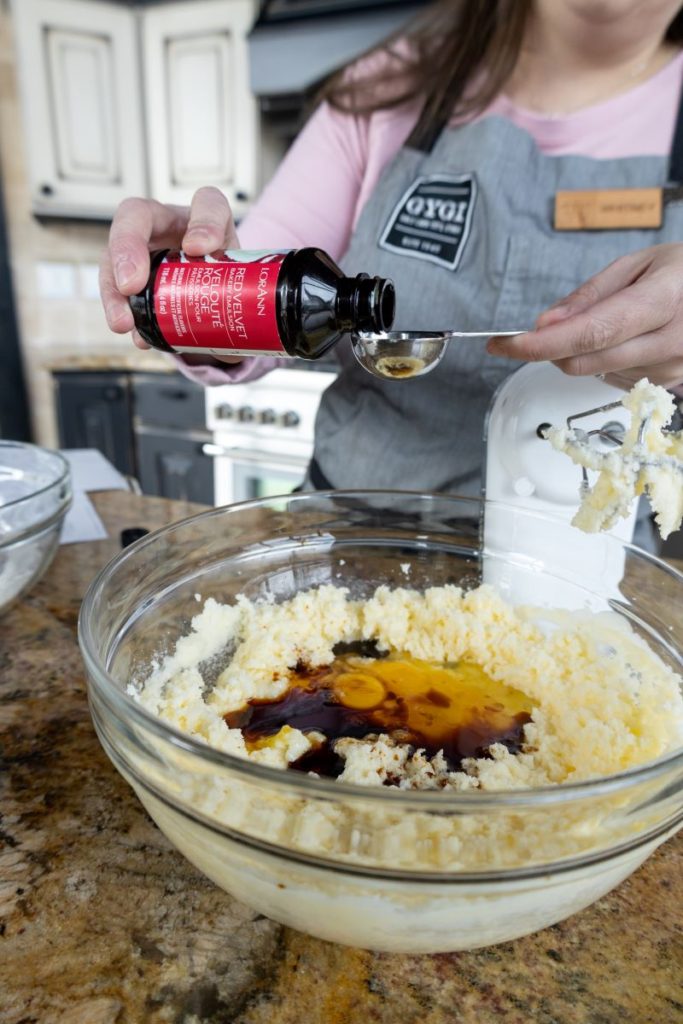 This recipe makes a thicker brownie batter and the consistency might surprise you if you are accustomed to making your brownies from a box. That is because this from-scratch recipe has a bit more flour in it so the brownies will hold up better under the weight of the cream cheese frosting. Just be sure you do not overmix the batter. As soon as you combine the wet and the dry ingredients you want to mix them by hand until just combined.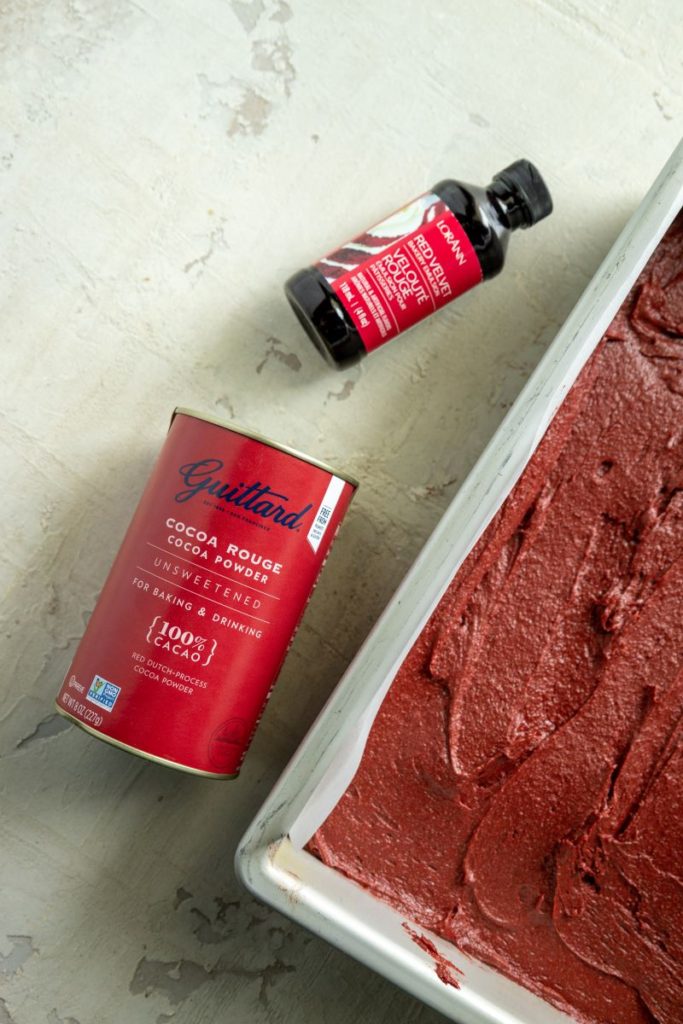 And sure, these brownies are really good on their own. But the cream cheese frosting really takes them to the next level. They would be super fun to dress up for different holidays and occasions (think Valentine's Day, 4th of July, and Christmas). And let's be real, they are absolutely delicious and received rave reviews. We can't wait to see what you think of them.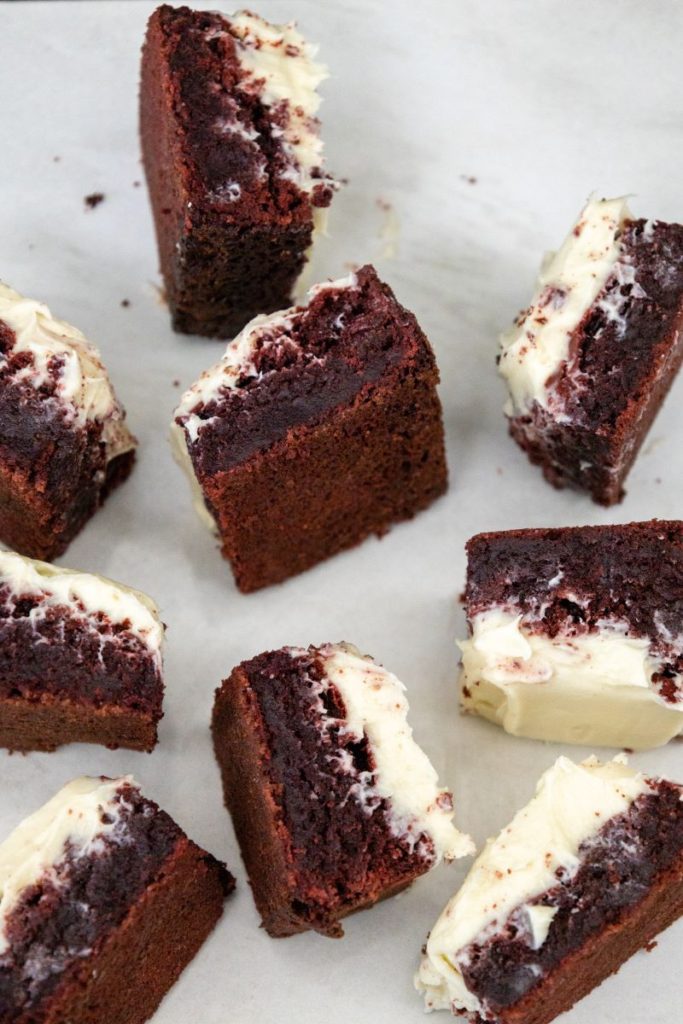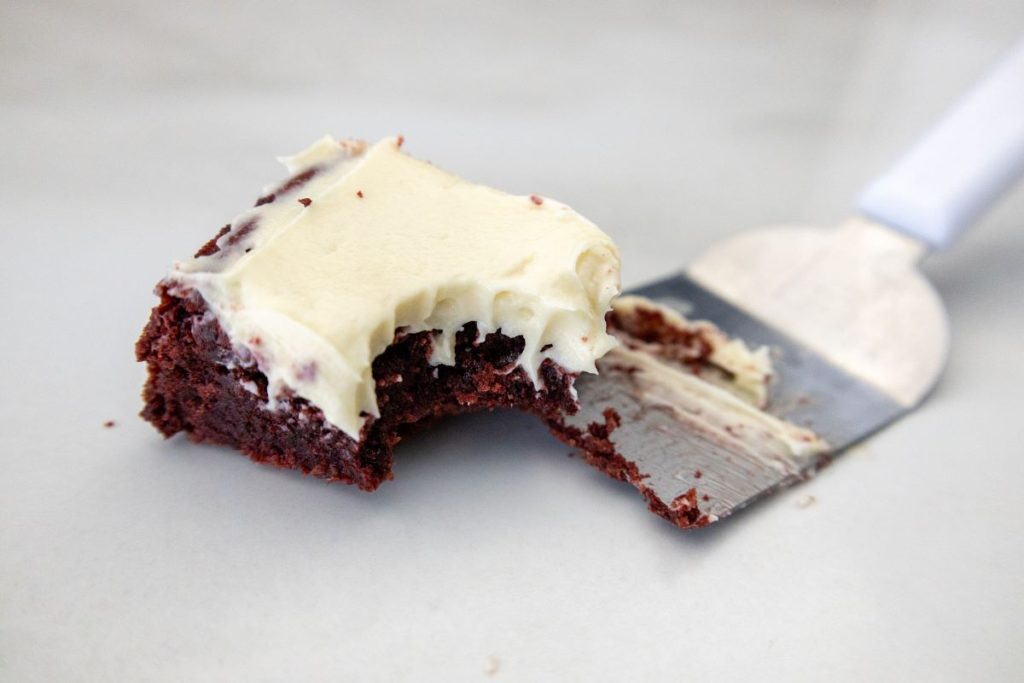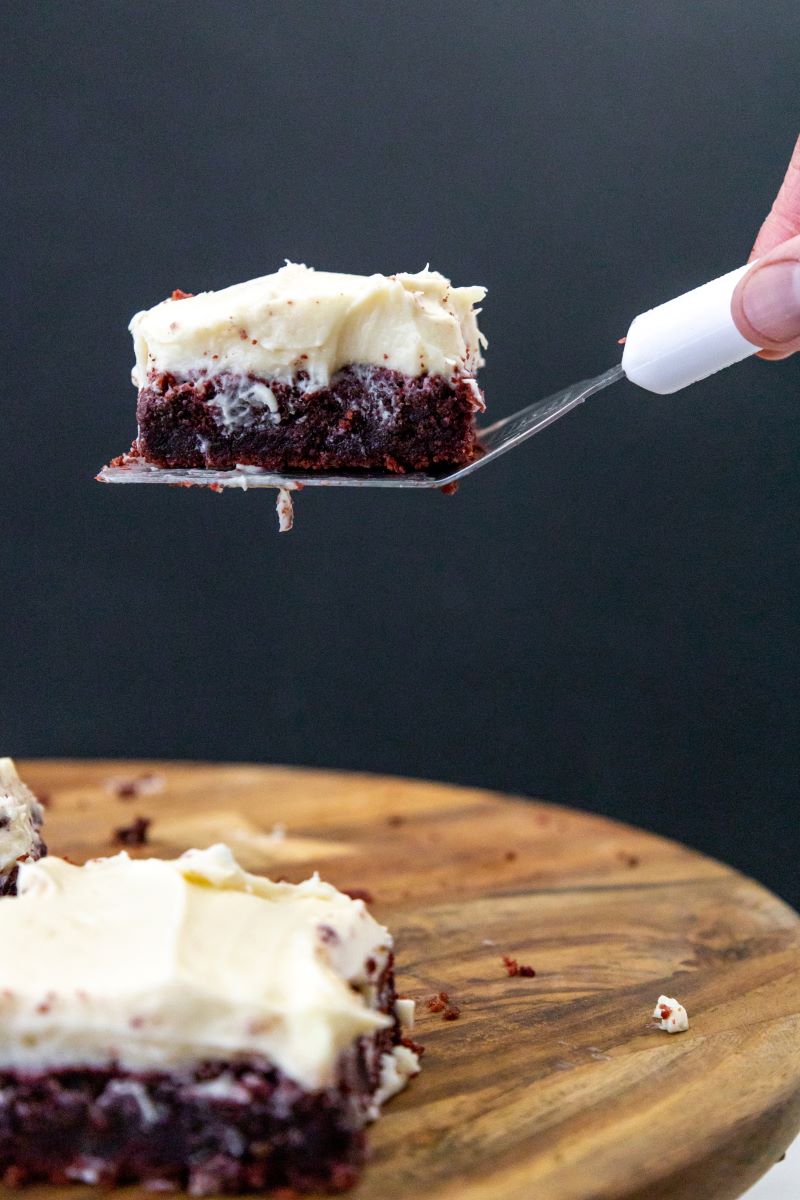 Print Recipe
Ingredients
FOR THE BROWNIES
1 ½ cups unsalted butter (melted)
3 cups granulated sugar
4 eggs
2 Tbsp LorAnn Bakery Red Velvet emulsion
4 tsp vanilla extract
2 cups all purpose flour
½ cup Guittard Cocoa Rouge cocoa powder
½ tsp salt
FOR THE FROSTING
½ cup unsalted butter (room temperature)
8 oz cream cheese (room temperature)
2 cups powdered sugar
1 tsp vanilla extract
Instructions
2

Preheat the oven to 350℉. Prepare a 9x13" pan with cooking spray and parchment paper and set aside.

3

In a large bowl mix melted butter and sugar until well combined. Add in the eggs, Red Velvet emulsion, and vanilla extract and mix until well combined. (Whipping the eggs a little more here can help give your brownies a taller rise.)

4

In a smaller bowl combine the flour, cocoa powder, and salt.

5

Pour the dry ingredients into the wet ingredients and mix until just combined and there are no more flour streaks in the bowl (do not overmix the batter).

6

Transfer batter into prepared pan and bake at 350℉ for 35-40 minutes.

7

Remove from oven and allow brownies 30 minutes to fully cool and set in the pan.

9

In a large bowl, beat butter and cream cheese together until smooth. Sift in the powdered sugar and continue mixing until smooth consistency. Add vanilla and salt, mixing until completely combined.

10

Make sure brownies are fully cooled before spreading the cream cheese frosting on top. Cut and enjoy!
Notes
Because the frosting has cream cheese in it, these brownies do need to be stored in the refrigerator after icing.