Chocolate chips! Something you should absolutely have in your pantry at all times. No excuses. And now there are so many different types and sizes for baking chips–you definitely need more than one bag. Minis, morsels, jumbos, chunks. Oh my! So how do you know which size chip to use in your bakes and when? Does it even matter? Well, yes and no. And friends don't let friends bake with the wrong chips. So we are here to help you decode that massive selection of sizes for baking chips so you can purchase and bake with confidence.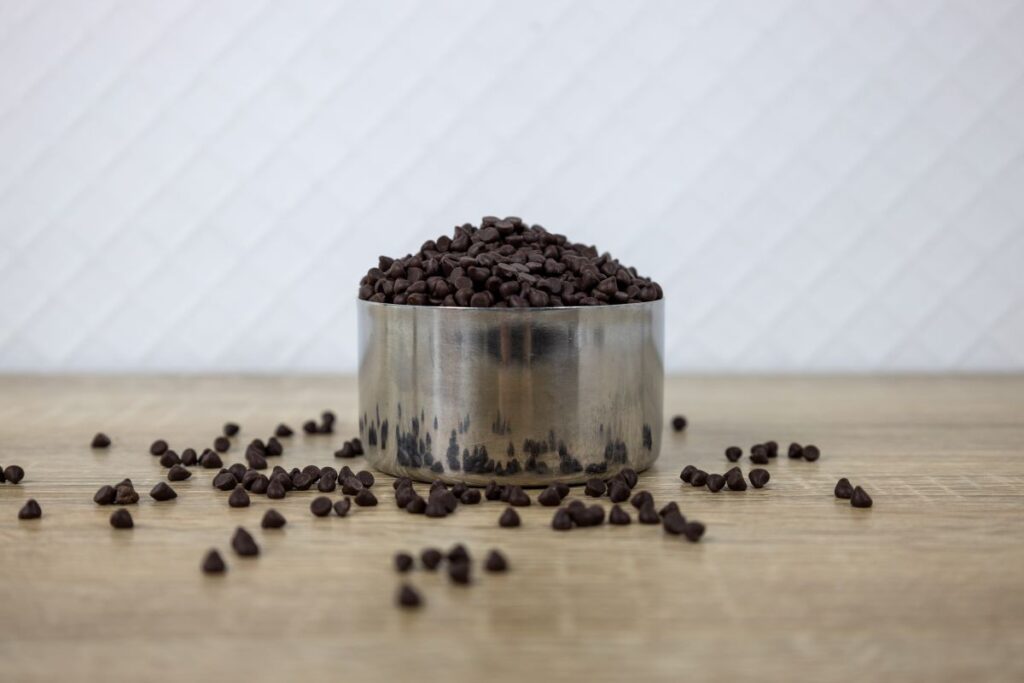 Mini Baking Chips
Let's start with mini baking chips because they are so dang cute! We love these tiny little buddies and use them in a variety of different bakes. Sizes for mini chips range from 4,000 to 10,000 chips per pound (we even have micros as small as 30,000 chips per pound). These mini chips are perfect for miniature-sized baked goods or anything that needs to be sliced like biscotti, bread, etc. Why? Because where larger chips can get hung up on the knife and end up tearing the dough, mini chips can sneakily slide out of the way. And because they melt fast and evenly, mini chips are great when you need to sprinkle them over the top of a warm bake and allow them to melt with the residual heat. Lastly, mini chips are perfect if you want to sprinkle chocolate chips on top of something as a garnish, like on frosted cupcakes or cannoli. 
Tip: When substituting mini chocolate chips for standard-sized chips in a recipe, reduce the amount by about ⅓, that way you can maintain the same amount of chocolate by volume.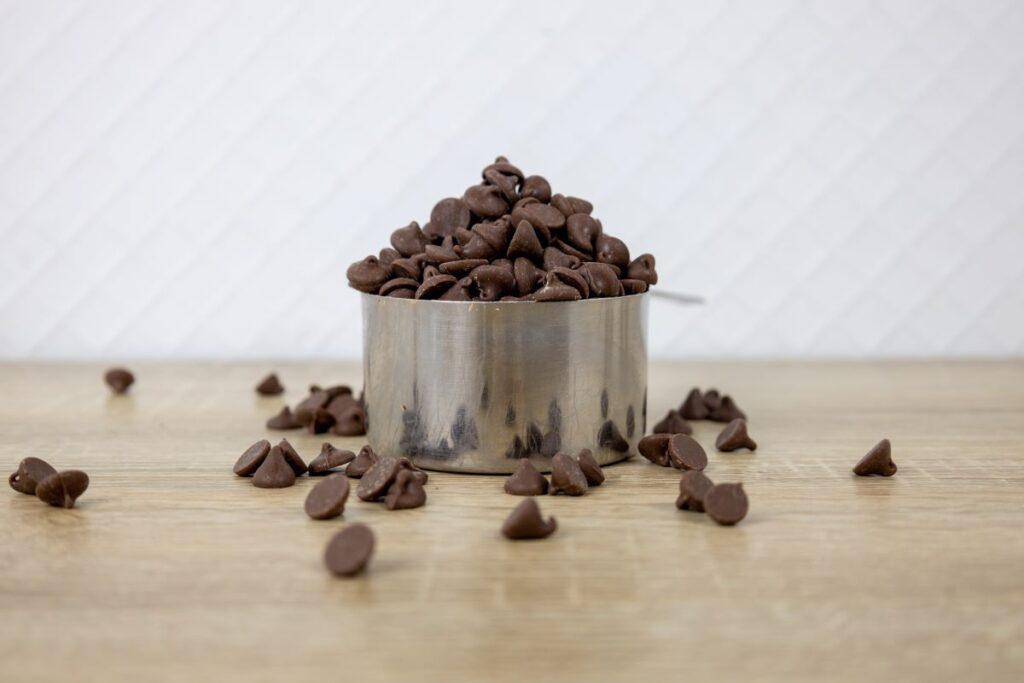 Standard Baking Chips
These are the one-size-fits-all solution that bakers have been using for ages. The O.G. size baking chips range from 800 to 1,000 chips per pound. They have been the golden mean for decades–and for good reason. These perfectly shaped little drops are just small enough to soften in our baked goods, but still hold their shape when cooled. And they pack that perfect bite-sized flavor we crave in every classic chocolate chip cookie. These chips are great for muffins, chocolate chip pancakes, brownies, and banana bread. Also, something to consider, if you are making something in bulk for a big party or office gathering, the standard chip will be the most affordable addition.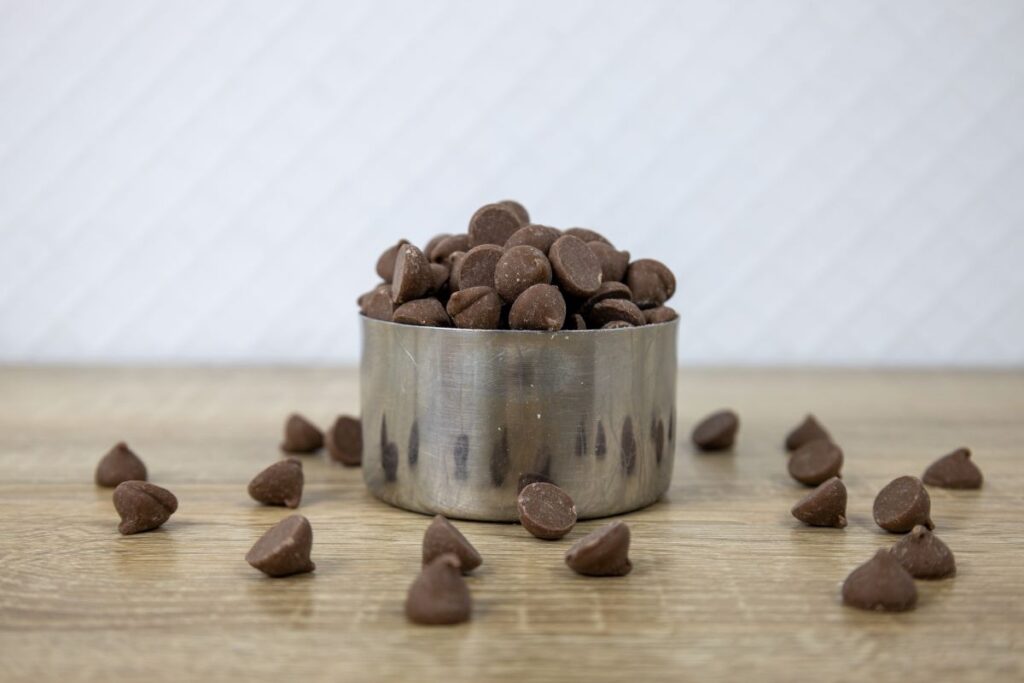 Jumbo Baking Chips
Size doesn't always matter, but when it comes to chocolate chips, there are instances where the jumbo chips really are better. These chips can be two to three times bigger than a standard chip and usually range from about 200 to 700 chips per pound. And, as you can guess, these jumbo chips work best in chunkier recipes combined with chunkier ingredients, like oats and coconut. Making a thumbprint cookie? Jumbo chips are perfect for that. Not as big as a kiss-style chocolate candy, but still grand. 
Tip: When substituting jumbo chips for standard-size chips you might want to increase the amount by ⅓, so you can have the same chocolate to dough or batter ratio.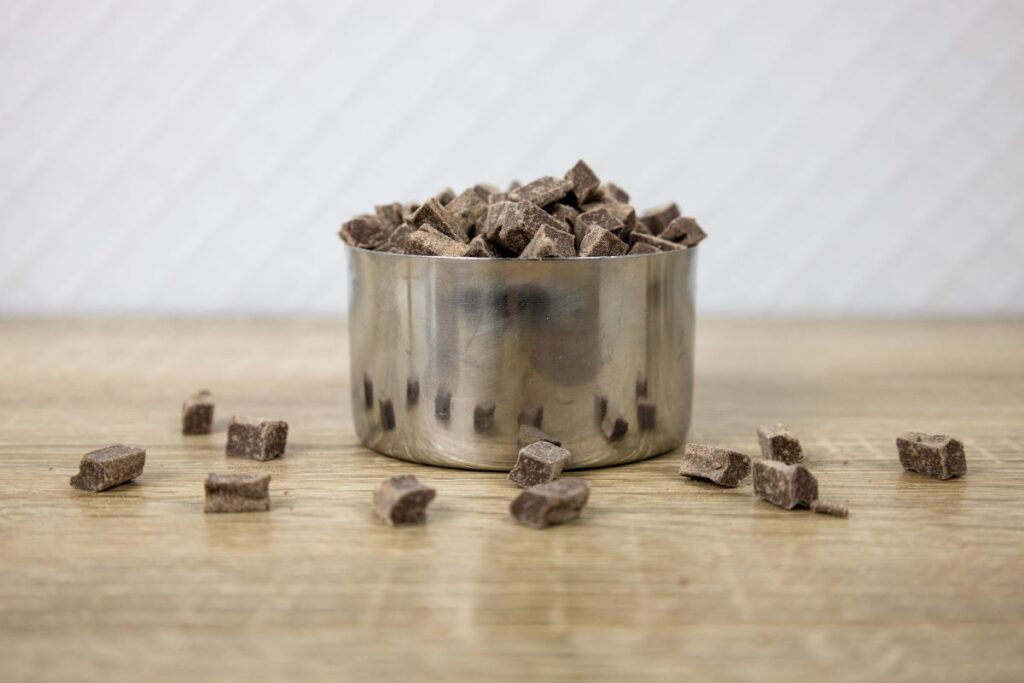 Chocolate Chunks
These thick, rectangular baking chips are best for when you want some seriously chunky, crunchy, and intense chocolate in your bake. The sizes are between the standard and the jumbo, so probably about 800 to 500 pieces per pound. Those inch-thick cookies that are all the rage right now are the perfect place for chocolate chunks. Home bakers also use these baking chips in delicious chocolate sourdough for pockets of incredible chocolate flavor–the perfect sweet to counterbalance the tang of the dough. We also love to add chocolate chunks to our favorite trail mix because they are the most delicious size for snatching and snacking. 
Swapping baking chips of different sizes is a fun and easy way to experiment with your favorite recipes. Try jumbo chips in your cookies or mini chips in your breads and figure out what works best in your kitchen.
Shop our full selection of baking chips HERE.