We love peach season. (Have you heard the song? "Peaches, peaches, peaches, peaches, peaches.") And even though it isn't here quite yet, we wanted to get a jump on one of our favorite seasonal fruits. That way, when the time does officially come around later this summer, we would be ready to go. We wanted something light and decadent that was full of fresh flavor. So we adapted a recipe we found from Cake by Courtney and decided to make an olive oil ricotta Bundt with peaches.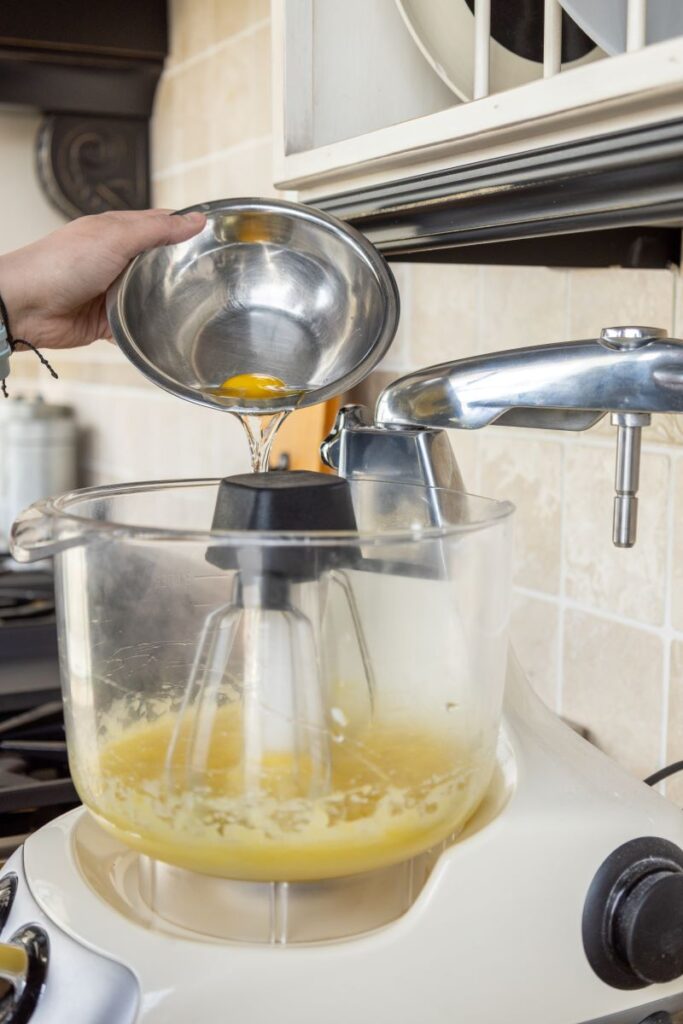 Using ricotta makes the cake so creamy and delicious. It also helps with the rise and moisture content of the cake. The recipe also has some lemon zest to really bring out the fresh flavor of the cake and the fruit. We knew right away this would be a crowd favorite. And we could not wait to get in the kitchen and give it a try.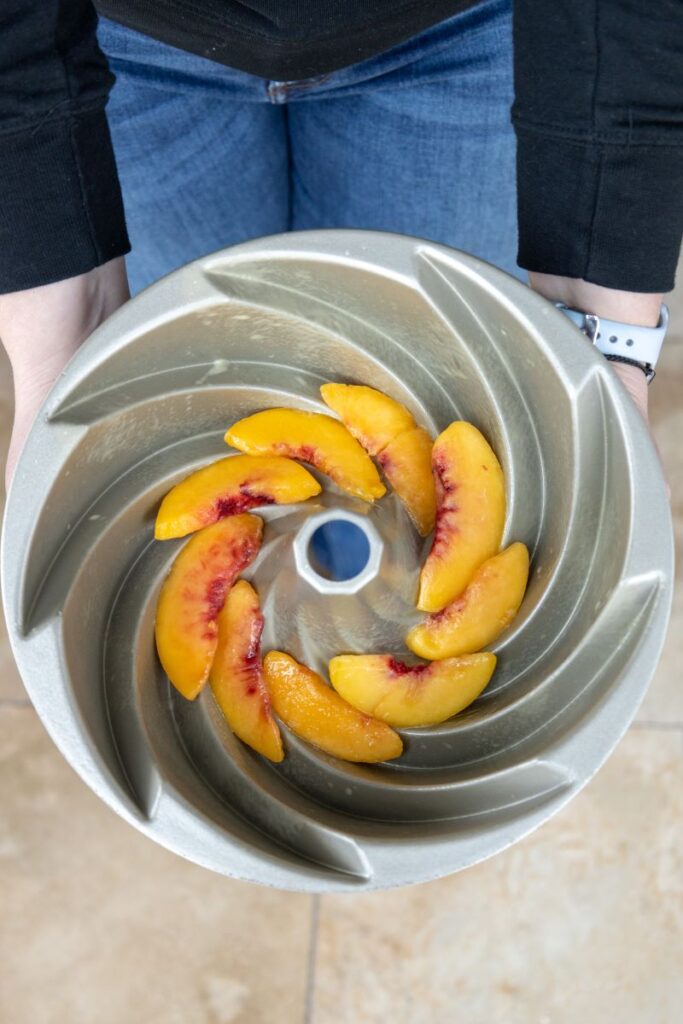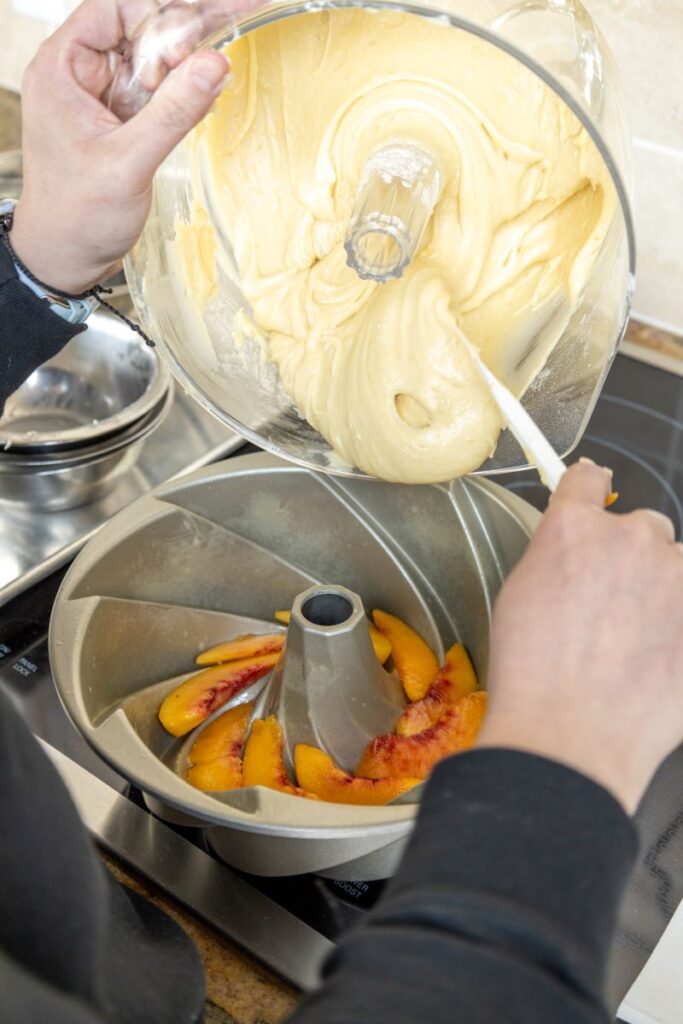 We chose the Heritage Bundt pan because it would allow us to place peach slices into the very top sections of the form–kind of like a pineapple upside down cake. (Sorry! Our 10 cup Heritage pan sold out, but we do have the 6 cup Heritage Bundt pan). You could also use the Brilliance Bundt pan or Swirl Bundt pan for this amazing cake.
You can imagine that when it came time to turn the cake out of the pan, we were all holding our breath. But, as you can see, it came out perfectly! We were almost struck dead by the gorgeous simplicity of this cake. And the flavors were absolute perfection together. If you are going to try your hand at a Bundt cake, we highly recommend this recipe for an Olive Oil Ricotta Bundt.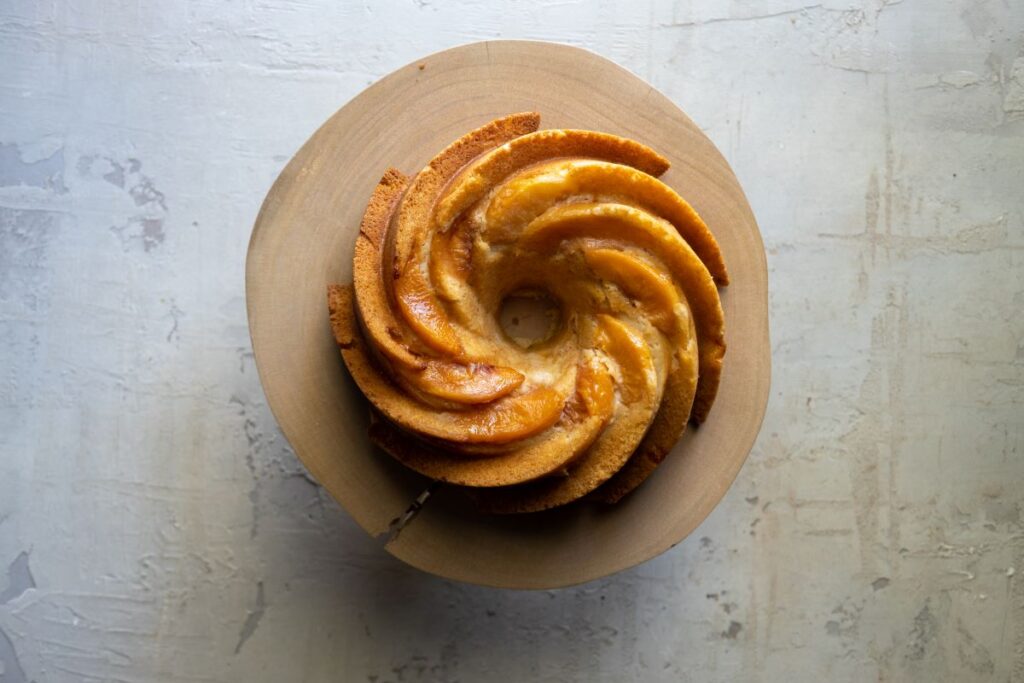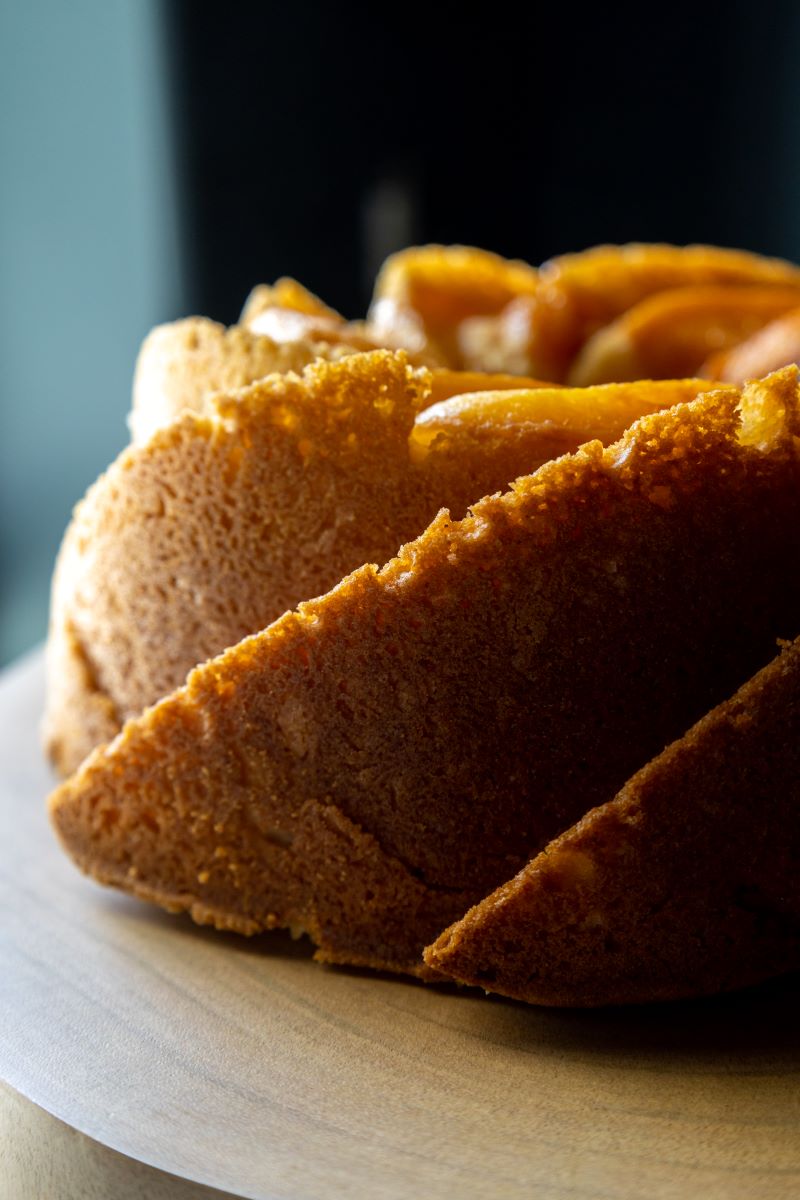 Print Recipe
Olive Oil Ricotta Bundt Cake with Peaches
Ingredients
3 cups all-purpose flour
3 tsp baking powder
1 tsp salt
1 cup olive oil
1 ¾ cups granulated sugar
3 eggs (room temperature)
1 Tbsp lemon zest (about one large lemon)
2 cups ricotta cheese (room temp)
2 peaches sliced
Instructions
2

In a medium mixing bowl, whisk together flour, baking powder and salt. Set aside.

3

In a mixer fitted with paddle attachment, cream olive oil and sugar on medium speed for one minute. Stir in lemon zest.

4

Add eggs, one at a time, until incorporated. Scrape down the sides of bowl.

5

With mixer on low, alternately add flour mixture and ricotta, starting and finishing with flour. Combine until incorporated.

6

Prepare 10 cup Bundt pan.

7

Place a peach slice in the bottom of each section of the Bundt pan. Evenly distribute half of the batter into pan.

8

Slice remaining peaches into smaller pieces and layer on top of batter in the pan. Pour remaining batter into pan and smooth surface with spatula.

9

Bake for 35 to 40 minutes or until a toothpick inserted in center of cake comes out with just a few moist crumbs.

10

Let cool in pan 10 minutes before inverting onto a wire rack covered with parchment. Cool completely before slicing and serving.