St. Patrick's Day is this Saturday, and it can be tough to put together some quick, easy last minute treats. Luckily, our very own Heather Smith came up with this fun, simple idea. Take it away Heather!
If all the amazing things on Pinterest have overwhelmed you and made you decide not to do anything, I have put together some super SUPER easy ways to celebrate.
I promise they are quick, easy and yummy! Ready?
Shamrock Popcorn
Ingredients:
2 cups unpopped popcorn seed
3 cups green chocolate
1 cup white chocolate
Equipment Needed:
Mixing Bowl
Spatula
2 cookie sheets
Parchment paper
Let's get started!
Using a hot air popper, pop your seed. Gygi's has this amazing seed that is made for this. It doesn't have the little sides that poke off and break when coating. It's amazing. Just trust me.
But since I promised this would be easy, you can use microwave popcorn. It will be a little soggy, if there is butter on the popcorn, but it will work.
Pop into a large mixing bowl.
While your seed is popping, melt your green chocolate in the microwave using the 20 second rule.
Pour all the melted green chocolate into your bowl of popped popcorn. Gently toss, coating all the pieces.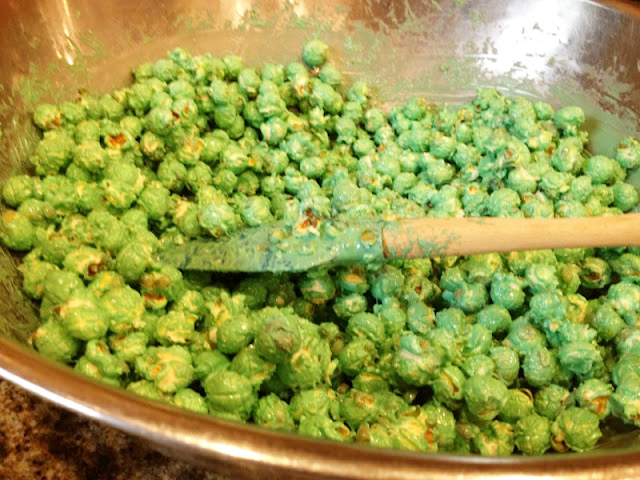 After it has been coated line a cookie sheet with parchment. For this recipe you will need two cookie sheets.
Pour your chocolate coated popcorn onto the cookie sheet and spread into a single layer and allow it it harden.
Melt some of the white chocolate the same way you melted the green. Once melted, drizzle it across the green popcorn making yummy swirls of white chocolate goodness.
Allow that to harden all the way, break into pieces and put into the cutest bags I have ever seen.
Now you have the gold at the end of the rainbow! Enjoy!