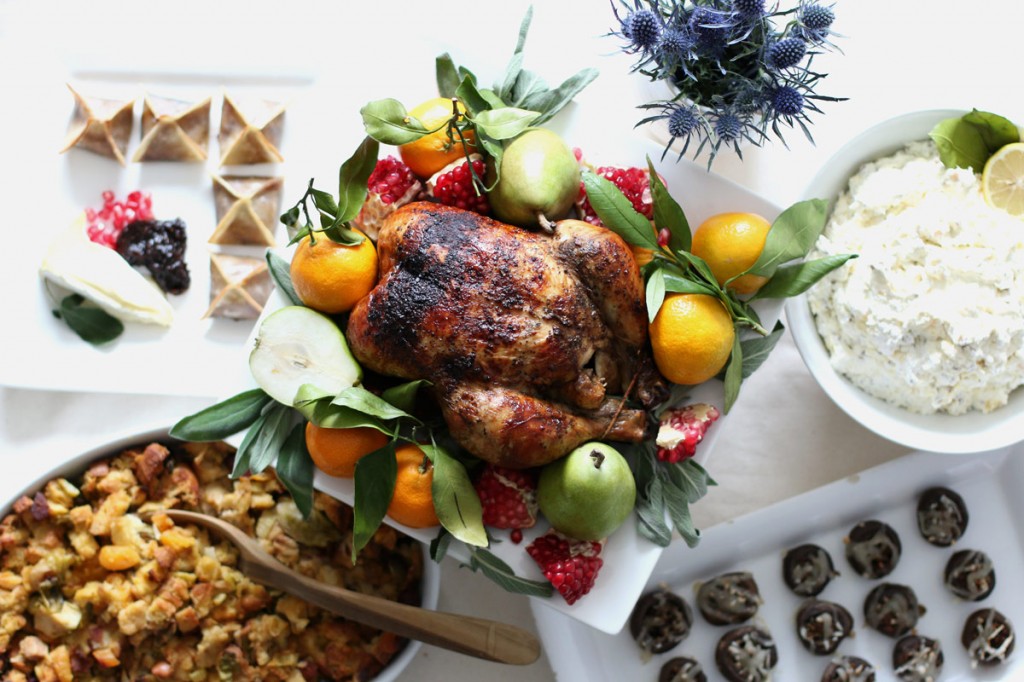 Typically, a beautifully browned turkey gets all the attention when it comes to Thanksgiving. It's tradition, and most people wouldn't dream of celebrating the biggest food holiday of the year without this classic main dish. But when we asked our Gygi community what their favorite part of Thanksgiving dinner is, they all answered with a side dish! It just goes to show you that people come for the turkey and stay for the sides.
This year, we've got two side dishes we think you'll love. First, we put a spin on classic stuffing by using sourdough bread as the base and layering it with less traditional flavors, like Brussels sprouts, bacon, and dried apricot. Then we get nostalgic with a wheat salad that's a familiar and loved dish at many Utah tables. Give these a try and see if you end up with a new Thanksgiving tradition of your own.
What you'll need for the Apple, Bacon, & Brussels Sprouts Stuffing

(Serves 12)
5 slices thick-cut bacon (cooked and chopped)
1 lb of toasted/dried sourdough pieces
1 pound brussels sprouts, halved
1 medium gala apple, cut into a 1/2 inch dice
1 handful of hazelnuts
1/2 cup (1 stick) unsalted butter, plus more for the pan
1 cup of chopped up dried apricots
2 Tbs of olive oil
2 stalks celery, chopped
2 medium onions, chopped
2 tablespoons fresh sage, chopped
2 2/12 to 3 cups low-sodium chicken broth
3 large eggs, lightly beaten
Preheat oven temperature to 375° F.
Melt the butter in a skillet over medium heat. Add the diced celery and onions. Cook, stirring occasionally, until tender (10 to 12 minutes). Stir in the sage and ransfer to a large mixing bowl with the bread.
Meanwhile, saute the Brussels sprouts, apples, and hazelnuts in a skillet with a bit of olive oil. Cook until Brussels sprouts are tender (about 15 minutes). Add to the bowl with the bread. Also add in the dried apricots and bacon.
Combine 2 1/2 cups of the broth and the eggs in a medium bowl. Pour over the bread mixture and stir. Let sit, tossing occasionally, until the liquid is absorbed, 5 to 10 minutes. Add more broth if the bread isn't moist.
Transfer the stuffing to a buttered baking dish. Cover with foil and bake until heated through, 30 to 35 minutes. Uncover and bake on the top rack until the top is browned and crisp, 30 to 40 minutes more.
What you'll need for the Pineapple Wheat Salad
(Recipe from allrecipes.com)
Serves 10
1 1/2 cups whole wheat berries
1 (8 ounce) package cream cheese, softened
1 (15.25 ounce) can crushed pineapple in juice, drained
2 tbsp lemon juice
1 (3.4 ounce) package instant vanilla pudding mix
1 (8 ounce) tub frozen whipped topping, thawed
Soak wheat berries in a bowl of water for at least 5 hours or overnight. Drain and place in a slow cooker with enough water to cover by one inch. Cover, and cook on low for 5 to 6 hours, until tender. Add more water if needed. When tender, drain, and rinse under cold water to chill.
In a large bowl, stir together the cream cheese, pineapple and lemon juice. Stir in the dry pudding mix until smooth. Stir in the wheat berries until evenly coated. Fold in whipped topping just before serving. Transfer to a serving bowl. Refrigerate leftovers.
While messing with tradition too much could cause some people to riot (or maybe that's just at my house), side dishes are the perfect place to try new flavors and combinations. You might even surprised someone with a new favorite dish!
Tomorrow, we'll be offering up a couple last minute appetizer recipes you can throw together in no time, so be sure to check back so you don't miss out!