This year's Chocolate Extravaganza was a huge success! We had so much fun mingling with all of you that attended and learning chocolate tips and recipes from the amazing experts that taught the courses. It was too much fun to keep to ourselves, so we've rounded up tips and recipes from the event!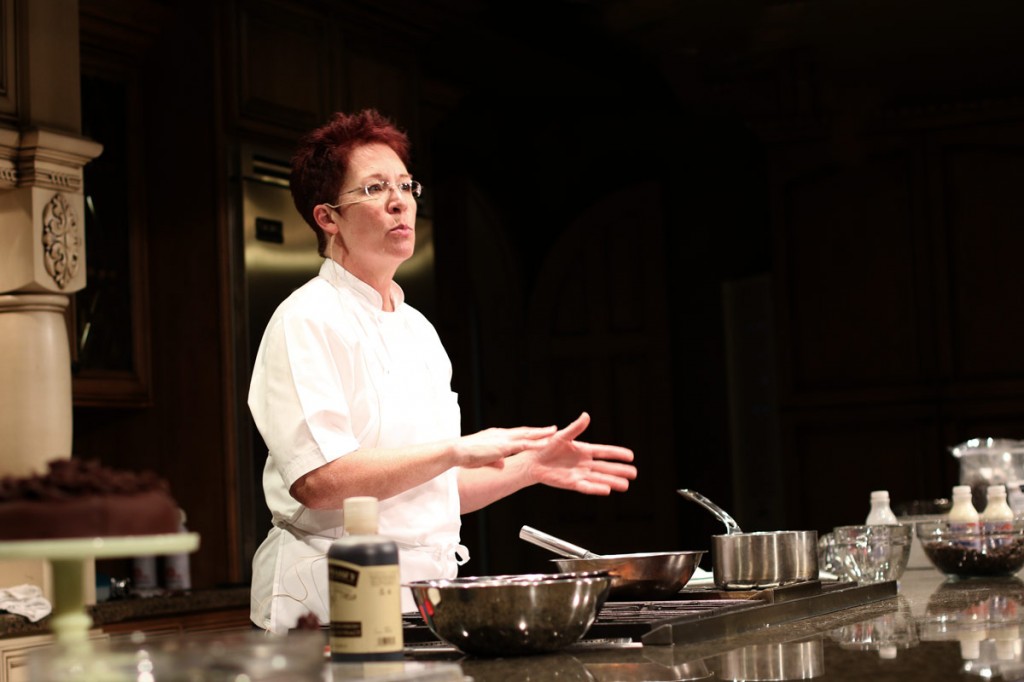 We kept rockstar chef Rebecca Millican quite busy during the Extravaganza as she dropped some serious chocolate knowledge in several different classes. First, she showed attendees how to make and use modeling chocolate to take their desserts up a notch. Using one pound of chocolate for every five fluid ounces of corn syrup, you end up with chocolate that's similar in texture to tootsie rolls. This can then be manipulated into any shape you want. Rebecca suggested using a pasta maker to flatten the modeling chocolate for a smooth, even appearance.
Next, Rebecca taught everyone about the versatility of ganache. Ganache is simple to make; simply bring cream to a boil and pour over wafers in a glass bowl and stir until completely melted. For a pourable sauce consistency, use a 1:1 ratio of chocolate to cream. For a thicker consistency that's good for truffles, use a 2:1 ratio of chocolate to cream. Simple and delicious!
Baking with chocolate is very different than melting with chocolate, and Rebecca went over the best ways to bake with chocolate and which cocoa powders are best with baking. To demonstrate, she made three different types of brownies, which everyone got to taste! Click the links below to print each recipe.
Finally, Rebecca showed us how to make classic holiday bark with peppermint and nuts. It's easier than you think and makes perfect gift! You can find the recipe here.
Cookie experts, Jeanette & Laurie from Sugarbliss Cookies, showed off their cookie decorating skills and spilled tons of secrets on how to make your sugar cookies look too pretty to eat! Start with your favorite sugar cookie recipe (we love this one) and this basic royal icing recipe. Then check out these great tips and get decorating!
Line cookies with icing the consistency of toothpaste and fill with icing the consistency of shampoo.
Use a small (#1.5 or #2) decorating tip to line the cookies more easily.
For a straighter line, hold the piping tip (or squeeze bottle tip) about an inch above the cookie.
For smooth icing, you want the "filler" icing to pillow up a bit on the cookie.
Always have a wet paper towel nearby to wipe off the cake tips as the frosting starts to dry and clump.
Use a boo boo stick (yes, that's actually what they're called) or a toothpick to pop air bubbles in order to give your cookies a smooth finish.
Allow the icing to dry completely between layers. (Speed this process up by putting them under a warm fan on low for 10-15 minutes.)
Leftover frosting will last for quite a while, though for best results they suggest using it within a week.
Using flavor emulsions for cookie dough instead of extract keeps the flavor from evaporating while baking.
When flavoring icing, flavoring oils are best because they don't water down the consistency of the icing.
Bonus tip: Make chocolate flavored sugar cookies so they look like adorable little chocolates.
A big, HUGE thanks to everyone who attended this year's Chocolate Extravaganza and to all the amazing instructors who shared their knowledge! We'd love to hear what you thought of the event, so let us know in the comments!
P.S. Be sure to check out more pictures from this year's event over on our Facebook page!