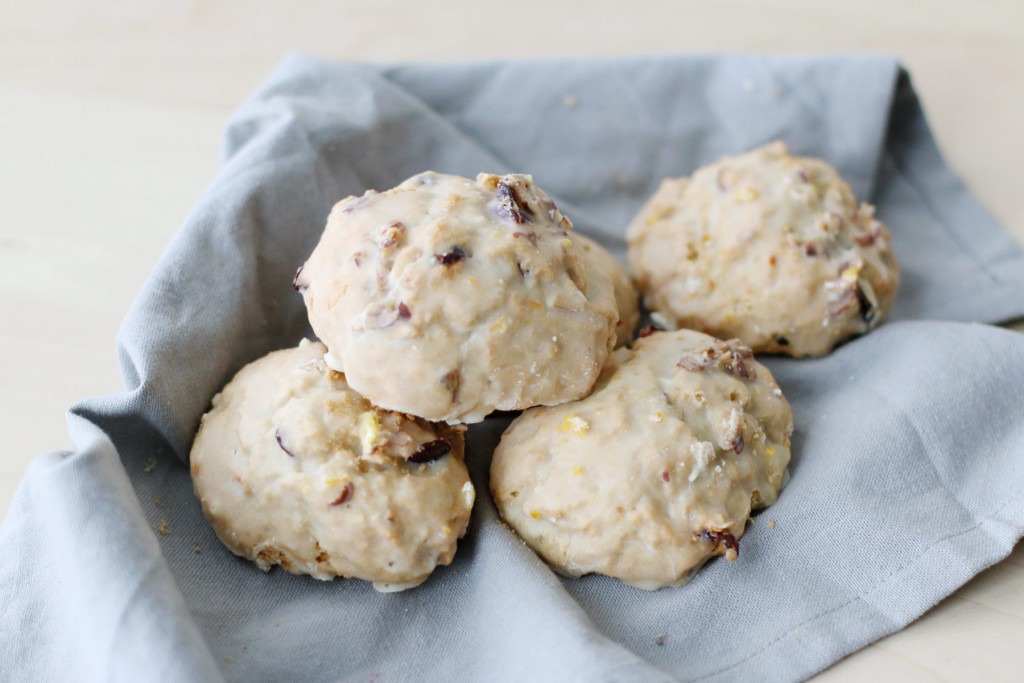 It's brunch, dessert, and breakfast on the go – it's cranberry orange scones! In Utah, we tend to associate scones with fried bread. However, these babies are real deal scones that you'd eat with the Queen. They're taste like a dense, buttery biscuit with sophisticated flavors. Master the recipe in time for Easter, Mother's Day, and more!
You can use biscuit cutters to make cute round scones, or roll out your dough to a large 1″ thick circle and cut up slices like a piece of pie.
Ingredients
2 cups fresh cranberries
4 3/4 cups (24oz/680g) of flour
1 tablespoon (15ml) baking powder
3/4 teaspoon (3.75ml) baking soda
1/2 cup (3.5oz/100g) sugar
1 1/4 teaspoon (6.25ml) salt (I use table salt)
1 teaspoon (5ml) grated orange zest, optional
1 cup plus 1 tablespoon (9oz/255g) cold, unsalted butter
1 1/2 cups (12oz/375ml) buttermilk plus more as needed
3 tablespoons (45ml) melted butter

Orange Glaze

2/3 Cup Powdered Sugar
1 1/2 Tb Fresh Squeezed Orange Juice
Orange Zest - to taste (optional)
Directions
Preheat the oven to 400 F. Line a baking sheet with parchment paper.
Whisk together flour, baking powder, baking soda, sugar, salt and orange zest (if using). Add the cranberries and toss to combine. Cut the butter into 1/2-inch cubes and scatter the cubes over the dry ingredients. Use a pastry blender to cut the butter into the dry ingredients. When you are finished, the butter should be dispersed throughout the flour in pea-sized lumps.
Add the buttermilk all at once and mix gently with a wooden spoon until the dough holds together. If the mixture seems dry, add a little bit more buttermilk a tablespoon at a time.
Line your work space with parchment paper and turn the dough out onto it. Divide the dough into two even portions. Using your hands, pat each portion into a circular disk about 1 1/2 inches thick. Using a biscuit cutter, cut each disk into about 8 circles. Gathering the scraps together and repeat. Brush the top with melted butter.
Transfer the scones to baking sheet. Bake until the tops of the scones are lightly browned, about 20 to 25 minutes. Remove from the oven, let cool briefly.
Meanwhile, stir the powdered sugar, orange juice and zest together with a fork. Drizzle glaze over the top of the scones.
Allow glaze to set for 10-15 minutes.
Slice and serve OR package and give as gifts!