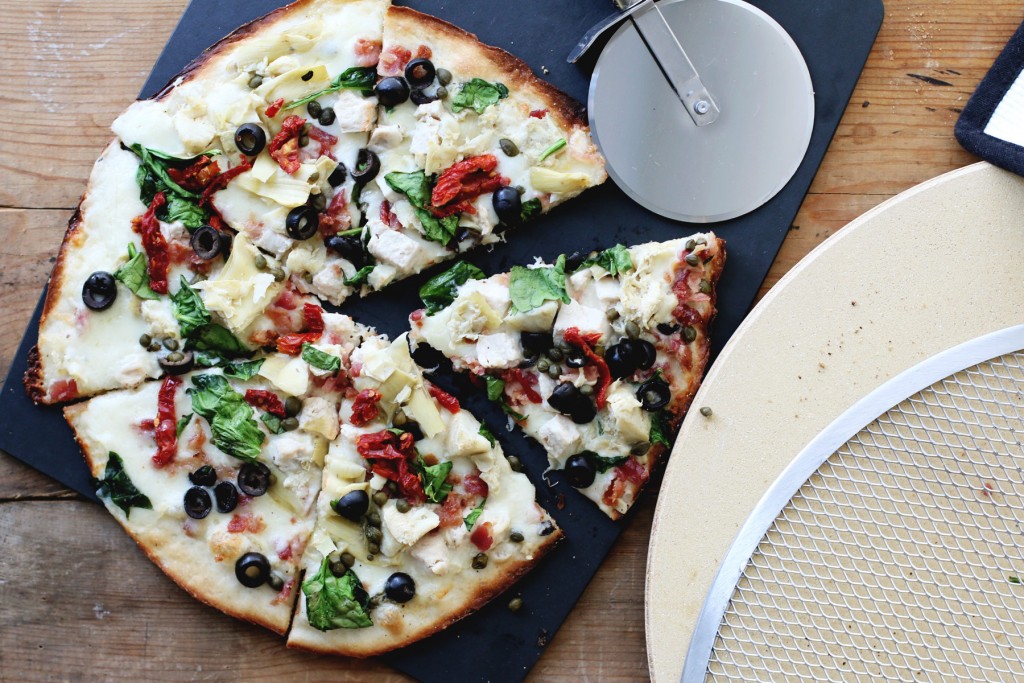 It's not delivery. It's not Digiorno. It's homemade pizza and it's delicious. Give pizza party a whole new meaning when you put together pizzas from scratch!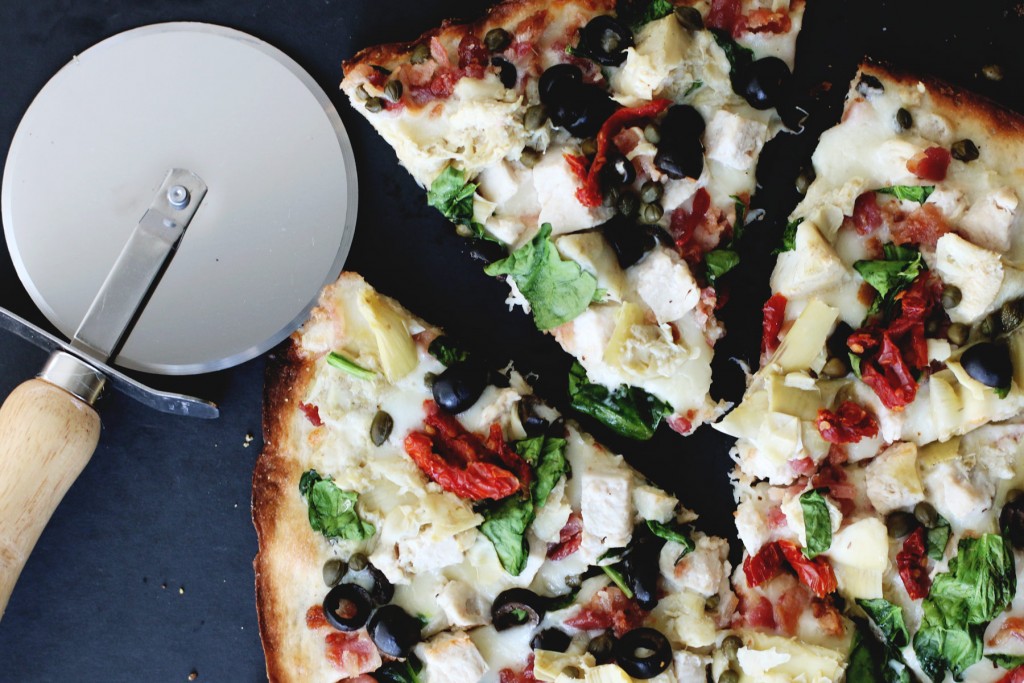 Homemade Pizza
Makes two 10-inch pizzas
What You Need
Ingredients
1 pound pizza dough
1/2 to 1 cup sauce
2 to 3 cups of toppings
1 to 2 cups (8 to 16 ounces) cheese, shredded or sliced: mozzarella, provolone, feta, ricotta, or any other favorite.
Cornmeal or flour
Instructions
1. Crank the heat! If you want a crispy crust, don't be afraid! Mimic the wood burning ovens and crack up the heat to the highest setting. The high heat will help make a crunchier and more flavorful crust. Place your baking stone in the lower-middle rack of your oven and then heat up your oven for at least half an hour.
2. Divide the dough. One pound of dough makes two 10-inch pizzas. Slice the dough in half and cover one half with a flour sack towel while you prepare the first pizza.
3. Form your crust. Form it into a large disk with your hands and lay it 0n a pre-floured pizza peel. You can flour it with a thin layer of flour, rice flour, or corn meal. Use your hands or a rolling pin to flatten the dough until it is 1/4-inch thick or less. If the dough starts to shrink back, let it rest for 5 minutes and then continue rolling. Shake the peel or baking sheet frequently as you shape to make sure the dough isn't sticking.
4. Top the pizza. Spoon a few tablespoons of sauce into the center of the pizza and use the back of a spoon to spread it out to the edges. Pile on all of your toppings.
5. Bake the pizza. Using a pizza peel, slide your pizza onto the baking stone. Cook for 5 minutes, then rotate the pizza with a peel. Bake for another 3 to 5 minutes, until the crust is golden-brown and the cheese looks toasty.
6. Slice and serve. Let the pizza cool slightly on a cooling rack, just until you're able to handle it. Slice it into pieces and serve.
Ingredients
3 1/2 to 4 cups bread flour, plus more for rolling (Chef's Note: Using bread flour will give you a much crisper crust. If you can't find bread flour, you can substitute it with all-purpose flour which will give you a chewier crust.)
1 teaspoon sugar
1 envelope instant dry yeast
2 teaspoons kosher salt
1 1/2 cups water, 110 degrees F
2 tablespoons olive oil, plus 2 teaspoons
Directions
Combine the bread flour, sugar, yeast and kosher salt in the bowl of a stand mixer and combine. While the mixer is running, add the water and 2 tablespoons of the oil and beat until the dough forms into a ball. If the dough is sticky, add additional flour, 1 tablespoon at a time, until the dough comes together in a solid ball. If the dough is too dry, add additional water, 1 tablespoon at a time. Scrape the dough onto a lightly floured surface and gently knead into a smooth, firm ball.
Grease a large bowl with the remaining 2 teaspoons olive oil, add the dough, cover the bowl with plastic wrap and put it in a warm area to let it double in size, about 1 hour. Turn the dough out onto a lightly floured surface and divide it into 2 equal pieces. Cover each with a clean flour sack towel and let them rest for 10 minutes.