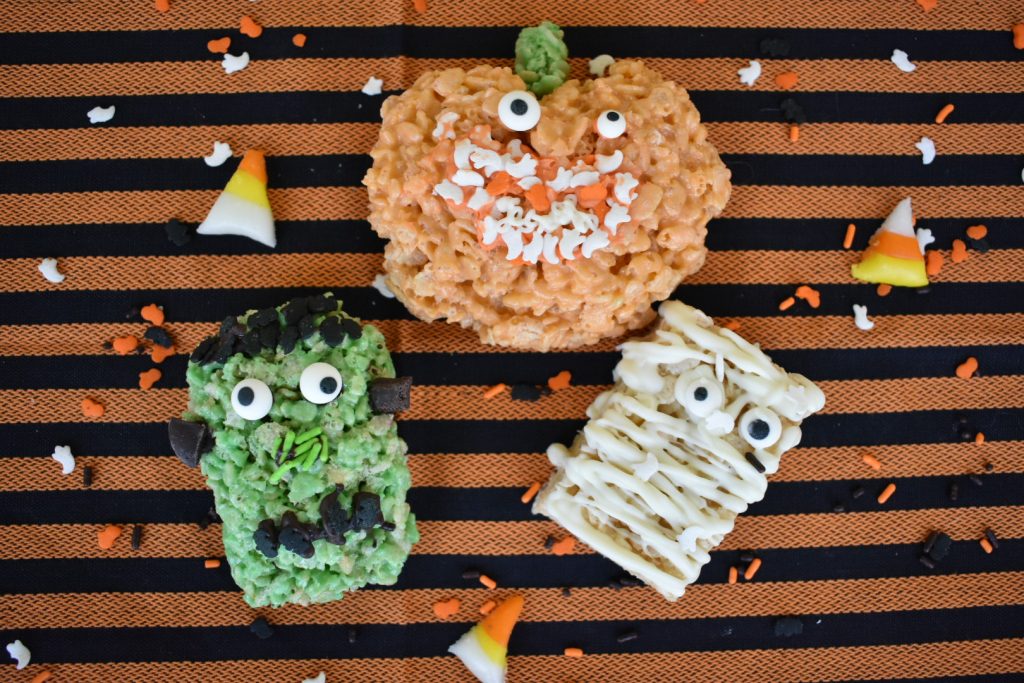 Begin with this basic rice krispie recipe and build from there with gel food coloring, dipping chocolate, festive sprinkles and candy eyes or chocolate chips. You are just a few minutes away from your very own spooky, edible monsters.
Monster Rice Krispie Treats
Ingredients
3/4 cups butter (1 1/2 sticks)
1- 16oz bag mini marshmallows
6-7 cups rice krispie cereal
Cooking spray
Dipping chocolate
Candy eyes
Sprinkles
Directions
In a large stock pot, melt the butter until it starts to brown. Mix in the marshmallows and stir until mostly melted. If you are dying the marshmallow, do so now with a few drops of gel paste food coloring.
Pour in Rice Krispies and stir until equally combined.
If you are cutting squares, then pour entire batch onto a piece of parchment paper. Mold into large rectangle with a spatula sprayed with cooking spray.
If you are molding into a specific shape (Like the pumpkin, or even a ghost!) then wait until the mixture cools a little. Spray your hands with cooking spray, and grab a ball of the mixture and form into desired shape.
Alternately you can use a cookie cutter to cut the desired shape.
Decorate with melted chocolate and extras! And have fun!
[masterslider id="1″]