With the incredibly vast selection of cake pans filling store shelves, we found ourselves wanting to do a little research to find the very best one. We knew this information would help us be better bakers! So, we held our first ever Cake Pan Showdown.
Pan Selections
Wanting to test a variety of pans, we consulted our Instagram community to help us decide which pans to include. We asked people to vote for their favorite cake pan and with hundreds of comments, we tallied them up.
The results were so fun to analyze. First, I didn't know Dollar Tree sold cake pans. Also, we've all wished we had some disposable foil pans at some point in our lives. After making a cake mess, throwing the pans in the garbage sounds like a pretty sweet plan!
But, the most surprising discovery was the exact tie between Fat Daddio's and Wilton brands. We were shocked!!! This got us sooo excited to compare their baking abilities!
Once we tallied the votes, we began collecting as many pans as we could! We already had Fat Daddio's, Wilton, Chicago Metallic, Nordic Ware, USA Pans, and Dough Makers in the Orson Gygi kitchen. I grabbed my husband's old aluminum pan (the one he uses as a mess kit when he's camping. ha!). I also stopped by the thrift store and found a cake pan with a dark, non-stick coating. I grabbed a Gold Touch pan from William's Sonoma. Then, we wanted to find an option that would be representative of the type of pan commonly found at the grocery store or online. We decided on a highly-rated pan from Amazon. Finally, I gathered as many Wilton pans as I could find. They sell several styles at soooo many stores. I wanted to test as many varieties as I could.
In the end, I had 20 pans to test. A variety of metals, finishes, and sizes to evaluate which pan would provide the most beautiful cake!
Prepping the Pans
We prepped all the pans the same way. This is the method we use when we bake hundreds of cakes for our hands-on cake classes every month.
The process is simple. First, we lightly spray the bottom of the pan with cooking spray. Then, we place a precut piece of parchment paper in the pan. Last, we finish the prep with a final mist of cooking spray.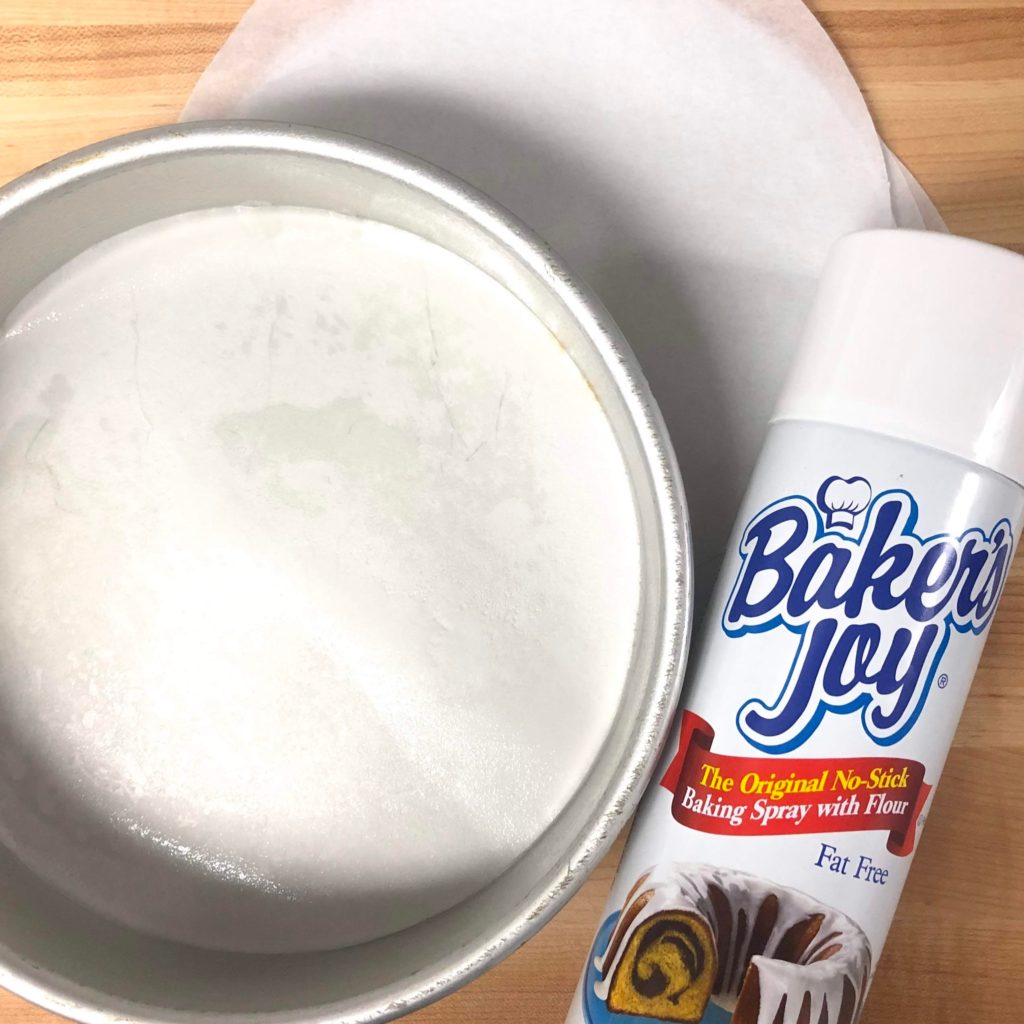 This is the method we use for all the cakes we bake. It ensures easy release with every recipe. We decided to prep allllll the pans for the Cake Pan Showdown with this method, because we think every pan needs this prep, even if the pan has a nonstick coating.
We love Baker's Joy spray. It contains flour, which helps prevent your cakes from sticking. But any cooking spray will work. We also highly suggest using parchment for every cake you want to release easily! These precut rounds make it so simple to prep your cake pans.
The Cake Mix
I wanted the cake pan to be the only variable during the Cake Pan Showdown, so I wanted to use a cake batter that would be reliably consistent.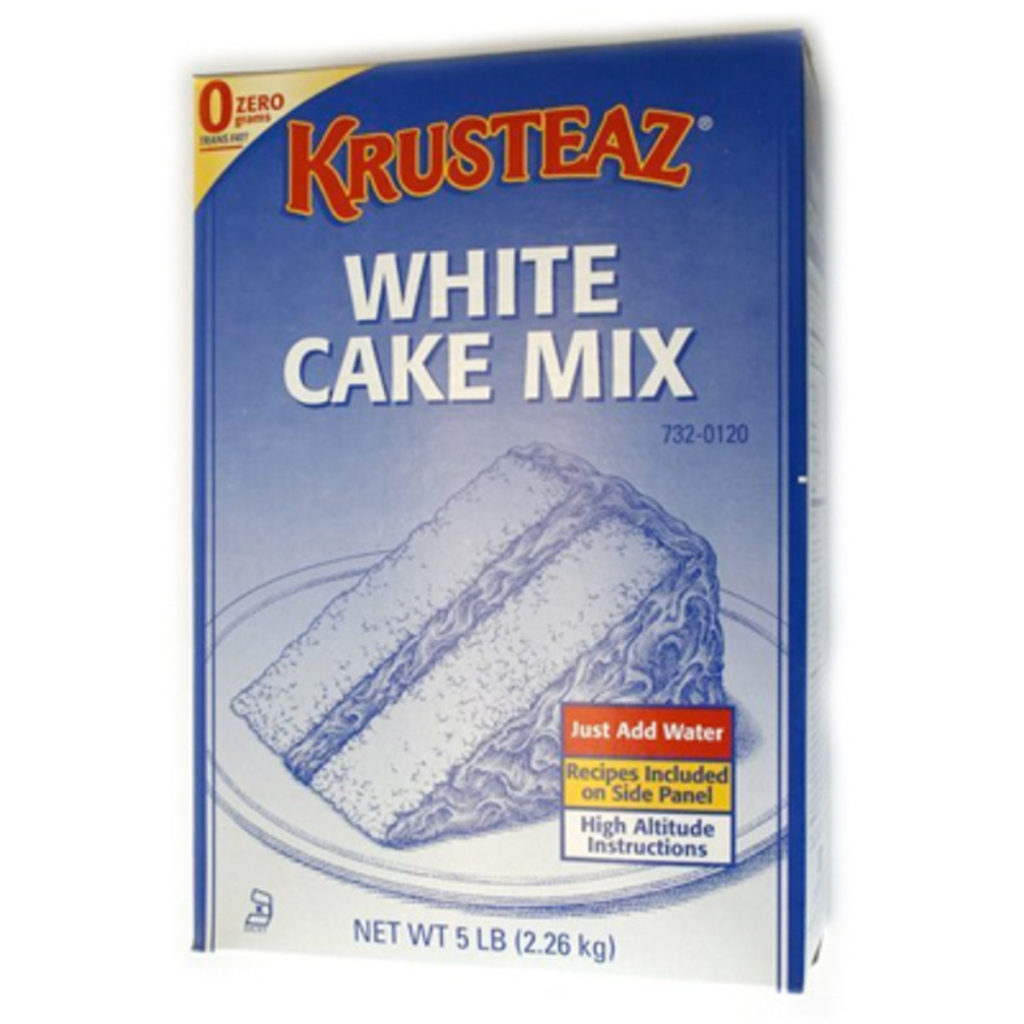 I decided on a very easy-to-use cake mix we sell at Orson Gygi. This White Cake Mix made by Krusteaz was the perfect choice. The only additional ingredient needed is water! Easy! Reliable! Perfect.
I weighed all the dry mix and all the water on a kitchen scale. I mixed each batch in the same Kitchen Aid mixer, using a timer to ensure each batch was mixed to the exact same specifications.
Then I weighed the amount of batter put into each pan. The 9″ pans held 20 oz. of batter. The 8″ pans held 14 oz. of batter. And the 6″ pans held 9 oz. of batter.
Then the cakes were baked two-at-a-time for a precisely timed amount. 33 mins for 9″ cakes. 29 mins for 8″ cakes. And 29 mins for 6″ cakes.
The cakes were removed from the oven and placed on a cooling rack. After ten minutes of cooling, we turned the cakes out onto a cake circle.
I was sooo careful to control all the variables involved with prepping, mixing, and baking the cakes! With all these pieces under control, we were able to truly test the performance of the pans.
The Results
We baked a lot a beautiful cakes in the Cake Pan Showdown. We were surprised at how well most of them performed! I think you'll find the results fascinating.
The pans from Amazon Basics and the Thrift Store performed similarly. They are both coated with a dark, nonstick coating. The resulting cake shows the domed top that occurs when cakes are baked in dark pans. The reason for this is simply the color of the pan. The dark pan absorbs heat instead of reflecting it. This makes the pan become excessively hot. The edges of the pan cook too quickly and set quickly. The middle of the cake is still raw and continues to rise, resulting in a domed cake. (Learn more about nonstick cake pans here.)
These pans have another tragic flaw: they are designed to stack together. This is a dream for saving space in your cupboard, but it is a major disadvantage if you're hoping make a layered cake. The pan is angled, resulting in a cake with angled sides. Boo.
The basic aluminum cake pan is my husband's camping pan. It was bent and mishapen, but it actually produced a decently baked cake. Aluminum is an excellent metal for conducting heat, so this pan did pretty good, aside from the wonky shape of it. But, it also has angled sides like the nonstick pans. No good.
The Doughmakers pan is a unique style of aluminum pan. It has a textured surface, claiming to enhance the nonstick properties. The manufacturer recommends refraining from using nonstick sprays, so this was the only pan we didn't spray. We did use parchment, though. Old habits die hard. Haha. This cake baked nicely and evenly, resulting an evenly baked cake. The crust was a bit more tender than I prefer, but many people love their cake this soft. This pan requires gentle care, as the aluminum scratches easily.
These three pans are all made from heavy-duty, aluminized steel. The pans are heavier than aluminum pans, resisting dents and scratches. They are typically covered with a nonstick coating. (Learn more about aluminized steel here.)
USA Pan manufactures their pans and the Williams Sonoma pans, but they have some differences. The USA Pan has a silicone coating and a ribbed texture on the bottom of the pan. This textures helps the nonstick properties and ensures even baking. You can see the ribbed pattern on the bottom of the cake.
The Williams Sonoma Gold Touch pans have a ceramic coating and a flat bottom. Their ceramic coating is stronger than typical nonstick coatings.
The Chicago Metallic pan is also made from heavy-duty, aluminized steel. It is coated in a nonstick coating as well.
The cakes baked in these pans turned out great. They were evenly baked and released beautifully. I have heard complaints about these heavier weighted pans remaining hot even after being removed from the oven, continuing to cook the cake even further, and resulting in an overbaked crust. We didn't notice this being a problem, but more delicate cakes may experience this.
Aluminized steel pans are generally more expensive than plain aluminum pans, but they tend to be sturdier, lasting you a lifetime of baking. They are a worthy investment
Okay, now we move onto aluminum pans. Aluminum is an ideal metal for cake pans because it heats evenly and cools quickly. These plans from Nordic Ware and Magic Line are made from heavy gauge aluminum. The thickness of these pans prevent browning on the crust. The cakes were baked evenly, making these pans a great choice if you like a light colored crust.

And now, for the moment we've all been waiting for… the Cake Pan Showdown between Fat Daddio's and Wilton cake pans.
We are happy to report that they both produced beautiful cakes!! But, we were surprised by the beautifully sharp corners from the Wilton pan. These sharp edges were only found on one cake that we baked! This one cake from Wilton!! Gorgeous.
We were intrigued, so we did a little more investigating. The pan we used was a Wilton Decorator Preferred pan. It was manufactured in 2002 and unfortunately isn't available in this exact style and weight. Bummer. Wilton still makes the Decorator Preferred line of pans, but the pans are now made from a lighter gauge of aluminum. I wasn't able to locate a current 8″x2″ Decorator Preferred pan to test, but I did gather a few other Wilton varieties.
I used a Wilton Performance Pans 8″x2″ pan I purchased at Walmart. Also, I found a Wilton brand pan at Michael's Arts and Crafts. The third cake pictured above is the first Wilton cake I baked in the old Decorator Preferred pan. All of these pans made by Wilton baked very nice cakes. But if you look closely, you'll see that the only cake with the very sharp corners is the old Decorator Preferred cake, which is no longer available. Goodness!
For the Cake Pan Showdown, I selected the best pans from Wilton. They sell soooo many other styles, many of them similar to the nonstick cake pan we tested from Amazon Basics. This inconsistency from Wilton pans makes it hard for us to suggest this brand of pans. If you know which variety to purchase, you will have a good pan. Just make sure you're getting their best aluminum pans for the best bake.
Fat Daddio's pans, on the other hand, are extremely reliable. They only make one style of pan – anodized aluminum. The anodization and consistency of their pans sets them apart from the Wilton brand of pans. (Learn more about anodization here.) These pans are our favorites.
Cake Pan Showdown Conclusion
We are so glad we did the Cake Pan Showdown. It was enlightening to put to test the theories and rumors we've heard about cake pans.
After analyzing the results, we feel confident in recommending Fat Daddio's cake pans to every baker. Their anodized aluminum pans will provide beautifully baked cakes for years to come.
If you're looking for a sturdier option, we recommend USA Pan or Chicago Metallic for Aluminized Steel pans. They have nonstick options available at very reasonable prices.
In the end, you should buy the pan that is best for you! Every baker has their own preference for performance. Use these results to make your decision. Which pan do you choose?