You've got your favorite set of cake pans. You're baking beautiful cakes. You're loving the cake life. But, your pans are starting to show some signs of abuse! Are you showing your cake pans the same kind of love you're showing your cakes???? We've got some tips for cleaning aluminum pans. Tips for keeping them shiny and clean and ready for all your baking endeavors.
Steer Clear of the Dishwasher
The cardinal sin of allllll aluminum cookware is cleaning it in the dishwasher. The combination of the caustic dishwasher detergent plus the extreme heat will destroy the finish of your aluminum pans. This applies to cake pans, sheet pans, pie pans, muffin tins! All the aluminum! Same story for aluminum tools, too! Keep them out of the dishwasher.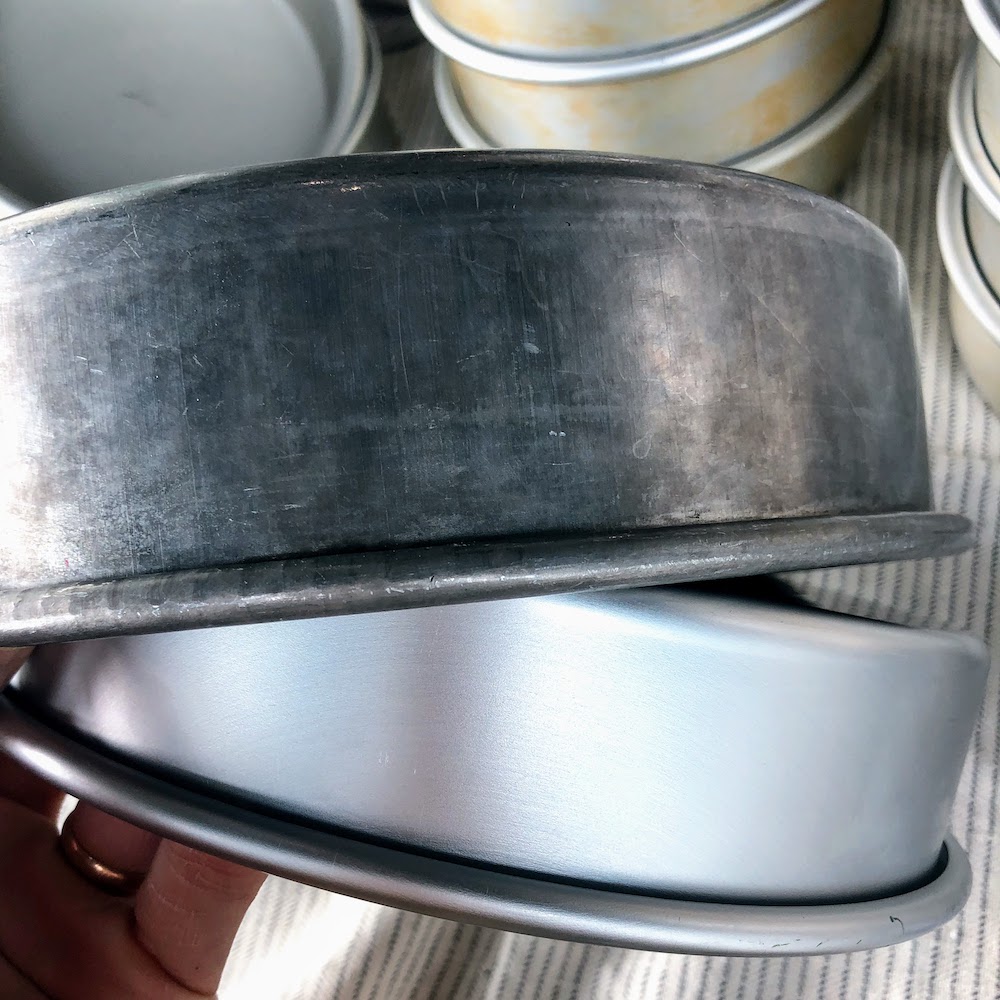 The harsh conditions of the dishwasher cause the aluminum to oxidize, resulting in dark smudges or white spots. This effect is amplified with every cycle through the dishwasher. The first run through may not change the appearance much. But, each cycle will increase the oxidization of the pans.
If you (or your significant other) have accidentally run your pans through the dishwasher, have no fear! They still have lots of years of use ahead of them. You can season your pans by rubbing a thin layer of shortening or oil on the surface of the pan. Then, bake at 300* F for 10 minutes. Remove from the oven and rub the surface with a clean rag. This will season the pan, readying it for many more years of baking. Read more from Fat Daddio's.
Careful with the Cooking Spray
The time-saving cooking spray we all love is also the cause for the brown (and sometimes gummy) residue left on your pans. The cause is the propellents in the cooking spray. It builds up on the pans during the baking process. While this residue is harmless, it may bother you. It can stubborn to remove, but definitely not impossible.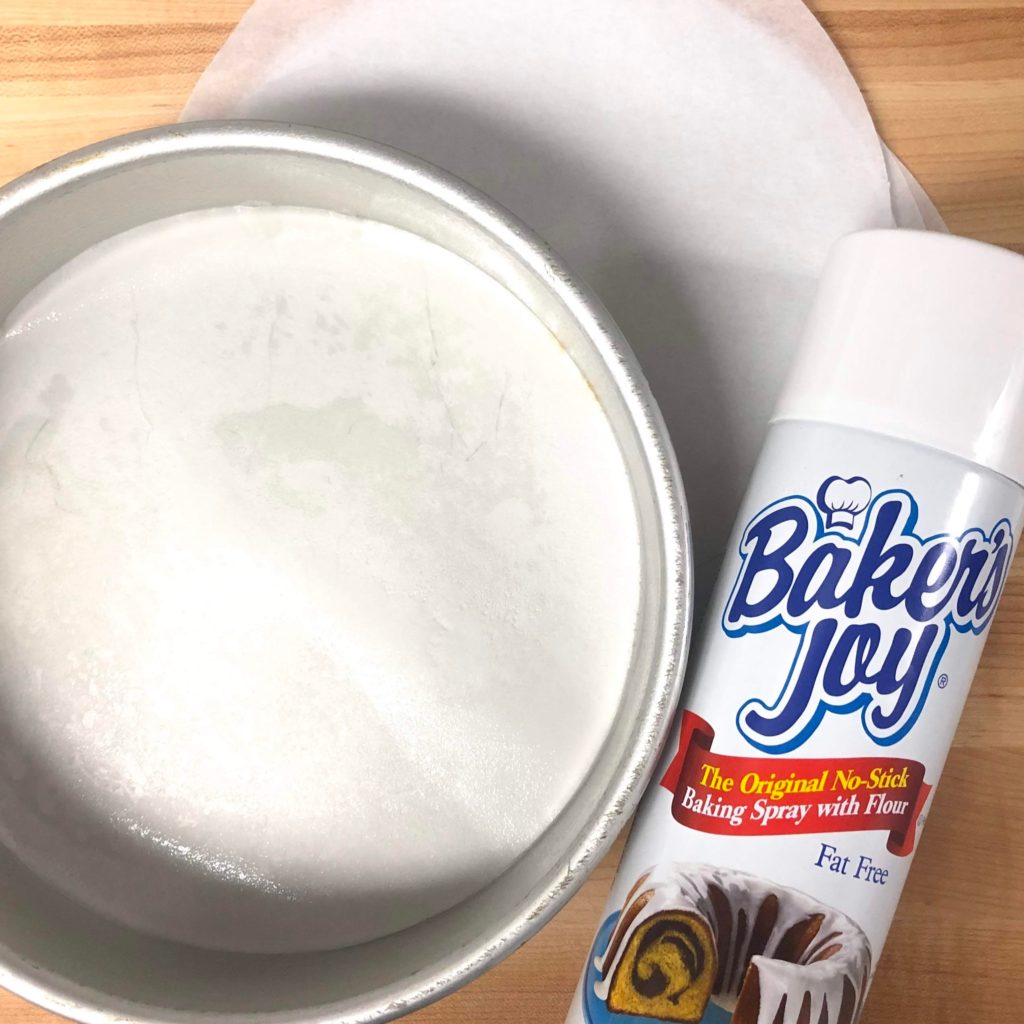 However, if you want to avoid the mess in the first place, stick to butter or shortening for greasing your cake pans.
Avoid Metal
Keep the surface of your cake pans shiny and smooth by keeping metal tools away from your pans. This includes spoons, whisks, knifes, and spatulas. Aluminum is softer than stainless steel, meaning these tools will all scratch the surface of the pan. That is a wound you can't heal!
In that same spirit, stay a way from abrasive scrubbers like scouring pads and steel wools. They will scratch the pretty surface of your pan.
Cleaning Aluminum Pans
The best practice for cleaning aluminum pans is to wash them immediately after baking. We fill our sinks full of soapy water when we remove the last batch from the oven. Once the cake is out of the pan, we plunge it the water and let it soak while we finish other clean up.
Once we are ready to wash, the baked-on bits are softened, so they wipe out easily with a soft rag. With this method, we can wash our pans quicker than the dishwasher! This keeps our pans looking fresh for all our baking endeavors.
Deep Cleaning Aluminum Pans
Have your pans become a bit brown and dingy?? The browned patina on your pans is absolutely harmless! In fact, it may boost the nonstick properties of the pan. Some bakers work hard for that baked-on goodness!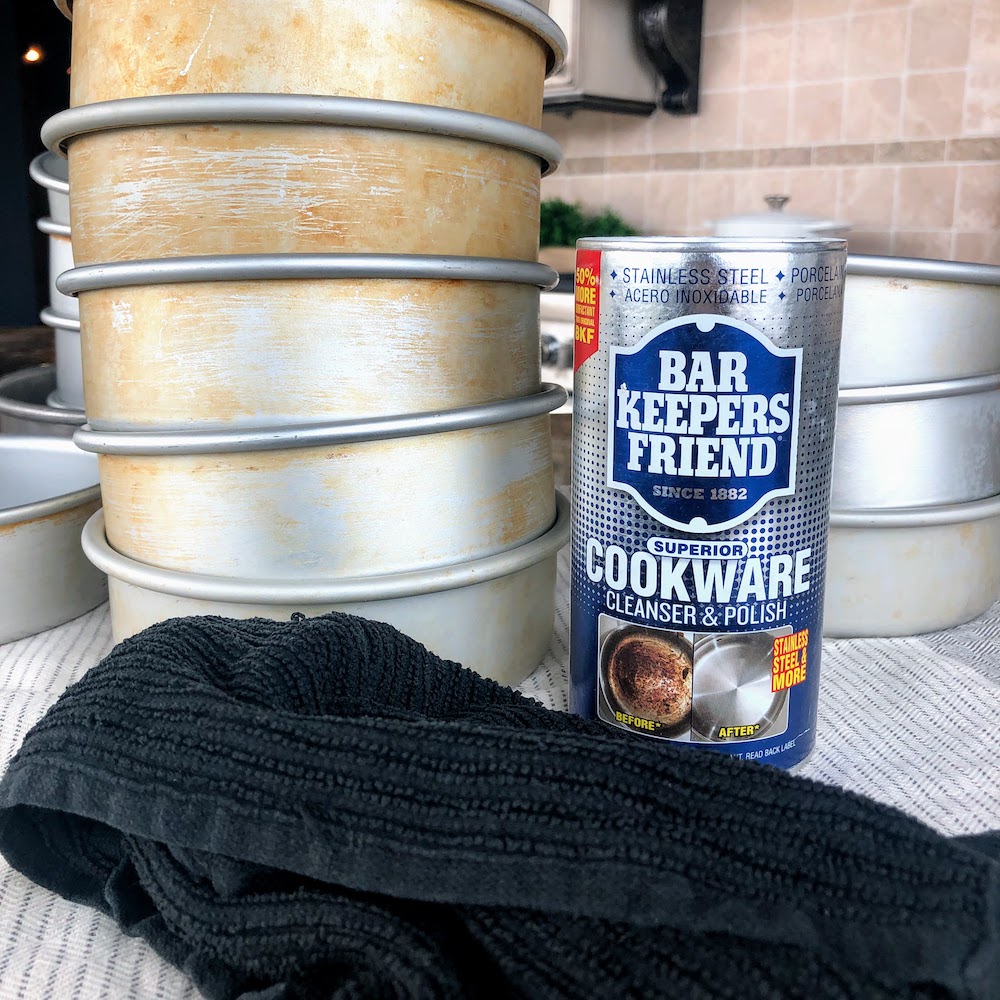 But, beauty is in the eye of the beholder! If you love the fresh, shiny look of new pans, you can achieve this with our favorite secret ingredient: Bar Keepers Friend. Next time you're in a deep-cleaning mood, give this a try.
Using Bar Keeper's Friend
This product is a dream come true for your kitchen. It works great for cleaning aluminum pans, but it can do so much more. Use this on stainless steel pans, enameled cast iron, class or ceramic cooktops, porcelain sinks, glass dishes, and on and on! It will keep your kitchen shining from floor to ceiling. It's super easy to use.
The process is simple. Start by getting your pans wet.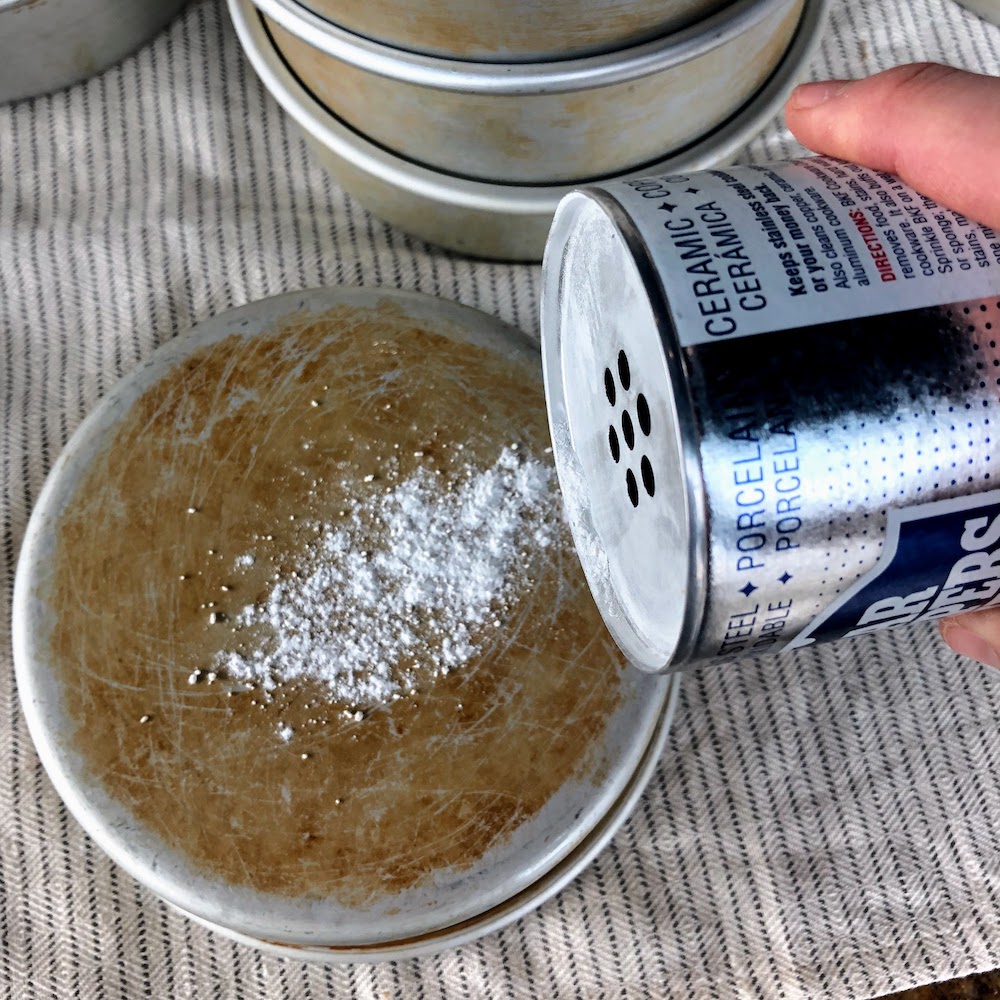 Then, shake on a little Bar Keepers Friend.
Sprinkle on a little more water, making a paste to cover the stain you're trying to remove.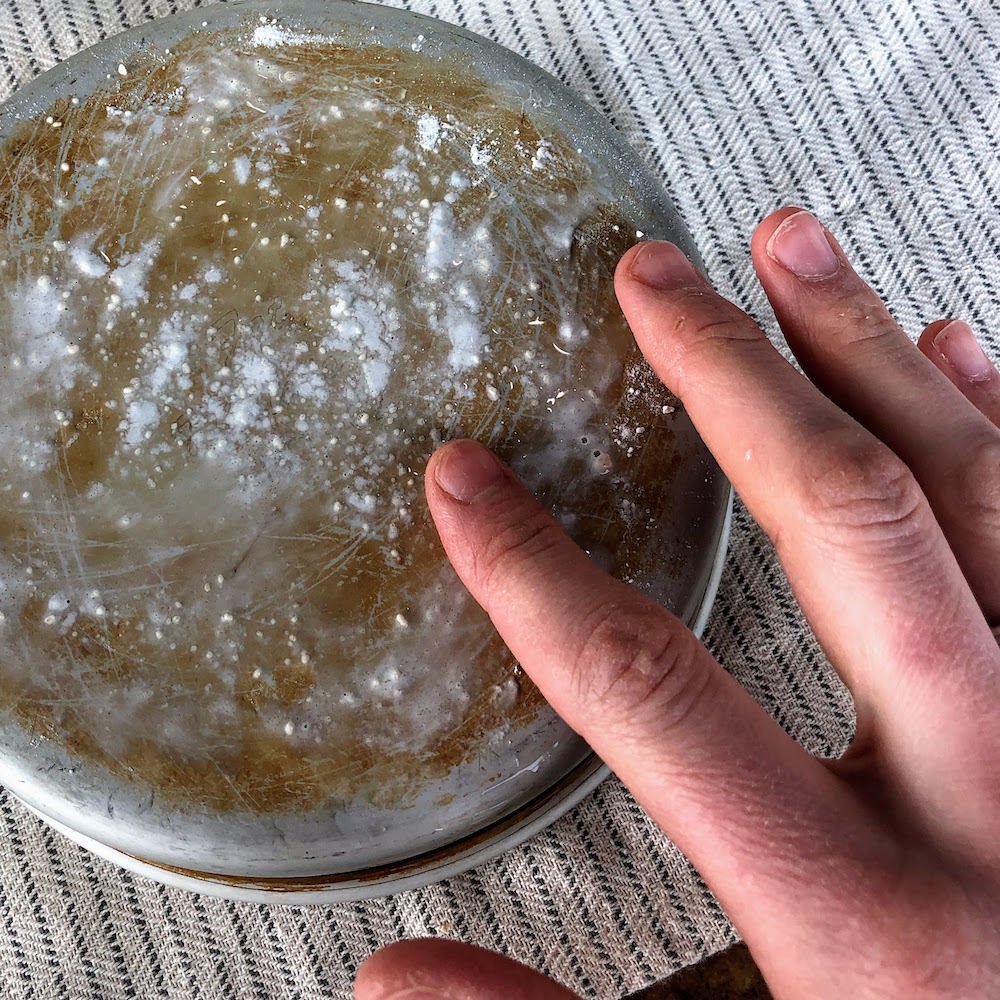 Let sit 2-10 minutes, depending on the severity of the stain.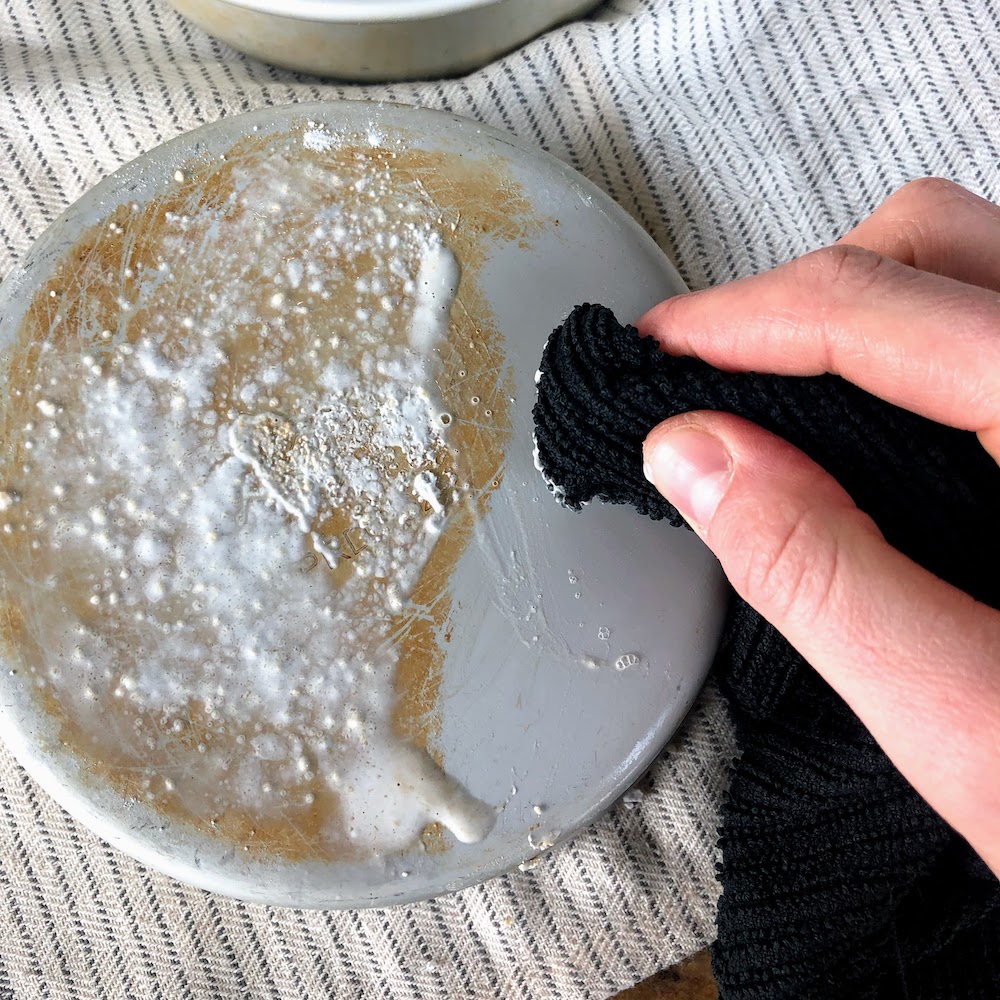 Rub the paste with a soft rag, until the stain is removed. You'll need to rub it firmly, but it wipes away quickly. I cleaned this pan in less than two minutes. (Just take care to use a soft rag to clean it off. No abrasive scrubbers! No green scouring pads. No steel wool!!!! They will scratch your pan.)
Now, rinse the pan clean and rub away any remaining stains you may have missed.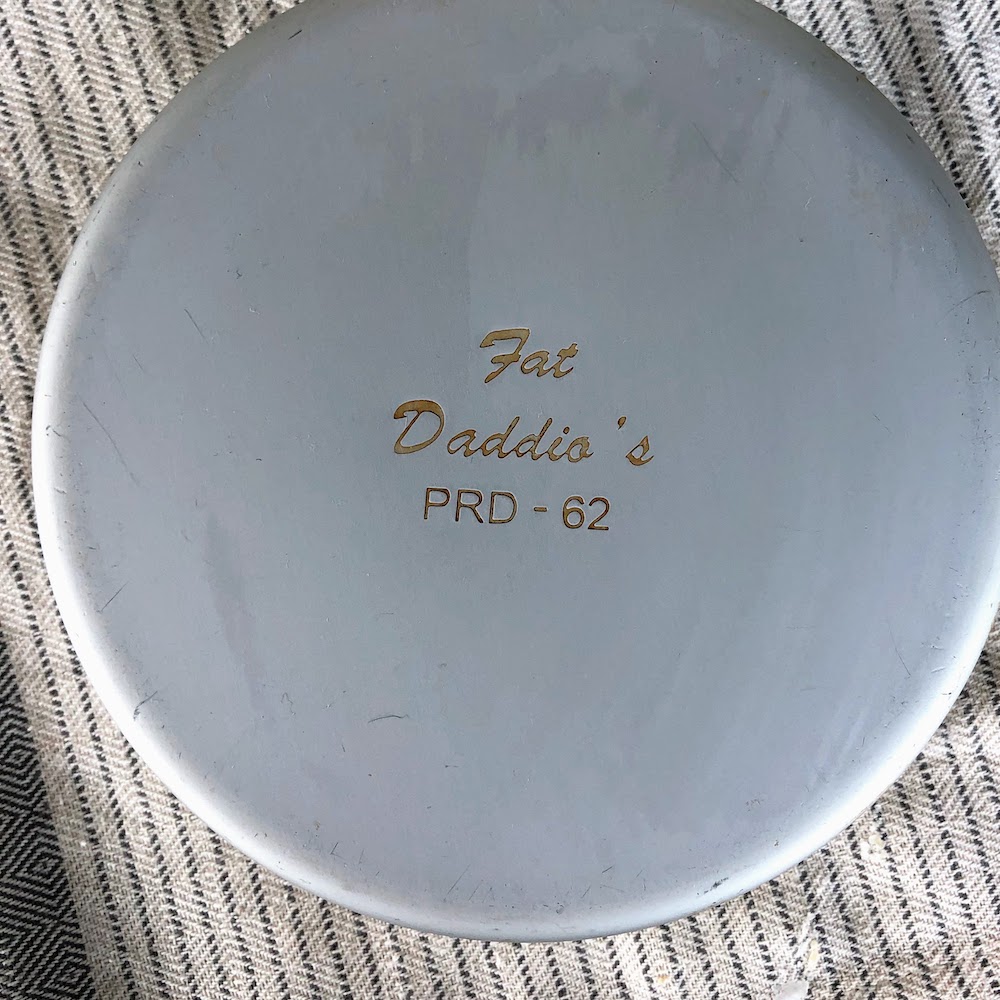 Last, wash your shiny pan with mild soap and water. Done! A beautiful pan!!!!
Can you believe the difference? In just a few minutes, this pan is looks so fresh and so clean. All it takes is a little love and and a little Bar Keeper's Friend.