A stuffing dish so delish you'll want to eat it all year round.
This recipe originated when I planned a small Thanksgiving meal. We lived away from most of our family, so we had only one guest attending our meal. This one guest had a great distaste for traditional Thanksgiving herbs – no sage, rosemary, or thyme!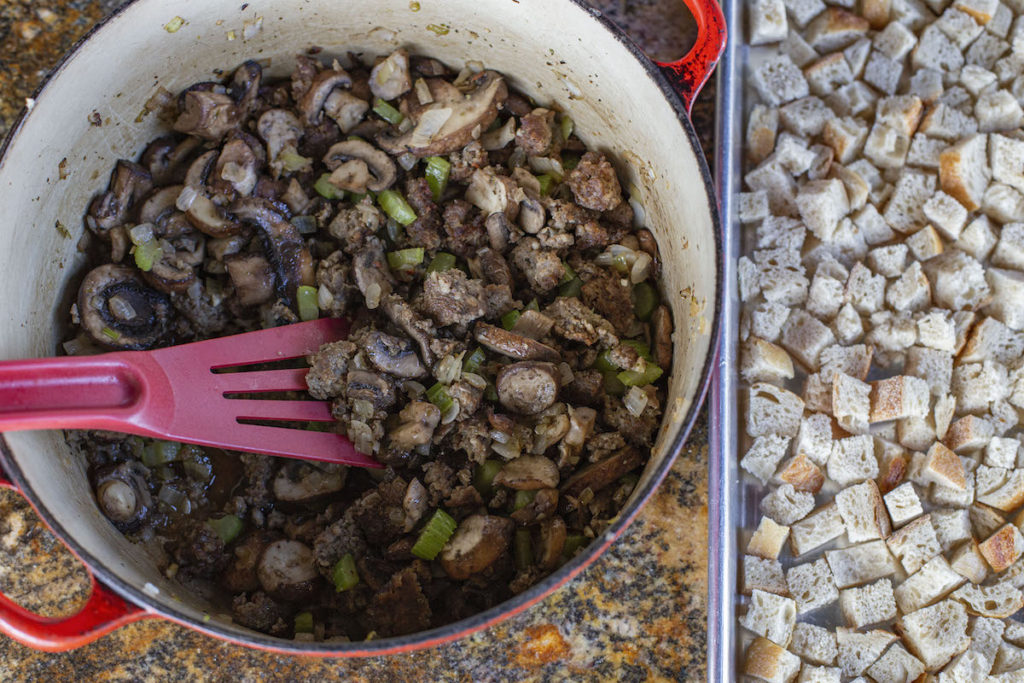 So, I played around with his favorite food – sausage – and comprised a recipe that was free from poultry seasonings, but full of all the nostalgia associated with classic stuffing. The result feels warm and comforting, in the traditional sense.
It also feels updated with loads of sausage and hearty mushrooms. Also, the sourdough bread adds a tangy chew to the dish. Just make sure you prepare the sourdough bread cubes a few days in advance. Allowing the bread to dry out before mixing with the meat, veggies, and broth, will help it hold up when you mix it all together.
We love eating this Sausage and Mushroom Stuffing all year round. You will, too!
Print Recipe
Sausage and Mushroom Stuffing
Ingredients
2 Tablespoons unsalted butter
1 1/2 lbs mild sausage
1/2 onion, minced
2 cloves garlic, minced
2 stalks celery, minced
Salt & Pepper
1 lb crimini mushrooms, sliced
1 lb sourdough bread, 1/2" diced
3-4 cups chicken broth
1 Tablespoon fresh marjoram, chopped
Instructions
1

Two days in advance: prep your bread. Cut into 1/2" cubes and leave on a sheet pan to dry. Stir twice a day.

2

When ready to make stuffing, begin by heating the oven to 350 degrees Fahrenheit.

3

Melt butter in a large stock pot.

4

Add sausage and cook until browned.

5

Add onion, garlic, and celery and cook until soft, about 5 minutes.

6

Season to taste with salt and pepper.

7

Add sliced mushrooms and cook another 3 minutes, until mushrooms begin to soften.

8

Add prepared bread and stir to combine.

9

Pour three cups of broth over mixture and stir. Add more broth until all the bread cubes are moistened.

10

Add marjoram and stir together.

11

Pour into a 9x11" pan. Cover with foil

12

Place in oven for 90 minutes total. For the first 45 minutes, leave the pan covered. Uncover for the last 45 minutes.

13

Remove from the oven when the top begins to brown and become a bit crunchy.
Check out these recipes for more variations of stuffing:
Want more tips for Thanksgiving? Visit The Gygi Guide to Thanksgiving.