A fine Yule log will be the centerpiece of your Christmas festivities. This recipe will make two lovely Buch de Noel cakes. It is comprised of a moist lemon sponge, a bright berry compote, and a lively lemon Italian meringue. White chocolate birch bark and Swiss meringue toadstools complete the scene.
With all the components involved in this cake, start your preparations early. The cakes can be made in advance and frozen. The birch bark and toadstools can be made several days in advance. Refrigerate the curd and the berry curd for a few days. Then, on Christmas Eve make your Italian meringue and assemble your Buch de Noel!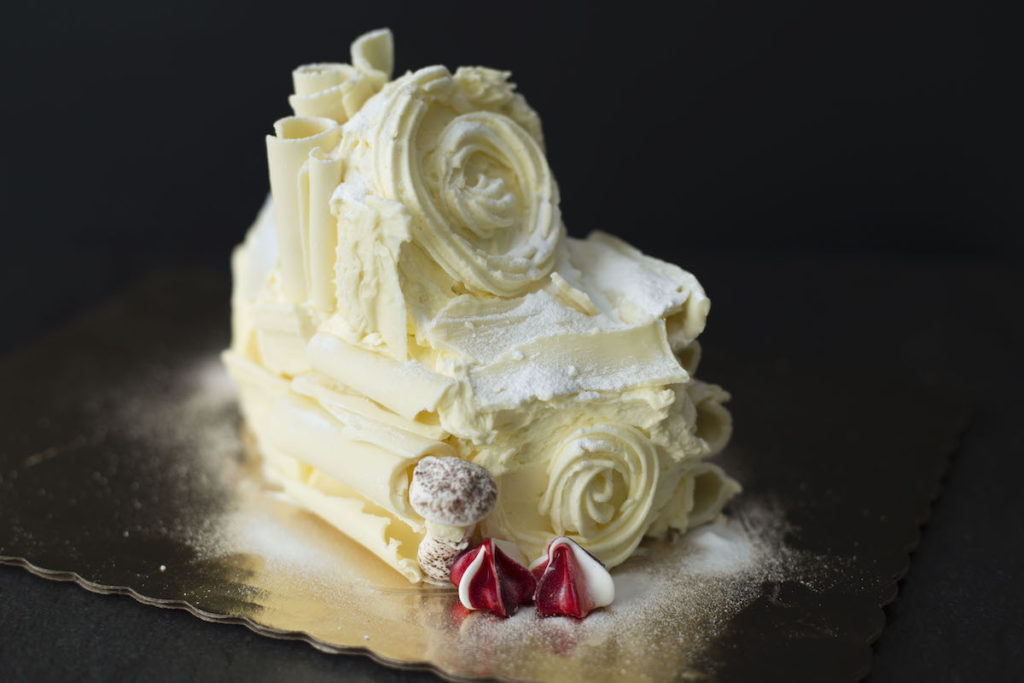 Print Recipe
Lemon Berry Buche de Noel
Ingredients
CAKE
1 1/2 cups cake flour
1 1/2 teaspoons baking powder
1 cup granulated sugar
1/2 cup canola oil
5 large egg yolks
3 1/4 cups + 2 tablespoons water
1 teaspoon vanilla
8 large egg whites
1/2 cup granulated sugar
1/2 teaspoon cream of tartar
LEMON SOAKING SYRUP
1 cup sugar
1 cup water
1/3 cup lemon juice
3 lemons, zested
BERRY COMPOTE
1 cup frozen raspberries
1 cup frozen blackberries
1 cup frozen blueberries
2 tablespoons lemon juice
1/4 cup granulated sugar
1 teaspoon vanilla extract
2 tablespoons cornstarch or apple pectin
2 tablespoons granulated sugar
LEMON CUSTARD
1 cup lemon juice
7 large egg yolks
1 cup granulated sugar
LEMON BUTTERCREAM ITALIAN MERINGUE
4 tablespoons water
1 3/4 cup granulated sugar
3 large egg whites
1 tablespoon granulated sugar
1 pound butter, softened
2 lemons, zested
SWISS MERINGUE
1 3/4 cups granulated sugar
6 large egg whites
Sucraneige sugar, optional
Instructions
2

Preheat oven to 380 degrees. Prepare 2 half size sheet pans by spraying will with cooking spray. Place a piece of parchment in each pan. Set aside. Stir together flour, baking powder, and 1 cup sugar. In a separate bowl, whisk the oil, egg yolks, water, and vanilla together. Take the egg whites, 1/2 cup sugar, and cream of tartar and whip to medium peaks. They should hold their shape, but not be too stiff. Mix the oil mixture with the flour mixture. Stir by hand until nice and smooth. Gently take the whipped egg whites and add to flour/oil mixture in three batches. Gently fold by hand into the cake batter. The nice and mixed and no streaks show, divide evenly between the two prepared sheet pans. Spread with a spatula being careful to go to the edges and not thin spots. Take a little time and make sure it is as even as you can make it. Tap pan gently on counter to help even the batter. Bake one at a time for 9 minutes, until the top is a light golden color and the edges have come away. Let cool completely. This should only take about 10 minutes. Take a new piece of parchment paper and set on the counter. Sprinkle with powdered sugar. Take the cooled cake and make sure the edges are all free from the pan. Dump upside down on sugared paper and pell off the baking paper. Sprinkle more powdered sugar on the cake. Now, starting with the long side, roll up the cake with the paper still attached and rolling up inside. Set aside. At this point, you can freeze the cake if you're making it in advance. Wrap in plastic wrap and freeze up to 2 weeks. Thaw completely before using.

4

Place all ingredients in a small saucepan and bring to a boil. Boil until the sugar has completely dissolved and the syrup has slightly thickened. Take off the heat and cool. Keep in the fridge until ready to use.

6

Combine the frozen fruit, lemon juice, 1/4 cup sugar, and vanilla in a saucepan. Place on medium heat and bring to a boil. Meanwhile, stir together cornstarch and 2 tablespoons sugar. When the fruit comes to a boil, add the cornstarch. Watch well and stir carefully to prevent burning. Cook a few minutes until thick. Let cool. Place a piece of plastic wrap on the surface of the compote to prevent a skin from forming. Refrigerate until ready to use.

8

Place lemon juice and 1/2c cup sugar in a saucepan and heat. In a separate bowl, combine the egg yolks and 1/2 cup sugar. When the juice comes to a boil, slowly add a small amount to the egg yolks to temper them. Add a small drizzle of juice. Stir well. Repeat until the egg yolks are warm. Then, add all the egg yolks to the remaining juice and stir well. Bring to a boil. Cook to 180 degrees and strain through a fine mesh strainer. Place in a mixer and whip on medium speed until the custard cools to 80 degrees. Take out of the mixer and set aside. Refrigerate until ready to use.

9

LEMON BUTTER CREAM ITALIAN MERINGUE

10

Add water and 1 3/4 cups sugar to a sauce pan. DO NOT STIR. DO NOT SHAKE PAN. This will cause the sugar to crystallize. Place over medium heat and bring to a boil. Meanwhile, put the egg whites into a mixing bow with 1 tablespoon sugar. Whip on low. Cook the water and sugar until it reaches 250 degrees. Watch carefully! When the mixture reaches 220 degrees, start whipping the egg whites harder. You're goal is to time this correctly so that the egg whites are whipped with the syrup reaches 250 degrees. When the egg whites have stiff peaks, slowly pour the hot syrup into the egg mixture in a slow stream. Whip until a nice meringue forms. Remove from the mixer and return the custard to the mixer. Slowly mix in softened butter, one small piece at a time. Whip until the butter is entirely incorporated. When nice and fluffy, add the meringue, one spoonful at a time, mixing on low until all incorporated. Add lemon zest.

12

Combine egg whites ands sugar in a metal bowl. Place over pot of boiling water and cook to 120 degrees. Transfer to a mixing bowl and whip until meringue has reached full volume and nice stiff peaks. Put in a piping bag and pipe out little round tops for the caps and elongated pieces for the stems.Sift a bit of cocoa powder over the meringues to create some color and texture on the toadstools. You can also create some little meringue kisses. Place a large star tip in a piping bag. Now, add a stripe of red coloring on the inside of the piping bag. Add the meringue and pipe some little star/kiss shapes. Place in a 200 degree oven and cook for a couple hours, until dry. The best way is to turn the oven off after a couple hours and leave them in the oven. Note, this makes a large batch and can be halved, if desired.

13

ASSEMBLING THE BUCH DE NOEL

14

Take the rolled lemon sponge and unroll. Brush 1/4 cup of the lemon soaking syrup all over the cake. Spread 1/2 of the berry compote on 1/2 of the cake, on the long side. Spread some Italian butter cream on the other half. Now, carefully roll the cake. Starting with the fruit side, roll up the cake, removing the paper this time. Wrap tightly with plastic wrap and place in the freezer until cold. When the cake is cold, use a serrated knife to cut off 1/3 of the cake at a slight angle. Use a little buttercream to adhere the logs perpendicular too each other. Frost the entire cake with Italian buttercream. Melt some white chocolate and pour onto a piece of parchment paper. When cook, break into shards to make chocolate bark. Place these on the cake to look like birch bark. Leave the cut ends open and frost in rings to resemble growth rings of the log. Add the toad stools to finish! If available, dust the cake with sucraneige sugar. This is a sugar coated in fat so that it does not melt into the buttercream. It makes perfect snow.
Notes
I hope you enjoy this recipe and make it for years to come! - Richard Port