We needed a whole post dedicated to our favorite kitchen cleaning secret weapon: Bar Keepers Friend, affectionately known around the Gygi Kitchen as BKF. It has easily become our go-to kitchen cleanser.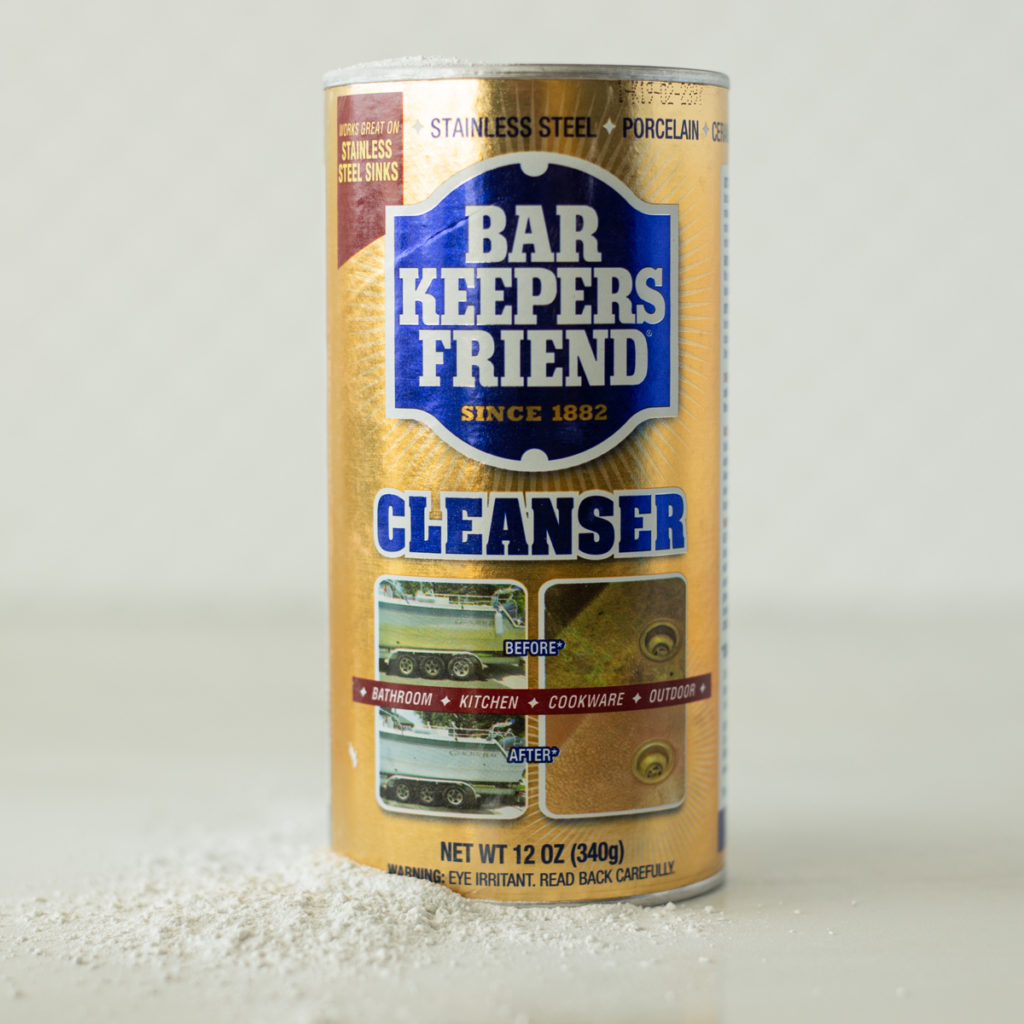 This product is a dream come true for every kitchen. Our first use for BKF was to clean a glass cooktop. It removed stains no other cleanser could touch. For years, that's all we used it for. But, eventually, it crept into every corner of our kitchen! Oven. Stove. Fridge. Sink. Microwave. There is a reason it's become our kitchen cleaning secret weapon.
To top things off, it works on nearly every type of surface. Glass. Porcelain. Stainless. Aluminum. Copper. Ceramic. Fiberglass. Brass. Chrome. Plastic. Just stay away from porous surfaces like tile grout, stone, marble, gold, or any surface that is painted.
We also love using BKF on our cookware to remove the stubborn stains that bake onto our pans. We use BKF on stainless steel pans, enameled cast iron, aluminum bakeware, copper pots, and on and on! It will keep your kitchen shining from floor to ceiling. Plus, it's super easy to use.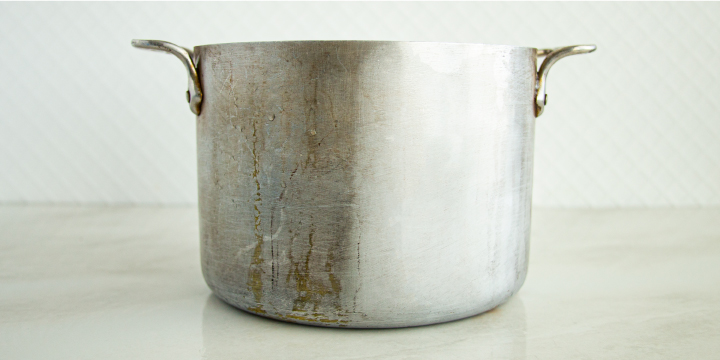 Using Bar Keeper's Friend
Start by wetting the surface of the object you're cleaning.
Shake Bar Keepers Friend onto the surface in a thin layer.
Add a little more water, if needed, making a paste to cover the stain you're removing.
Let sit up to 10 minutes, depending on the severity of the stain. If the powder dries out, add a little more water before scrubbing.
With a soft rag, wipe the paste into the stain. It should begin to disappear with a little scrubbing! We recommend using a rag to avoid any scratching. But, if the stain is more stubborn and you're less worried about scratching, use this walnut scrubber for a little more scrubbing action.
Rinse clean and repeat if needed.
Enjoy your clean surface!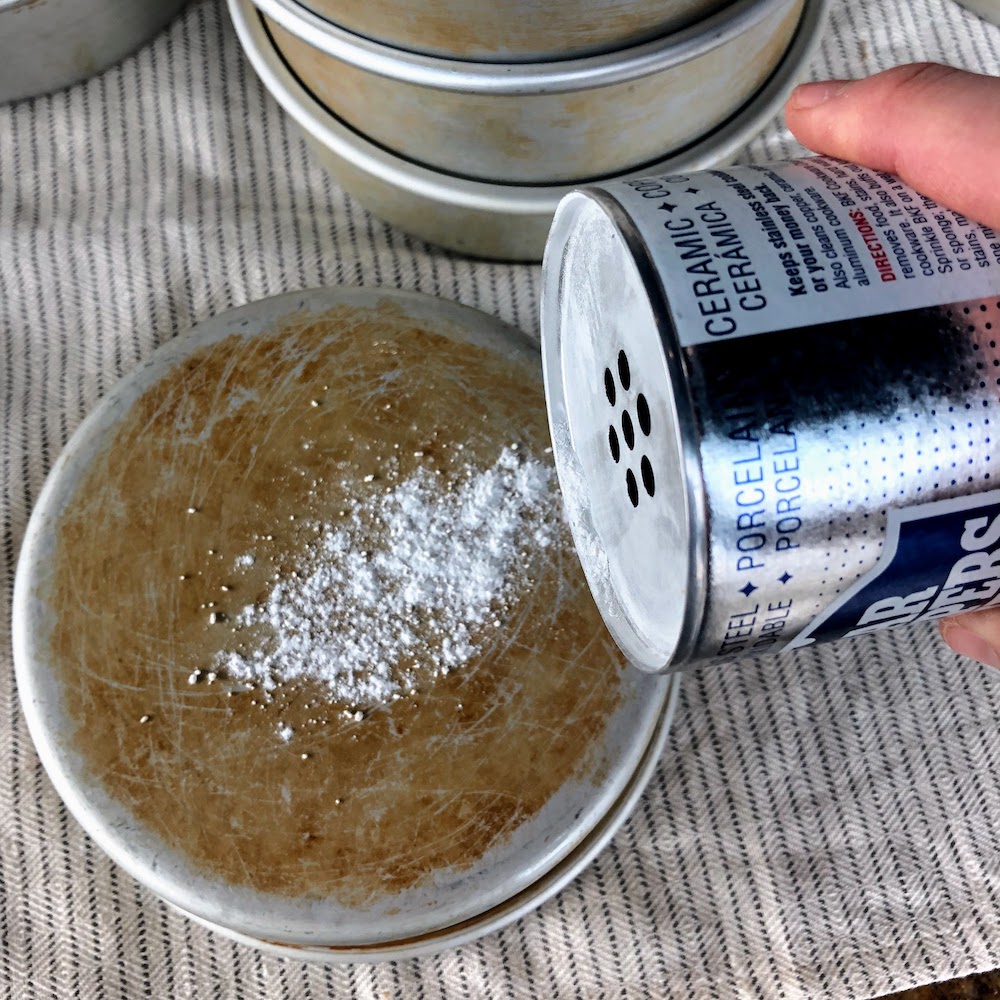 Bar Keepers Friend Caution
This kitchen cleanser is the most gentle option we have used on surfaces. When used with a wet rag, we have not found it to scratch any surface. But if you have a new pot or a shiny stainless steel fridge we want to protect – we recommend testing in an inconspicuous location, first.
We also recommend wearing gloves when working with Bar Keepers Friend for a prolonged amount of time. It is not gentle to your skin.
Due to the nature of the cleanser, it should not be ingested or inhaled. So, be sure to thoroughly rinse any surfaces that come into contact with your food.
Types of Bar Keepers Friend
Bar Keepers Friend (aka our kitchen cleaning secret weapon) is available in two powdered varieties: CLEANSER and COOKWARE. The Cookware has more grease-cutting ability, making it a great option for general clean up and maintenance on your pots and pans. But, we have found both powdered cleansers work great for removing stubborn, baked-on stains.
They also make BKF in liquid forms. We much prefer the powdered cleansers to the spray or soft cleansers. The grit of the powder removes stains much better than the liquid options.
We love this cleanser. A lot. You'll love it, too! To see how we've used Bar Keeper's Friend in our kitchen clean up, join us here!