There's just something about eating a homemade corn dog that takes you straight to the fair, there's nothing that quite compares to the crunchy, fried batter and salty, tender hot dog. Lucky for you, we've got a great way for you to make your own corn dogs right at home. Skip the lines and the (animal) smells of the fair, and cook up some of your own in your the kitchen. Don't be surprised if the neighbors come running to get a snitch, they might even bring a goat and you'll feel so authentic.
SUPPLIES
Skewers
You'll want some sturdy sticks to put inside your hotdog. We actually loved using the semi-pointed sticks we use for caramel apples. You could use longer skewers, and cut them down so they're a little bit shorter.
Tongs
A pair of long-handled tongs will make the frying and retrieving much easier (and safer!)
Saute Pan
We liked using this saute pan because it allowed us to lay up to four corn dogs in the pan at one time. Find a pan you've got at home with a nice thick bottom (like a cast iron pan- seasoned or enameled) , if it's not as wide as this saute pan, you'll just want to cook fewer corn dogs at a time. You'll want to use a pan with sides higher than 3 inches, and allows room for the entire corn dog to lay down inside without touching the edges of the pan. And don't overcrowd the pan, that makes the oil temperature really hard to regulate!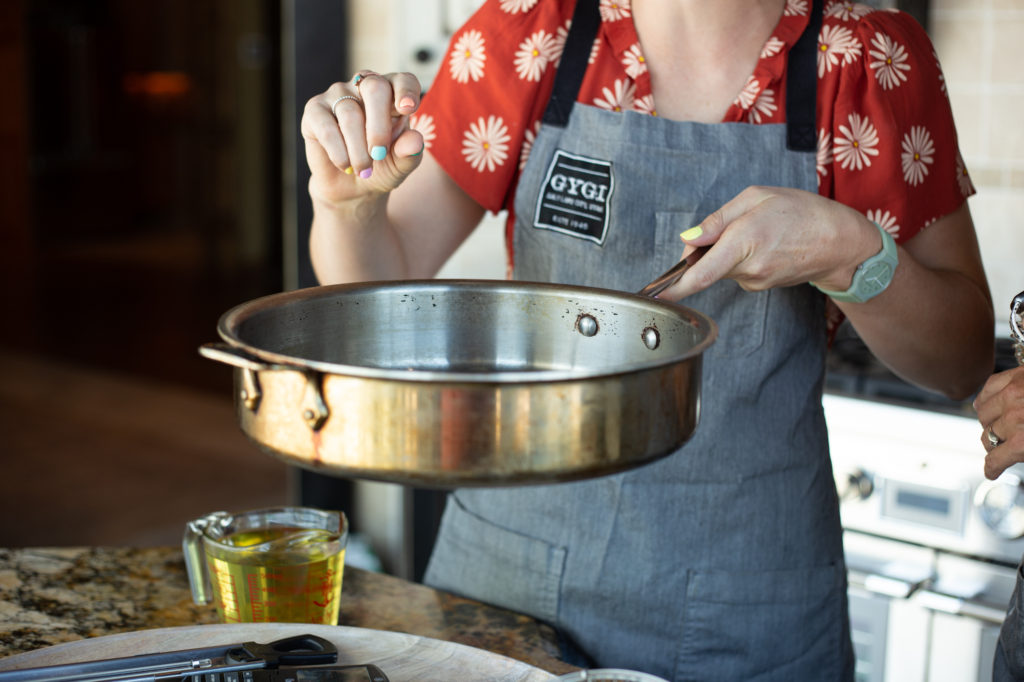 Thermometer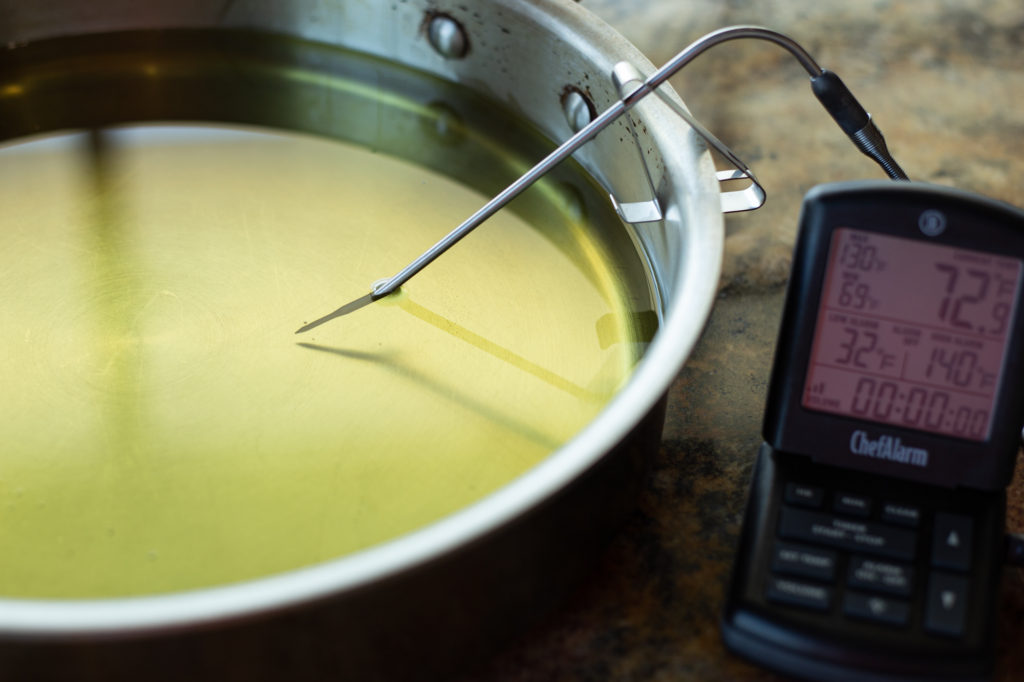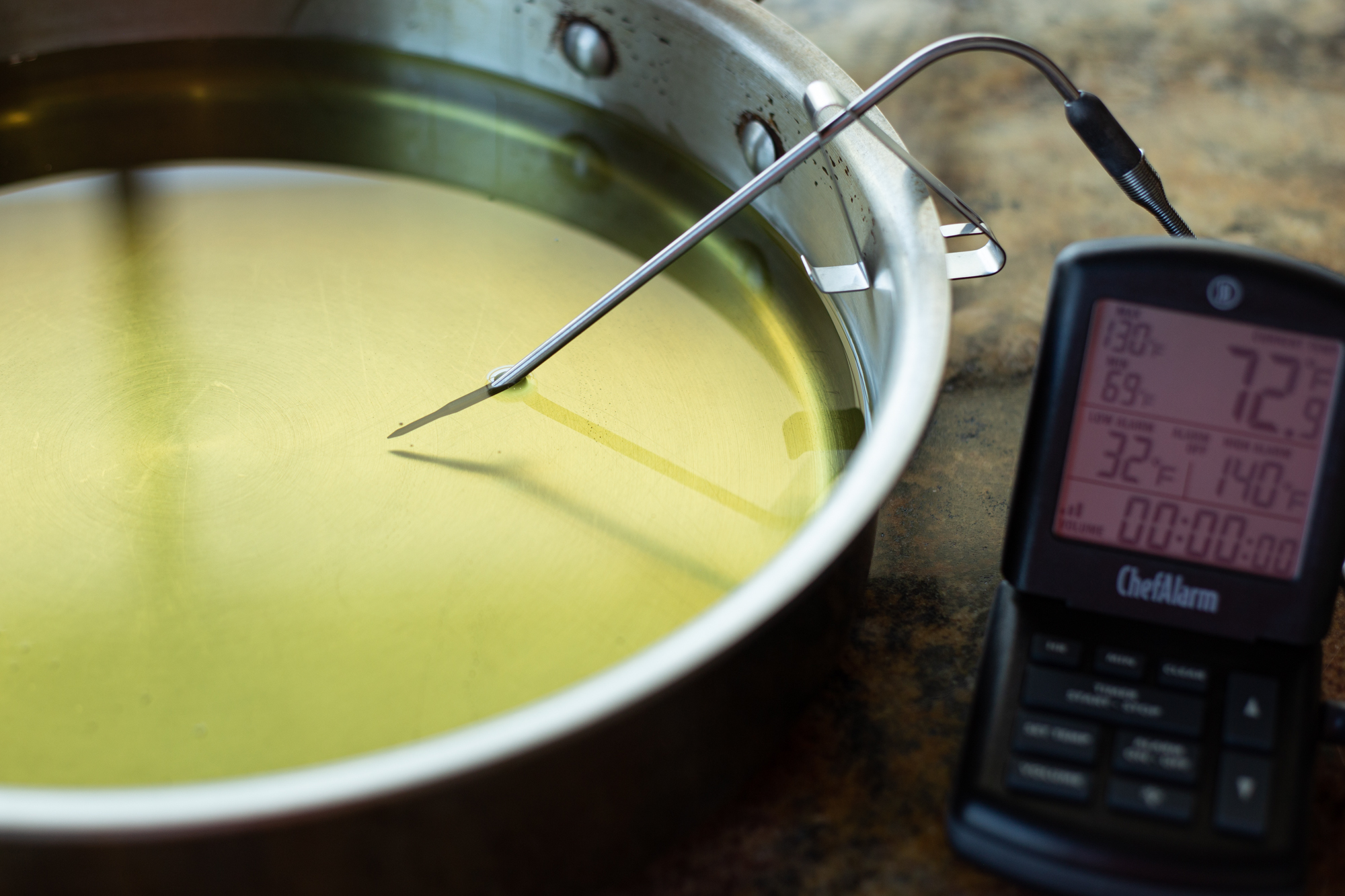 You'll definitely want a thermometer to check the the temperature of your oil. A leave-in thermometer will be your best friend, as it will keep track of the fluctuating temperature so you can focus on the ingredients cooking inside. Expect for the temperature to fluctuate when you add your corn dogs. You'll likely need to adjust a few times while frying each batch, and the thermometer takes all the stress and guess work out of that! We love an option that will clip onto the side of the pot. But you can also use an instant-read thermometer in a pinch. Just take care to keep the plastic away from the radiant heat of the oil.
Tall Cup
Some people may debate the necessity of this item, but we've found it to be pretty critical in helping to get the perfect corn dog coating.
We pour our batter into a large 32 oz. cup, so you can plunge the hot dog completely into the batter. This will give you the smoothest and roundest result. If you don't have a large, deep cup, you can definitely keep the batter in a bowl, but you'll need to wiggle the hot dog around a little more to get the smoothest finish.

INGREDIENTS
The Corn Dog Batter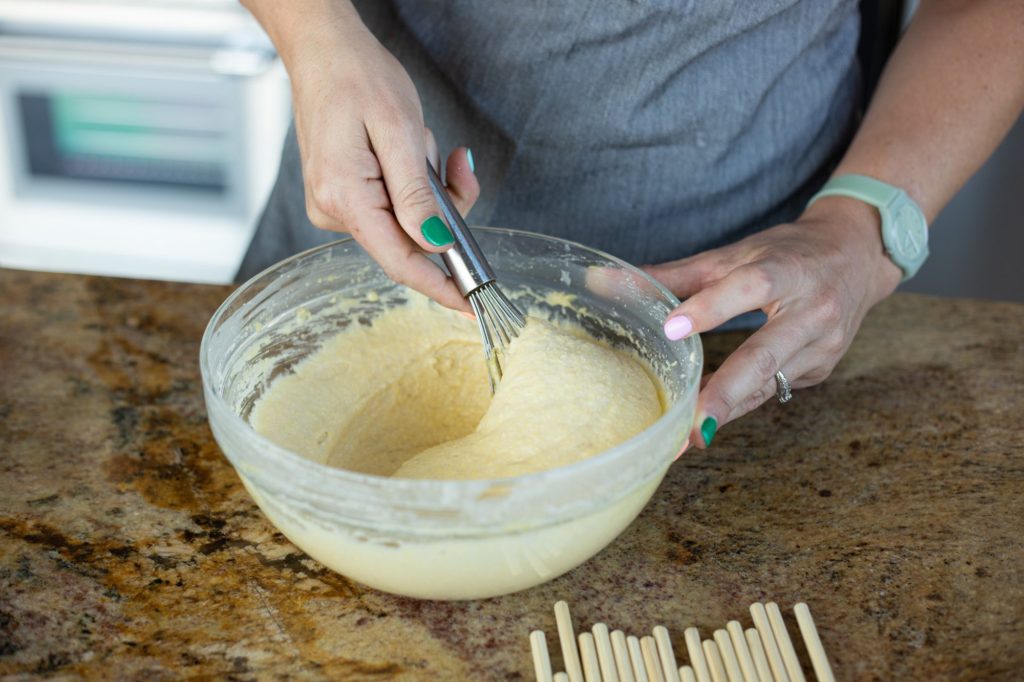 We actually put two different options to the test this time around (surprised?). We first tested our pre-made "Corn Dog Mix" all it require is "cool" water. It was thick. Real thick. But you could add more water or mix according to your personal preferences.
We also tried this recipe made from scratch. We loved the versatility, and knowing exactly what we're eating, but it does require a few more steps. Luckily it uses standard pantry ingredients and some buttermilk (with instructions to make your own!)
The Hot Dog
This is the time to use your favorite hot dogs! Love all beef? Go with these. Craving a Polish dog? Splurge on a package. The corn dog totally needs an all-star hot dog inside, so use your favorite brand. We used "Nathan's All Beef" and we found a local brand of "Polish Dogs" just because we can't resist trying out all the options. You'll want to dry off any of the juice to get your hot dogs ready to go (moisture + batter = mushy corn dog!)
The Oil
The oil does make a big difference when it comes to frying food. Most fried food cooks between 350° and 400°. If you are cooking that hot you need an oil with a higher smoke point- which is why Canola Oil or Peanut Oil are the best. You can also use grapeseed, but it tends to be more expensive, which can be a deterrent for people. All other oils have strong flavors that really change the end result, and they smoke at lower temperatures so it's much easier to burn your oil – which makes your finished product yucky. So we recommend using Canola or Peanut oil.
METHOD
Start with mixing up your batter, you'll want to keep it between 70° to 75° so it will adhere to your corn dog. Keep that in mind as you are preparing your other ingredients, you may need to chill it before you dip your dogs.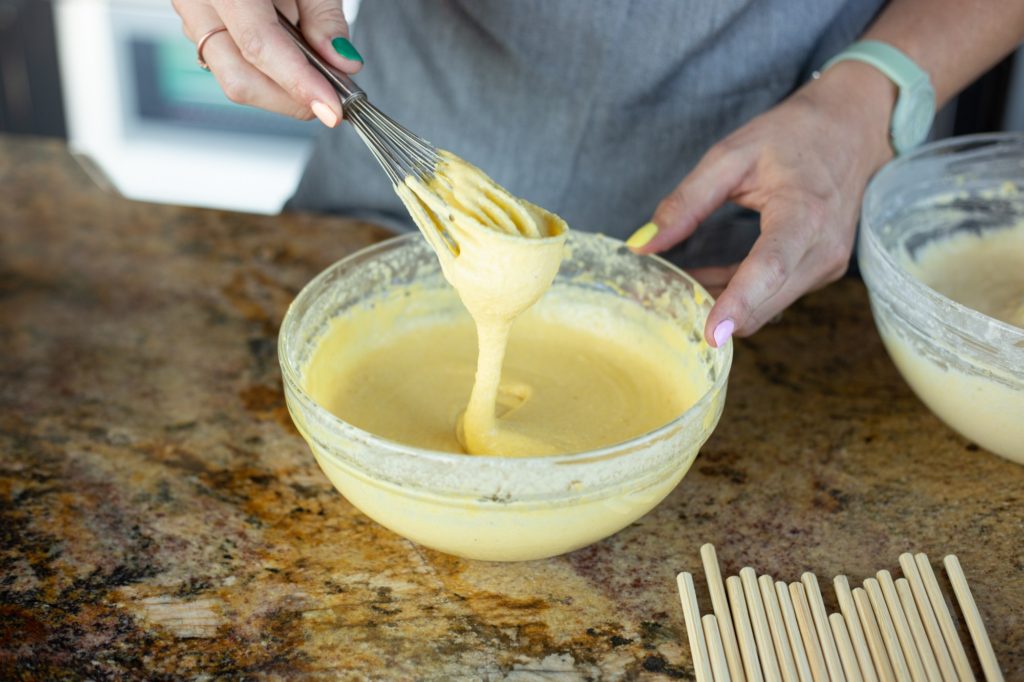 Dry off your hot dogs and place the sticks inside.
Heat your oil to 365° to 375° degrees. You'll want to get the thermometer off the bottom of the pan, otherwise you are testing the pan's heat, and not the heat of the oil.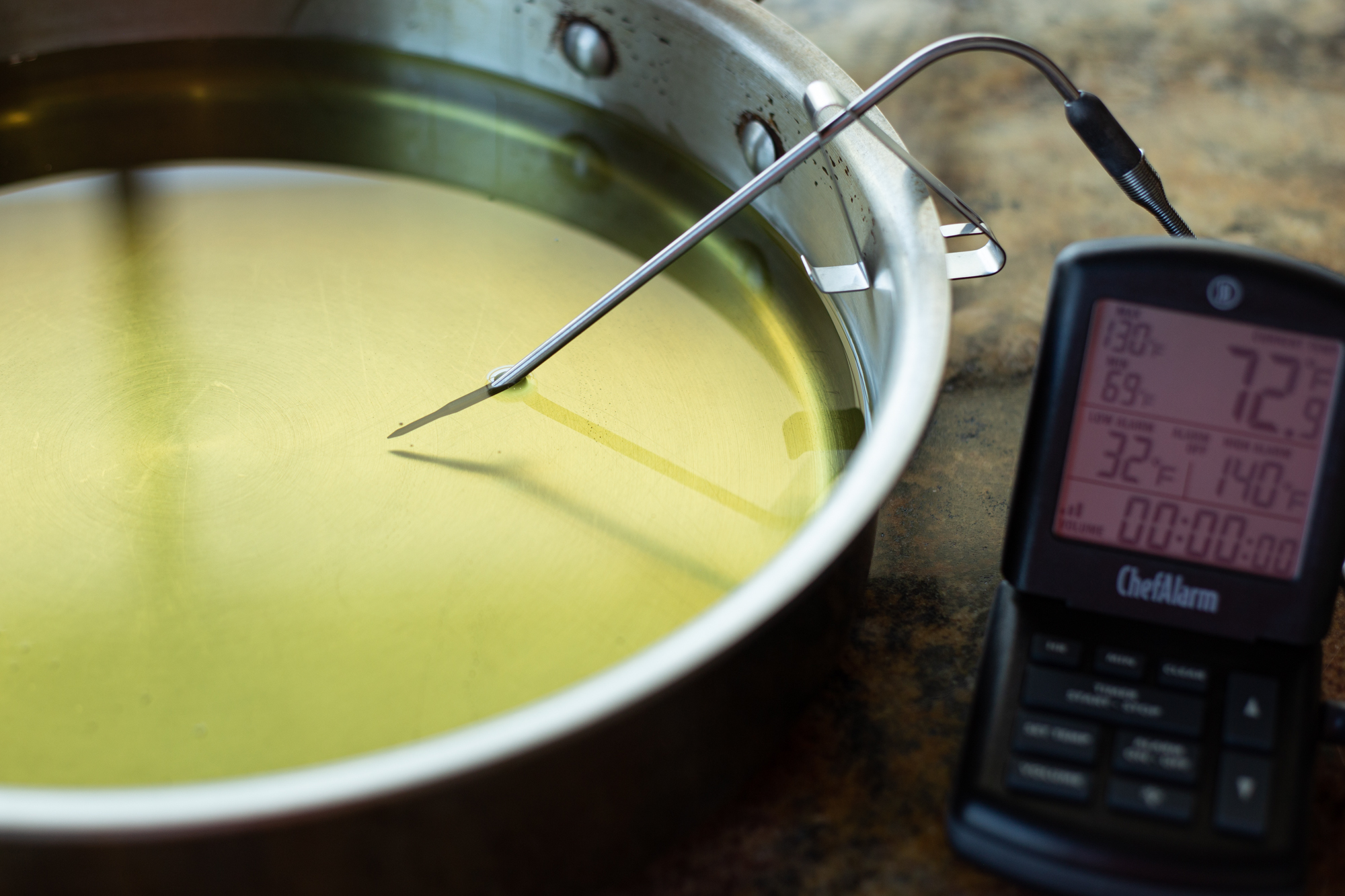 Pour your batter into a tall, deep cup and you can start dipping the dogs. You'll need to let a little of the batter drip back into the cup. Make sure you have a nice even coating on all sides. You can even stick it back in the batter a few times to make sure it's covered all around.
Gently lay your corn dog down into the oil. The stick is so helpful, so you can place it in the oil without ever touching it! The corn dogs will stick for just a second to the bottom of the pan, then they'll release and float to the surface. You can definitely use your tongs to help release them if they are sticking for a long time. You'll want to use your tongs to rotate the corn dogs, so they'll cook evenly on all sides.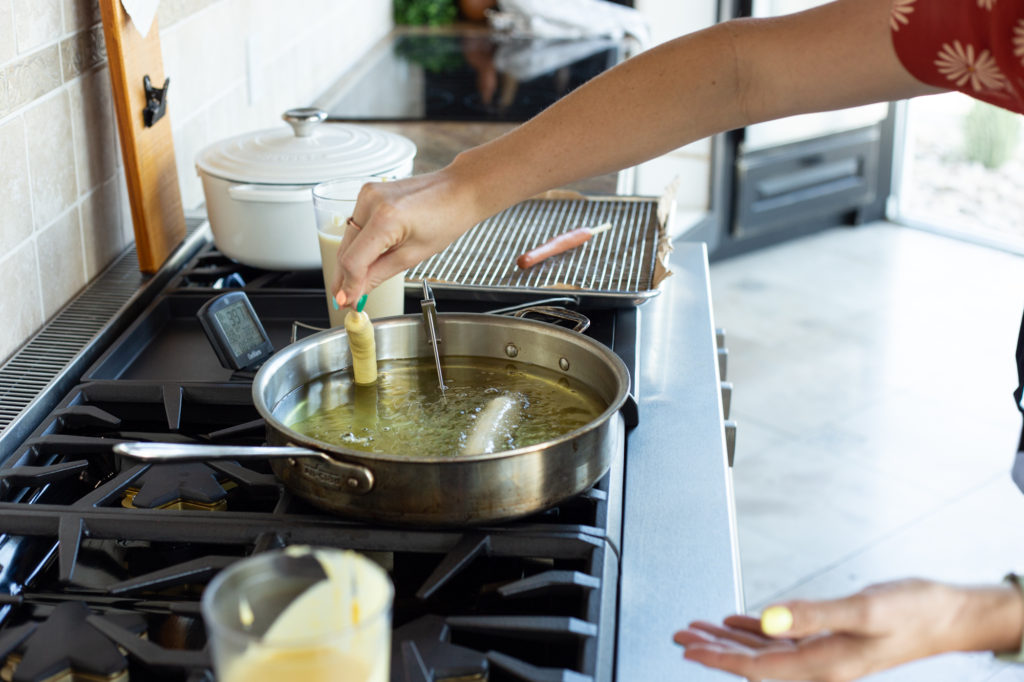 When your corn dogs are a nice golden brown, you'll use your tongs to grab the stick end and remove them from the pan. If it's hard to grab onto the stick, you can grab the corn dog but it will leave marks on the breading. Place them on a cooling rack, or somewhere the oil can drip without being absorbed into the corn dog.
Allow the oil to reheat to 365° to 375° before frying up the next batch. Repeat the previous steps until all your corn dogs are cooked! You can use a small mesh strainer to fish out any crumbs that may have fallen in the oil, you don't want to leave those in as they can start to burn and make your oil taste funny.
These are best enjoyed right after you make them, so don't wait to dig in on these delicious dogs!
THE RESULTS
We can't resist sharing the results of our Boxed batter vs Homemade Batter taste test. As we were making these, it was really fun to see how different the two versions compared to each other. The homemade mix was MUCH thicker when it coated the hot dogs. Once we put them in the oil, the boxed mix cooked SO much faster, and got a lot darker than the homemade version.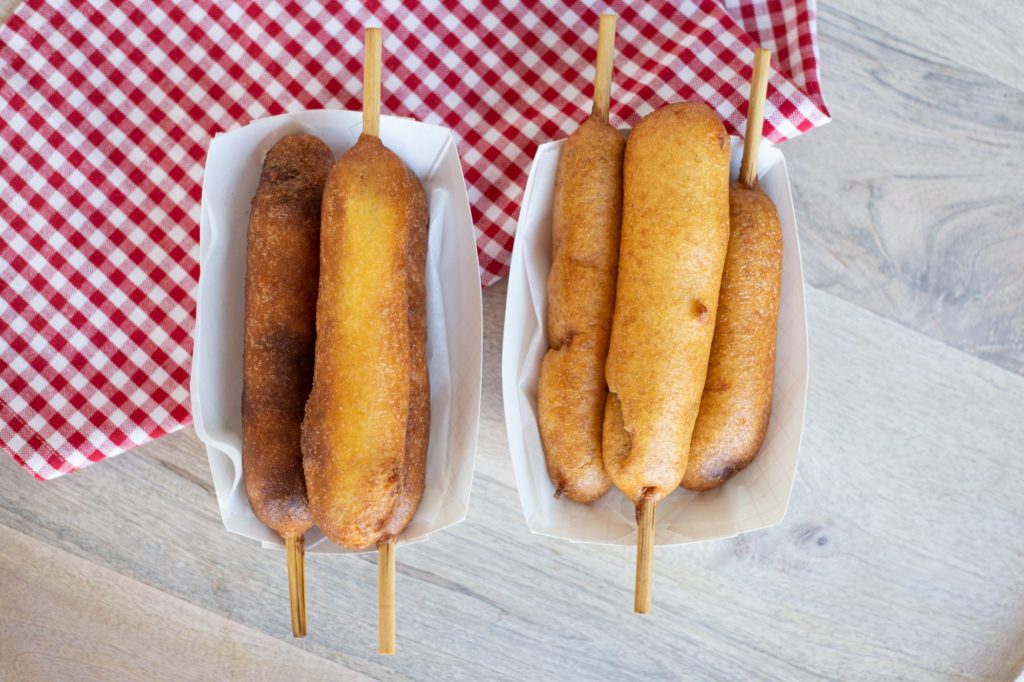 For as different as they looked, the real difference happened when we took a bite. We polled a few of our Gygi team and this was the joint consensus:
Boxed Mix
Crispier
Thinner
Cooked faster
Stayed crunchy
Tasted more like "Fair Food"
Greasier
Lighter texture
Homemade
Fluffier
Thicker
Took Longer to cook
Softened when they cooled
Tasted more homemade
Sweeter
Denser breading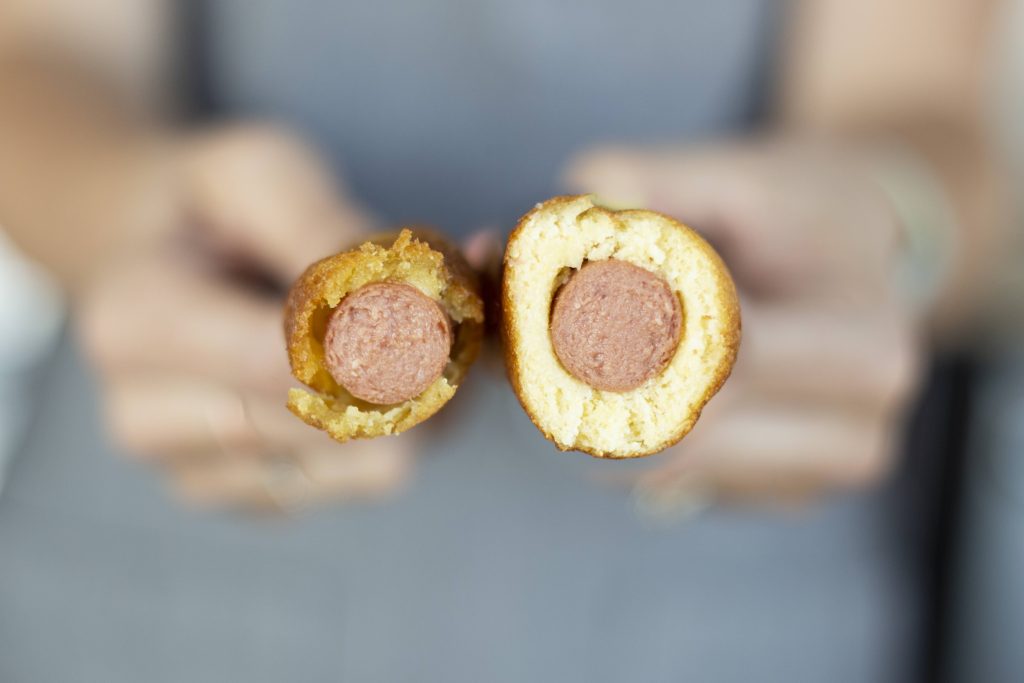 We loved seeing these two options compared side-by-side, and it was fun to know that the boxed mix could provide the most "authentic fair food" flavor. The homemade was still a delicious favorite, but we all agreed they were the best eaten immediately, don't let them cool down, or throw them in a 170° oven to keep them toasty.
Either way, we filled the store with the smell and flavor of the fair and our Gygi team couldn't resist sneaking a bite of these corn dogs. The ability to cook up some of those nostalgic flavors right in your own home will hopefully bring you the type of joy only found in summer time gatherings.
After some other tasty fried foods?
Homemade Funnel Cakes
Fried Cheese Curds
Fried Oreos
Print Recipe
Homemade Corn Dogs
Bring the taste of the fair to your kitchen table with this tasty recipe.
Ingredients
12 hot dogs
Wooden Skewers
Frying Oil (canola or peanut)
Homemade Mix:
1 cup buttermilk (or make your own by adding 1 Tbsp vinegar or lemon juice to a cup of milk and let it sit)
1 1/2 cup flour
1 cup yellow corn meal
1/4 cup sugar
2 tsp baking powder
1 tsp salt
1/2 tsp baking soda
2 eggs
Store- Bought Mix:
(this box typically makes 60 corn dogs- here's what to do to make smaller batch)
1 lb mix (about 3 cups)
0.6 lbs water (about 1 1/3 cups) - add the water slowly, 1 cup first, you want the batter thick!
Instructions
1

Start by mixing all the ingredients for your batter. Set aside.

2

Pour oil into pan and start heating- keep an eye on it- you want it to reach 365 degrees, but stay below 400 degrees.

3

Dry off the hot dogs and place the skewer into one end.

4

Pour batter into wide, deep cup (or leave in bowl) and dip into cup.

5

Lay corn dog slowly into the oil. Don't place too many in the pan at one time and watch the temperature so it doesn't get too hot or cold.

6

They should be nicely golden brown in 3-7 minutes.

7

Take out with tongs and place on a cooling rack or directly on a paper towel.

8

Use a small strainer to remove any crumbs, allow the oil to heat back up to 365 degrees and repeat the steps until all the corn dogs are finished.

9

Eat them quickly! They taste best when they're fresh.