We've all had a Stroopwafel… Right? If you haven't, you're surely missing out! But not to worry, we're about to share with you an easy-peasy way of making them at home. And better yet — this recipe uses our beloved Peter's Caramel.
A Stroopwafel is a cookie made of two thin wafer-like cookies, joined together with a caramel filling. In this recipe, our good friend Paige who works here at Gygi, actually uses a traditional Krumkake recipe. Krumkake, while Dutch, is a descendant of the Italian Pizzelle cookie! This becomes a fun (and delicious) little collision of cultures.
Instead of making a traditional caramel sauce for the inside of the cookie, we are using Peter's Caramel because, well, it happens to be our favorite, obviously. And this cookie is a super simple way to use up your leftover caramel after dipping apples!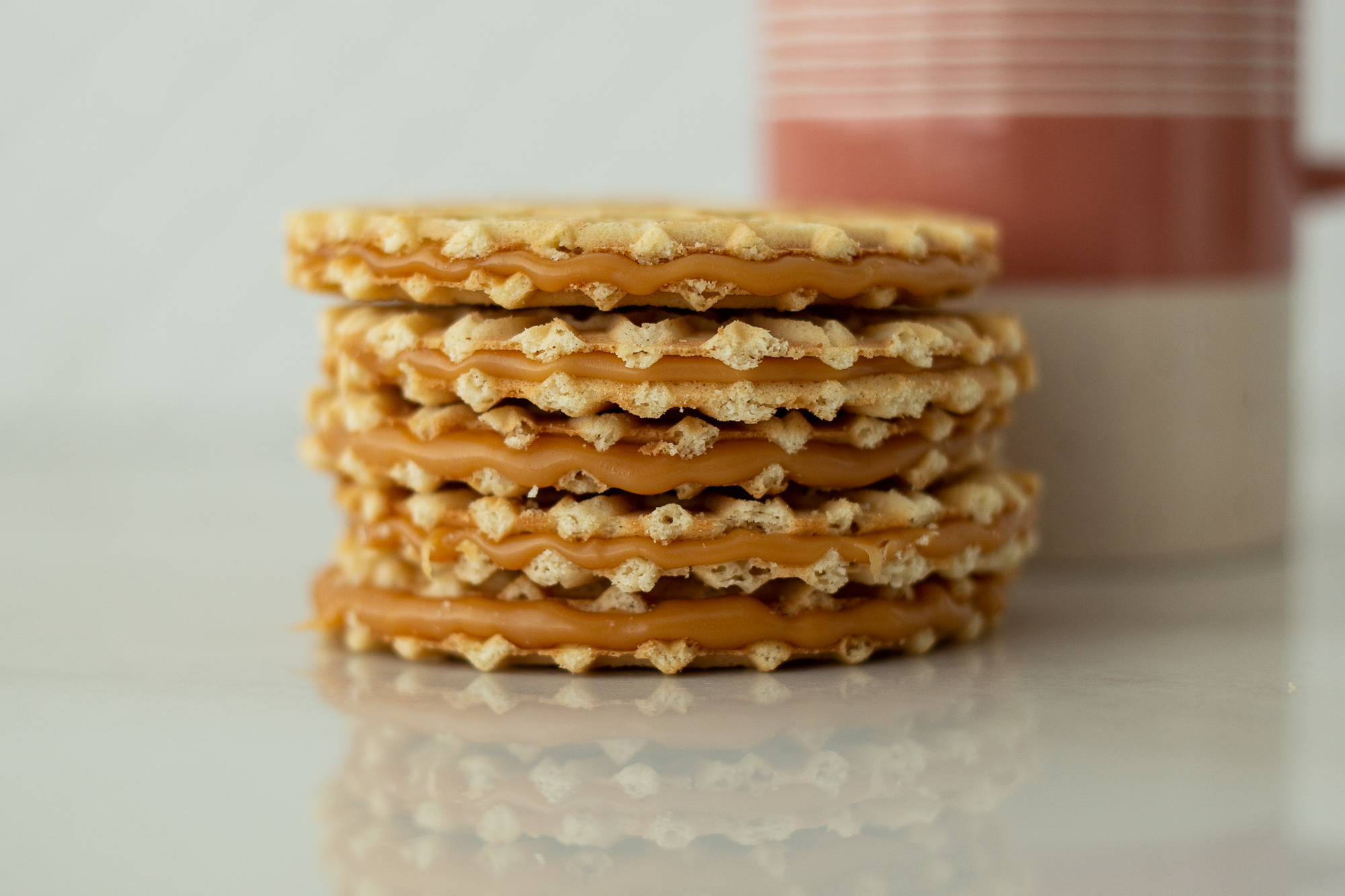 Print Recipe
Simple Stroopwafels
A new, easy take on the traditional Dutch Stroopwafel
Ingredients
1/2 C (1 stick) Butter, melted
4 Whole Eggs
1 tsp Vanilla Extract
1 1/2 C All Purpose Flour
1 C Sugar
2 Tbs Cornstarch
1 Tbs Cinnamon
1/2LB (About 1 C) Peter's Caramel, melted
Instructions
1

Pour melted caramel into a sheet pan lined with a silicone mat or parchment paper. Let cool.

2

In a bowl combine melted butter, eggs and vanilla. Set aside.

3

In a separate bowl, whisk together flour, sugar, cornstarch and cinnamon.

4

Add dry mixture to wet mixture and stir until incorporated.

5

Drop 1-2Tbs of the batter in a waffle cone press or pizzelle press.

6

Once cookies are removed from the waffle iron but still warm, use a round cookie cutter or biscuit cutter to cut an even, round shape.

7

Use the same cookie cutter to cut out circles from your cooled caramel.

8

Layer your caramel cut-outs between two cookies.

9

Serve immediately or store in an airtight container until serving.
Notes
Serve over a cup of hot cocoa, coffee or tea. The steam from your hot drink will help make the caramel center gooey again. You can also microwave the cookie for a few seconds to achieve the same texture.