The eating of the pie is everyone's favorite part. But we daresay that a close second would be the joy found in the decorating. There are some really fun ways to add some finishing touches to your pie. From the crimp on the crust, to adding some personality on your top crust. Read through to find some new ideas for decorating your pie.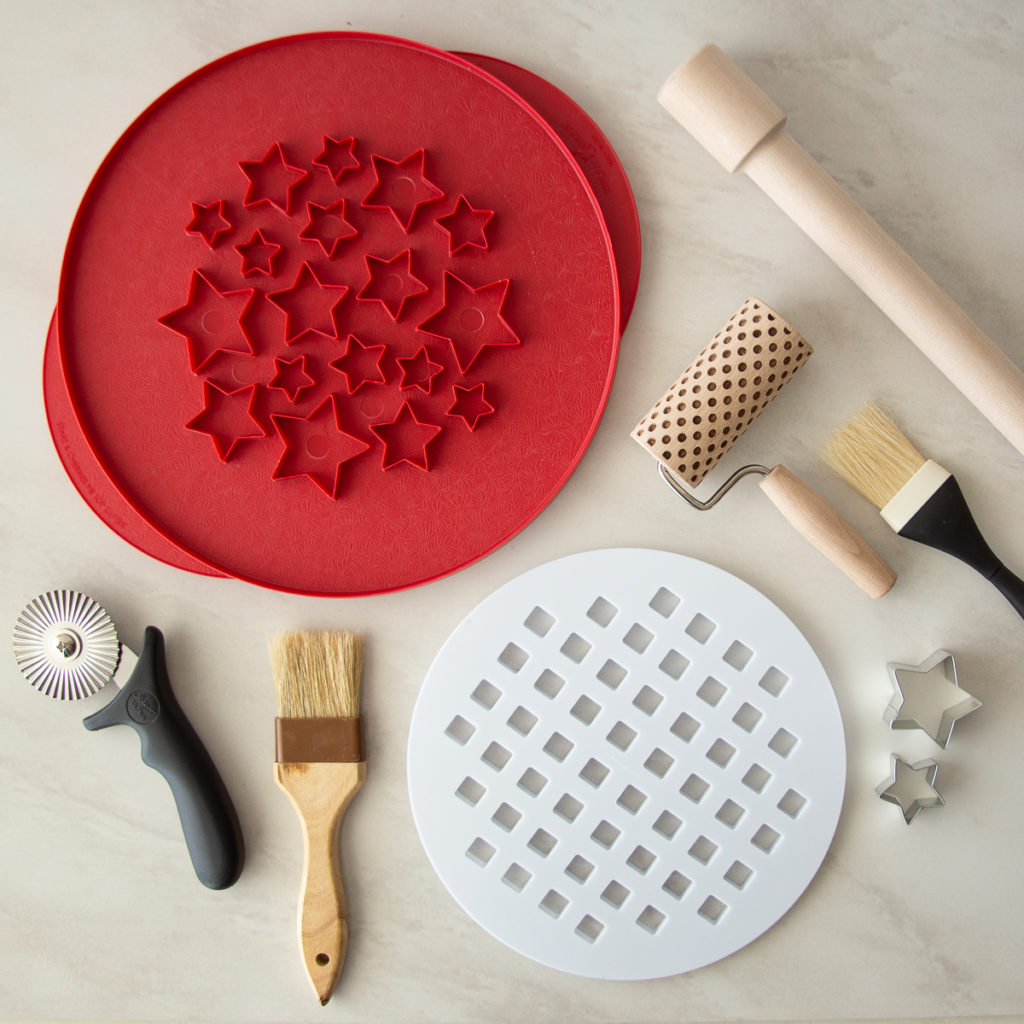 Top Crust Ideas
Lattice: The lattice top crust screams classic pie. To achieve this timeless look, start by rolling your top crust into a circle, then use a pizza or pastry cutter to cut into 12 even strips. Lay 6 evenly spaced on top of the pie filling. Fold every other strip back, so they're barely on the pie. Lay one of the 6 unused strips perpendicular on the top. Unfold the three vertical strips back over. This time take the other 3 vertical strips and fold them back, lay one of the 5 remaining extra strips across, and fold the 3 vertical back over. Continue this pattern until all the remaining strips are used. Use the excess dough around the edges to fold over the edge of the pie, and tuck the lattice underneath, then crimp the edges.
A pie top cutter is basically a giant cookie cutter for your pie. All it takes is rolling out the pie crust, and press the cutter into the crust.
Alternatively, you can create your own design with cookie cutters. Use a little of the egg wash to "glue" on any cut out pieces to layer the crust on the top.
Crimping Techniques
The key is to keep things simple. Your fingers are your best friend, but you can also find\ tools around the house (utensils, scissors, your kids hands, etc) and decorate your pie!
This is a fun way to include the kids in the process! We like to trim around the edges leaving about an inch hanging over, then tuck the crust underneath the edge. Once it's tucked under, you can create these fun designs and patterns.
What's your favorite crimping technique?
Watch these 6 simple Pie Crimping Techniques!
Finishing the Crust
We love a classic egg wash. Simply whisk an egg with a Tbsp of water, then use a pastry brush to spread the egg wash over the crust to create a beautiful golden brown crust. We also love to sprinkle a little (or a lot) of white coarse sugar to add a little texture and fun to the top of the pie.
---
For all our PIE RESOURCES in one spot, check out the GYGI GUIDE TO PIE