This decadent, but delicious pie is a fun option for chocolate lovers. Add a little instant espresso powder, and you've got yourself a darker variation. You could also swap out the semi-sweet chocolate for some melted white chocolate for a lighter option. We paired it with an oreo crust, but this filling would be delicious with any kind of cookie crust, or with a blind baked original crust.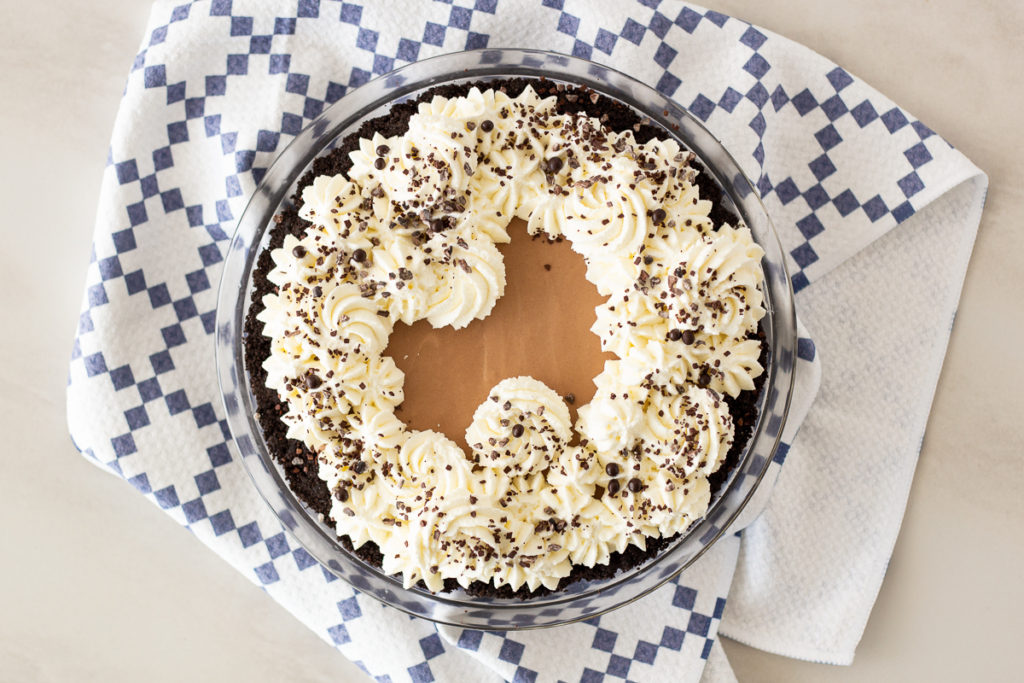 Print Recipe
Chocolate Mousse Pie
Easily adapt this pie into an irresistible mocha flavor by adding some instant espresso powder, our your favorite powdered coffee alternative (like Pero or Postum)
Ingredients
CRUST
18 Chocolate cream filled cookies
3 Tbsp unsalted butter, melted
FILLING
4 large eggs
1 ¼ cups granulated sugar
8 oz couverture, semi-sweet chocolate, melted
2 tsp vanilla
8 Tbsp butter, room temperature
1 ¼ cups heavy cream
1 Tbsp confectioner's sugar
(optional) 2 tsp instant espresso powder
WHIPPED CREAM TOPPING
1 cup heavy cream
2 TBSP confectioner's sugar
Chocolate shavings for garnish
Instructions
2

Preheat oven to 350 degrees.

3

Lighty grease a 9 inch pie pan with non-stick cooking spray. Set aside.

4

In the bowl of a food processor, pulse the whole Oreo cookies until finely ground.

5

Add the melted butter and pulse several more times to combine well. Be sure all the crumbs are coated evenly in the melted butter.

6

Pour cookie crumbs into the prepared pie pan and use your hands to press the mixture into the bottom and half way up the sides of the pan.

7

Bake for 8-10 minutes or until the crust is fragrant and set.

8

Remove the pan from the oven and set aside to cool completely.

11

In a medium saucepan over medium-low heat, cook the eggs and sugar together while whisking constantly. Use a digital thermometer to check for doneness, should read 160 degrees. The mixture will coat the back of a spoon when cooked.

12

In a small bowl, if using instant espresso powder, dissolve in the vanilla extract.

13

Remove the pan from the heat and stir in the melted chocolate, vanilla (and espresso powder). Stir until smooth and shiny. Set aside to cool slightly.

14

Meanwhile, in the bowl of a stand mixer fitted with the paddle attachment, beat the butter for 2 minutes until light and fluffy.

15

With the mixer on low, slowly add the chocolate mixture. Once fully incorporated, increase the speed to high and beat for 5 minutes until light and silky.

16

Whip the cream until soft peaks form, then add the confectioner's sugar and beat carefully just until stiff peaks form.

17

Gently fold the whipping cream into the chocolate and butter mixture, folding carefully from the bottom up to the top of the bowl. Rotate the bowl as you go.

18

Pour the mixture over the cooled chocolate cookie crust and smooth out with a spoon or spatula.

19

Chill for a minimum of 5 hours or overnight for best results.

20

Top with another layer of freshly whipped cream and chocolate shavings.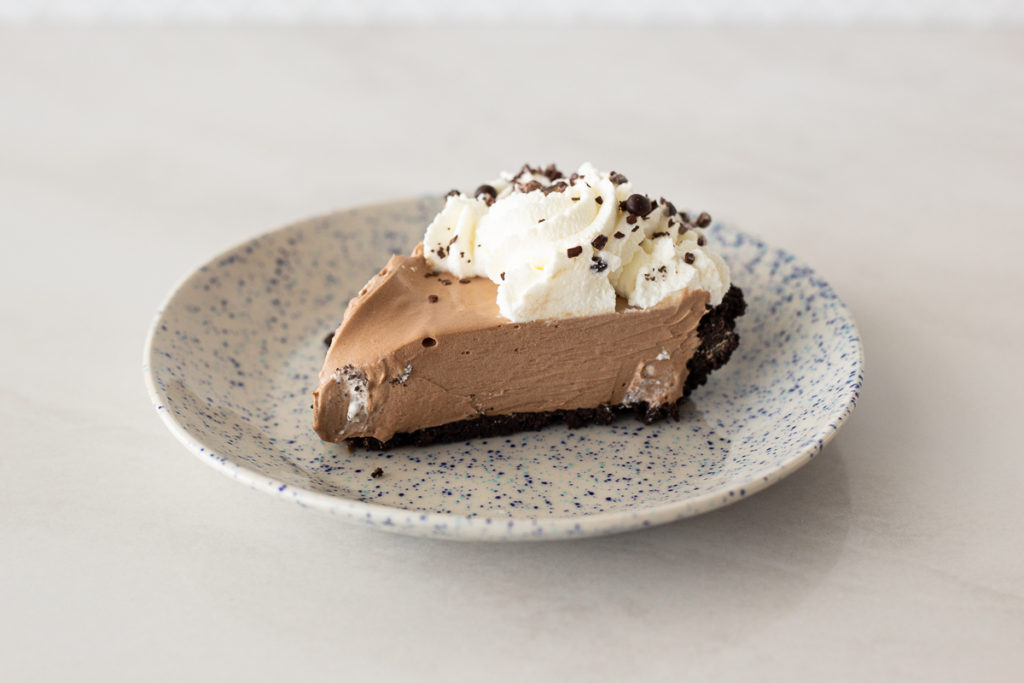 Shop our PIE ESSENTIALS all in one place.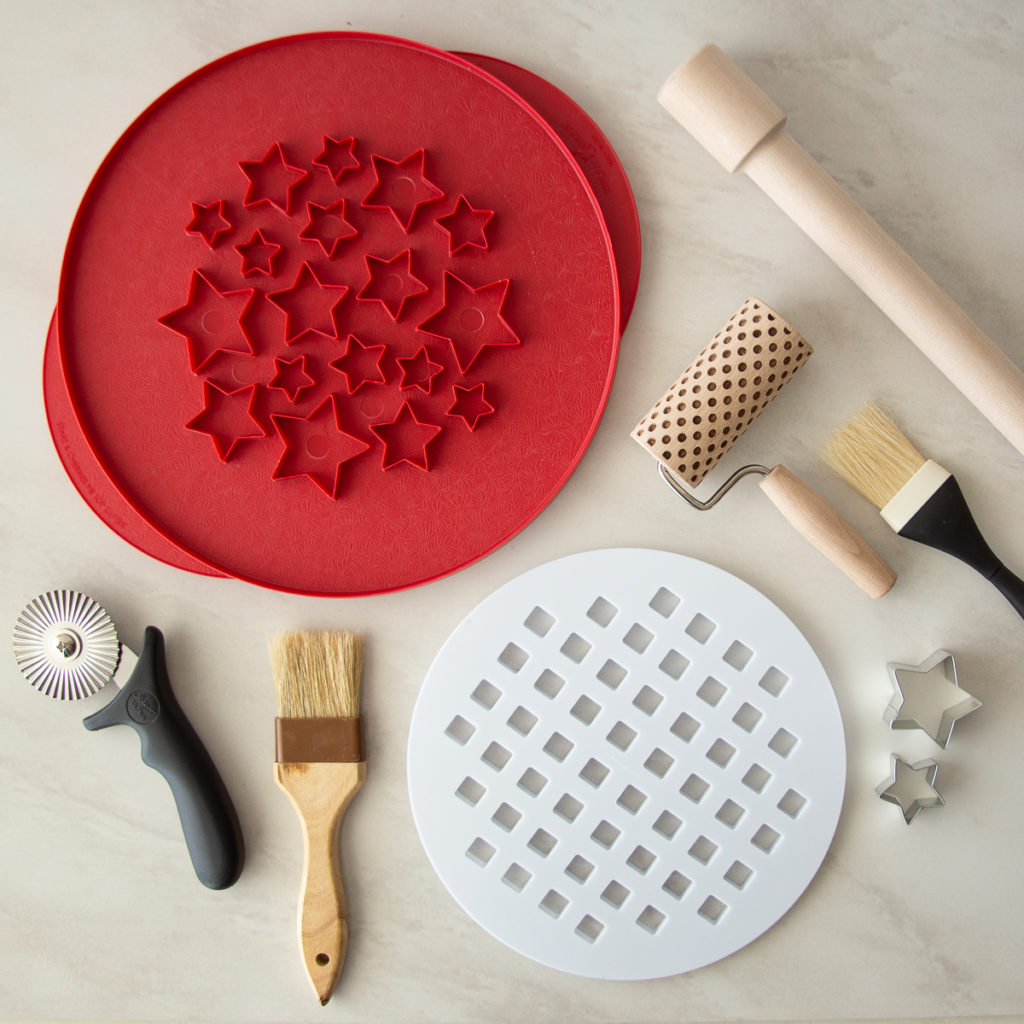 For all our tips on Pies, check out the Gygi Guide to Pies.