Attention! Attention! It's pie season! (actually we think all year is pie season!) But we couldn't celebrate pies and chocolate without inviting Val from Crust Club!
Val has helped us celebrate and feed so many special people in our lives and we can't wait for you to spend some time in the kitchen with her today!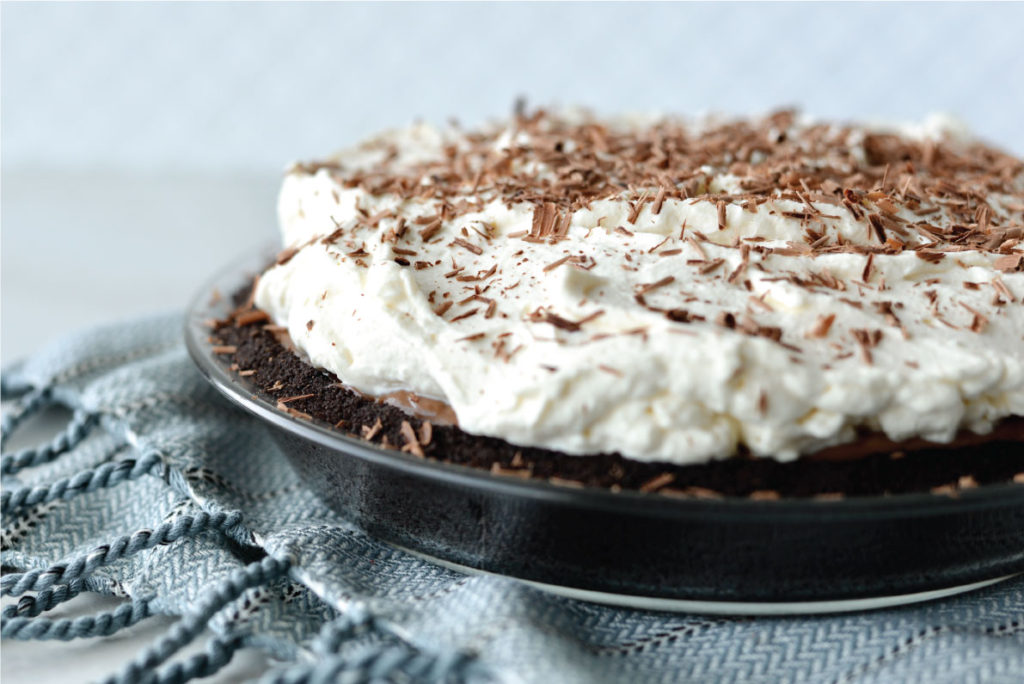 She will be combining a homemade oreo crust and the most delicious chocolate custard! This pie is made to impress!
Print Recipe
Tyler's Favorite Chocolate Cream Pie
Ingredients
CRUST
22 Oreos
1/4 cup butter, melted
FILLING
3/4 cup sugar
1/4 cup cornstarch
1/4 tsp salt
3 cups half & half
4 egg yolks
1/2 cup milk chocolate chips
1/2 cup semisweet chocolate chips
1 Tbsp butter
1 tsp vanilla
WHIPPED CREAM
1 cup heavy whipping cream
1/4 cup powdered sugar
1/2 tsp vanilla
chocolate shavings, optional
Instructions
2

Preheat oven to 350ºF. Measure chocolate chips and 1 Tbsp butter, set aside.

3

Crush Oreos in a food processor until fine crumbs. Add melted butter and mix until combined.

4

Press Oreo crumbs into a 9" pie plate. Bake for 5 minutes, set aside.

5

Pour sugar, cornstarch and salt into medium saucepan, whisk together.

6

Add half & half and egg yolks. Whisk together.

7

Turn heat to medium-high. Whisk constantly until mixture comes to a boil, making sure to thoroughly scrape the bottom and corners of the pan continually. Boil over medium-low for 1 minute while whisking constantly.

8

Remove from heat and immediately add chocolate chips & 1 Tbsp butter. Whisk until completely melted and combined. Whisk in vanilla.

9

Immediately pour into pie crust. Cover with plastic wrap, pressing the plastic onto the custard so that a film doesn't form as custard cools. Refrigerate for 4 hours.

10

Beat heavy cream, powdered sugar and vanilla together until stuff peaks. Top cold pie with whipped cream and chocolate shavings.

11

Keep refrigerated and serve cold.
Notes
*Recipe tips: The chocolate custard can burn easily and quickly. I recommend cooking it over medium-low heat the entire time for beginners. It takes longer but is less likely to burn. I also recommend using high quality chocolate chips or baking chocolate.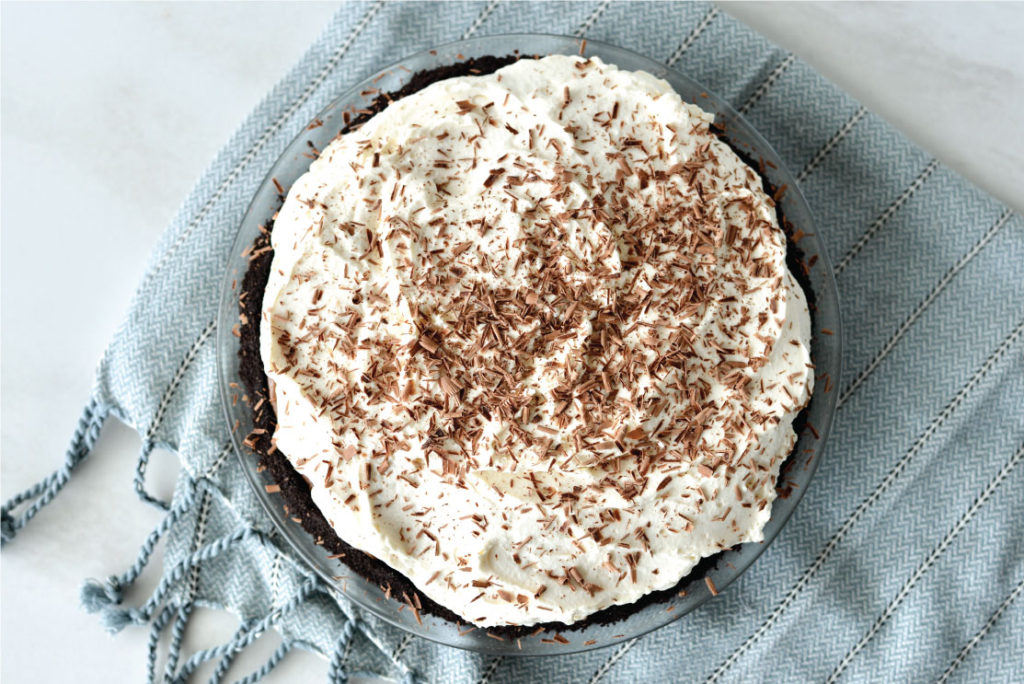 Connect with Val over on Instagram and check out all her irresistible pies! She also shares recipes here, and trust us, they are tasty!
---
This recipe is part of our Annual Gygi Chocolate Extravaganza. Check out all the classes (hands on, demo and virtual options!)