Sometimes you have to make your own luck. And that is exactly what we decided to do with these gorgeous, buttercream shamrock sugar cookies. They look like tiny little succulent gardens in the shape of a clover, and we just can't get enough! Look at how gorgeous! And we can't wait to sit down with our kids and recreate them for a quick St. Patrick's Day dessert.
Our favorite recipe for roll and cut sugar cookies is still Blyss Cookies Traditional Dough. The cookies are tasty and hold their shape perfectly when you follow their tips. And when decorating cookies, you really do need a reliable recipe you can count on to work time and time again. And then cut with some cutie Shamrock Cookie Cutters.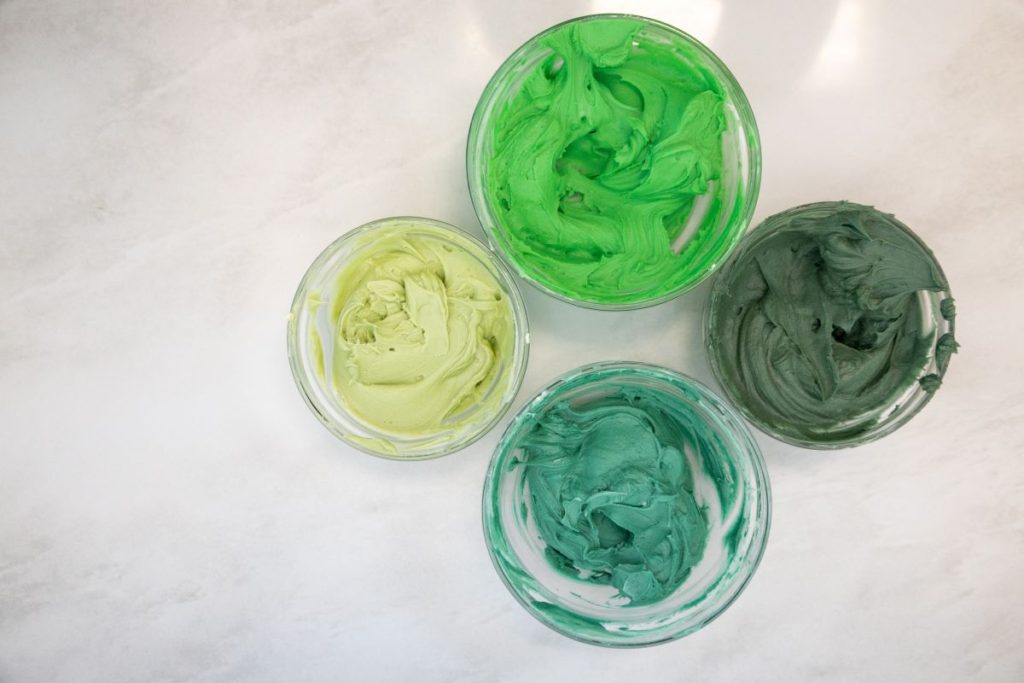 Then, for this little treat, we used some of our favorite green AmeriColor Soft Gel Paste food coloring for our buttercream: avocado, leaf, cypress, and forest. Can you pick them out? The avocado color really does come out exactly like you would expect in the most beautiful and muted light green. The leaf color, in contrast, is so bright and vibrant. It is probably the best, all-around classic, green color. Next we have the cypress which comes out as a darker, earthy green. And the forest is also dark green but has a bluish tint to it.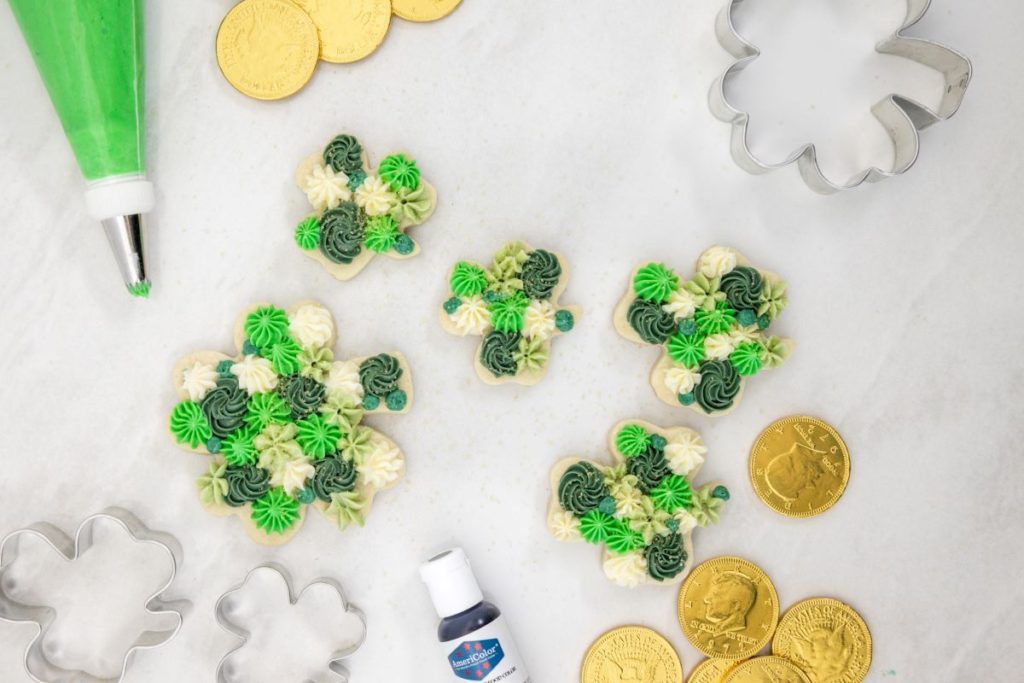 Once we had our colors picked out for our sugar cookies, we put the colored buttercreams into five separate disposable piping bags and used a variety of piping tips for this cute little arrangement of swirls, florets, petals, and tiny dots. We chose different shapes, sizes, and even brands to bring some variety and interest to the designs. Here is how we paired things up:
Avocado tip Wilton #131
Leaf green tip Wilton #32
Cypress green tip Ateco #27
Forest green tip PME Supatube #2
Uncolored buttercream tip Ateco #30
With your buttercream separated and tips in place you are ready to get started. Now, you don't need an expert hand to decorate these cookies, but some practice doesn't hurt either. So before you take straight to the cookies we suggest you test out a few of the tips on a piece of paper just to see how they look and practice some fun techniques before moving on to the cookies. And once you get the hang of it, the process becomes very Zen and zooms right along. Sprinkle with a little gold dust of sugar sprinkles and suddenly you will look up and there will be a dozen cookies fully decorated and ready to be devoured.
What do you think? Didn't these turn out so cute? Buttercream shamrock sugar cookies would be such a crowd-pleaser and an easy St. Patrick's Day tradition to look forward to year after year.