Here is the thing about carrot cake. As kids, it wasn't our favorite. Why ruin a perfectly good cake with vegetables? That did not sound appealing, at all. But the older we get, the more we appreciate this versatile and utterly delicious dessert. This carrot cake with buttermilk glaze from Lara Harmon is a great way to work in some vegetables, as well as a variety of other ingredients you have on hand in your pantry. And, when done well, carrot cake doesn't even have to taste like carrots.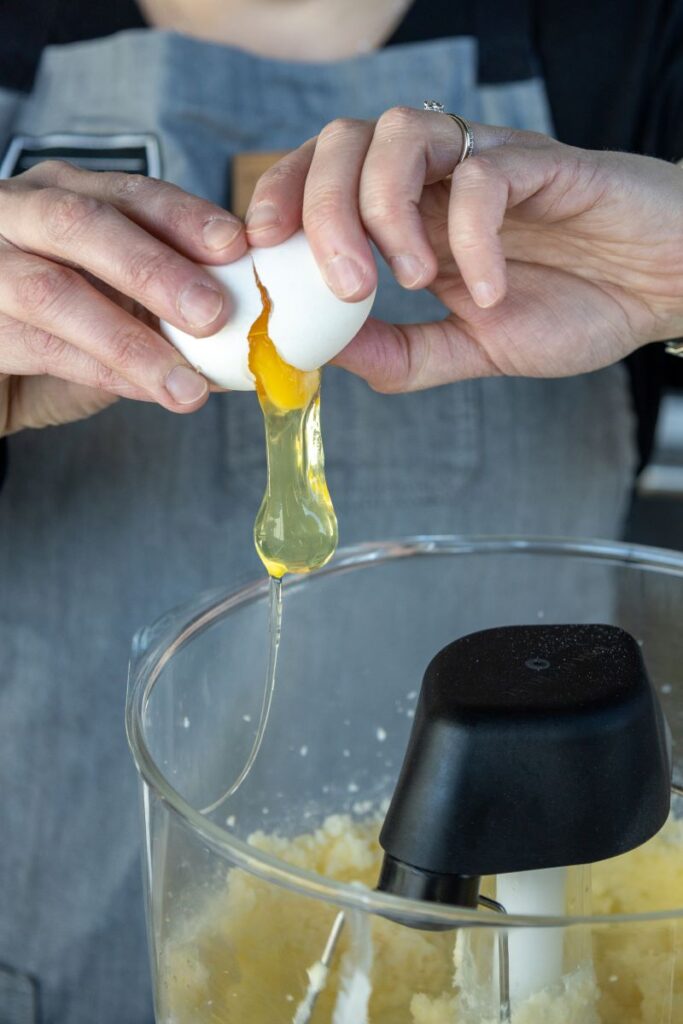 Lara Harmon has been shopping at Gygi's for many years. She has a passion for cooking and baking and loves preparing elaborate meals and desserts for her family and friends. And she always comes up with the most amazing recipes–especially for unique and delicious ways to use up ingredients she already has on hand. This recipe for her infamous carrot cake is constantly being made by her children and her grandchildren and has become a seasonal staple for spring and Easter. And now, she has graciously decided to share this recipe with all of us.
So why add carrots to a cake? Two reasons. They help add sweetness and moisture. And calling it carrot cake is a bit of a misnomer. As far as the method goes, carrot cake is actually more like a muffin. You mix the wet ingredients, mix the dry ingredients, and then mix both the wet and dry together until they are just combined. Does that sound like the method for muffins to anyone else? Luckily, carrot cake is a little easier, because instead of muffin tins, the entirety of the batter goes into greased pans. And with this recipe, you can choose if you want three 9" circles or a 9×13" pan.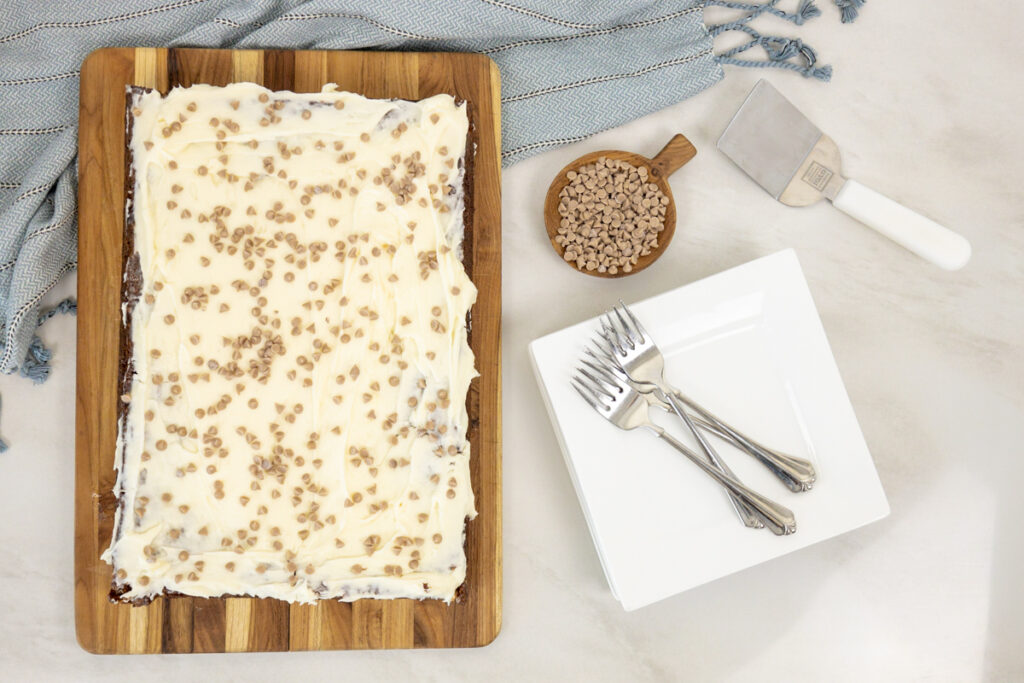 What can make or break a carrot cake? The carrots! We get it. Not everyone likes to have the texture of carrots in their cake. And that is ok. We decided to save a step and avoid the extra dishes by getting shredded carrots prepackaged from the store. But if you want a smoother cake batter, then all you have to do is grate the carrots by hand with a fine grater or food processor. The smaller the pieces, the less chunk and texture the carrots will add to whatever you are baking. You might also consider chopping your pecans and coconut a little more too. Those extra steps will be well worth it if it gets you to try this amazing recipe for carrot cake.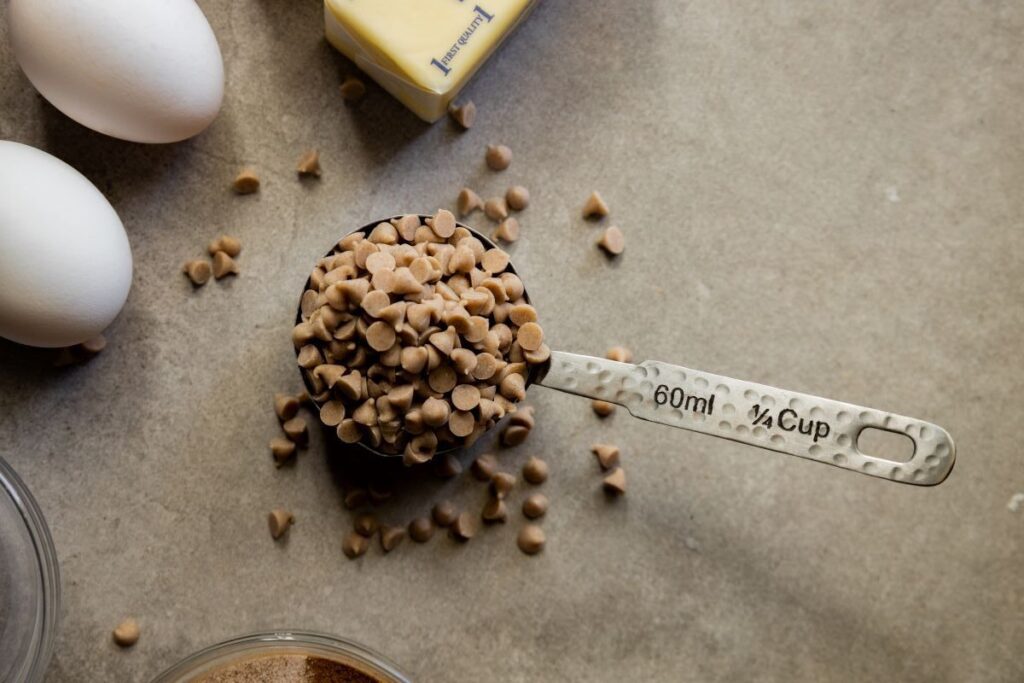 Our other secret weapon in this amazing cake? We added Gygi cinnamon chips to the batter. We love the way these baking chips add little bursts of natural cinnamon flavor without overpowering the rest of the ingredients. You can simply add more cinnamon chips as a substitute for the plain ground cinnamon in the recipe, or like us, you can do a combination of both ground cinnamon and cinnamon chips for the best all-around flavor.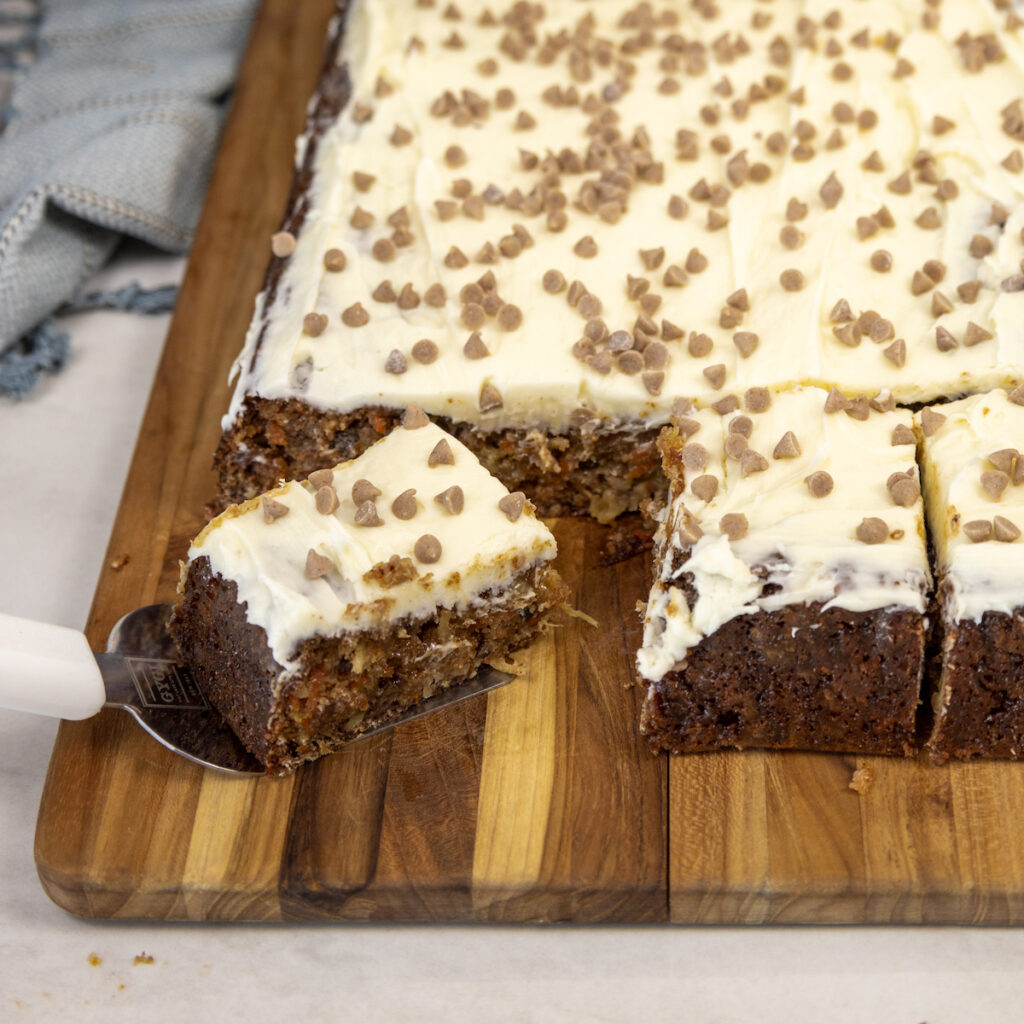 There are also several other substitutions or additions you can make to this recipe as well. Some people love raisins in their carrot cake. Others mix some zucchini with the carrots. And yet others prefer walnuts to pecans. By all means, tweak this recipe with all of your favorites. Experimenting in the kitchen can be so fun! And that is how some of the best traditional family recipes come into existence. Just don't skip out on the buttermilk glaze. This is what takes Lara's carrot cake to the next level.
Print Recipe
Carrot Cake with Buttermilk Glaze
Ingredients
For the cake:
2 cups sugar
¾ cup buttermilk
¾ cup vegetable oil
3 eggs (beaten)
2 tsp vanilla
2 cups all-purpose flour
2 tsp baking soda
½ tsp salt
2 tsp ground cinnamon
2 cups grated carrots
1 cup chopped pecans
1 8 oz can crushed pineapple (drained)
3 ½ oz coconut
¾ cup cinnamon chips
For the buttermilk glaze:
1 cup sugar
½ cup buttermilk
½ cup butter
1 Tbsp light corn syrup
½ tsp baking soda
1 tsp vanilla
For the cream cheese frosting:
1 8 oz package cream cheese (softened)
½ cup butter (softened)
1 16 oz package powdered sugar
1 tsp vanilla
Instructions
1

For the cake, prepare three 9" round cake pans or a 9x13x2" cake pan.

3

Combine sugar, buttermilk, vegetable oil, eggs, and vanilla. Beat well.

4

In a separate bowl combine flour, baking soda, salt, and ground cinnamon. Add dry ingredients to the sugar mixture and stir well.

5

Add carrots, pecans, pineapple, coconut, and cinnamon chips. Mix well.

6

Pour batter into prepared pan(s) and bake for 35-40 minutes or until done. Remove from the oven to cool.

7

For the buttercream glaze, combine sugar, buttermilk, butter, and corn syrup in a saucepan. Bring to a boil over medium heat and cook for four minutes, stirring frequently.

8

Remove from heat and stir in vanilla and baking soda. Continue stirring until the mixture is settled and smooth. (Yields two cups).

9

Pour glaze over warm cake layers and let cool in pans for 15 minutes.

10

Remove cake from pans and let cool completely on wire racks.

11

For cream cheese frosting, combine cream cheese and butter. Beat on medium speed until smooth.

12

Gradually add powder sugar until light and fluffy.

14

Spread frosting over cooled cakes and top with cinnamon chips.
Notes
The amount of frosting for this recipe is to frost and fill the three-tier cake. If you are making the 9x13" pan you can easily half the ingredients.