Have a hard time deciding between cake and pie and cheese cake? Then this Cherry Cheese Pie Cake the perfect solution from Cake by Courtney. Get all your favorites wrapped up on the perfect blend of flavor and texture. Check out more of her amazing recipes here.
The tools that Courtney recommends include an acrylic disc, icing spatulas, a cake scraper and a cake turntable.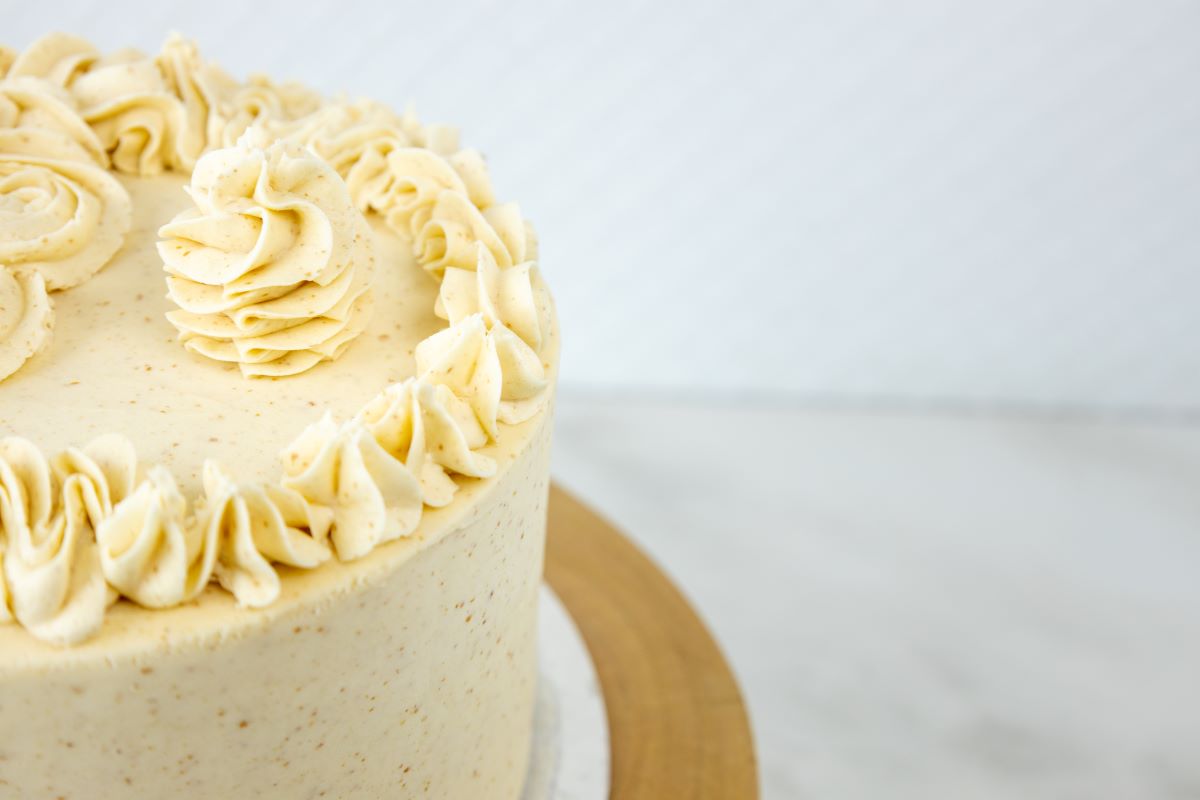 Print Recipe
Ingredients
Graham cracker crust:
25 (380 g) graham crackers full rectangle cracker
3/4 cup (165 g) unsalted butter melted
1/2 cup (100 g) granulated sugar
Cream Cheese Cake:
3 cups (360 g) all-purpose flour
3 tsp (12 g) baking powder
1 tsp (5.6 g) salt
1 cup (218 g) grapeseed oil
8 ounces cream cheese room temperature
1 3/4 cups (350 g) granulated sugar
3 eggs room temperature
1 cup buttermilk at room temperature
Cheesecake Filling:
8 oz cream cheese
14 oz sweetened condensed milk 1 can of Eagle Brand
1/3 cup (76.6 g) freshly squeezed lemon juice
Cherry Pie Filling:
15 oz tart canned cherries in water you can also use fresh cherries, pitted
1/2 cup (118 g) liquid from the canned cherries if you use fresh cherries, add 1/2 cup water
1/2 cup (100 g) granulated sugar
2 Tbsp (18 g) corn starch
1 Tbsp lemon juice
Graham Cracker Buttercream:
2 cups (452 g) unsalted butter slightly cold
5 1/2 cups (687.5 g) powdered sugar measured then sifted
1/2 cup (60 g) graham crackers, finely ground about 7 whole crackers
1/2 cup (57.75 g) heavy whipping cream
1 tsp (4.2 g) vanilla extract
pinch of salt
*This buttercream recipe makes enough to fill and cover your cake. If you want to add additional piping, you'll want to make an extra 1/4 to 1/2 batch.
Instructions
2

Preheat the oven to 375 degrees F. Spray three 8-inch cake pans with nonstick spray, line with parchment, and spray again. Set aside.

3

In a food processor or blender combine the graham cracker, sugar and melted butter. Pulse until the mixture resembles wet sand.

4

Divide the crumbs between the three pans (about 7 ounces in each). Pat firmly into place.

5

Bake the crusts for 5 minutes.

7

Preheat your oven to 325 degrees.

8

In a medium mixing bowl, whisk together the flour, baking powder and salt. Set aside.

9

In the bowl of a stand mixer, beat the grapeseed oil, cream cheese and sugar on medium-high speed for 2-3 minutes.

10

With the mixer on medium, add the eggs, one at a time, making sure to scrape down the sides and bottom of the bowl between each addition. Once all of the eggs are added, turn the mixer to mediump-high speed and beat for an additional 2 minutes.

11

With the mixer on low, alternately add the flour mixture and the buttermilk in three additions, starting and finishing with the flour. Combine until incorporated, about 20 to 30 seconds.

12

Evenly distribute the batter among the three cake pans on top of the crusts (about 15-16 ounces of batter in each pan) and bake for 30 to 35 minutes or until a toothpick inserted in the center of the cake comes out with just a few moist crumbs.

13

Let cool in pans 5-10 minutes before inverting onto a wire rack to cool completely. Once cooled, you can cover with plastic wrap and store in your refrigerator overnight or freezer for longer.

15

In a medium size mixing bowl, beat the cream cheese, sweetened condensed milk, and lemon juice until smooth.

16

Cover and refrigerate until ready to use.

17

Graham Cracker Buttercream:

18

In a stand mixer fitted with a paddle attachment, beat the butter on medium-high speed for about two minutes.

19

With the mixer on low speed, slowly add the sifted powdered sugar until incorporated. Scrape down the sides of the bowl and continue to mix for another minute.

20

Add the graham cracker crumbs, heavy cream, vanilla and salt. Increase the speed to medium-high and beat the buttercream for 3 to 5 minutes.

21

Use a spoon to mix the frosting by hand, which will push out the air pockets created by the electric mixer.

23

Place the first cake layer, top side up, on a cake board or cake plate. Using a piping bag, pipe a rim of buttercream around the edge of the cake.

24

Fill the cake with 1/2 cup cheesecake filling, followed by 1/2 cup cherry compote.

25

Place the second cake layer on top and repeat step two.

26

Place the final cake layer on top and apply a thin layer of buttercream around the entire. Freeze the cake for about 10 minutes to set crumb coat.

27

Finish frosting the cake with the remaining buttercream and top with remaining cheesecake filling and cherry compote.