It isn't summer unless there is fresh strawberry tart. At least, that's what we believe. Because strawberries are the literal fruit of summer. And when they are in season, we must take advantage. This amazing recipe for strawberry tart is as delicious as it is beautiful. We can't wait to dig in! 
This easy, no-bake recipe starts with a traditional graham cracker crust pressed firmly into a 9" tart pan. At Gygi, we love this Fat Daddio's tart pan with a removable bottom so you can easily lift the entire crust right out of the pan for a gorgeous presentation. If you can get the crust right, the rest of this tart is just as easy.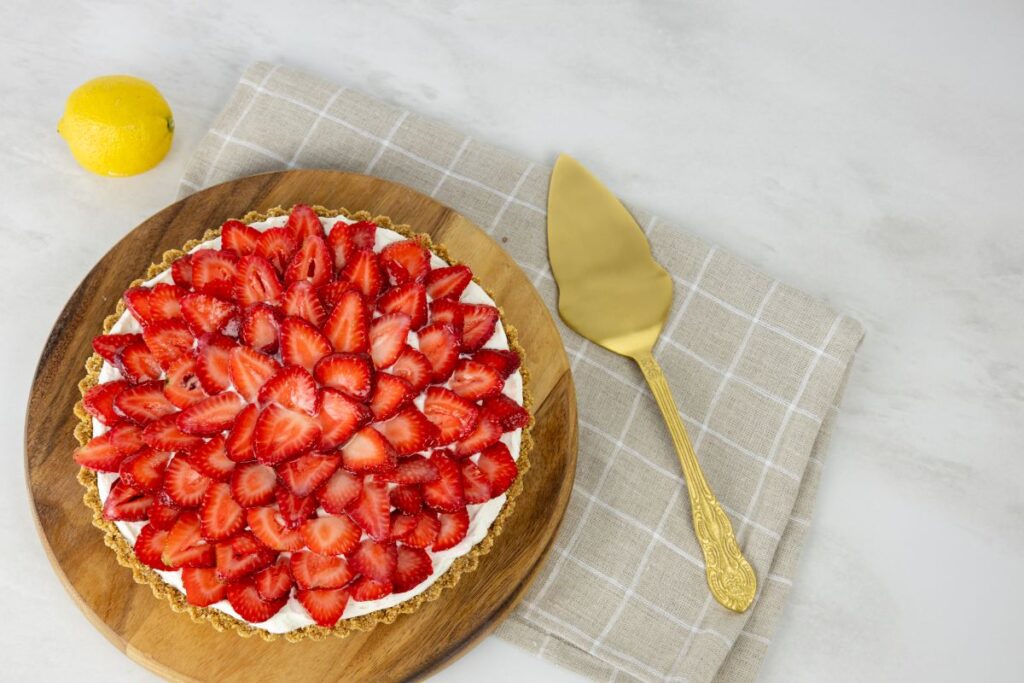 Next, you want to work on your filling. We decided on a combination of both whipped cream and cream cheese for that perfect thickness, smoothness, and depth of flavor. Don't forget to add a little lemon juice and zest for a dash of tartness to your sweet. We also used both vanilla bean paste and almond extract to help flavor the filling, but you can choose one or the other based on what you might have on hand in your kitchen.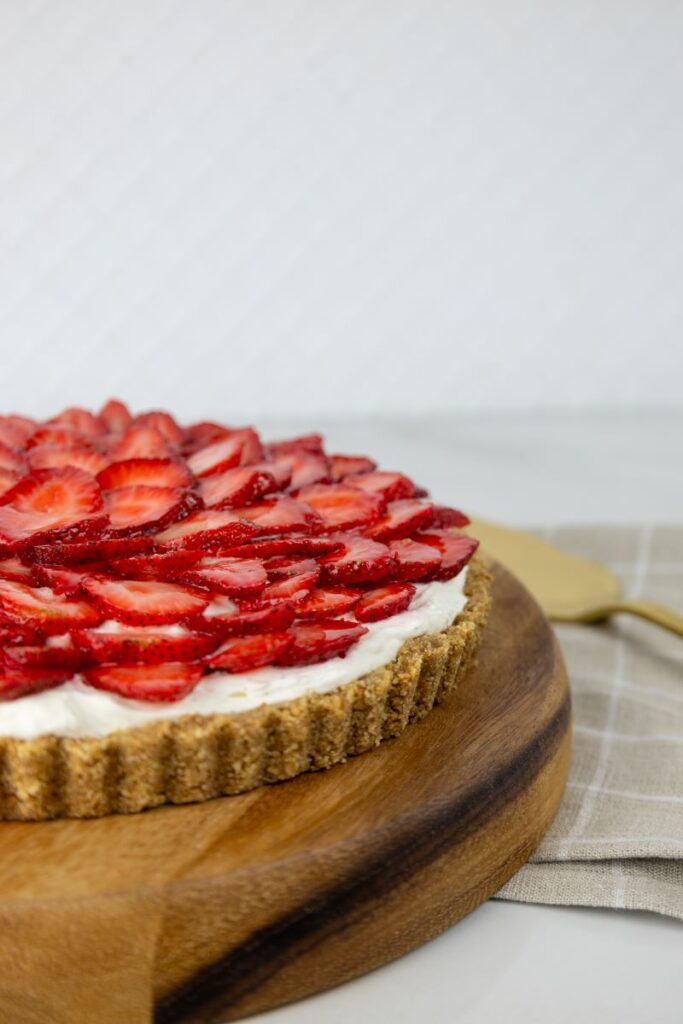 Finally, for the topping. There is nothing more beautiful than a gorgeous fan of perfectly sliced strawberries to top off your tart. Our secret? Using the trusty strawberry slicer to get each bit of fruit the exact same thickness. We love this little kitchen gadget (you can read all about it in this blog post), and you can use it for so much more than just strawberries. Once you have your strawberries all hulled and sliced you can layer them on top of your filling in the most elegant array and drizzle with the simple glaze. Then you are ready to slice and serve.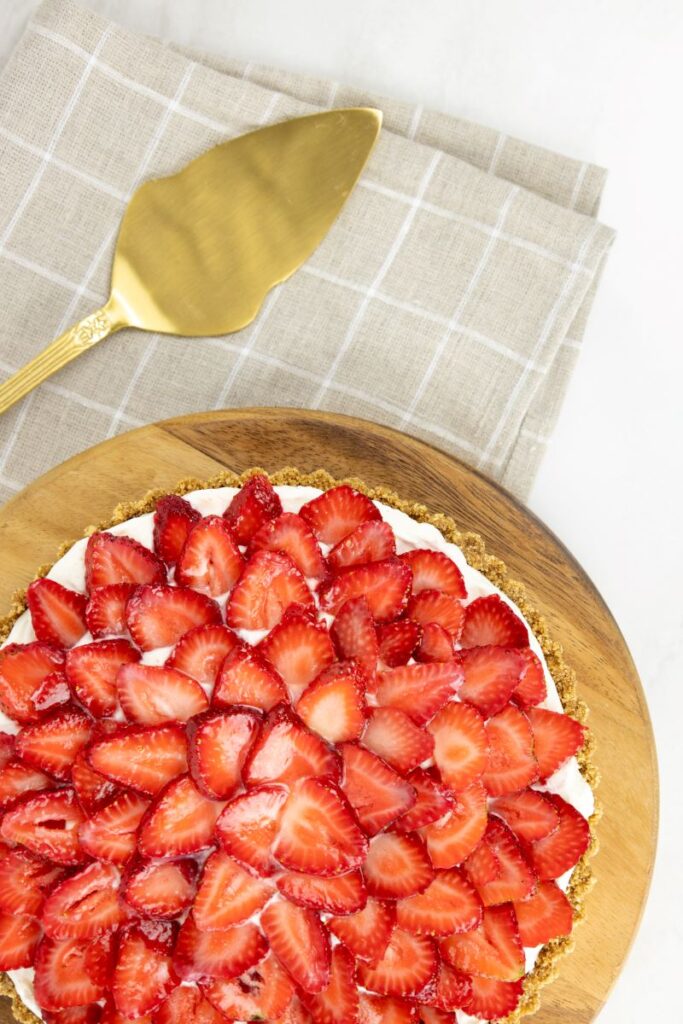 This fresh strawberry tart was the easiest dessert ever and it came out absolutely delicious. We loved how gorgeous it looked and couldn't wait to add it to the dinner table. Every bite tastes like summer! If you end up testing out this delectable dessert, you will have to let us know what you think.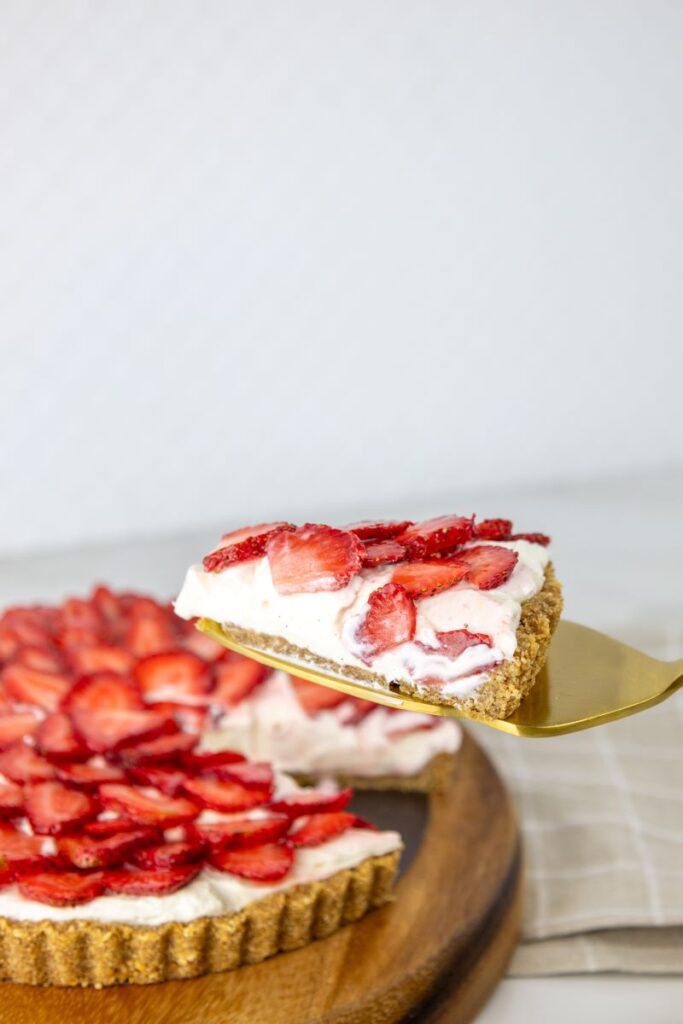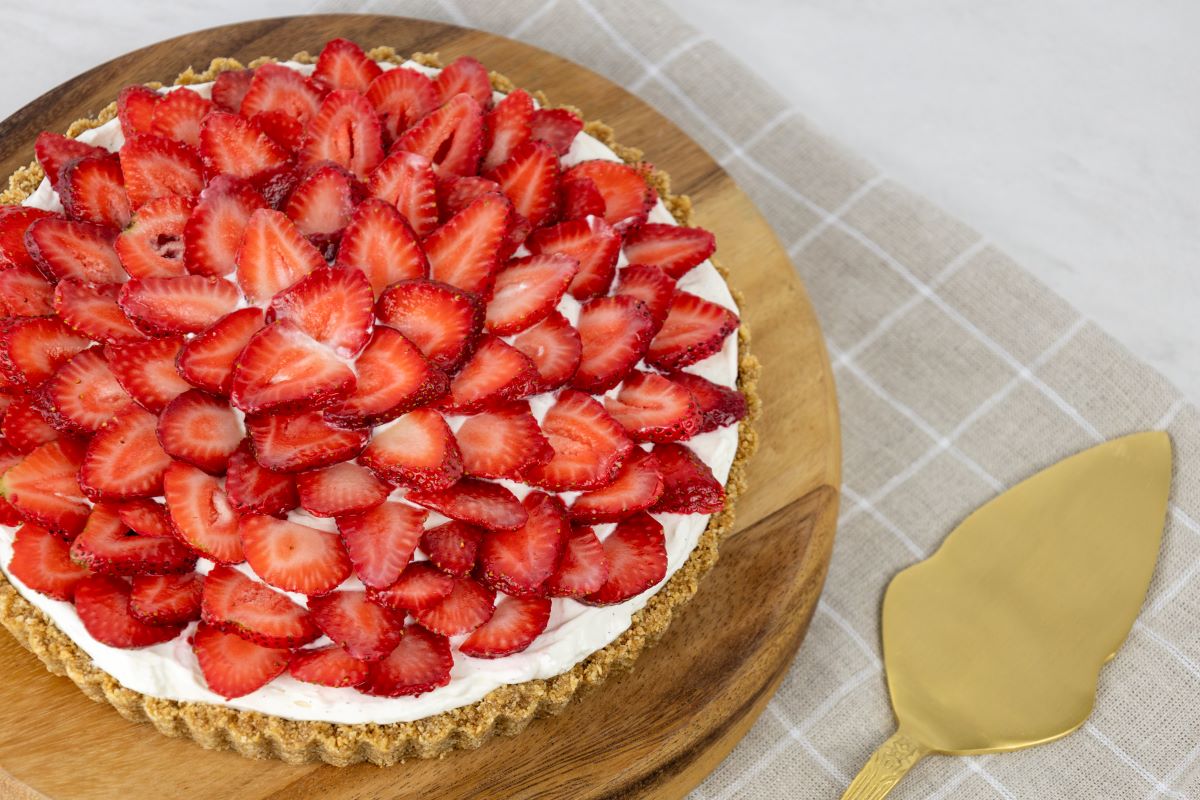 Print Recipe
Ingredients
For the Crust
1 ½ cups graham cracker crumbs (about 9 whole crackers)
¼ cup packed brown sugar
½ tsp cinnamon
¼ tsp salt
7 Tbsp unsalted butter (melted)
For the Filling
2 cups heavy cream
8 Tbsp powdered sugar (divided)
1 ½ tsp vanilla paste
¼ tsp almond extract
¼ tsp salt
8 oz cream cheese
1 tsp lemon juice
Lemon zest
For the Topping
1 ½ lbs strawberries (hulled and sliced)
¼ cup sugar
¼ cup water
Lemon zest
Instructions
1

For the Crust: Finely crush graham crackers in a food processor.

2

In large bowl, stir together graham cracker crumbs, brown sugar, cinnamon, and salt. Add melted butter and stir until combined.

3

Press mixture into a 9" tart pan, pressing hard with the bottom of a glass to compact the bottom and using fingers to compress the sides.

4

Chill tart crust 1 hour before filling.

5

For the Filling: In large bowl, whip heavy cream, 2 Tbsp powdered sugar, vanilla paste, almond extract, and salt until medium peaks form.

6

In separate bowl, whip cream cheese, 2 Tbsp powdered sugar, lemon juice, and lemon zest until smooth.

7

Gently fold the whipped cream into the cream cheese. Then whip together until stiff peaks form.

8

Layer into chilled tart crust.

9

For the Topping: Hull and slice the strawberries and set aside.

10

In small sauce pan, combine sugar, water, and lemon zest. Cook over medium heat and let reduce while gently stirring.

11

Layer strawberries onto the top of the tart filling working in rings from the outside edge into the center.

12

Drizzle top of strawberries with glaze. Serve and enjoy!