It's April! Spring is in the air and Easter is on its way. Can you believe it? Holidays always seem to sneak up so fast ! To help you get ready, this week we'll be featuring a few Easter treats. We'll start today off with how to add color to coconut.
Here's what you will need:
Coconut
Food coloring
Water
Mixing bowls
Paper towels
Paper plates
+ a small spatula
Let's get started:
Fill each mixing bowl with a little bit of water. (This step really depends on how much coconut you are wanting to color). I just wanted about one cup of coconut in a few different colors, so I used small glass portion bowls with a little over an ounce of water.
Pour 1-2 drops of food coloring in each bowl. Again, this step depends on how pastel you'd like your coconut to be. For a richer, brighter color, add more food coloring. I placed 1 drop of food coloring in each bowl.
Mix the color into the water.
Dump the coconut into each bowl of food coloring. I used approximately one cup of coconut in each bowl.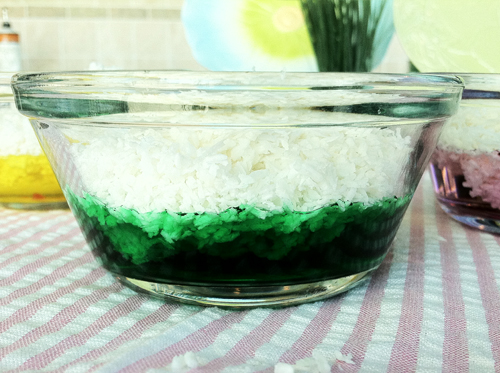 Using your small spatula, mix it well.
Once each bowl of coconut has been evenly colored, then it's time to let it dry. Take a paper plate, and place 2 paper towels on top.
Next, flip the plate upside down and place on the top of the bowl of coconut with the paper towels in the middle of the plate and bowl.
While holding the plate and bowl tightly together, carefully flip it upside down. The bowl will now be upside down on top of the plate.
Gently tap the bottom of the bowl until all of the coconut falls onto the paper towel. Then you can remove the bowl and let the coconut dry.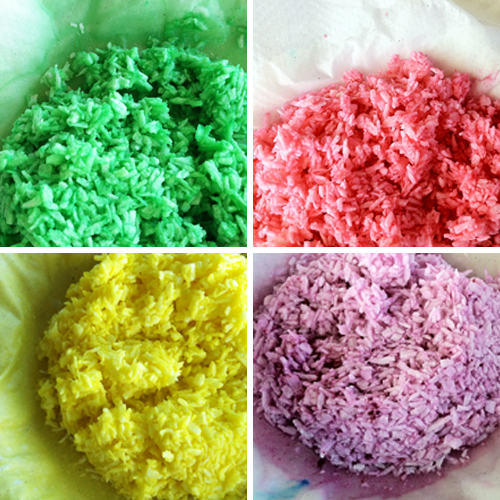 Once the coconut is dry, you can add a fun colorful touch to any Easter treat! Good luck and let me know if you have any questions.