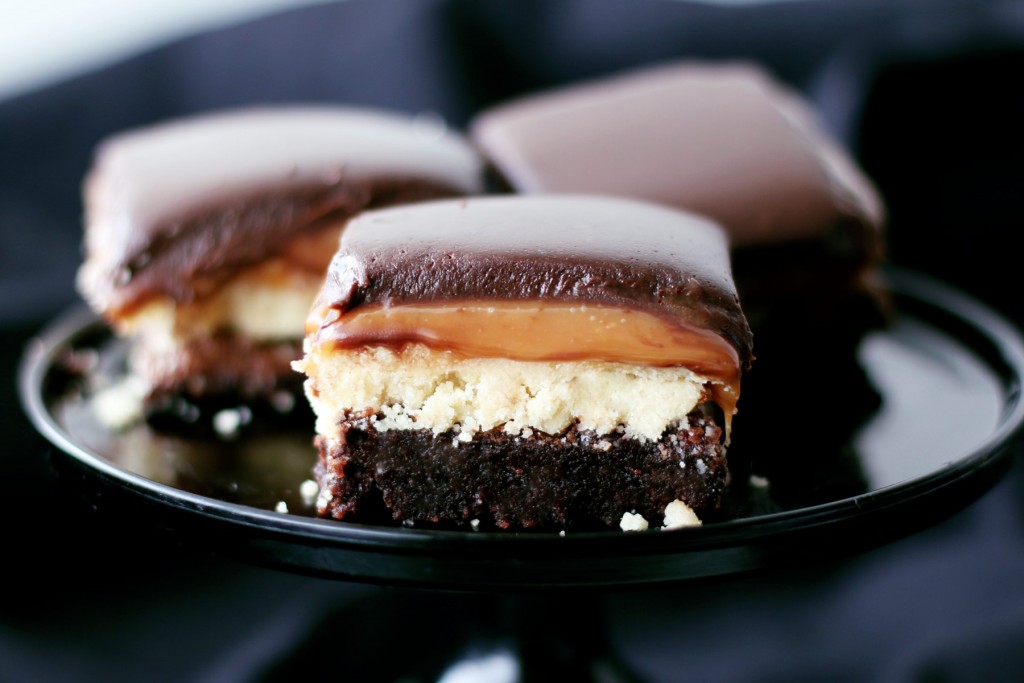 Searching for a delicious partner for your ice cream? We've got the perfect match. Try our Caramel Shortbread Brownies – a layer of chocolate brownies topped with shortbread, caramel, and a tasty chocolate ganache.
Inspired by one of the tastiest candy bars on the market, the delicious Twix bar, our Caramel Shortbread Brownies are nothing short of awesome. One thing is that they can get a little sweet, so we highly recommend them underneath a scoop of ice cream. We even would like to try them blended into a shake. This isn't the first time we've tried making a Twix-inspired dessert. Remember our Chocolate Caramel Tarts? There are a little classier than just plopping down a Twix bar for dessert.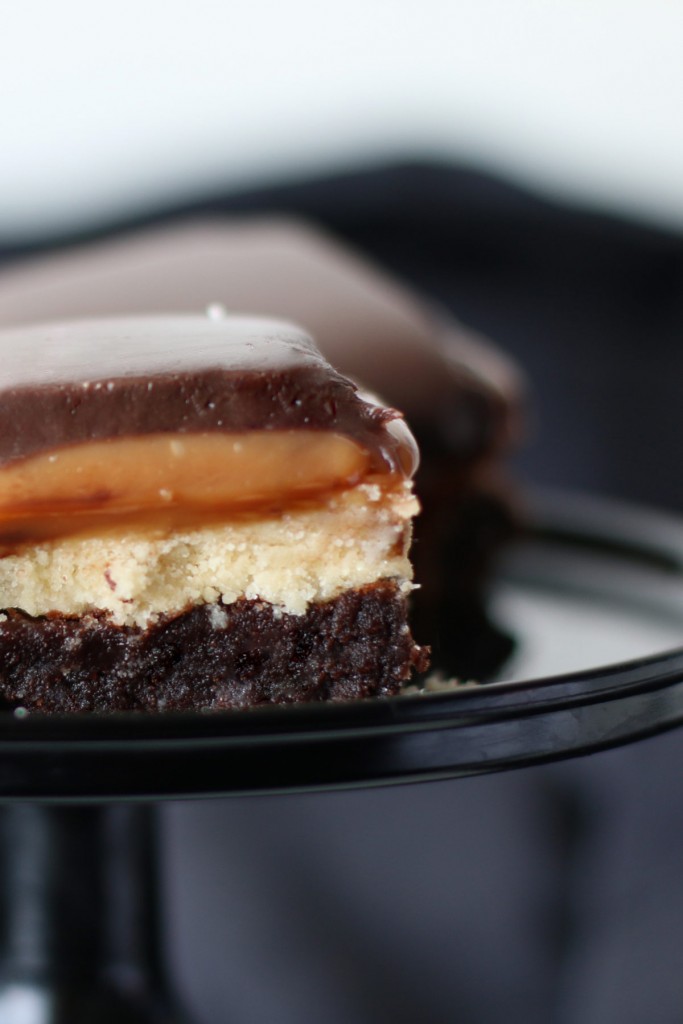 Caramel Shortbread Brownies
Ingredients
Brownies

1 cup butter, softened
2 cups sugar
4 eggs
1 teaspoon vanilla
1/2 teaspoon salt
1/2 cup unsweetened cocoa powder
1 1/3 cup flour

Shortbread Layer

10 ozShortbread Cookies
6 oz. cream cheese, softened
1/2 cup sugar

Caramel Layer

14 oz. bag of Peter's caramel
2 Tablespoons milk

Chocolate Layer

5 ounces milk chocolate
4 ounces dark chocolate
1 1/2 cups of heavy cream
Directions
Brownies

Preheat oven to 350 degrees F.
Cream butter and sugar together in a large mixing bowl. Add vanilla and eggs and mix well. Add salt, cocoa powder and flour and stir to well combine. Do not over mix.
Pour into a greased 9x13 inch pan. We used a 9x9 inch pan and think that the layers got a little high.
Bake at 350 degrees F for 22-25 minutes.
Or, you can make a boxed brownie. Follow directions from the box.

Shortbread Layer

Place cookies in a food processor until fine powder. Mash in cream cheese and sugar until mixture is well combined.
Gently press shortbread truffle evenly over cooled brownies.

Caramel Layer

Melt caramel in microwave on half power for 30 seconds and a time. Stirring in between until melted. Add milk and stir until incorporated.
Evenly pour over shortbread truffle layer.
Place in fridge to let it cool.

Chocolate Layer

Heat cream in a pan until bubbles begin to appear. Pour over chocolate in a silicone or plastic bowl. Stir until smooth. If needed, melt chocolate on half power 15 second intervals, until smooth. Wait until luke warm or room temperature.
Evenly spread over the top of cooled caramel layer.
Let set up in fridge before cutting into.