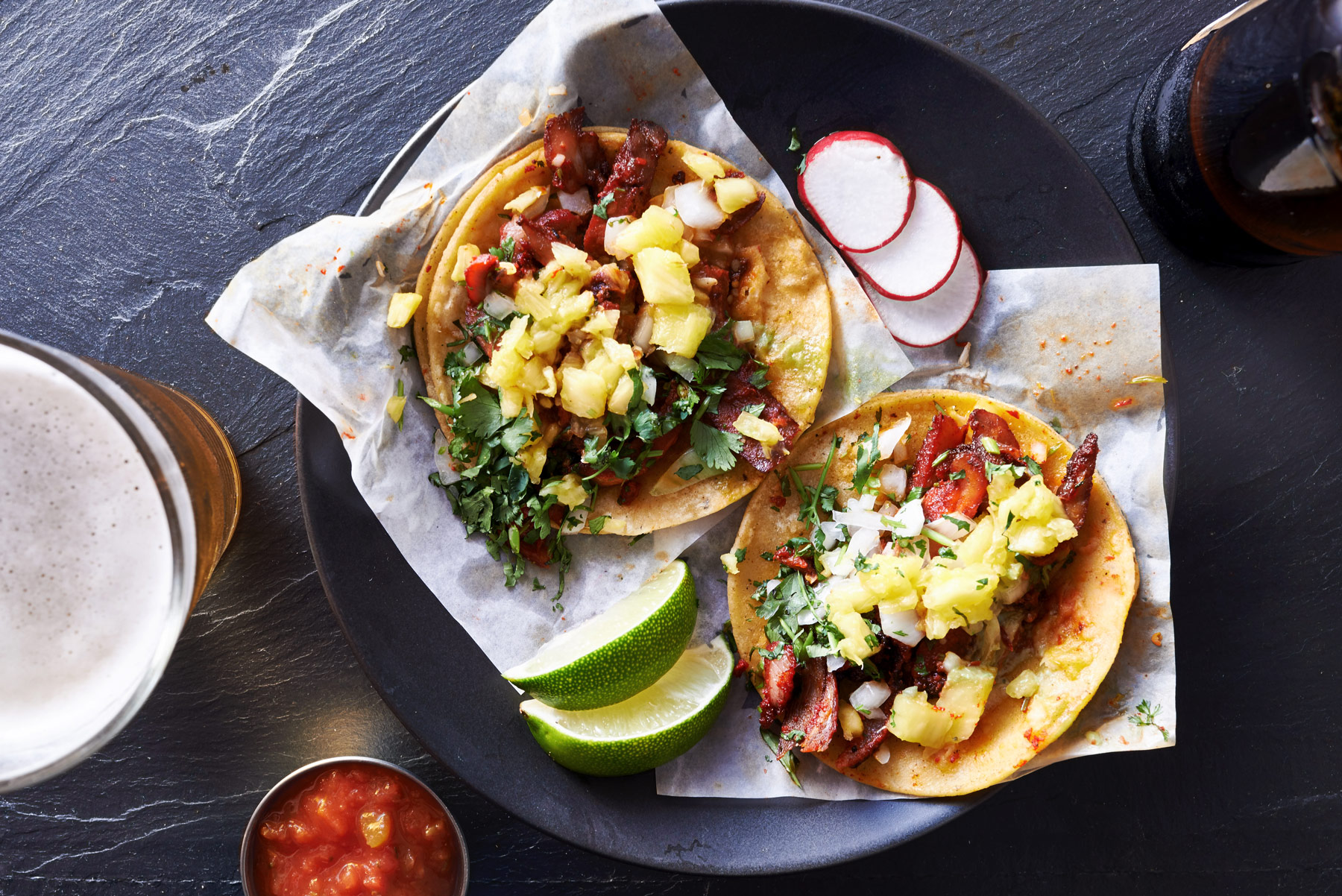 Whether it's "taco tuesday," or just a regular weekday meal, Al Pastor Street Tacos are always a good idea. As the weather heats up, you'll want to try this refreshing combination of pork and pineapple.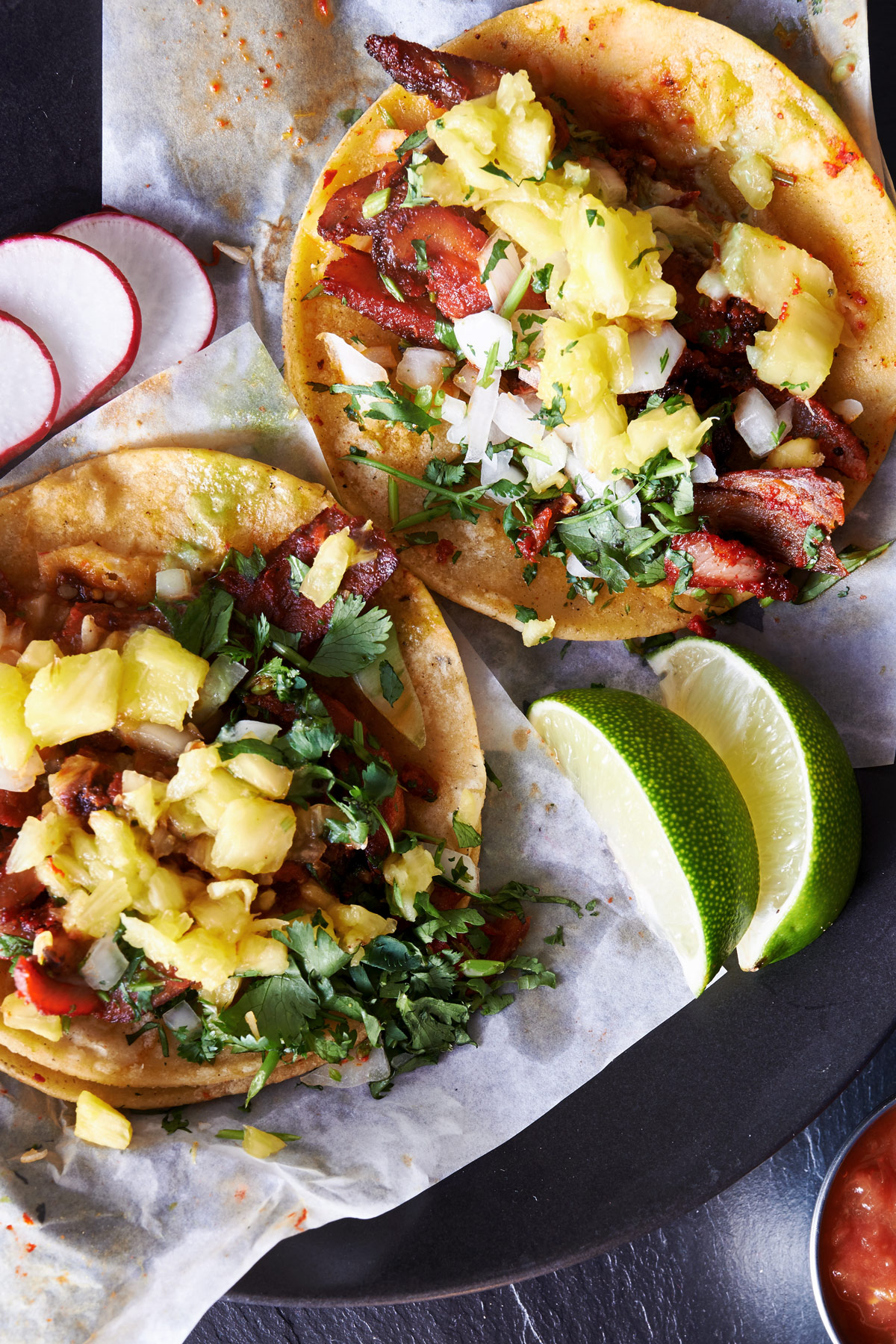 Of course, the recipe for these taco mainly is about the marinade. The thing I love most about tacos is that you don't need a recipe. I usually will turn any left over meat into tacos and use whatever left over veggies I have. What I love about tacos with my friends and family, is that they are so easy to customize. If your salsa recipe has large chunks of onions, I recommend opting for a sauce and having fresh onions on the side. I hate putting all the work (it's pretty easy, but compared to buying it from the store – it's still effort) into salsa and have people ask me if there are onions only to skip over it when there are.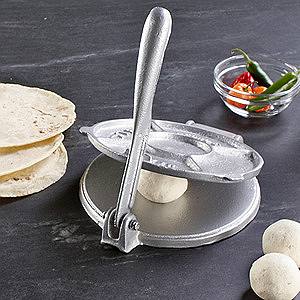 Make your own tortillas with a press.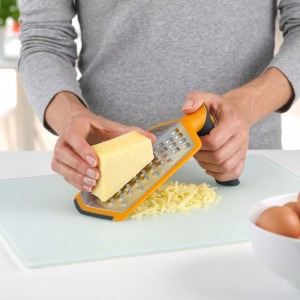 A cheese grater that's cutting edge.
Get the Al Pastor Street Tacos Recipe here:
Ingredients
1 large white onion, halved
1 pineapple, peeled, cut crosswise into 1/2-inch-thick rounds
1/2 cup fresh orange juice
1/4 cup distilled white vinegar
1/4 cup guajillo chile powder
3 garlic cloves, halved
2 teaspoons coarse kosher salt
1 teaspoon dried oregano (preferably Mexican)
1 teaspoon ground cumin
1 large or 2 small chipotle chiles and 1 to 2 teaspoons adobo from canned chipotle chiles in adobo
1 2 1/2-to 3-pound boneless pork loin, cut into 1/2-inch slices
1/4 cup chopped fresh cilantro
Corn tortillas
Smoky Two-Chile Salsa
Lime wedges
Directions
Coarsely chop 1 onion half. Coarsely chop 2 pineapple rounds, discarding core; cover and chill remaining pineapple. Place chopped onion and chopped pineapple in blender. Add orange juice and next 7 ingredients; puree marinade until smooth. Place pork in large resealable plastic bag. Add marinade and seal bag, releasing excess air. Turn to coat. Chill at least 4 hours and up to 1 day.
Prepare barbecue (medium-high heat). Grill remaining pineapple until warm and slightly charred, 4 to 6 minutes per side. Grill pork with some marinade still clinging until slightly charred and cooked through, 2 to 4 minutes per side. Transfer pineapple and pork to work surface; chop pineapple into 1/2-inch cubes, discarding cores. Chop pork. Transfer to platter; toss to combine.
Meanwhile, finely chop remaining onion half and place in medium bowl. Add cilantro; toss to combine. Grill tortillas until warm and slightly charred, about 10 seconds per side.
Serve pork-pineapple mixture with onion-cilantro relish, Smoky Two-Chile Salsa, and lime wedges.
Test-kitchen tip:
To make your own guajillo chile powder, finely grind about 6 large dried seeded guajillo chiles in a spice mill to yield about 1/4 cup powder.