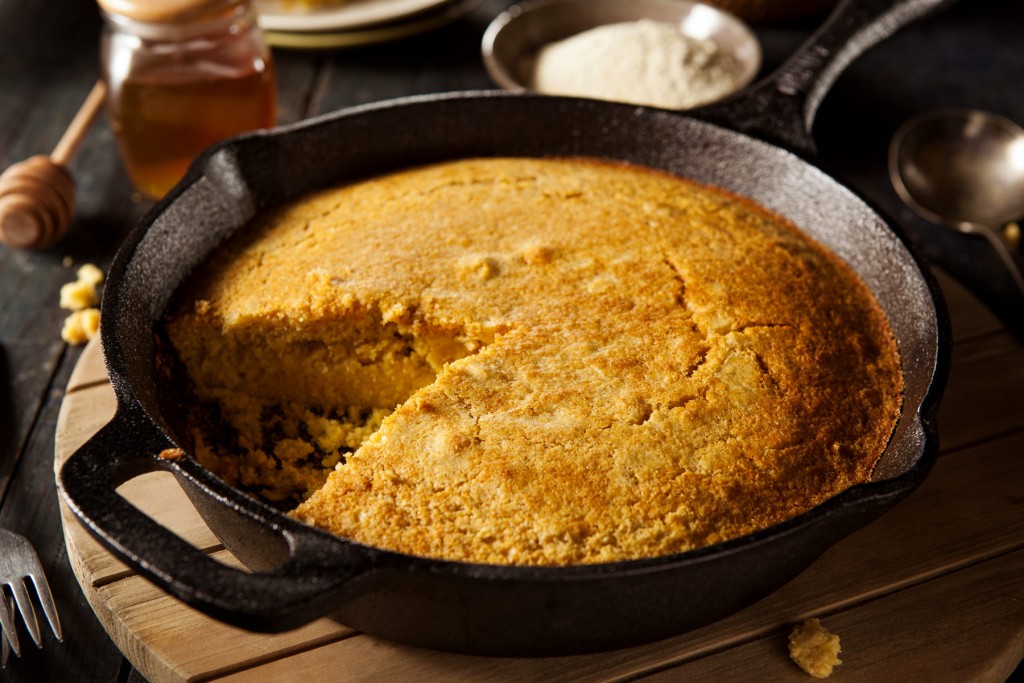 It's our humble opinion that everything taste better when it's cooked in cast iron. Especially a warm, moist, and flavorful serving of Skillet Cornbread!
Serve this with butter and honey for breakfast, chile verde and barbecue wings for lunch, and dutch-oven chili for dinner. Skillet Cornbread can literally go with every meal in the day! Plus, who doesn't like cornbread? If someone doesn't like cornbread, I know not to trust them.
When it comes to campfire baking, you've got to have heat control. Luckily, cornbread is a quick bread by nature and doesn't need a lot of time to cook. However, too much heat and the bottom will burn, not enough heat and it'll either be really dry or dough in the middle. You want around 375F – 400F (think medium-low on a stovetop burner). If you have a lid for your cast iron pan (or a dutch oven lid that also fits your skillet), use it! If you don't, use some aluminum foil. Cover the top and secure the edges to keep it in place.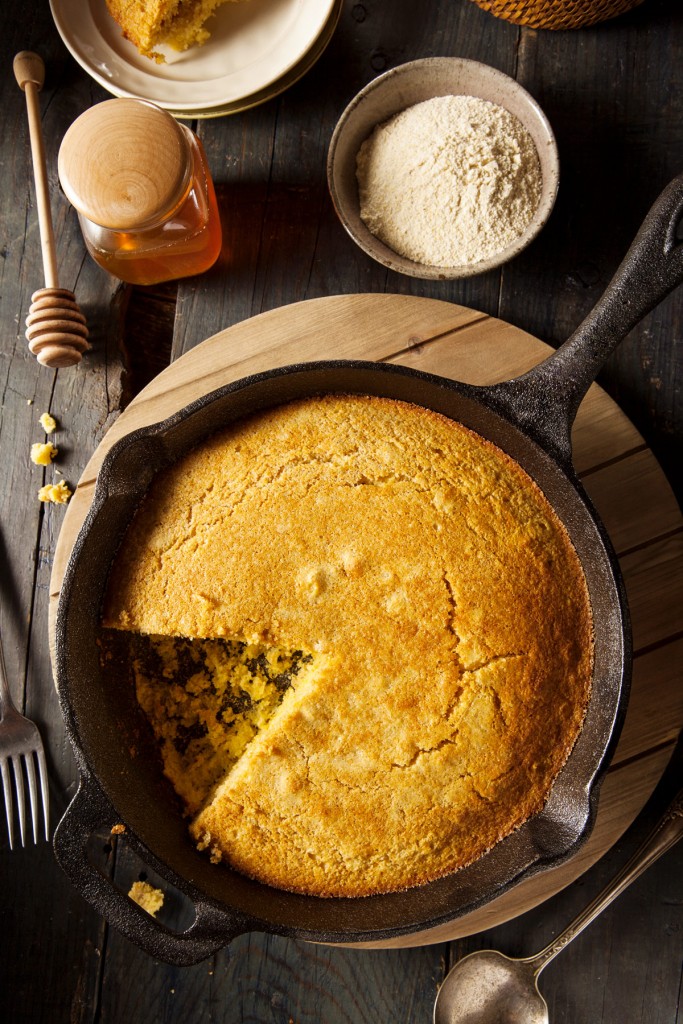 Skillet Cornbread Recipe:
Ingredients
1 cup (5 oz./155 g) all-purpose flour
1 cup (7 oz./220 g) yellow cornmeal, preferably stone-ground
2 tsp. baking powder
1⁄2 tsp. fine sea salt
1⁄4 cup (2 oz./60 g) unsalted butter
3⁄4 cup (6 fl. oz./180 ml) whole milk
1⁄4 cup (3 oz./90 g) pure maple syrup
1 large egg, beaten
Directions
Preheat an oven or campfire to 400F (200C).
In a bowl, sift together the flour, cornmeal, baking powder and salt. Make a well in the center of the flour mixture.
Place the butter in a 10-inch (25-cm) heatproof frying pan, preferably cast iron. It should be about an inch thick when poured. Place in the oven until the butter is melted, about 3 minutes. Remove the pan from the oven and pour 2 Tbs. of the melted butter into a large bowl, leaving the remaining butter in the pan and tilting the pan to coat. Add the milk, maple syrup and egg to the butter in the bowl and stir to combine. Pour the milk mixture into the well in the flour mixture and stir just until combined. Spread the batter in the hot pan.
Bake until the cornbread is golden brown and a toothpick inserted into the center comes out clean, about 30 minutes. Transfer to a wire rack and let cool in the pan for 5 minutes. Cut into wedges and serve hot or warm. Serves 8.