Our treat-making worlds were rocked when Peter's Caramel came along! Its chewy texture, sweet and buttery flavor is one of the greatest life hacks in the history of confection. Easy to store, melt, drizzle, dip, cut, flavor, dye, and gives consistent results each time it's used. Homemade caramel, consider your match made.
We've shared with you some of our more basic tips on using caramel, so today we wanted to give you a look at some of our more unusual uses. If you bought a loaf, or twenty, here are some things you can do with any caramel you may have leftover from your caramel apples or pretzel rods.
---
Coloring & Flavoring Caramel
Coloring and/or flavoring caramel is an easy way to get a big change with minimal effort.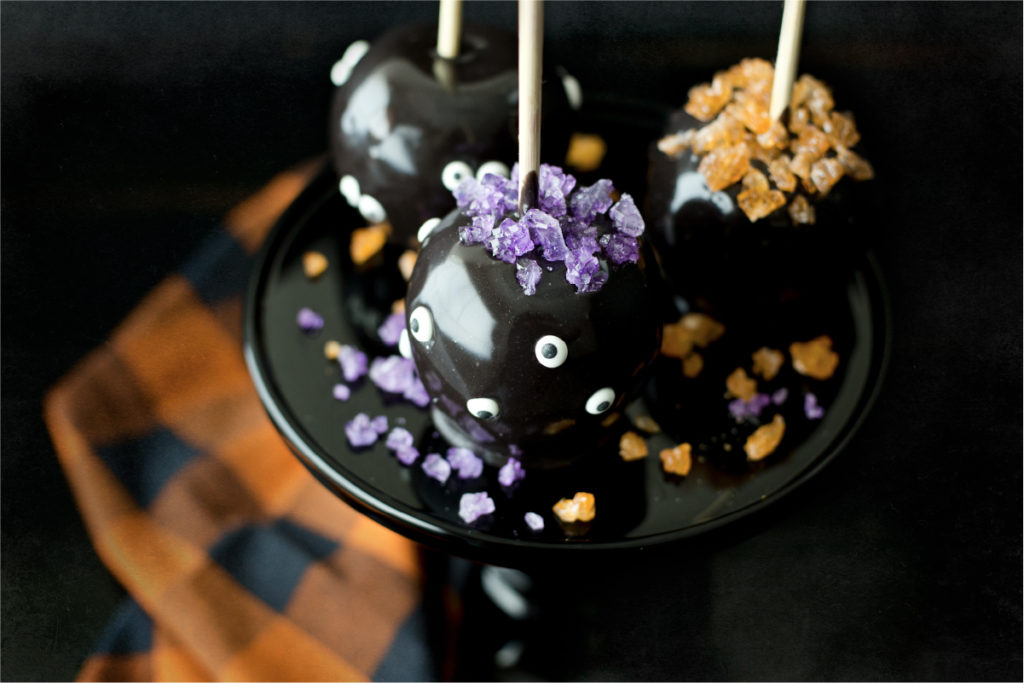 Here's how to do it!
Melt your caramel (read how here).
Add in a few drops of gel paste food coloring, preferred flavoring, or BOTH!
Stir the caramel until color/flavoring is combined.
Then dip like usual. Or pour into a parchment lined pan and let cool before cutting into squares.This caramel does tend to be a little more viscous, so store your apple in the fridge until you are ready to eat it! Or be sure to cover at least the bottom half with some hefty toppings to keep it all in place.
---
We made our black licorice caramel by adding some anise flavoring to our dyed caramel. Never tried black licorice caramel? Don't knock it until you try it. So good.
And don't stop there, here's a list of flavors we think pair well with Peter's Caramel:
Anise
Almond
Pumpkin
Butter Rum
Raspberry
Cinnamon
Green Apple
Coconut
---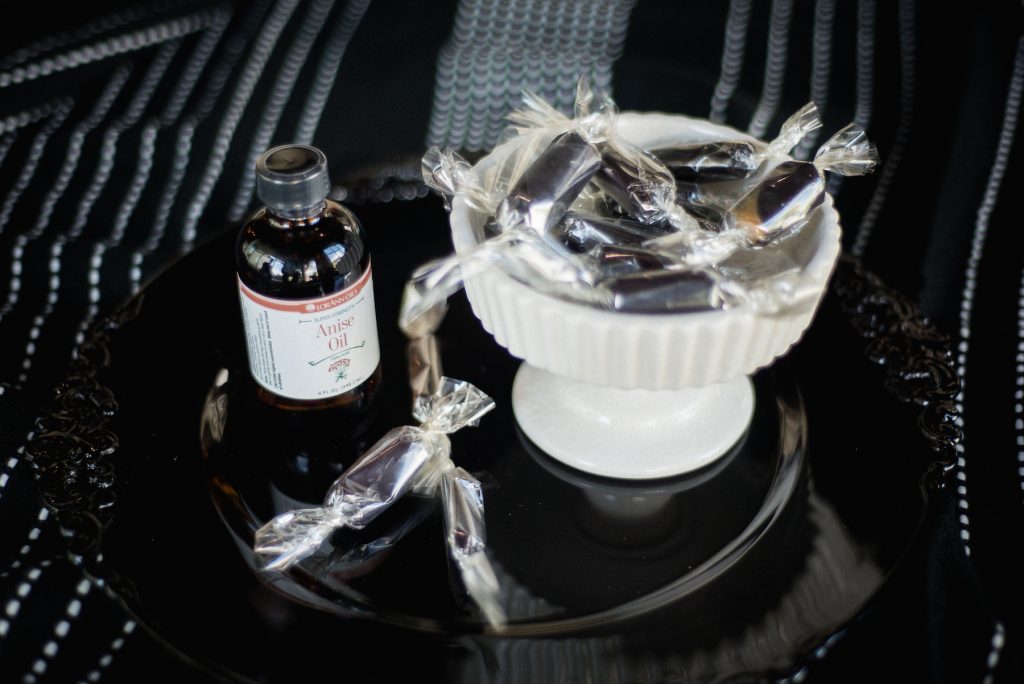 We're totally crushing on black caramel right now, but let your imagination run wild! Think of red for valentines, and orange to turn your apple into an adorable little pumpkin.
---
Chocolate Caramel
We've had great success with chocolate caramel. It's rich, decadent and flavorful, but still maintains that perfect Peter's Caramel consistency. Here's how you do it:
Start with 1 oz of chocolate liquor, which is basically solid unsweetened chocolate.
Melt the chocolate liquor until smooth.
Then melt about 1 pound of caramel. Learn how here. Start with this much, but you can adjust the amounts based on how strong you want the chocolate flavor- use less caramel if you want a stronger chocolate flavor.
Stir in melted chocolate liquor and use your caramel like normal. We had fun wrapping ours up and sharing them with friends.
---
Molding, Cutting and Wrapping
Peter's caramel is ready to use the minute that box is cracked open, but what we don't often think of is just cutting the caramel right off the block and enjoying it unaltered, untainted.
Using our cellophane caramel wrappers makes sharing and even taking your caramel on the go much easier.
To add a little variety, we've cut and placed a nut on top of each cube, or even sprinkled a little sea salt to give that salted caramel flavor. Easy and so impressive.
To mold it, line a pan with parchment paper, and pour melted caramel into the pan. When it has hardened, you can remove the caramel from the pan by lifting the parchment paper from the pan and cut it into slices.
---
Drizzling Caramel
Take a blah and bland brownie, drizzle it with caramel, and you have yourself a gourmet treat!
Just melt your caramel, take a spoon and drizzle the caramel on top of a dessert, a pile of nuts to make a turtle, or over freshly popped popcorn. The caramel will harden, and become firm enough you can slice, serve, and enjoy in no time.
The caramel is easy to thin, should there be a reason you didn't want you caramel as thick, perhaps to coat popcorn. Simply melt the caramel, and add whipping cream or milk to thin it out. Start with about 1 Tbsp of liquid per pound of caramel. Stir it thoroughly and add more if you need it even thinner.