When people just can't stop talking about a good thing, we can't help but to check it out. A little while back we started hearing rumors of the "churro toffee" coming from Disneyland goers. We knew it would be worth trying, but the good news is we also feel like it's so tasty enough to share with you all.
You start by making a simple toffee as your base. All it takes is equal parts butter, sugar and some salt. Slowly melt those together and keep stirring until it reaches temperature. Pour it out into a half size baking sheet and let it cool. You can either score it so it cuts into even squares (like they do in Disneyland) or break it up into more organically shaped pieces. Either way you cover it in white chocolate and roll it in cinnamon sugar. Yummo.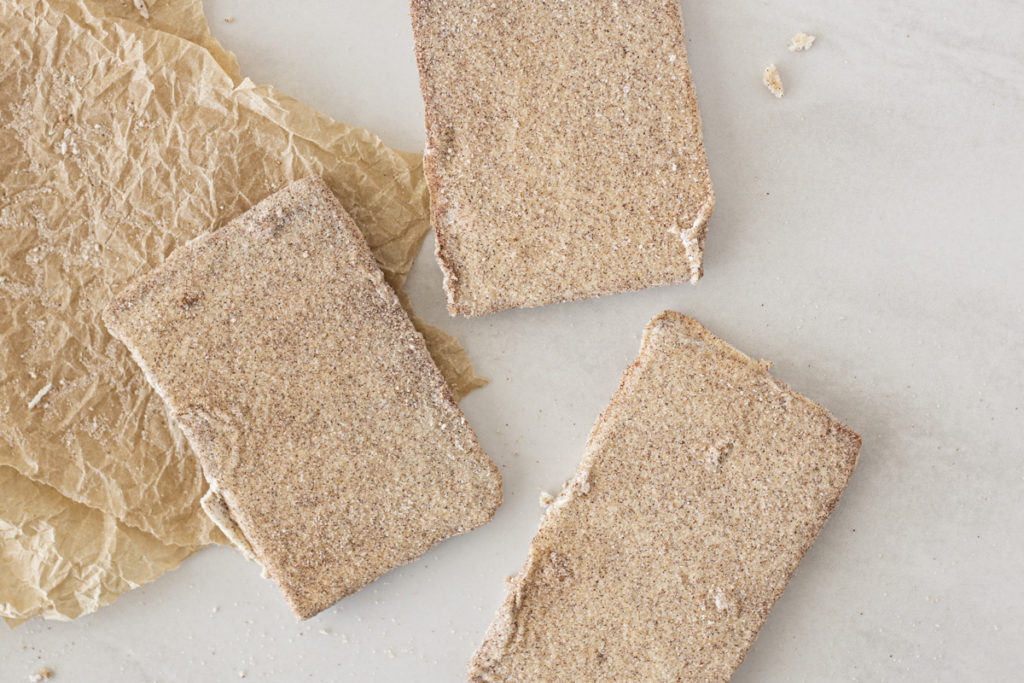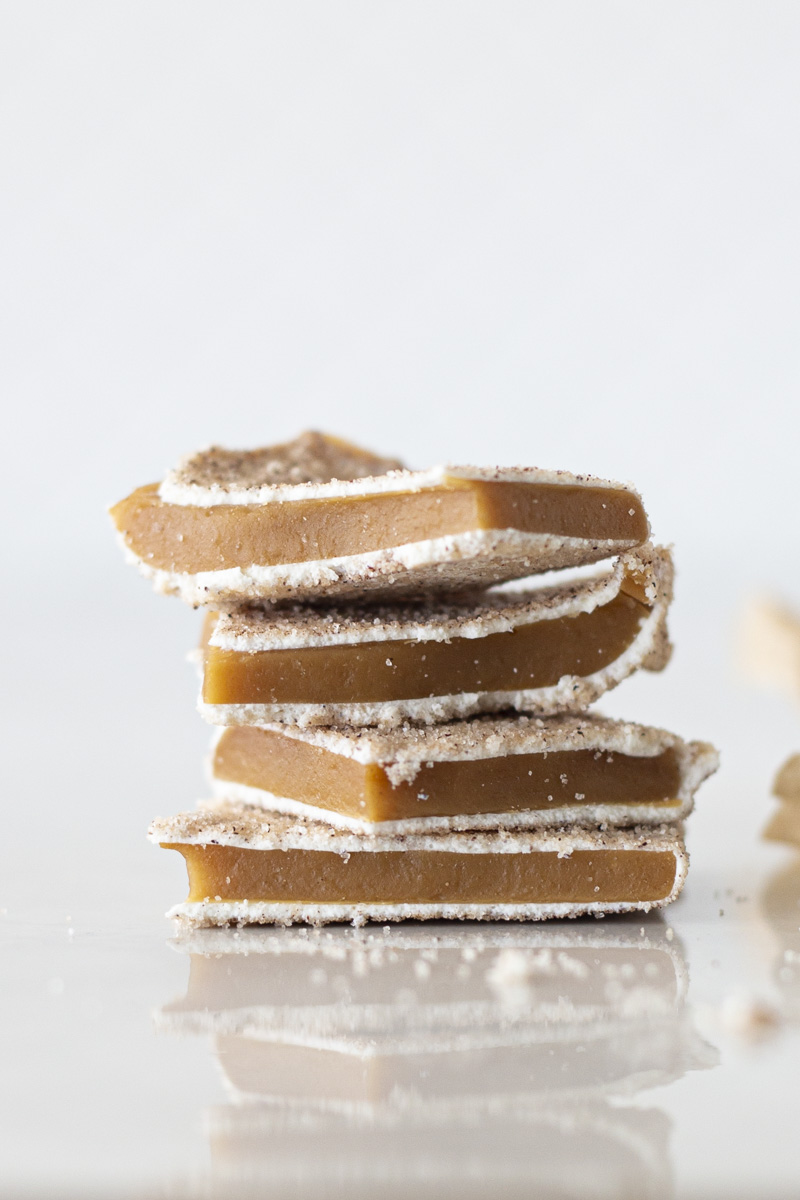 Print Recipe
Churro Toffee
Crunchy, buttery toffee covered a layer of white chocolate and cinnamon sugar. A candy lover's dream come true.
Ingredients
4 sticks butter (1 lb)
2 cups granulated sugar
1 tsp salt
2 cups white compound chocolate
Cinnamon sugar mixture ( 1/2 c sugar + 1 Tbsp Cinnamon)
Instructions
1

Prepare a half sized baking sheet by lining it with parchment paper and set aside.

2

Using a high quality sauce pan with thick bottom sides, start by rubbing a stick of butter on all the sides and bottom.

3

Place all the butter on the bottom of the pan. Pour the two cups of sugar and salt in the middle of the pan, and begin melting the butter and sugar on medium-low heat.

4

Slowly stir to keep the butter and sugar combined and melting at the same rate. If sugar crystals form around the sides of the pan, you can use a pastry brush dipped in water to brush them down.

5

As it comes to a boil, continue stirring consistently and be sure to scrape the bottom of the pan to avoid scorching. When it starts to change color, use a candy thermometer to cook the toffee to 285ºF (see note below to adjust the temperature for your altitude).

6

Pour toffee mixture in the middle of the pan, and use a silicone spatula to spread it evenly in one layer. It doesn't need to reach the edges, but you'll want it to be consistent in thickness.

7

If you want large, square pieces of toffee, allow it to cool for about 5 minutes, then using a plastic knife, bench scraper or flat spatula, score the toffee into your desired pieces. Continue to trace the lines you've drawn, maybe 10-15 times, until the toffee sets and the lines are well defined.

8

Let the toffee cool completely and break along the scored lines.

9

Pour cinnamon sugar mixture into a shallow pan or dish big enough to fit your toffee pieces.

10

Melt your white chocolate in the microwave. Start with 1 minute, stir. Melt in 30 second increments and stir until melted and smooth.

11

Dip the entire piece of toffee into white chocolate. Let the excess chocolate drip back into the bowl. Then lay the toffee straight in the bowl, and cover with cinnamon sugar. Place on a clean piece of parchment and let it cool.

12

Alternately, you can let the toffee cool as a solid piece. Then pour the melted white chocolate over the top of the pan of toffee, sprinkle with cinnamon sugar. Once the chocolate has set up, you can break the toffee into smaller, more organic pieces.
Here are a few tips to help with your toffee:
Toffee is a fun recipe to try if you are new to candy making. It's normal to mess up a batch or two when you're first getting started. Every kitchen environment is a little different, so the trick is to get used to your setup and equipment. Sometimes you've just got to keep trying! Once you've mastered the toffee layer it's a really versatile treat, so feel free to experiment and play around with flavors and styles of toffee.
Adjust your candy making temperatures for altitude differences: Water boils at a lower temperature at high altitudes, so adjusting your temperature will help prevent burning your candy. The rule is to lower the cook temperature by 2ºF for every 1,000 ft over sea level you're at. So for this recipe toffee should be cooked to 285ºF at sea level. Here in Salt Lake, we are around 4,000 ft above sea level. (2ºF x 4 [thousand ft] = 8ºF) So we adjusted by lowering our temperature 8 degrees, from 285º to 277ºF.
Heat your butter and sugar low and slow, make sure the sugar is dissolved before turning up the heat and keep it stirred constantly.
Make sure you're using real butter, not margarine or a "spread" with fillers. If the butter separates, try using a different kind of butter.
During cooking, the mixture will start to turn to a dark golden brown, this is a time when it may start to separate. If it does, you can add a tablespoon or two of water and keep on stirring, sometimes this will help bring it together.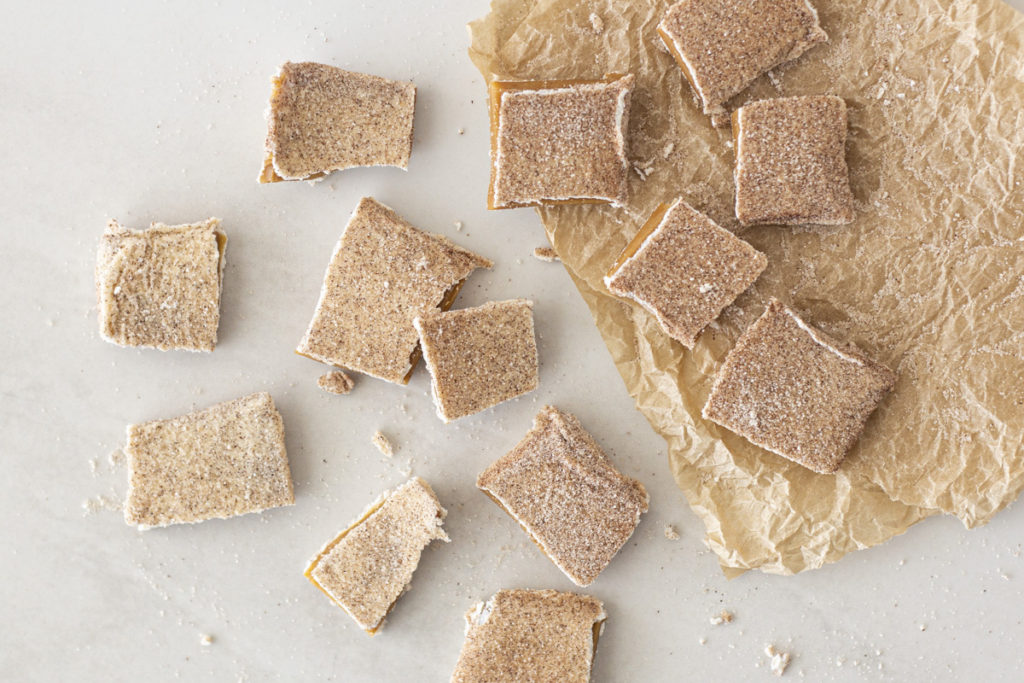 ---
This recipe is part of our Annual Gygi Chocolate Extravaganza. Check out all the classes (hands on, demo and virtual options!)