Lollipops are back in the culinary world, and they are fancier and more fun than ever before.
No matter your age- Homemade lollipops are always a fun favorite treat. The high temps of the sugar and knowing what exactly to do seems to make it a little daunting- but with much success and lots of experience Alanna Story from The Sweet Story Line is the pro we have needed in the kitchen with us all.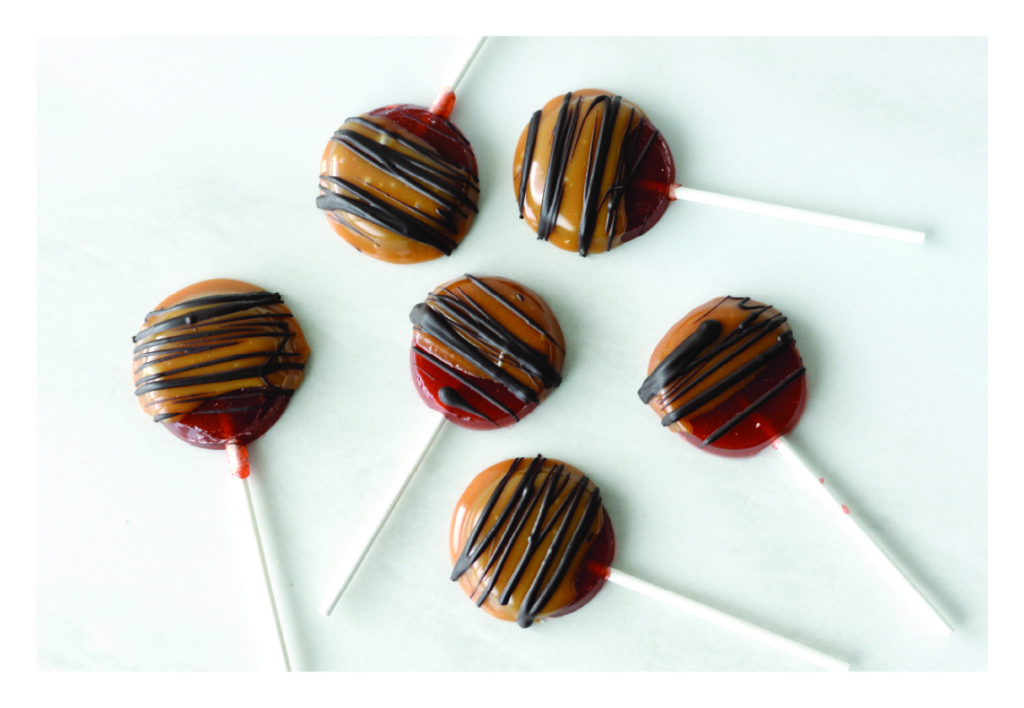 Alanna has shared with us a favorite recipe: the chocolate caramel lollipop and she's revealing all the secrets so you can add this to your family traditions.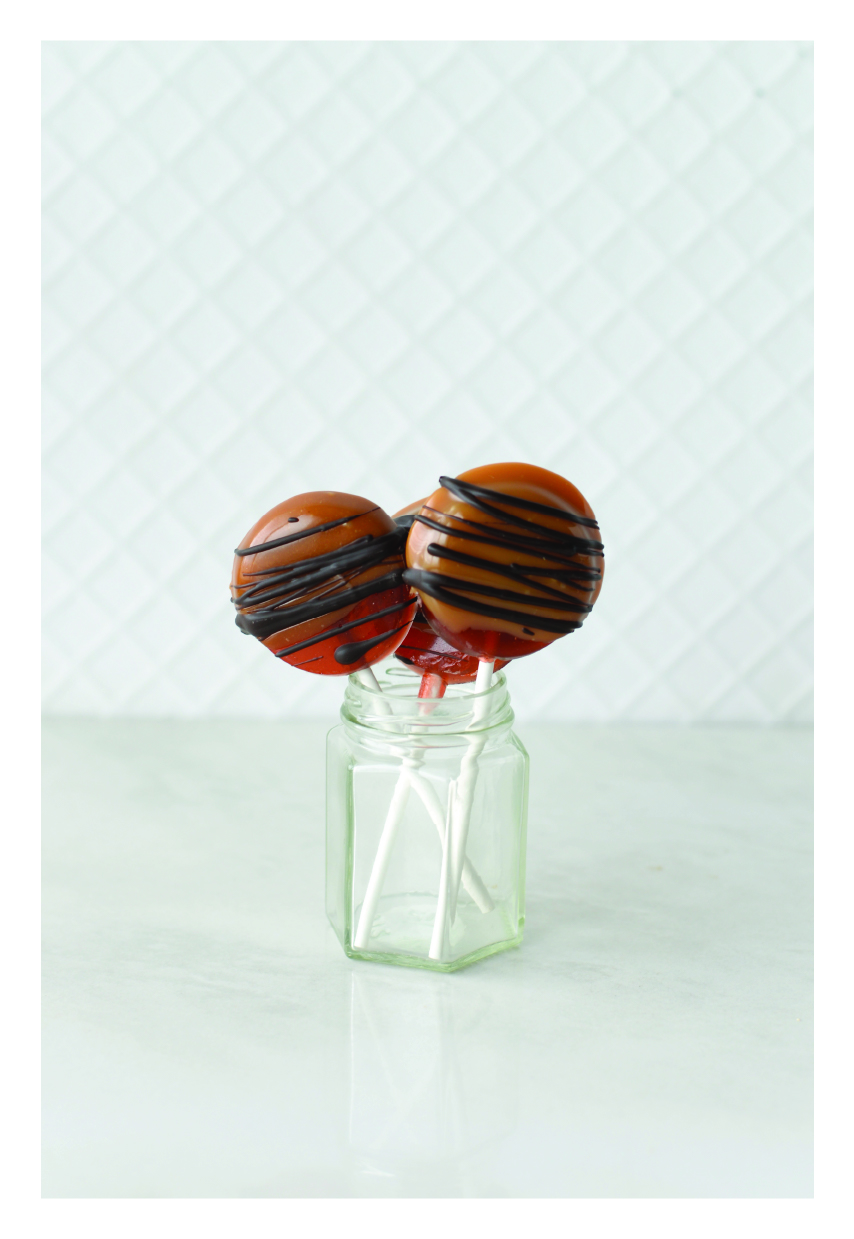 Print Recipe
Chocolate Caramel Lollipops
Ingredients
1 cup of granulated sugar
1/2 cup of light corn syrup
1/4 cup of water
1/2 tsp. Lorann oils extra strength chocolate flavor
1 drop of brown food coloring
2 drops of white food coloring
Peters caramel to dip lollipops
Chocolate to drizzle
Instructions
1

Combine sugar, corn syrup, and water in a 2-4 quart saucepan pot. And stir with wooden spoon. Place on medium heat and stir until sugar has dissolved. Bring mixture to a boil WITHOUT stirring. When syrup temperature reaches between 250-260 degrees Fahrenheit add 2 drops of white and brown food coloring. Do not stir. Boiling action will incorporate color. Remove from heat at 300 degrees Fahrenheit. Add in 1/2 tsp. Chocolate flavoring and stir carefully. Avoid rising steam it can burn.

2

Carefully pour sugar mixture into lightly greased small round flat lollipop molds. Let cool completely before taking them out of molds takes about 15 minutes. Take out of molds and dip in melted caramel.
Notes
* Optional: drizzle melted chocolate on top to decorate. Lollipops will be good for about a month in an airtight container  *candy thermometer will help incredibly well with the temperature changes. I use the glass one from Lorann Oils
Alanna makes the whole process so simple and sweet. Using simple tools: saucepan, wooden spoon, thermometer, and the sucker mold of your choice. It doesn't take much!
And the ingredients are likely something you've already got on hand: sugar, corn syrup, and water. Then simply add in the coloring and flavoring you want! Finish it off with some toppings: sprinkles, citric acid blend, luster dust. This is where you can get a little fancy! We love how Alanna used Peter's Caramel and a drizzle of chocolate to take this lollipop to a whole new deliciousness level.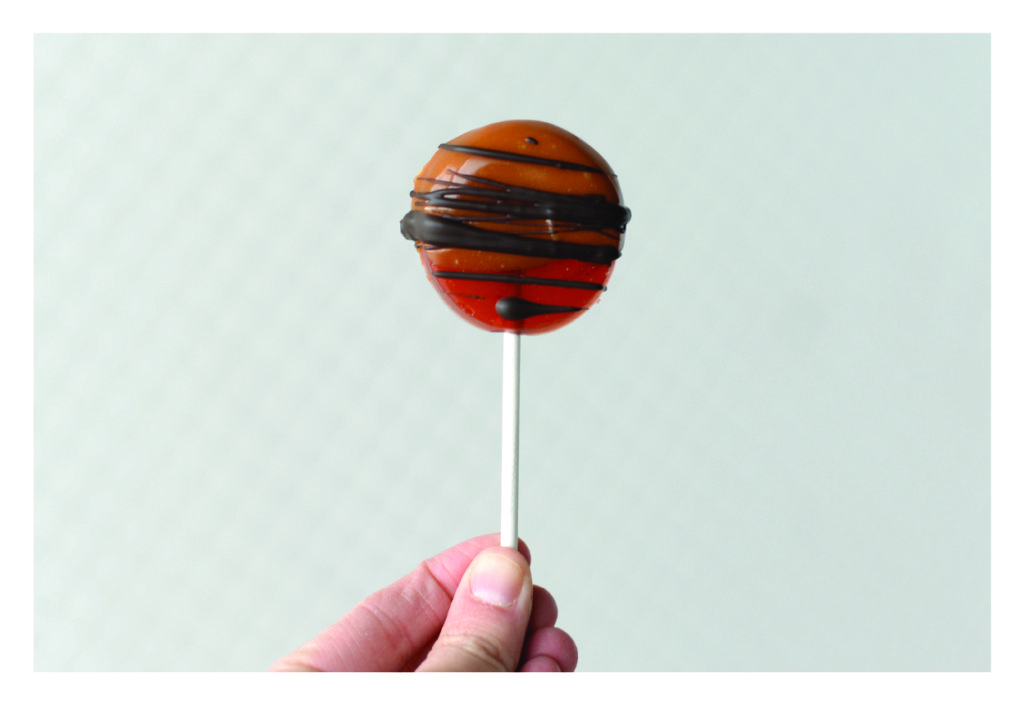 Grab your supplies and reconnect to that younger, more carefree childhood self with some tasty lollipops.
Watch this Virtual Class and make these tasty Lollipops with Alanna!
---
Connect with Alanna here!
This recipe is part of our Annual Gygi Chocolate Extravaganza. Check out all the classes (hands on, demo and virtual options!)