A delicious stack of rich chocolate mousse, fruity mango, and crunchy cookie, create an unbelievable dessert.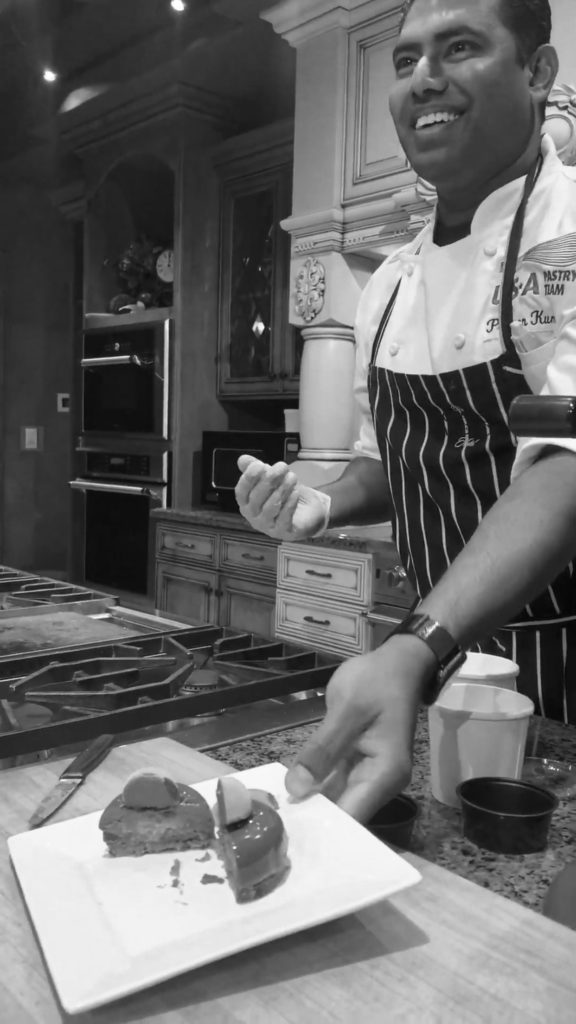 Chef Praveen Dhananjayan of The Grand America shared his recipe and his technique with a class of 80 participants at the Gygi Chocolate Extravaganza. He is a master of pastry and his passion for pastry shows in his desserts.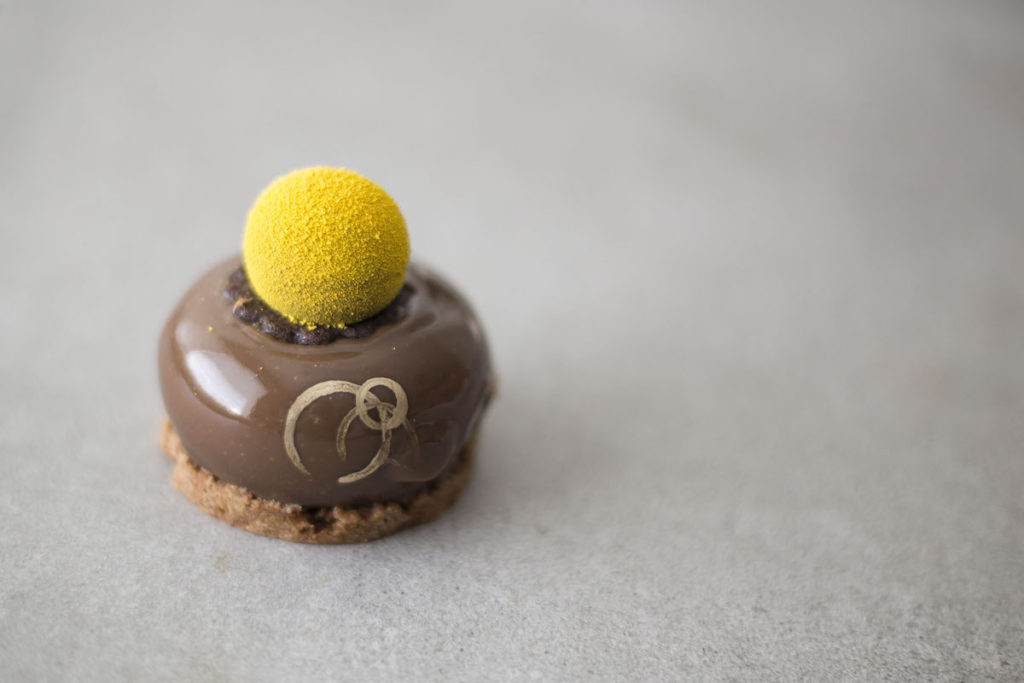 Making this petit gateau is a serious undertaking for a beginner. But, try making one component at a time. Figure out the Paillete feulletine and add it to some ice cream. Next, make the mango mousse. Slowly tackle each of the components until you're ready to make the whole dessert!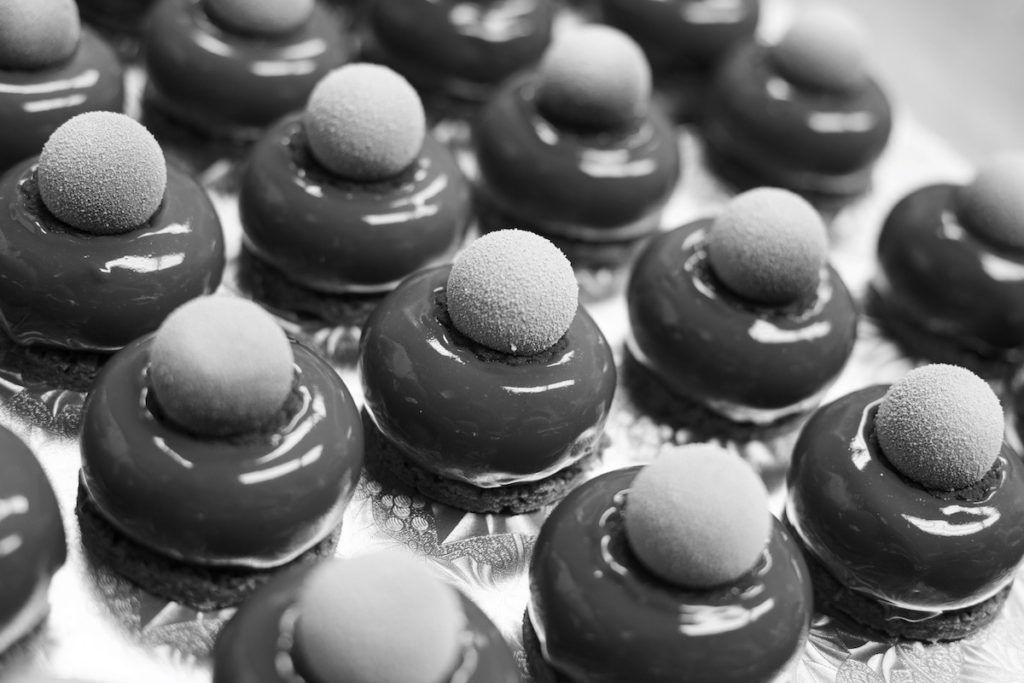 Print Recipe
Ingredients
CARAMEL CHOCOLATE MOUSSE
52 grams caster sugar
10 grams glucose
10 grams water
55 grams egg yolks
70 grams heavy cream, for ganach
155 grams dark chocolate, 70%
213 grams whipping cream
2.5 grams gelatin leaves
COCOA STREUSEL
61 grams brown sugar
38 grams flour
20 grams almond flour
12 grams cocoa powder
1 gram sea salt
48 grams butter, softened
CHOCOLATE GLAZE
270 grams caster sugar
135 grams water
270 grams glucose
180 grams condensed milk
7.5 leaves gelatin leaves
90 grams dark chocolate, 64%
MANGO CHOCOLATE CREMEUX
130 grams mango puree
122 grams heavy cream
22 grams caster sugar
42 grams egg yolks
115 grams dark chocolate, 54%
1.25 leaves gelatin
FEUILLETINE CRISP
145 grams feuilletine wafers
145 grams praline paste
52 grams white chocolate
60 grams milk chocolate
COCONUT DACQUOISE
420 grams egg whites
250 grams caster sugar
250 grams coconutndesiccated
250 grams powdered sugar
70 grams flour
PASSIONFRUIT MANGO INSERT
252 grams passionfruit puree
120 grams mango puree
1 vanilla bean pod
96 grams caster sugar
4 grams apple pectin
9 grams gelatin leaves
180 grams mango, cubed
Instructions
2

Cook sugar, glucose, and water to a dark caramel. Remove from fire and cool it down to 120 degrees celsius. Whip egg yolks and add caramel to make a sabayon. Half melt chocolate. Boil the first part of the cream, add bloomed gelatin leaves to cream and the cream mix to the chocolate to make ganache. Fold the sabayon to ganache and 65% of the whipped cream to make a mousse. Pipe into molds and place frozen insert in the middle and finish off with the mousse.

4

Scale all ingredients together in a mixing bowl. Mix well to form a soft dough. Rest it for 30 minutes in the refrigerator. Roll it down to 2mm thickness. Bake at 310 degrees F for 5 mins.

6

Bloom gelatin with some cold water. Scale condensed milk, dark chocolate, and gelatin leaves together. In a pot bring water, glucose, and sugar together to a boil. Add it to the chocolate and let it rest for 5 mins. Do not stir. Emulsify well using a hand blender and use it at 30-32 degrees C.

8

Boil puree and heavy cream together. Scale sugar and egg yolks together in a bowl. Temper hot puree mix to the egg mix. Cook until 78 degrees C like creme anglaise. Remove from fire, add gelatin leaves. Pour the mix on the dark chocolate and emulsify.

10

On a double boiler, melt white and milk chocolate together. Scale feuilletine with praline paste. Add melted chocolate and mix gently. Spread on a silat and roll it desired thickness and cut as needed.

12

Make a meringue at soft peak stage with egg whites and caster sugar. Mix remaining ingredients together and fold in the meringue gently. Spread on a sheet tray and bake at 380 degree F for 14-15 minutes.

13

PASSIONFRUIT MANGO INSERT

14

Infuse passionfruit puree, mango puree, and vanilla bean pod together overnight. Strain next day and warm it in a pot. Mix pectin and sugar together and add it to the puree. Cook at boiling temperature for 2 minutes to activate the pectin. Remove from fire and add bloomed gelatin leaves and mango cubes. Cool it down to room temperature and fill in the insert molds. Place the coconut dacquoise on top and freeze.
Ingredients and Tools
Mango Puree – available in-store only at Orson Gygi
Passionfruit Puree – available in-store only at Orson Gygi