If you have been scrolling through the recipes from the Chocolate Extravaganza, then stop right here! These were some of the best, most delicious cookies we have ever had–all thanks to Si Foster. There are almost no words for how amazing they were and we could not get enough. These Caramel Coconut Chocolate Chip Cookies are tall, soft, buttery, chocolaty, caramely perfection. And we are so excited to be able to share this recipe with you.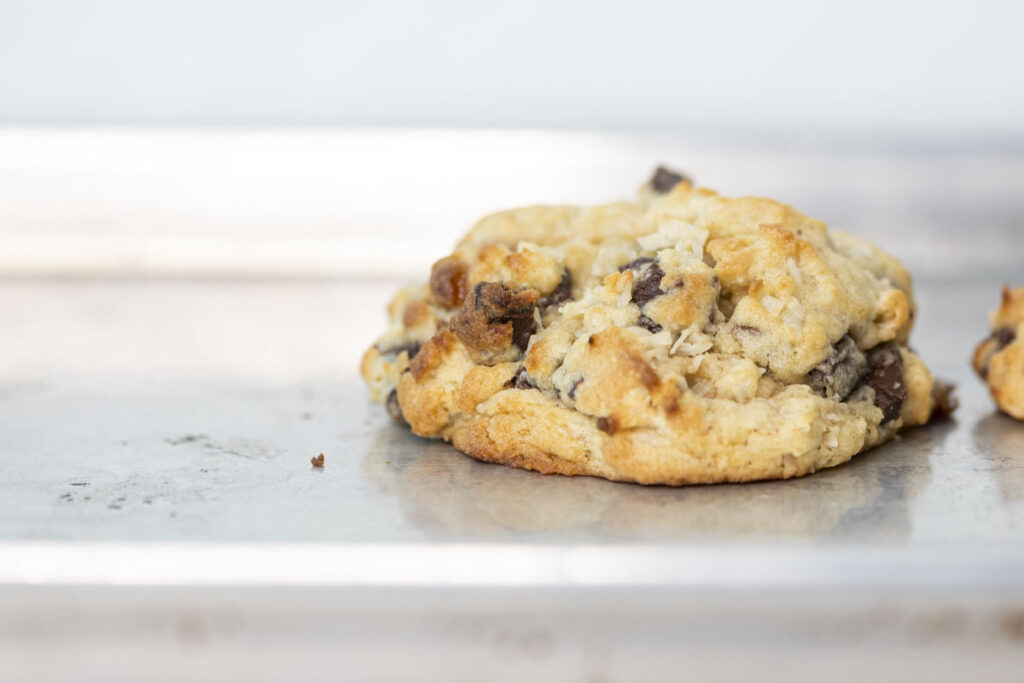 One of the best tricks to cookie making is to never overmix the dough. You want to mix the ingredients on low and stop the mixer the minute they combine. Overmixing can cause your cookies to fall flat and become tough and dense. Also, when adding flavor, you can use extract or emulsion. Our Gygi Tip is to use the emulsions, because they don't evaporate as quickly as extracts so you will get stronger flavor and aromas. But if you do use extracts, you might consider adding a bit more to help retain the flavor during the bake.
Now, the traditional size of this cookie is 6 oz. that bakes crispy on the outside and slightly under baked on the inside Now, that is one BIG cookie and it's great if that is the type of dessert you are looking for. But its also ok if you want to portion the cookies a little smaller. You can test out different size cookie scoops to figure out which size you like best (or check out this blog post where we tested the different sizes for you). Just watch for the tops of the cookies. When the tops just start to look dry and golden it is time to pull them out of the oven and let them finish baking on the pan.
Print Recipe
Levain Bakery Style Caramel Coconut Chocolate Chip Cookies with Si Foster
Ingredients
1 cup unsalted butter (slightly softened cut into tablespoons)
¾ cup dark or light brown sugar packed
½ cup sugar
2 eggs
1 tsp coconut emulsion
1 cup cake flour
2 cups all purpose flour* see notes
1 tsp baking powder
1 tsp baking soda
1 tsp sea salt
2 cups coconut (heaping sweetened)
2 cups semi sweet chocolate chips
1 ½ cups caramels (chopped)
Instructions
1

Pre heat oven to 400℉ and set rack in middle of oven.

2

Place butter into bowl and turn mixer on low. If using a stand mixer, use the paddle attachment.

3

Add sugars and beat butter until smooth on medium speed. This should take about 1 minute (or less). Mix until the butter is completely blended with the sugar and is no longer visible in pieces.

4

Add the eggs and coconut extract and beat on medium just until incorporated with butter and sugars, scraping down sides of the bowl 1-2 times during mixing.

5

Turn the mixer off. Add the cake flour, all purpose flour, baking powder, baking soda, salt, coconut, chocolate and caramel bits. Pulse the dry ingredients on low until the wet and dry ingredients are mixed together.

6

Fold the dough together by hand a few times (using hands or spatula) until all of the chocolate chips, coconut and caramel bits are distributed in the dough evenly.

7

Divide the dough into 10 equal pieces about 5-6 oz each. use your hands to pick pieces of dough from bowl. Do not use a cookie or ice cream scoop. The cookies are meant to be roughly shaped. Do not flatten the dough, each dough piece should stand about 3 inches high before baking.

8

Bake 4-5 cookies per pan, for 9-10 minutes on regular bake OR 400 convection bake for 7-8 minutes. Do not over bake!

9

The cookies are done when the top crust is formed and is lightly golden and the bottom is also golden. There should not be wet or shiny spots on the top of the cookie.

10

Let cool for at least 15 minutes before serving.