Cool off with summer's easiest treat! Pour. Freeze. Enjoy! We love a gooood popsicle mold. They make for gorgeous treats and they are so easy to use. But there a many other options for making popsicles! Don't let the absence of a mold hold you back!!!
Popsicle Mold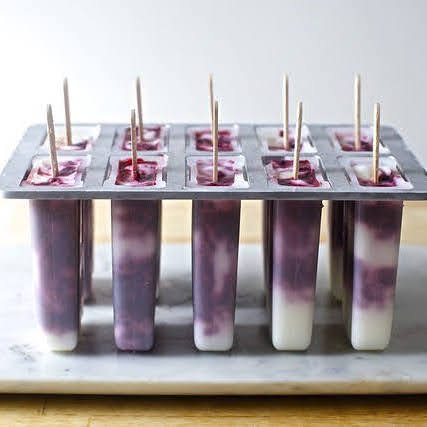 If you're looking to make popsicles on the regular, you'll want a good mold. We love the classic shape of this mold (pictured above). Plus, it's sturdy frame make it easy to move from filling to the freezer. You'll be making popsicles for a lifetime with this mold.
Want a fun shape for the kiddos? These silicone molds are the best. Pick your favorite from penguins, monsters, zombies, or robots.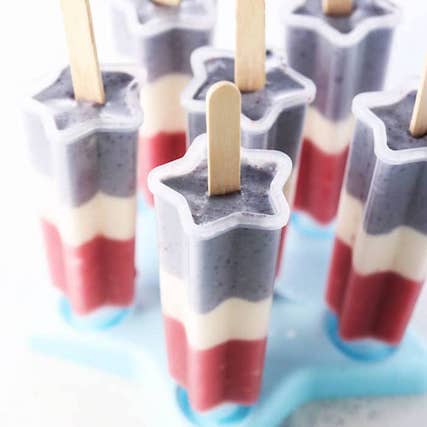 More fun shapes include stars, ring pops, rocket pops, and twin pops. All the classic shapes, you can make at home.
Tight on space? You'll LOVE these stackable molds. Their lay-flat design allows you to sneak them into any tight space in your freezer. Choose your shape from a classic popsicle, watermelon, or pineapple.
Paper Cup
The original popsicle mold – a paper cup! It's inexpensive and disposable. You can make a lot or make a little. They don't tip over. And they're cute as can be. When it comes time to eat the popsicles, you can peel the cup away or let sit on the counter for a few minutes and the popsicle will slide right out.
Sure, you can use any paper cup you'd like! But we found these small paper ice cream containers to be so functional! Available in 11 colors and designs, they can match your party decor and hold your frozen treat. Their wide base make them easy to fill with no fear of tipping. We used a cute wooden spoon as the stick, but a classic popsicle sticks works great, too.
Loaf Pan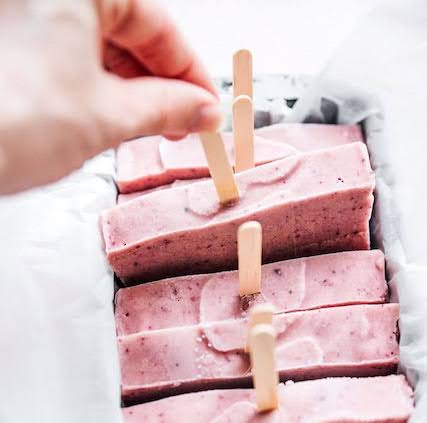 If you have a bread pan, you can have popsicles. Line any size loaf pan with plastic wrap or parchment paper. Fill the pan with your popsicle base. Then, place a piece of aluminum foil over the top and fold over the sides to hold in place. Carefully cut slits in the foil to hold the popsicle sticks. Slide the sticks through the slits and place the loaf pan in the oven overnight. When frozen, remove by lifting out the parchment paper. Use a chef's knife to cut the popsicles into slices. Learn more here. Shop loaf pans here.
Ice Cube Tray
Ice cube trays make the cutest, bite size little pops. Any ice cube tray will do, but you'll find best success if you use a sucker stick instead of a classic wooden popsicle stick.
We love these small silicone molds for bite sized treats. And this larger mold makes a bigger popsicle. The silicone makes for easy removal. But if they are struggling to come out, dip the ice cube tray in a bit of warm water for 10-20 seconds and try again.
Glass Cup
Even a glass can make a popsicle mold. These are made in a tall shot glass! Keep in mind the size of the cup, as that will obviously affect the final result. Popsicles that are too large are hard to eat.
Silicone Muffin Liners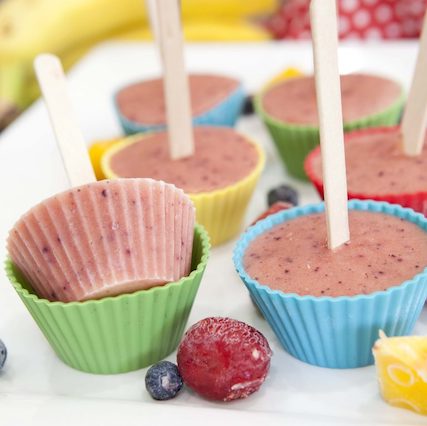 If these silicone muffin liners roll around your cupboards or drawers, put them to use by filling them with popsicles! So cute. So easy.
Baking Tins
Love the variety in these baking tins! So fun & playful!
Yogurt Containers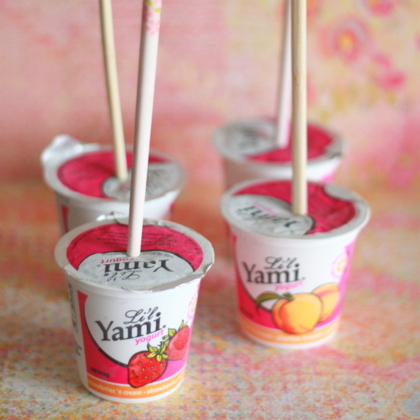 Even yogurt cups can serve as a popsicle mold. Fill with your own popsicle base mixture or simply add a stick to the yogurt in the cup and freeze! Couldn't be easier.
So many ways to make an icy treat this summer! Have you tried any of these molds or their alternatives? Have another suggestion? We'd love to hear about it!