Move over little tear shaped droppers filled with "coloring," it's time for the big dogs to do their job!
When it comes time to color your frosting, chocolate, or baked goods- using quality food coloring really does make a difference. The advantages of using high- quality coloring make them a clear choice for bakers, decorators and chocolatiers. They produce vibrant colors, won't alter the flavor, the are more potent so you won't need as much coloring, and there is a wide variety of color options.
Types of Food Coloring
Not all food coloring is made the same! And because of that, each type of coloring is suited for different products. Let's learn more about what's out there so you can make sure you grab the right bottle!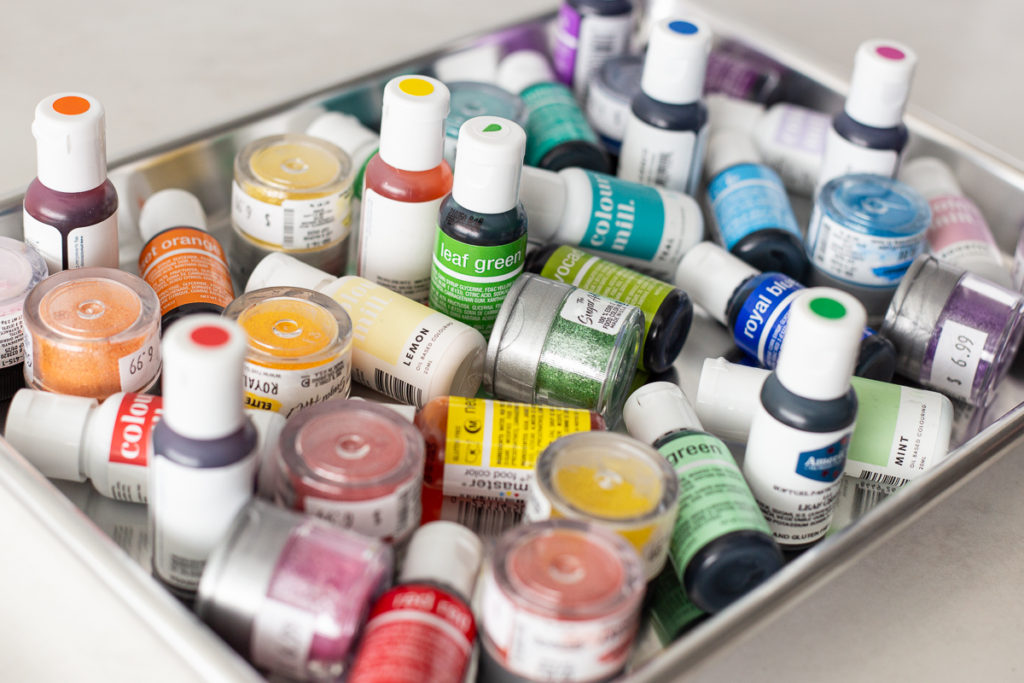 Let's break down the difference between the different styles of coloring you might find.
Using your Coloring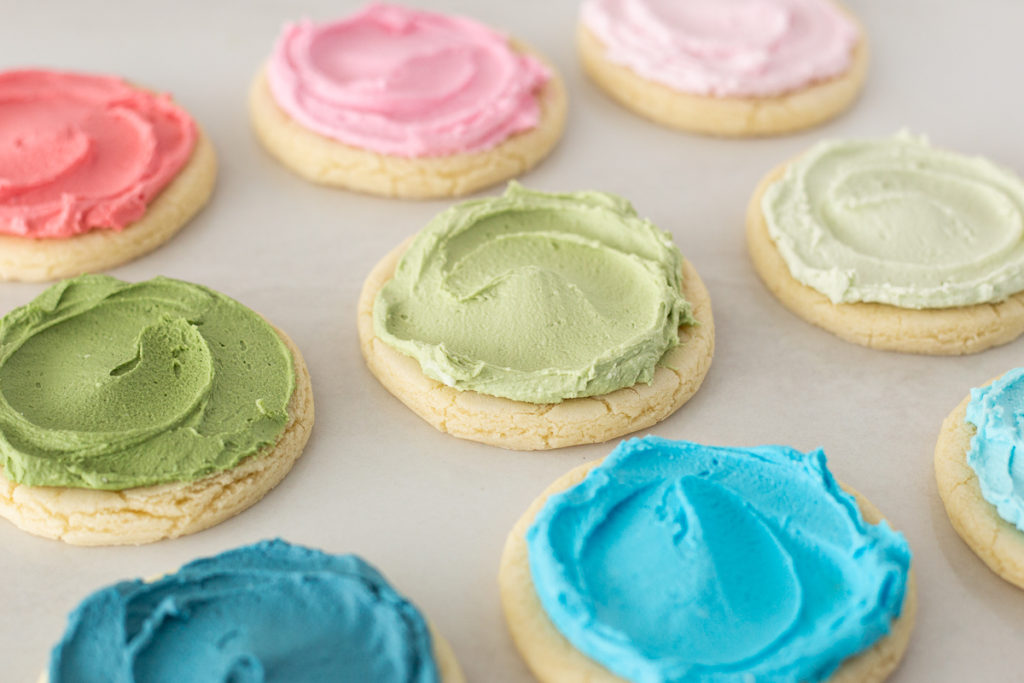 Storing your Coloring
Food coloring is shelf-stable, and the perfect consistency at room temperature. Like most pantry items, it will last the longest if stored in a cool, dry, dark place. Like the top of the pantry, or the back of your cupboard. And a bonus if you can keep it out reach if there are little people who live or frequent your home- we've learned that the hard way.
We like keeping it in a little box or storage bin where all the bottles can stand straight up. Make sure the lid is on tight, as your colors will dry out if they are left exposed to air. Once we start running low on a liquid color, we make sure the lid is on nice and tight, and we flip the bottle upside down so the remaining color can collect in the lid.
Squeezing out every last drop
The plastic squeeze bottles are great for getting almost every last drop out… but there's always a little bit left behind. So what do we do about that?
You can use a toothpick to scrape out any extra coloring, store the bottle upside down so the coloring collects near the lid. DO NOT add water to the coloring to thin it out. That will change the formula, making your coloring less effective and it can ruin your frosting or chocolate. Just don't add water!
Mixing Colors
We have some customers who are surprised when they add one drop of coloring to their bowl of buttercream and they didn't achieve the color they wanted. We've gotta remember that we are adding the coloring to a big bowl of color already! The white buttercream is going to alter to value of your frosting, so don't be afraid to add more drops of coloring until you achieve what you were hoping for.
When your goal is a really dark frosting, like black, we recommend starting with a naturally dark frosting- such as chocolate- to give you a darker base in which to start from. Then you can add your coloring and won't need quite as much.
When it comes to getting that perfect hue, sometimes you just need to mix your own colors. Here's the science behind that:
Colors fall into three categories: Primary (red, yellow, blue), Secondary (orange, green, violet) or Tertiary (basically everything else!)
So technically you could make ANY color if you just have the primary colors. By adding them together in equal parts, you create the secondary colors. Adding secondary and primary colors together will create tertiary. If you're looking for a more bold color, you can add the complimentary, or opposite color on the color wheel to achieve that shade. We love thinking about color mixing. and when it comes time to color your icing or cake batter, the best bit of advice is to color a little at a time until you get the perfect amount, and then color the rest of the bowl. This will help save your bowl from becoming a brown pool of mystery.
Wanting the perfect shade? Try out Google! There are many bakers who have shared their equations for the dreamiest colors. Just make sure you're using the same ratios and brands to achieve the same color.
Coloring Chocolate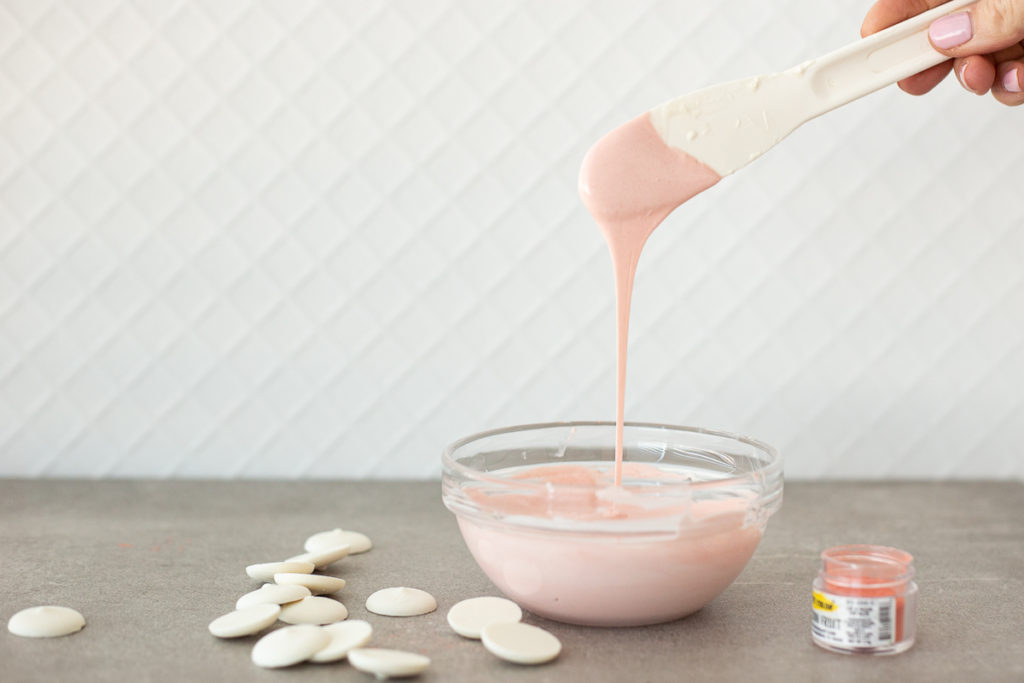 Coloring chocolate opens up a whole new world of confectionary fun. Think orange chocolate bombs around Halloween, or red christmas stars for the holidays… so many exciting options. We love using colored chocolate on our chocolate covered popcorn, and as a drizzle over rice krispie treats.
Coloring chocolate can be tricky if you don't have the right product. Because chocolate is oil-based, adding a gel based coloring will make your chocolate seize (just like if you added in a few drops of water). Chocolate and water do not mix. But there are some great solutions!
Use an oil-based food coloring like Colour Mill brand. This is in a squeeze bottle, and is ready to mix with your chocolate.
Use a powdered food coloring. Since there is no liquid in these colorings, they are safe to use in melted chocolate.
Turn your water based gel coloring into an oil based coloring using FloCoat. Just mix this with your gel coloring, and then add it to your melted chocolate. Easy peasy.
Brands of Food Coloring
At the end of all this coloring fun, the most important part is to enjoy the process. If there's ever a question, call the store, we are happy to help troubleshoot your confectionary concerns. Happy decorating!
---
This post is a part of our Gygi Guide to Decorating. We share all about frosting, decorating bags + tips, sprinkles and food coloring. Learn more about getting the perfect finished product, here.
Looking for the perfect frosting recipe? Try one of our favorites.
Want more practice with chocolate? Check out Chocolate 101. We'll spill the cocoa beans on everything you need to know.