Everyone loves a classic chocolate chip cookie recipe. But we wanted to spice it up by adding chunks of our favorite Peter's Caramel right into the cookie dough. Then, for good measure, add a few more caramel chunks to the tops and finish it all off with a delicious dusting of Kosher Salt. The result is rich, chewy, chocolatey, slightly salty, delicious caramel chocolate chip cookies. They smell so good, fresh out of the oven. And they taste even better.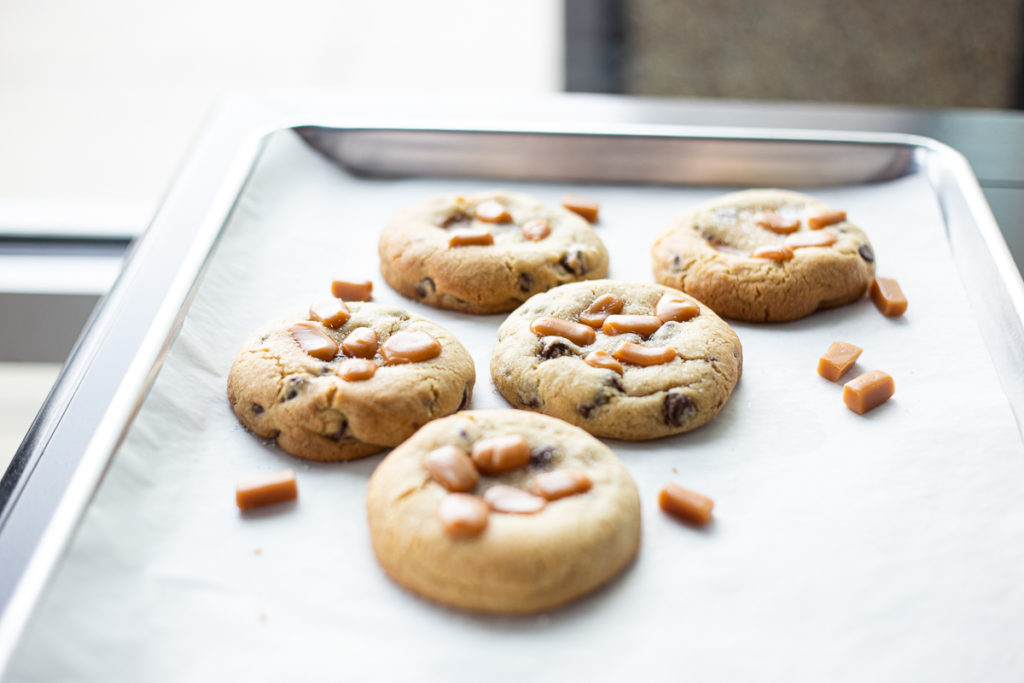 These were such a big hit in the Gygi Kitchen. And when they are both stuffed and topped with delicious caramel, we know they will quickly become a fall favorite in your home as well. Imagine the crisp edges and the gooey, chewy centers. The caramel pull in the middle of these cookies is the most beautiful thing to behold. And the slight bitter of the salt makes these the perfect balance of flavors. Honestly, so good! We can't wait for you to try out these caramel chocolate chip cookies and let us know what you think.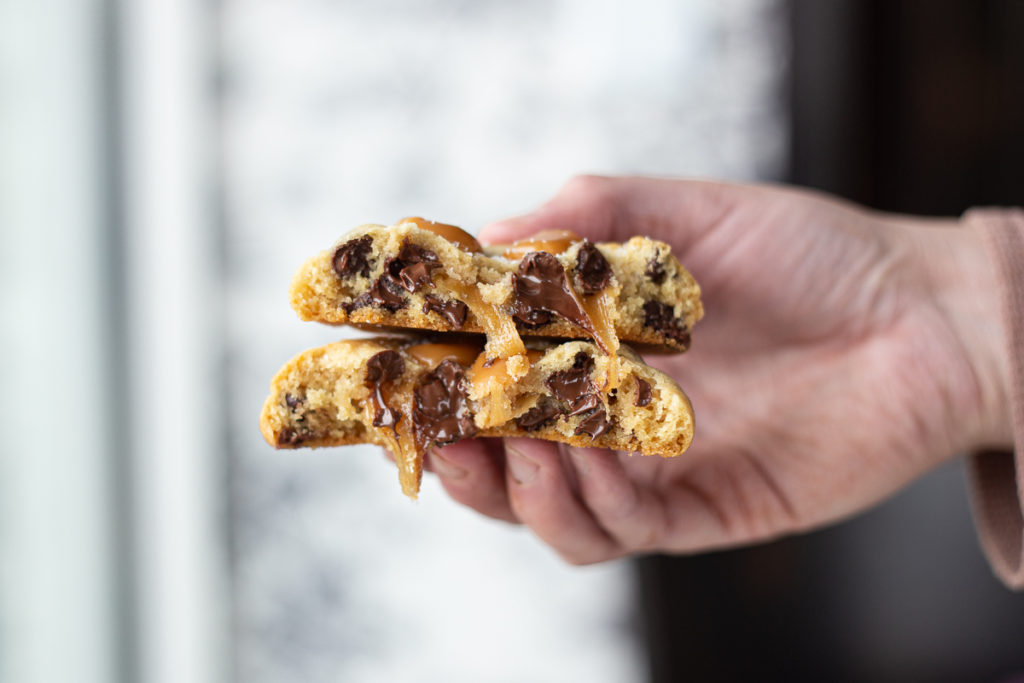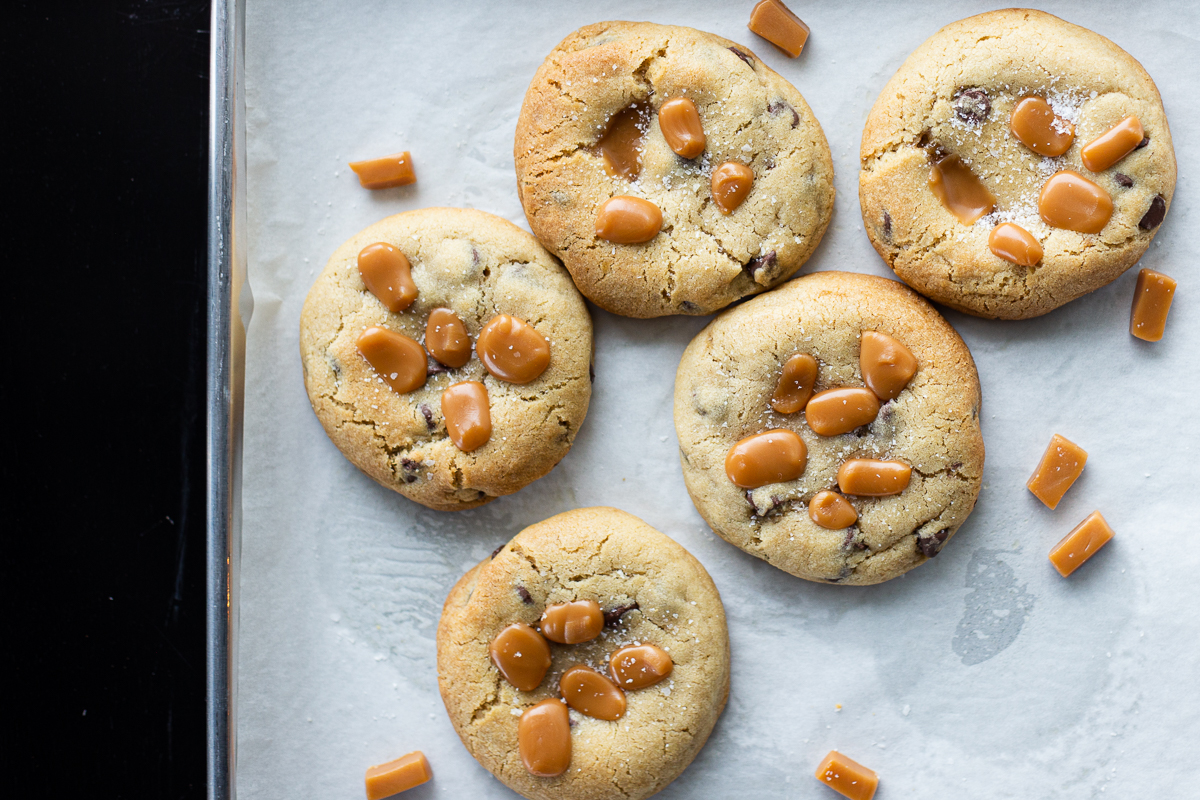 Print Recipe
Caramel Chocolate Chip Cookies
Ingredients
1 cup unsalted butter, room temperature
1 cup brown sugar, packed
½ cup white granulated sugar
1 teaspoon vanilla extract
2 large eggs
1 teaspoon baking soda
1 teaspoon salt
2 ½ cups all-purpose flour
2 cups semi-sweet chocolate chips, we used Guittard chips
Peter's caramel
Instructions
1

Beat butter and sugars together for 2 minutes on high until light and fluffy. Add in vanilla, add eggs one at a time. Mix on medium-high for 1 minute until combined. Scrape the side of the bowl.

2

Add in baking soda, salt, and 1 cup of flour and mix. Slowly add in the remaining 1 ½ cups of flour and mix until cookie dough is formed. Dough may be slightly thick. Stir in chocolate chips.

3

Place a piece of parchment paper on a cookie sheet. Scoop out one ball of dough using a cookie scoop, we used a #20 scoop for a larger cookie. Flatten the dough and add a ½" x ½" cube of Peter's Caramel to the center, wrap the dough around the caramel to make a ball. Place the dough ball on the cookie sheet. Repeat until all the dough is used.

4

Chill the dough balls for at least two hours, or overnight, to ensure the caramel will not leak out. Place the dough balls out for at least 20 minutes before baking. Preheat the oven to 350°F. Place parchment paper on two cookie sheets. Arrange the dough balls onto the cookie sheets, if making a larger cookie arrange 6 cookies on each cookie sheet.

5

Bake for 13-15 minutes until the edges are golden brown and the center is slightly underdone. As soon as the cookies are out of the oven, add sea salt and a few small pieces of caramel to the top of each cookie. Allow cookies to sit for 5 minutes before transferring to a cooling rack.
For even more creative ways to use Peter's Caramel, check out our Caramel 101 post.