We are so excited to welcome back our favorite pie maker- Si Foster from A Bountiful Kitchen. Si has given us so much confidence in the kitchen as we master pies through her direction.
Si will be teaching her Original Toll House Pie in this hands-on cooking class. This recipe is for all- beginner to advanced pie maker! Everything you love in a chocolate chip cookie, baked into a flaky homemade pie crust. This easy to make dessert is the ultimate chocolate chip cookie lover's dream.
She starts with her BEST homemade pie crust, which is the crust recipe we use and use and use. In fact, we tested it against a few other crust options. You can see how it stacked up over here.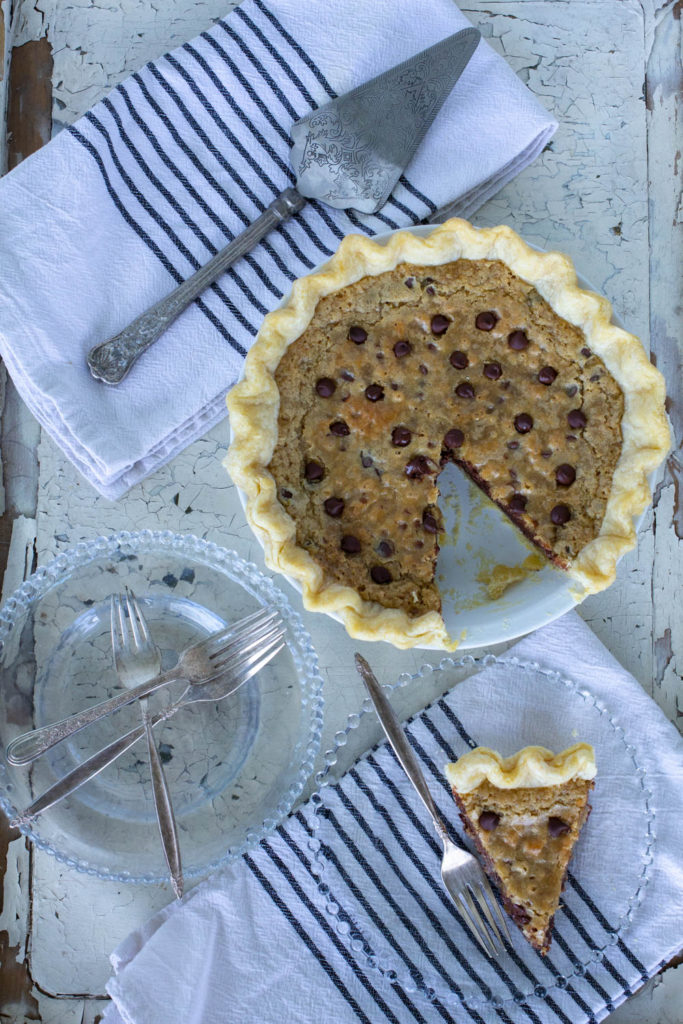 Print Recipe
Original Tollhouse Pie
This Pie is the perfect treat for a Chocolate Chip Cookie Lover! And you can guarantee if it comes from Si Foster it will soon be a family favorite.
Ingredients
PIE CRUST:
1 cup flour
1/4 teaspoon salt
7 tablespoons solid shortening I like butter flavor and regular crisco
1/4 cup + 2 tablespoons cold water
FILLING:
3/4 cup unsalted butter at room temperature do not melt!
1/2 cup sugar
1/2 cup brown sugar
2 large eggs
1 teaspoon vanilla
1/2 cup all purpose flour 3/4 cup flour if omitting nuts
1/2 teaspoon salt
1 1/2 cups semi sweet chocolate chips
1 cup coarsely chopped walnuts or pecans
Instructions
1

Preheat oven to 325 degrees. Place rack on center of oven.

3

Cut shortening into flour and salt in medium size bowl, until the mixture resembles small pieces the size of peas.

4

Add cold water all at once. Mix with a fork until dough starts to form into a ball, do not over mix.

5

Sprinkle flour out onto a flat surface. Roll the dough out and place in a 9x 1 or 1.5 inch pie plate.

6

Lightly press into the corners of the plate. Crimp the edges.

7

Place prepared crust into freezer while making filling. Fill and bake as directed above.

9

Cream butter and sugars together until light and fluffy, scraping down sides a couple of times. Mix until blended well and no pieces of butter are visible.

10

Add eggs, one at a time and vanilla to butter and sugar mixture. Beat on medium for about 1 minute, scraping down sides once. Turn off mixer.

11

Add flour, salt, and chocolate chips mixing all at once, just until wet and dry ingredients are incorporated. Add nuts and mix just until incorporated. If not using nuts, remember to add the additional 1/4 cup of flour to batter.

12

Spoon filling into unbaked pie shell.

13

Bake on center rack of oven for about 50 minutes or until knife inserted about half way from center of pie to crust (outer edge of pie) comes out clean.

14

Let cool for at least 30 minutes before serving.

15

Save a few chocolate chips to gently press into the top of the pie after baking while pie is still warm.
Notes
Recipe Notes Make the pie crust first so it can sit in the freezer while preparing the filling. I don't cover the pie crust if it sits in the freezer for under an hour. The pie crust can be made ahead and covered with saran wrap and refrigerated for 1-2 days before baking. If freezing, the crust will stay frozen for up to two weeks before baking. The filling is slightly sticky, but not runny. Do not melt butter. Scrape the filling into the pie crust. The pie may be prepared and stored in fridge until ready to bake up to a day before if the crust is filled with cookie dough. Make sure to cover tightly. Preheat oven for at least 30 minutes before baking a refrigerated or frozen crust. The pie plate should be one to one and a half inch deep. If the pie plate is deep, the filling will not fill up the pie plate!
For more of Si's Recipes, click here.
Si will often stick the cooked pie into the fridge to cool off quicker. Just place the cooked pie onto a cookie sheet and slide into the fridge for about 30 minutes until set. Of course, many people love this pie warm, served with a  scoop of vanilla ice cream. Either way it is heavenly!
---
Connect with Si:
Read more about her in our most recent volume of At The Table. You'll quickly see that she spreads love and goodness everywhere she goes!
---
This recipe is part of our Annual Gygi Chocolate Extravaganza. Check out all the classes (hands on, demo and virtual options!)