Are you ready to talk family feasting? Nothing says holiday meal like a huge, round, trussed-up, whole-roasted turkey taking center stage on the dining room table. It's beautiful and quintessential. But is it the best way to prepare this meal? There is so much about a whole-roasted turkey that is inconvenient – space for storage, time it takes in the oven, and all that awkward carving. There has to be a better method for such a time-honored tradition. Well, we have found it! Spatchcocking a turkey might seem a little too untraditional at first, but once you try it we know this superior method will win you over.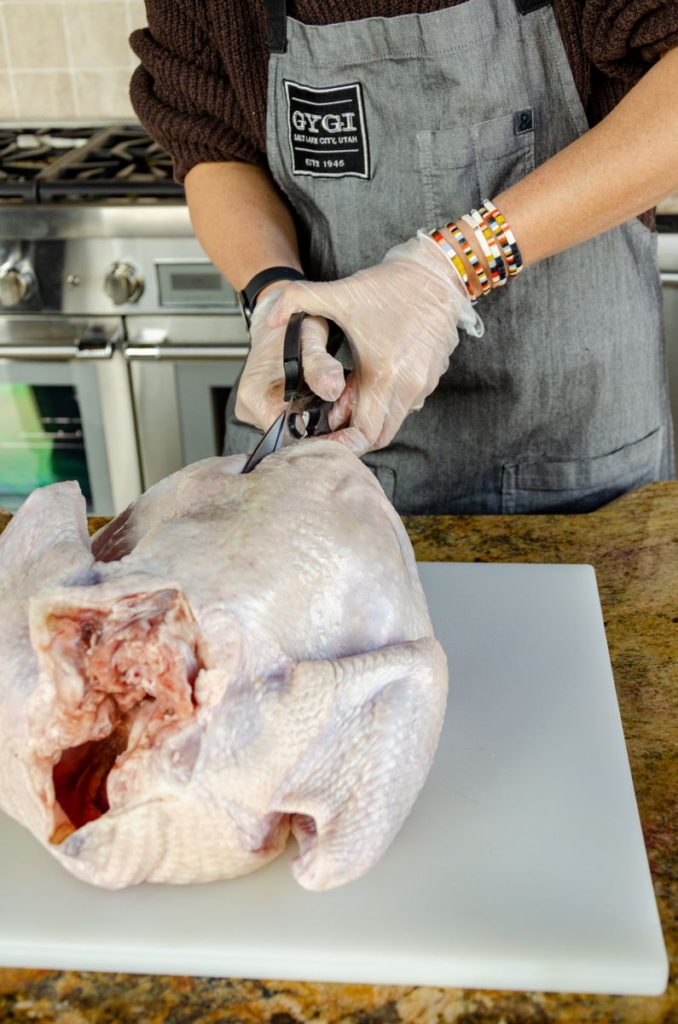 What is Spatchcocking a Turkey?
Spatchcocking, also known as butterflying, is a technique that essentially involves removing the backbone of a turkey (or chicken or any other bird for that matter) and cracking the breastbone so it can lay flat in the pan. This method requires a little elbow grease, and you will have to get your hands dirty. But in the end, it is a superior way to prepare your bird and will get you the best-tasting turkey. Here is why we love spatchcocking a turkey so much:
1. Spatchcocking a Turkey is a Timesaver
Who doesn't want to take time out of the turkey roasting process? That bird takes up so much of the oven for so much of the day. But by removing the spine and flatting the turkey you increase the exposed surface area and decrease the roasting time. With this easy preparation, you can blast the turkey with a higher oven temperature at first to help expedite the cooking process. And, depending on the size of the turkey, it could bake in as little as 45 minutes to finish cooking all the way through.
2. The Flatter Shape Means Even Cooking
If you think about it, a turkey is pretty much a sphere. So no wonder there are so many issues with even cooking! Flattening the turkey reduces the overall thickness of the bird to a nearly even level. And in a spatchcocked turkey, you position the legs so they get a little more exposure than a naturally-shaped turkey. This is ideal because the dark meat there needs to reach a higher temperature than the lighter meat. Another bonus is flattening the turkey can free up room in the oven for rolls or pies you might also be baking.
3. You Get Juicier Meat and Crisper Skin
One of the biggest benefits of spatchcocking is that the meat stays moist. With a spatchcocked bird, almost all of the skin is facing up. This full exposure to the heat produces all-around, even browning. And as the moisture renders from the skin, the meat stews in the fat and juices, keeping the breast meat nice and juicy. The final result is soft and moist white meat with deliciously crackling skin.
4. Stuffing and Gravy
Some would argue that you can't stuff a flat turkey, so it won't be "real" stuffing. This is technically true. But instead, you can lay your spatchcocked turkey on top of the stuffing in the roasting pan (we love this one with a baster and forks). The ingredients will still get plenty of turkey drippings. And if you transfer the turkey to another pan halfway through cooking, the stuffing will not burn. This way, you can get way more stuffing than you would by cramming it into the turkey's cavity. And by spatchcocking a turkey you have yet another excellent component to add more flavor to your gravy – the backbone itself.
5. Gorgeous Presentation
The most common complaint about doing a turkey this way is "it just doesn't look right." And while we can all agree a whole-roasted turkey is iconic, it isn't exactly convenient to tackle this entire pile of meat come dinner time. You will need some hard-won carving skills to make it happen. We much prefer meat that comes to the table ready to eat. And, as it turns out, a spatchcocked turkey with the right presentation can be just as visually appealing and is far simpler to carve.
Think you are ready to give a spatchcocking a turkey a try? Who knows, maybe you will actually want to eat your turkey this year instead of just all the delicious sides.