Snickerdoodles are such a classic cookie. They are soft, slightly tangy, and coated with cinnamon sugar. We love them almost as much as we love chocolate chip cookies. But they also have to be made just right. Have you ever had a snickerdoodle that was chalky, boring, and unmemorable? If we are going to indulge in a cookie, it had better be a good cookie. So we came up with something that had the exact right flavor, texture, and little bit of flair. Enter the cinnamon chip snickerdoodles!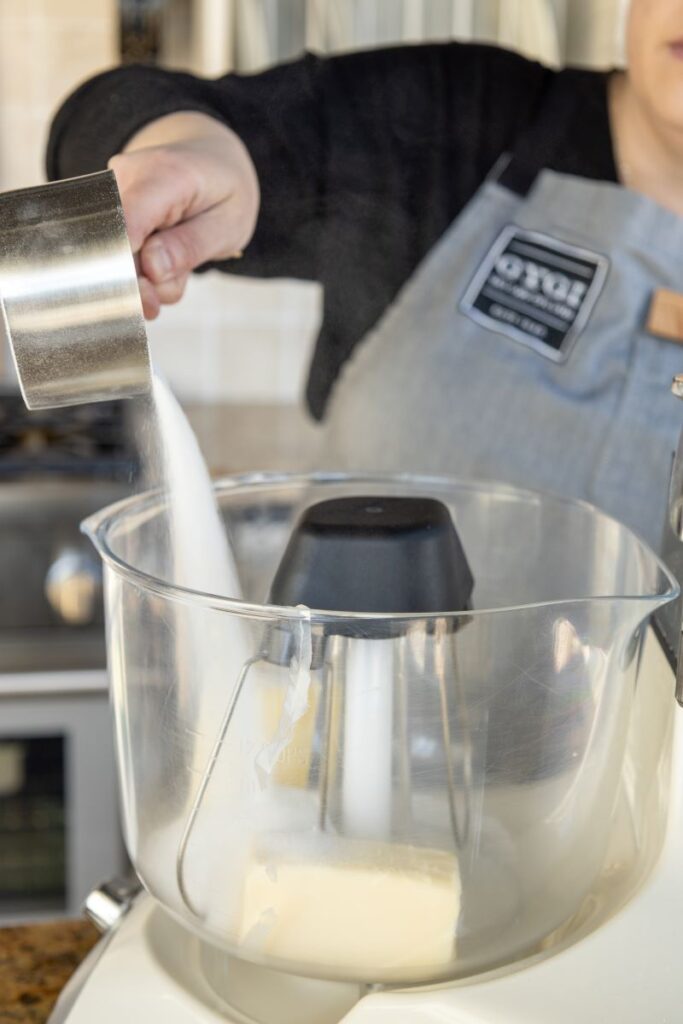 We started out this recipe with a basic cookie dough by creaming the butter and sugar and sifting together the dry ingredients. Then we added some cream of tartar to the dry ingredients to create the tang snickerdoodles are known for. Next we mixed the wet and dry ingredients until just barely combined. Finally, to add that little something extra, we pulsed in some of our Gygi Cinnamon Chips.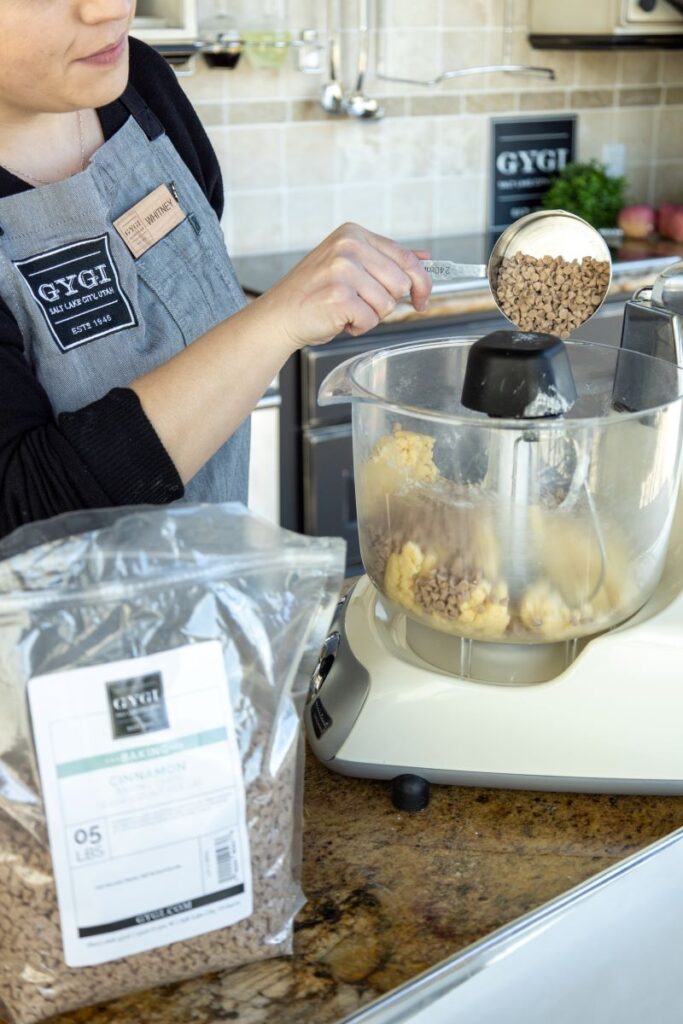 Once we had the dough we scooped out and shaped the dough balls, rolled them in the cinnamon sugar, and baked them until barely done. Then we let them bake with the residual heat for a couple of minutes before moving them to the cooling rack. This method created the perfect cookie–crispy on the outside and soft and chewy on the inside. And the cinnamon flavor was a chef's kiss of perfection.
The tiny little cinnamon baking chips carry just the right amount of natural flavor. They also have such a unique structure to create little pockets of cinnamon. Eat these snickerdoodles warm, and you won't really notice the chips aside from the amazing flavor. But give these cookies time to cool and the structure of the chip reforms slightly for a crunchy little tidbit in every bite–just like a chocolate chip.
We can't wait for you to get your hands on your own bag of cinnamon chips and see what you think of these cinnamon chip snickerdoodles!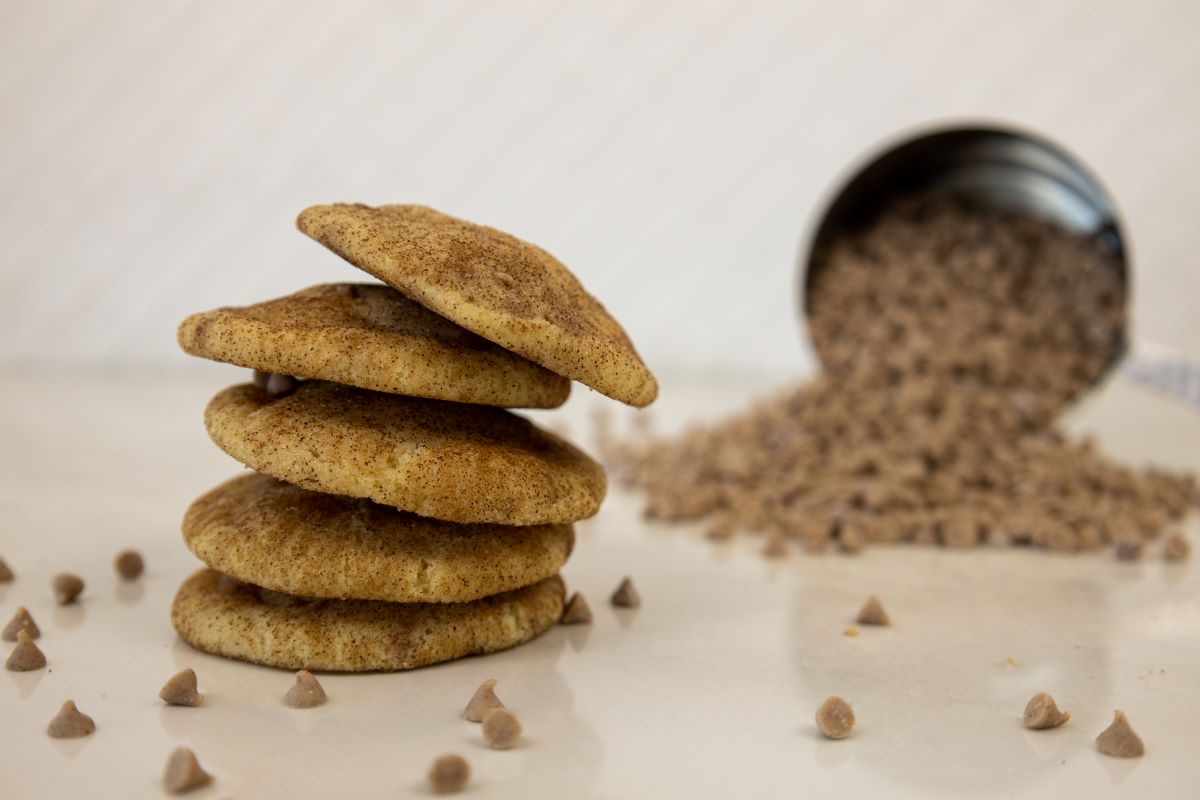 Print Recipe
Cinnamon Chip Snickerdoodles
Ingredients
For the cookies
2 ¾ cups all-purpose flour
1 tsp baking soda
1 tsp cream of tartar
¼ tsp salt
1 cup salted butter (softened)
1 ½ cups granulated sugar
2 eggs
1 tsp vanilla
1 ½ cups cinnamon chips
For the cinnamon sugar coating
3 Tbsp granulated sugar
2 tsp cinnamon
Instructions
1

Preheat oven to 375℉. Prepare cookie sheets with parchment paper.

2

In a medium bowl, whisk together all-purpose flour, baking soda, cream of tartar, and salt.

3

In a mixing bowl, cream butter and sugar. Add eggs and vanilla until combined.

4

Mix together dry and wet ingredients just until the dough starts to come together. If it is a little crumbly, just keep mixing.

5

Add the cinnamon chips and pulse the dough 4-5 times.

6

In a small bowl, combine granulated sugar and cinnamon.

7

Scoop dough into palm and roll into 1" rounds. Roll dough balls in cinnamon sugar coating and place on baking sheet.

8

Bake for 10-12 minutes then allow 2-5 minutes for residual bake on the hot cookie sheet. Then move to cooking racks for 2-5 minutes.
Notes
As with chocolate baking chips, we encourage you to measure the cinnamon baking chips with your heart. Add as little or as much as you like!