It's a bundt. It's a sandwich. It's a bundt sandwich.
And it couldn't be easier. Mix up your favorite loaf of french bread (we recommend this one) and bake it in a bundt pan. Behold, the prettiest sandwich you've ever seen!!! You can also use two (11 oz) cans of premade french bread dough if you're looking for an easier way to pull this off. Follow these instructions if using premade dough.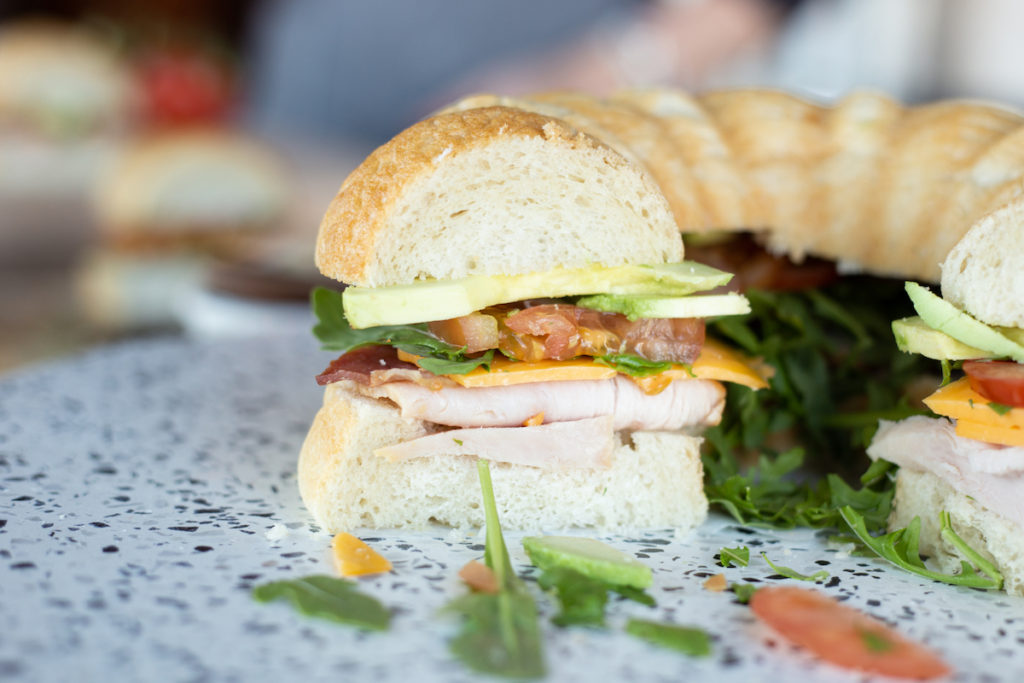 Then, fill your bundt sandwich with your favorite sandwich fillings. We always recommend adding a bit of avocado, but you do you!!! Haha.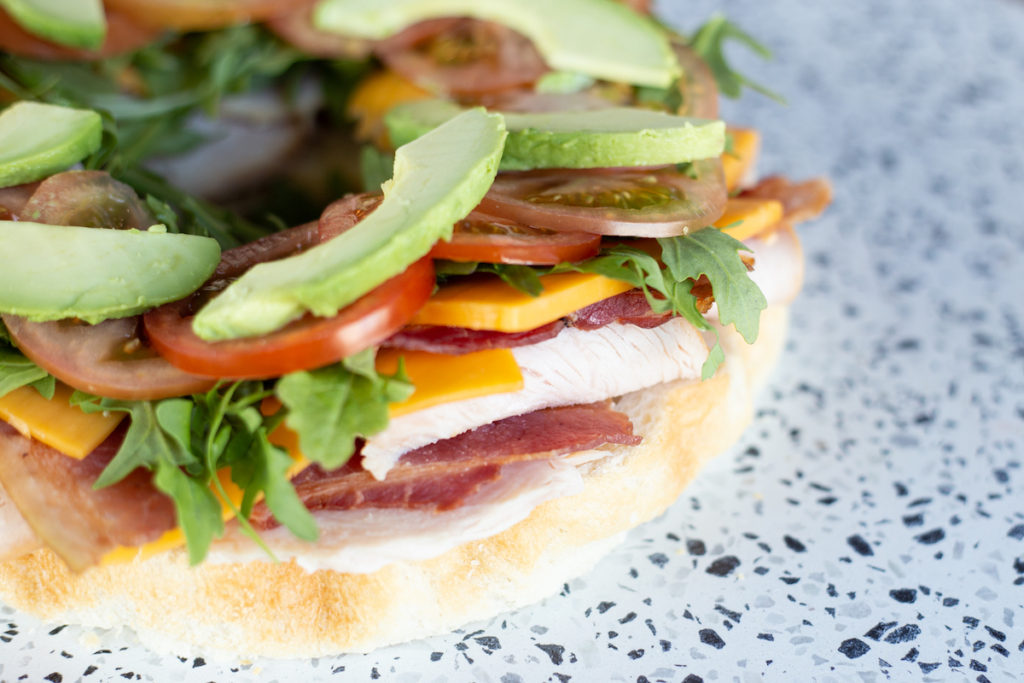 A few tips for baking bread in your bundt pan:
Prep your pan with plenty of cooking spray so it will release easily.
Make sure you seal the ends together or the bread will come apart when baked.
If the top starts to brown too quickly, drape a piece of foil over the top.
Use a thermometer to determine when the bread is done baking. It is done baking when the internal temp reaches 190 degrees F.
Let cool in pan for 5-10 minutes, then transfer to cooling rack to prevent the bread from becoming soggy. Brush top with butter for a shiny top.
Cool completely before cutting into your bread.
Best eaten the day it is baked. Add your favorite toppings and enjoy your bundt sandwich!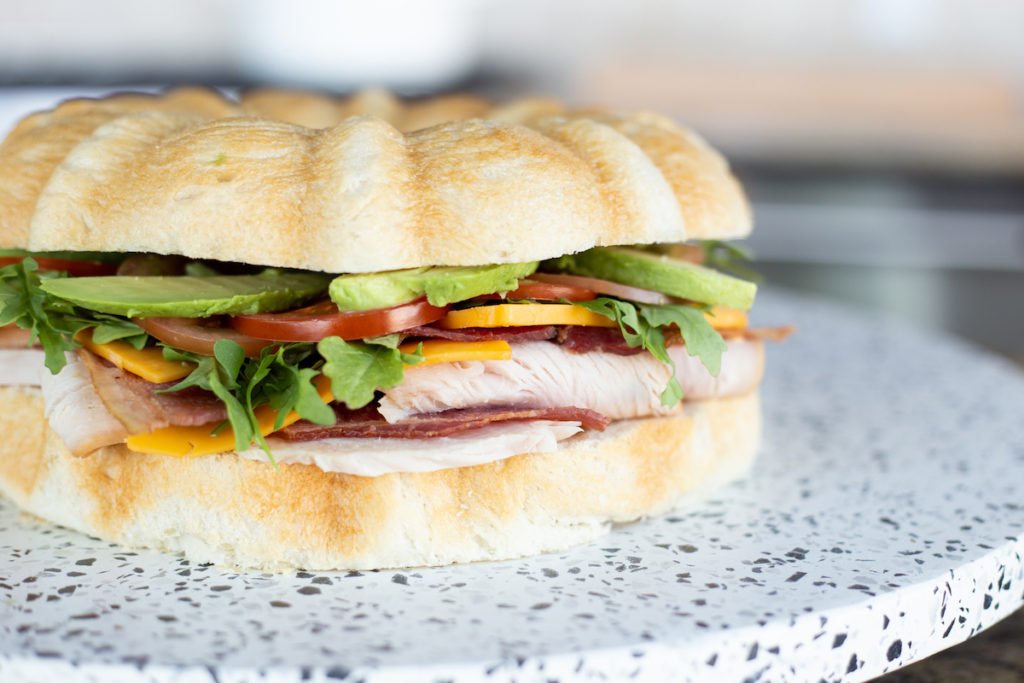 The bundt sandwich is perfect for your next party. Your guests are sure to ooooh and ahhhh over this beautiful meal.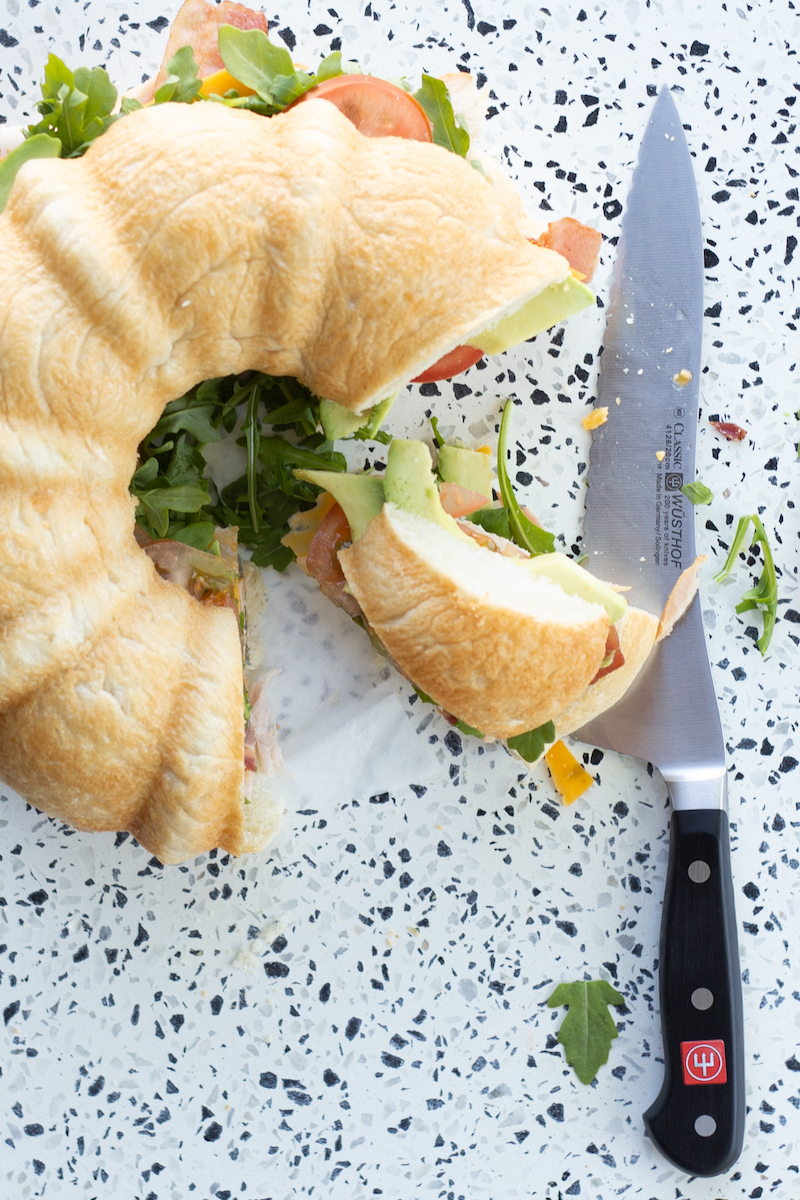 Print Recipe
Ingredients
Dough for one loaf of French bread or 2 cans of premade French bread dough
Sandwich Fillings of your choice
Instructions
1

Prepare dough for one loaf of french bread through the first rise.

2

Roll dough into a long loaf (18" - 20" long).

3

Prepare a 12-cup bundt pan by spraying with cooking spray.

4

Place bread dough into the pan. Use a bit of water to pinch the ends together.

5

Cover with towel or plastic wrap. Let rise in a warm place for 20-30 minutes, until the dough is doubled in size.

6

Meanwhile, preheat oven to 350 degrees F with oven rack place in the middle.

7

When dough is ready, place pan in the middle of the oven.

8

Bake for 35 - 40 minutes, until the edges are browned and the internal temp reaches 190 degrees.

9

Remove from oven and let cool for 5-10 minutes before moving to a cooling rack.

10

Brush top with butter and let cool completely.

11

Cut bread in half and fill with your favorite sandwich fillings.
Need a bundt pan? Shop our selection of high-quality bundt pans at gygi.com.
This is our favorite knife for alllll sandwich prep.
Need more bundt pan recipes? Monkey bread. Orange rolls. Or Red Wine Cake.