This recipe has been a total surprise. The technique is simple- all you do is submerge your chicken in a brine before cooking. The ingredient list is a little surprising- you only need 3 things: vinegar, salt and chicken. But don't let the simplicity fool you. The flavor, taste and texture (think crispy chicken skin with juicy meat) will convert any skeptics into vinegar chicken fans.
We got this recipe from a friend, and we took his words lightly when he claimed this to be the "BEST CHICKEN EVER." But he was right, we just had to try it to believe it. In his words, "don't try to get fancy with it." The recipe is simple, but precise. We can guarantee success, but you've got to do it just how it's written!
Ingredients:
You'll want to start with skin on chicken- drumsticks or thighs. You can use bone-in or boneless, just make sure it has the skin- the skin is where this recipe really shines. We've found that adults typically eat 2-3 thighs or drumsticks and children will eat 1-2, so you can plan accordingly.
Tips for Success:
To start out, you'll need a bowl or dish deep enough to hold all your chicken. You are essentially making a brine, which is a liquid solution typically with high salt content which helps to penetrate your poultry with flavor. You will fill the empty bowl with vinegar, then start adding in the salt. You can use table salt or kosher salt- whatever you've got at home. You'll stir the salt into the vinegar and keep adding it until the salt no longer dissolves in the vinegar- you'll feel it along the bottom of the bowl. For our recipe we used a gallon of white distilled vinegar and 26 oz of kosher salt. If you are making a smaller batch of chicken, you can easily reduce your brine mixture.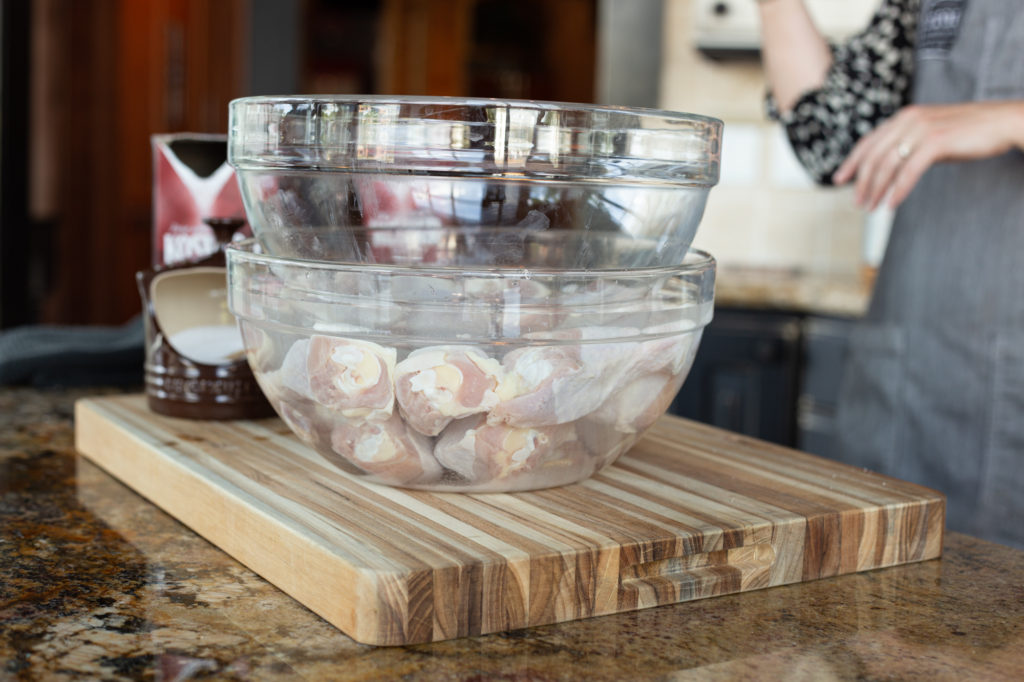 Once the brine is ready, you'll want to grab a kitchen timer. This MUST be precise. You'll place your chicken in the brine solution, make sure all the chicken in submerged. You can place a bowl or dish on top of the chicken to prevent them from floating. Once your chicken is in the bowl, set the timer for 7 minutes and 30 seconds.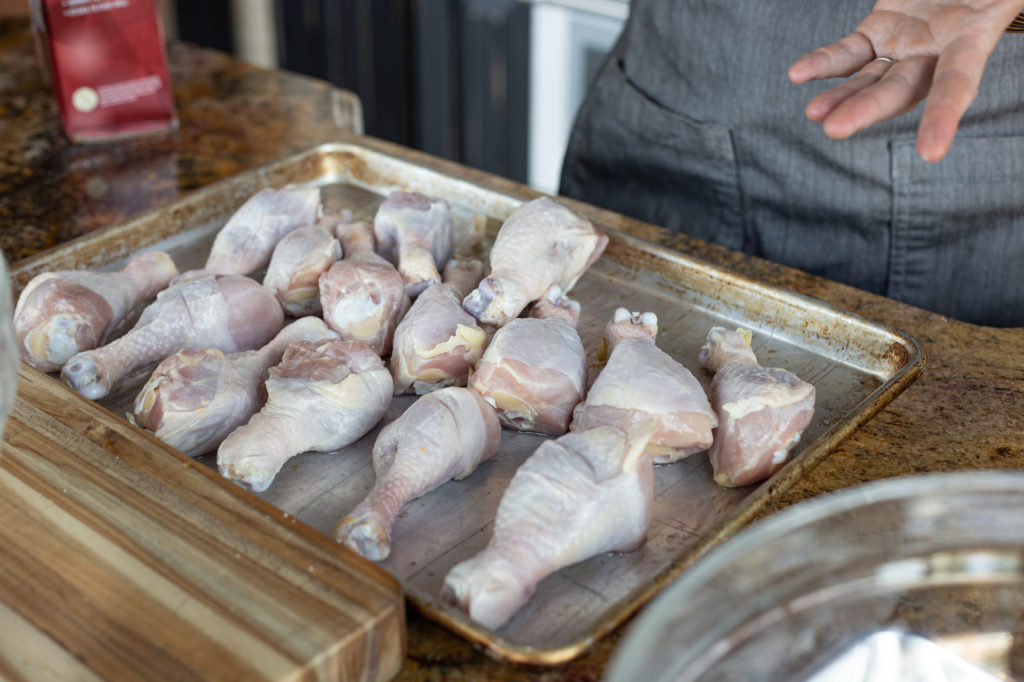 Pay attention to that timer, and as soon as it goes off you start removing the chicken to a baking sheet lined with a cooling rack, or somewhere the brine can drain off just a little bit. Don't take them out a minute too soon or too late. The timing is a critical part of this recipe. If left in the brine solution too long, all you will taste is salt.
If you don't have quite enough vinegar to cover all your chicken, don't stress. You can do the brining portion in batches. Just brine as many chicken legs or drumsticks as you can fit, then remove them and start over with a new batch. We've found that we can get away with using the brine solution up to 3 times, at that point the chicken has absorbed so much of the salt and vinegar, that the flavor starts to be compromised. Also, the brine doesn't keep more than a day, so use it up the day you make it and then throw it out. You can easily just dump it down the kitchen sink.
Once your chicken has brined you'll place it on a preheated grill, smoker or oven. Let's talk about the different methods.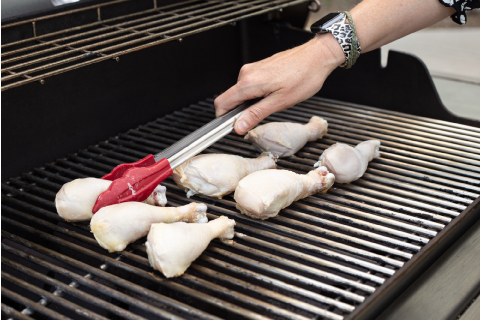 Cooking on a Grill
You'll want to preheat your grill to 325 degrees. This is usually a medium low heat. One easy way to do this if you have multiple burner settings is to turn one side of the grill on high heat, and leave the other side of the grill off. This will create an indirect heat source, so you're not cooking the chicken directly over a flame.
If you're not sure the temperature of your grill, we recommend using an instant read thermometer. They can give you an accurate temperature reading in .7 seconds, and will take the confusion and guess work out of grilling. We can't recommend them enough.
With the chicken on the grill, you'll want to cook it to 165 degress (175 degrees will give you the most tender meat, as it will just easily fall right off the bone!). This typically takes about an hour on the grill. While they are cooking, you'll want to keep an eye on them, especially if you are cooking over direct heat. The chicken will release a lot of juice while cooking, and if they are over a direct flame, that can cause some frustrating flare-ups and burning. If you find that happening, you can move your meat to indirect heat. If you don't have room on your grill, then you can try turning down the burner directly underneath where your chicken is cooking.
When the chicken reaches 165 degrees, we like to turn up the heat and sear the skin on the chicken to get it nice and crisp. This only takes a few minutes.
Cooking on a Smoker
Preheat your smoker to 325 degrees. Place the chicken on the barbecue grates and let them cook for about an hour. They are safe to eat at 165 degrees, but the chicken is "fall of the bone" delicious at 175 degrees. We've found that the smoker doesn't get the skin quite as crispy as we like it, so you can throw them on a preheated grill to crisp up the skin, or place them under the broiler in the oven for 2-3 minutes to crisp up the outside.
Cooking in the Oven
This recipe definitely works in the oven, and can be a very easy approach, just know that you'll be missing that smoky or char flavor you would get from a smoker or grill. Preheat your oven to 325 degrees, and place chicken on a roasting pan with a rack, or a baking sheet with a rack fit inside (this allows the juice to fall through the rack, resulting in that crispy skin and flavorful meat. Check the temperature around 1 hour, and remove them from the oven when they are at least 165 degrees. We like to leave ours in until they reach 175 degrees (the meat will be falling off the bone). If you want a little more crisp on the outside, switch your oven to broil for the last 3-4 minutes, just keep a close eye on them!
We love sharing a new technique, with surprisingly little effort and excellent results! Grab yourself some chicken thighs or drumsticks (they're actually one of the cheapest meat options out there!) and surprise your people with something new and tasty tonight.
Print Recipe
Grilled Vinegar Chicken Thighs and Drumsticks
This simple, yet precise, chicken recipe transforms your chicken into delicious, crispy morsels of meat.
Ingredients
Chicken Thighs or Chicken Drumsticks with the skin on
1 gallon white distilled vinegar
26 oz salt (table salt or kosher salt)
Instructions
1

Preheat grill, smoker, or oven to 325 degrees.

2

In a large bowl, mix the vinegar and salt together. Stir until the salt no longer dissolves in the vinegar.

3

Place chicken in the vinegar and salt mixture, be sure to cover all the chicken. Set the timer for 7 minutes and 30 seconds.

4

Remove chicken immediately from bowl and place on a baking sheet with a rack on it to allow the chicken to drain a little.

5

Cook in preheated grill, smoker or oven for around 1 hour, or until the meat reaches at least 165 degrees (although it will fall off the bone if you can cook it until 175 degrees)

6

To get a really crispy finish, you can broil your chicken in the oven for a few minutes to finish them up. Devour those delicious thighs and drumsticks.