Chef Todd is back for the 10th year in a row to celebrate at the Gygi Grilling Gala! He brings so much fun and information to help us be successful cooking outside. He's already shared how to pick the perfect cut of beef, and also how to pick your other meats (chicken, pork and fish!)- so don't miss those FREE VIRTUAL CLASSES!
We wanted to challenge him with his favorite meal that helps him "Get Away" at the grill. He shares the same love of outdoor cooking, and feels like the grill/smoker were the perfect escape during the chaos of the pandemic. Put work aside, and spend some time making dinner for the people you love. While you're cooking, you're thinking about something else and enjoying "time off" while taking time to enjoy the food you're eating!
Watch the FULL VIRTUAL CLASS HERE:
If you can't watch the whole video, or want to fast forward to your favorite part, here's a breakdown for what you'll find in this class:
CHIMICHURRI
Start with making some chimichurri. You're going to use this sauce on everything you make today, it's great on beef, chicken, pork and seafood.
Cilantro, ½ bunch
Parsley, ½ bunch
3 lemons, juiced (here's the juicer)
1 Tbsp salt
1 clove garlic
2 serrano chili
¼ cup olive oil
Blend in a blender until you achieve a smooth puree. Add some more oil if you want it a little looser.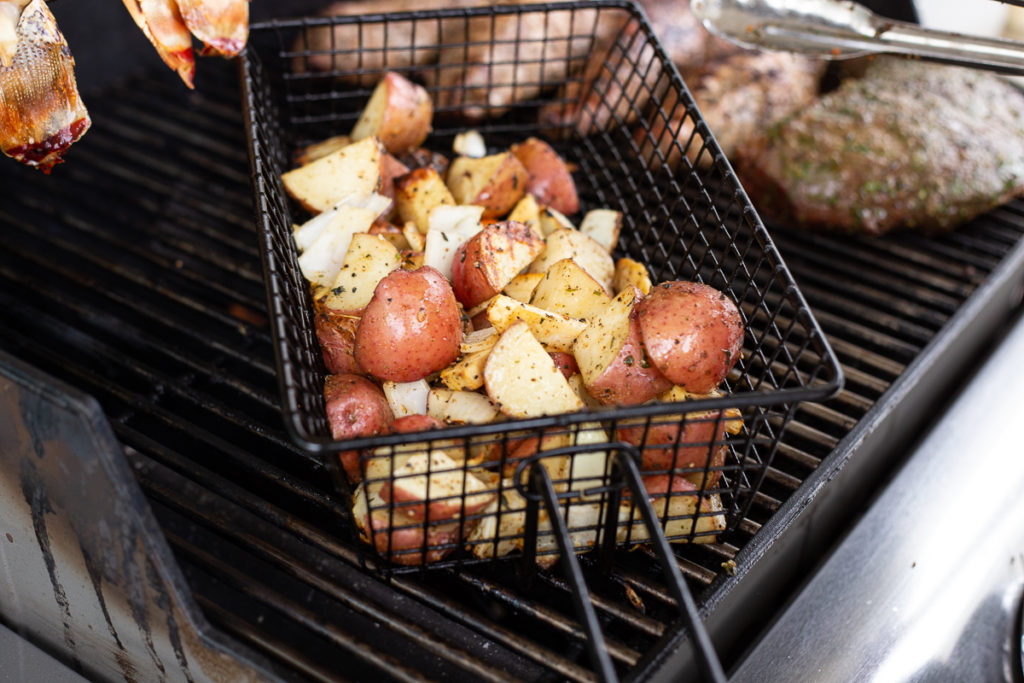 POTATOES
Start with some red potatoes, these are the most "moist" potatoes available, so they won't dry out on the grill.
Mix in some carrots, parsnips and onions. Cube them all into similar sizes (cut the carrots a little smaller) Toss with oil, garlic, salt, pepper, and some pit seasoning. Mix it all together really well. You can have this part ready to go, and just throw it on the grill when you're ready to cook.
Throw your veggie mix in a grilling basket, don't overfill! And cook on the grill until tender and charred nicely.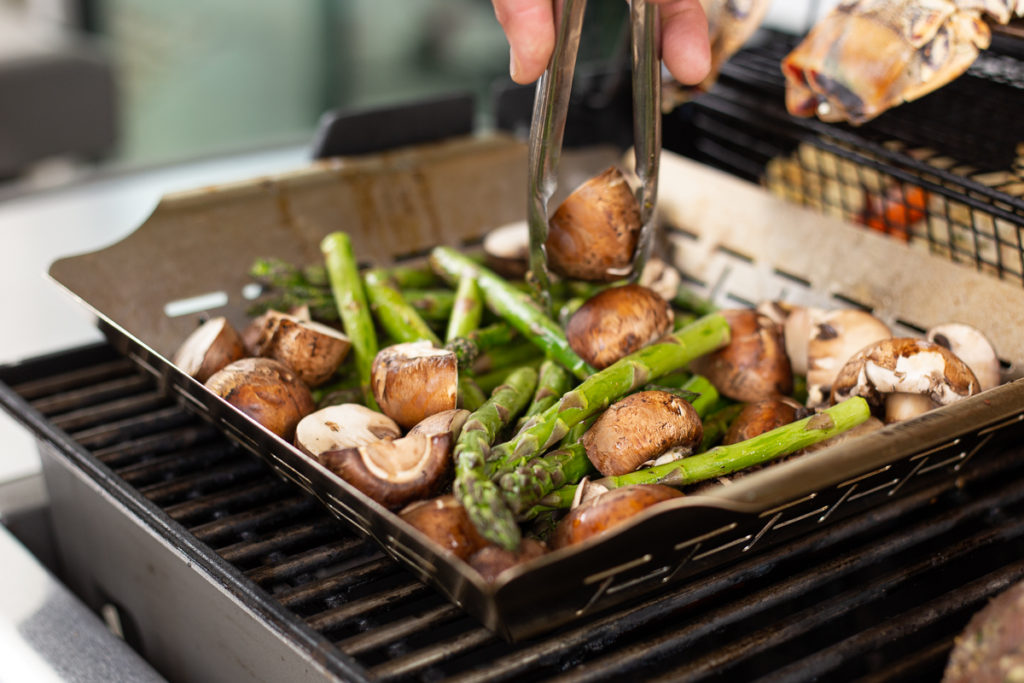 ASPARAGUS and MUSHROOMS
Toss asparagus in grill basket, and toss a tiny bit of oil and sprinkle on some Chef Todd's pit seasoning, and then place quartered mushrooms on the top.
Put grill basket on preheated grill, and place some pats of butter on the top of the mushrooms, gently mix veggies with tongs or spatula while they are cooking, until crisp tender. Serve on the side.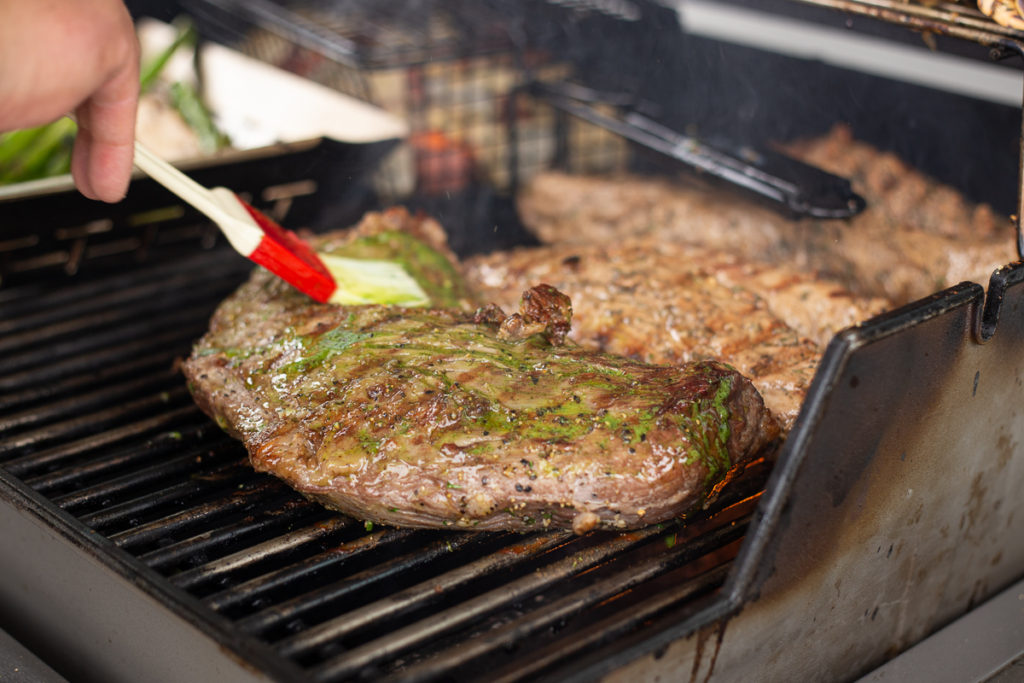 TRI-TIP STEAK
This particular steak Todd shows here is one he prepped in our previous virtual class all about cuts of beef. To see how he did this, head over to this class, and start watching the video at the 38:56 mark to get all the details on prepping a really tasty Tri-Tip Steak.
LOBSTER TAIL
Make a Stuffing:
Start by whipping some butter in the kitchen aid mixer. Stir in some cooked bacon, minced parsley, green onions, lemon zest, pinch of pepper, some Chef Todd's Pit seasoning, squeeze of lemon juice.
This is going to cook on top of the lobster, so we need something to help hold it together, so mix in some panko bread crumbs and a sprinkling of flour. Now your stuffing is going to hold together while on the grill. You want it to be buttery, but to feel thick enough to hold together.
Prep and Fill the Tail:
Cut through the top of the shell directly into the meat, and peel the tail away from the shell, keep it attached at the bottom, close the shell and lay the lobster on top of the shell.
Take your stuffing, and scoop ¼ cup of the filling on top of the lobster tail.
Cook the whole thing on the grill, while cooking use a spray bottle to keep the lobster moist, and the grill steamy inside.
CORN
Soak in a bowl of water, grill with the husk on for 15 minutes, then peel back the husk and char for a few minutes. Mop it with butter and chives, and it's soooo good.
---
Now, look at that delicious feast! Every single item, cooked out on the grill. So you can truly take your worries, leave them inside and "Get Away" with your dinner tonight.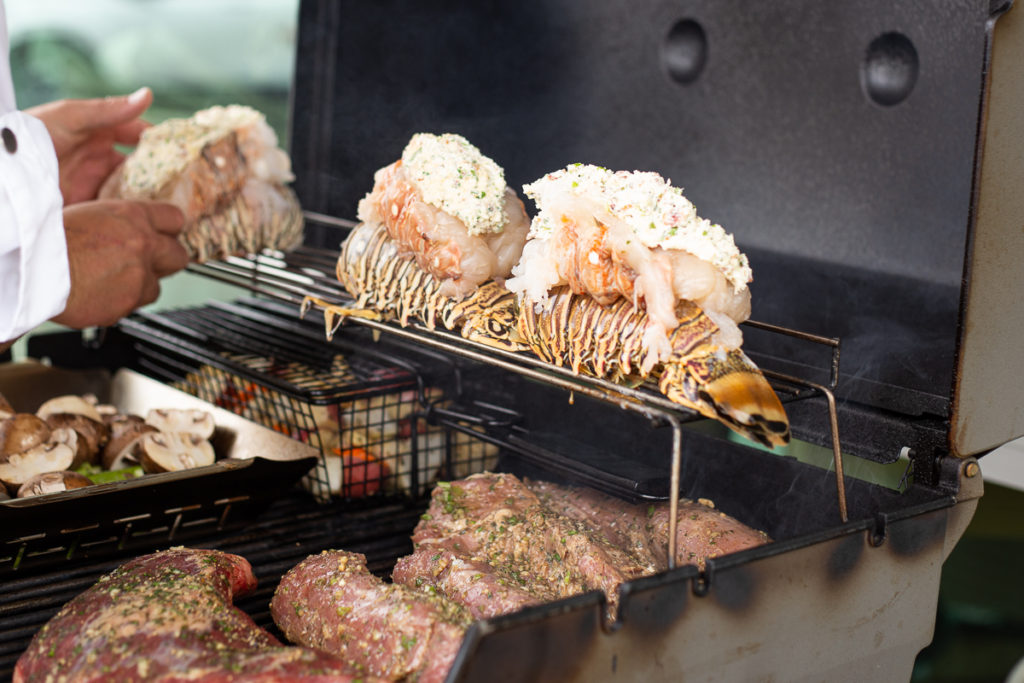 While we tried to break down the basics for each of the foods Chef Todd threw on the grill, the truth is, you just gotta watch the video! There is so much personality you just can't miss! Scroll back up and watch it.
Then, pick one or two elements from this meal to start with, and challenge yourself to make your entire meal out on the grill. We are here to cheer you on!
---
This post is part of our 2021 Grilling Gala, catch all the FREE VIRTUAL CLASSES, right here!