Looking for an easy way to transform a regular dinner into a Halloween feast? Search no more. All you need is a simple plastic mold (or three!)
Coming in three seasonal shapes: The Skull, The Brain and The Heart. We'll share three ways we used these inexpensive, reusable molds to add a little spookiness to our Halloween table.
Rice Krispies Skull Mold
Start by generously spraying the skull mold with non-stick spray. Make your favorite rice krispies recipe, or try this one here. (The one we made has caramel sauce added in for a little more dimension in color, but any recipe will work here.)
Press rice krispies into the mold using a silicone spatula coated in non-stick spray. Allow some time for the rice krispies to cool, and then remove from the mold.
You can add some gumball eyes, or paint on some color with gel paste coloring.
Your skully friend is ready to go!
Bleeding Heart Ice Mold
Doesn't get simpler than this, folks. Add some water into your mold, freeze and plop it into a big bowl of punch. Done!
You can spice it up a little with some more food coloring, and float some eyeballs in the punch, but it's really not necessary!
Brains Jello Mold
You can use any flavor of jello in any of these molds for a really easy addition to your creepy menu.

Here's what we did to achieve this marbled brain look:
Start with 6 oz jello mix. Stir with water like normal.
Remove 1/2 cup of jello mix from bowl and color with gel paste coloring- any color you want!
Stir in 1 can of Sweetened condensed milk into remaining jello mixture
Spray mold with a thin layer of cooking spray. Pour sweetened condensed jello mixture into mold.
Take the reserved 1/2 cup and gently pour into the mold, swirling it while you pour to create the marble pattern. Don't stir or mix.
Gently carry it to the fridge and let the jello set.
Remove from mold onto a plate or baking sheet and enjoy!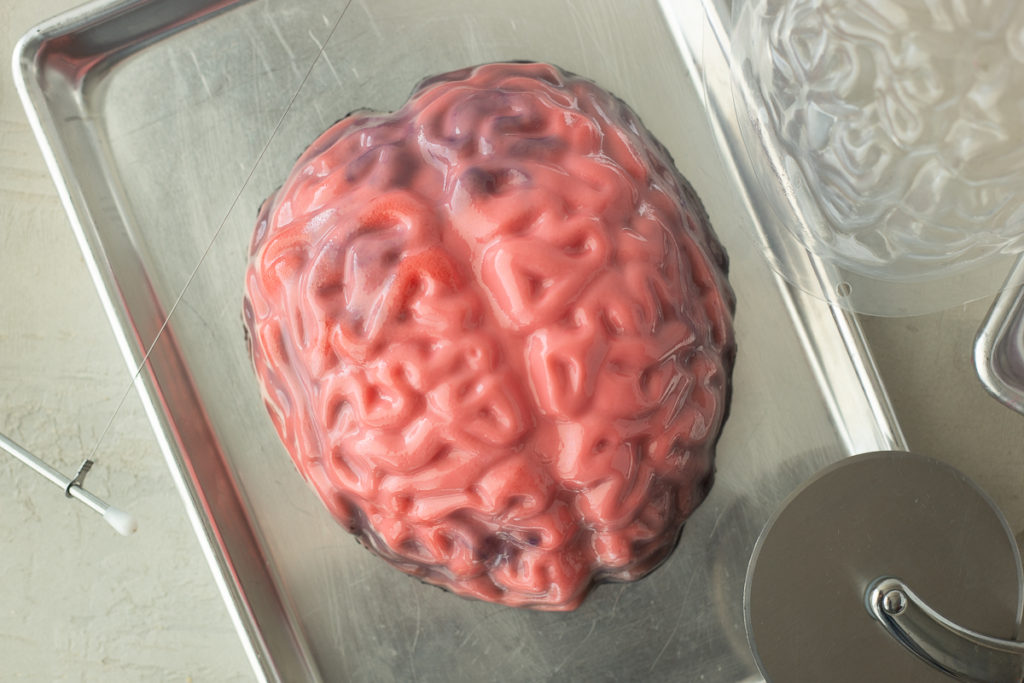 ---