KitchenAid mixers have been one of our most used tools in the Gygi kitchen for many years. Throughout that time, we have learned a lot about how to use, maintain, and care for these mixers. After completing our rounds of testing, we decided to create this guide to share our KitchenAid knowledge with you.
There are several varieties of KitchenAid mixers: tilt head, mini tilt head, and bowl-lift. Size options range from a 3.5-quart bowl to an 8-quart bowl. KitchenAids are gear-driven mixers. The smaller sizes, like the 4.5-quart Classic, 5-quart Artisan, and 6-quart Professional bowl lift, have AC motors. The 3.5-quart Mini Artisan, 6-quart Design series, and 7 & 8-quart Professional mixers have DC motors (Not sure what this means? Check out this post). All KitchenAids are gear-driven which gives them exceptional torque while still being gentle enough for delicate recipes such as meringue.
WHAT'S INCLUDED: In the box is a mixer, bowl, dough hook, wire whip, and flat beater (paddle). The dough hook is specifically designed to knead doughs. The wire whip is great for incorporating lots of air into your batters. Use this attachment for egg whites, whipping cream, marshmallows, meringues, and similar recipes. The flat beater (or paddle) is a great attachment for everything in between. Batters, cookie doughs, buttercream… you name it, this attachment is great for it! It handles whipping cold butter easily while doing a great job mixing and incorporating ingredients. We love this attachment!

ADDITIONAL ACCESSORIES: KitchenAid has created a plethora of accessories that are meant to be used with the KitchenAid motor. Many of these attachments utilize the mixer motor by attaching to the front head of the mixer.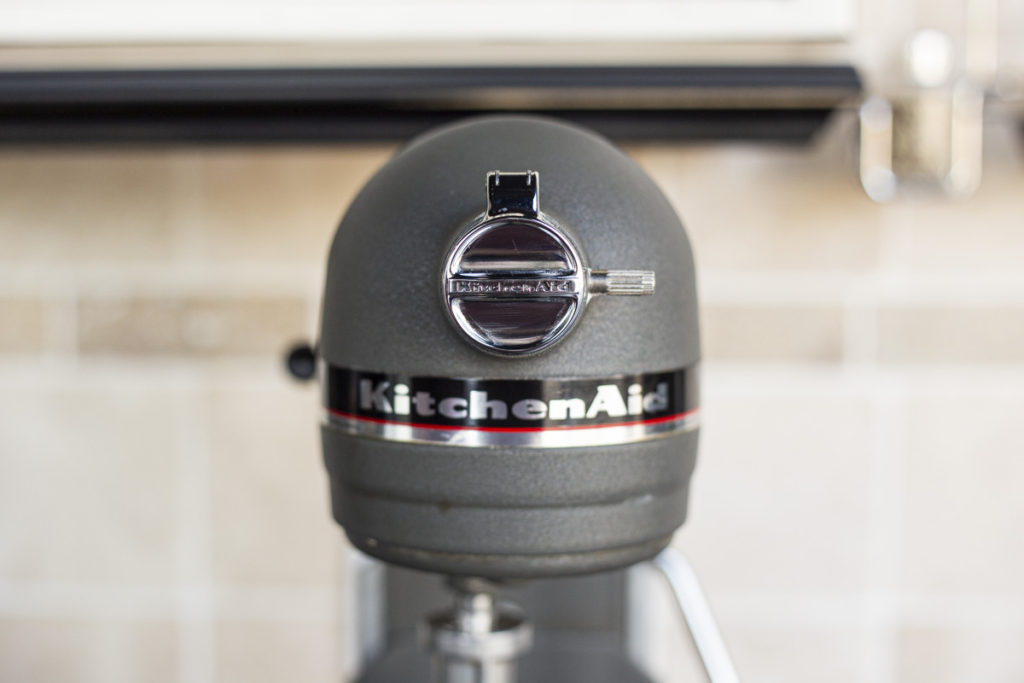 Here are some of the additional attachments KitchenAid makes: spiralizer, pasta roller, meat grinder, ice cream maker, lid, sifter and scale, grain mill, ravioli maker, sausage stuffer, slicer/shredder, vegetable/fruit strainer, large food tray, food processor, juicer & sauce attachment.
PRODUCTS WORTH THE EXTRA COST: We love using the flat beater with bowl scraper attachment with our KitchenAid mixers. This attachment is not manufactured by the KitchenAid brand, but it is designed to be used with this mixer. It features silicone scrapers on both sides of the beater. We love using this beater for batters and frostings because it reduces the need to scrape down the sides of the bowl. An added plus is that it helps incorporate ingredients better.
WHAT IT'S BEST FOR: We loved this mixer for making cake, cookies, macarons, buttercream, whipping cream, and for odd tasks like shredding chicken. To see the results of everything we tested in five different stand mixers, CLICK HERE.
MAINTENANCE: Not all KitchenAid parts are dishwasher safe. Burnished beaters are made of polished aluminum. They are not dishwasher safe and should not soak in the sink. These parts must be hand washed and dried immediately or else they will oxidize, creating a residue that will rub off onto hands and may even contaminate food. Coated beaters and the stainless steel bowl are dishwasher safe, but many prefer to handwash these items as well to help them last longer.
TIPS: When starting your KitchenAid mixer, increase the speed gradually every time. KitchenAids are gear-driven mixers, so jumping right up to a 6 or 10 speed can damage the gears. Because many of the gears are steel, KitchenAid mixers can overheat if used too much without a break. This can cause the gear grease to liquefy and drip through the bottom of the motor head and into your food. If your mixer feels warm or gives off a warm smell, give it a break for about 10-15 minutes. After that, you can resume your mixing. When kneading dough in this mixer, turn it on to speed two for no longer than four minutes. If additional kneading is required, let the mixer rest for 15 minutes, then repeat the process.
---
Take a look at how the KitchenAid mixers scored in our stand mixer testing: