With a large 7.3-quart bowl, the Ankarsrum Original Mixer is designed to mix large batches and knead heavy elastic doughs. It has a belt-driven, worm gear transmission that gives it powerful torque and speed.
What's included:
7.3-quart stainless steel bowl, 3.6-quart double whisk bowl, whisks, headgear, shaft, dough hook, dough roller, dough knife, scraper, lid, and cookie beaters.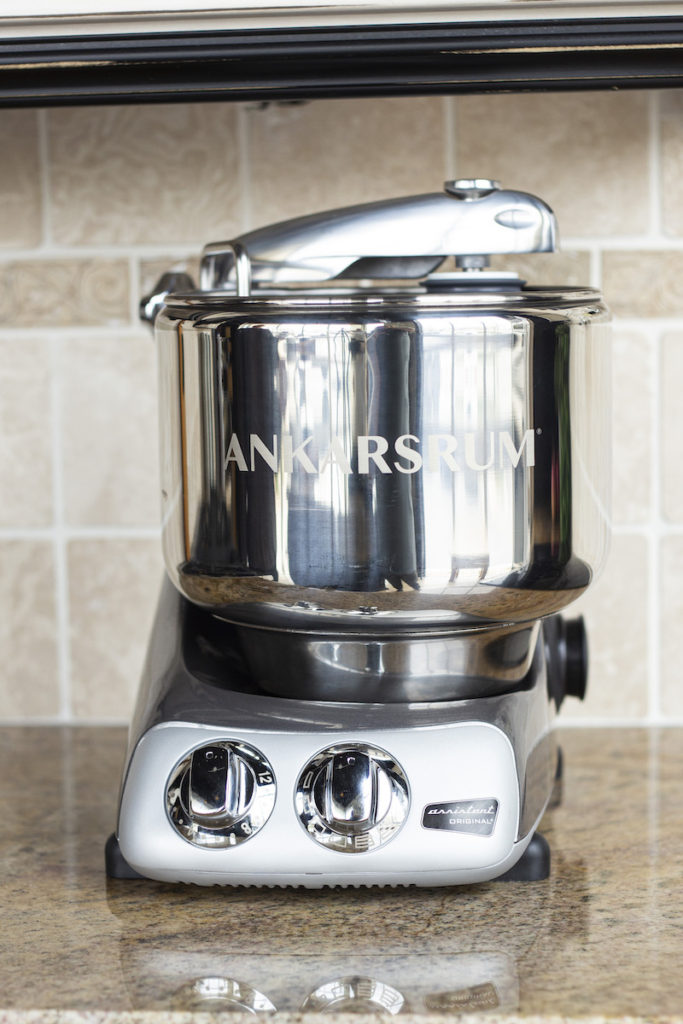 The stainless steel bowl works with the dough roller and dough knife attachments. The dough roller and knife knead and flip dough gently and can handle dense and soft doughs. While the steel bowl and dough roller work best for bread dough, we've heard that others have had success with making cookies, cakes, and other batters in it.
The double-whisk bowl and whisks are great for whipping air into mixtures. This set-up works great for frostings and whipping cream. We even had luck making cake batter with them. The cookie beaters work great with thicker doughs and batters. We were initially a little worried about the thickness of the plastic bowl but after learning more about it, we discovered that it is made of Tritan plastic that is designed for incredible strength (is the same plastic used to make airplane windows).

Additional accessories:
The Ankarsrum Original Mixer can be used for more than just mixing. Here is a list of the additional accessories: flake mill, grain mill, blender, citrus juicer, ice cream maker, meat grinder, food slicer/shredder, and 3 different pasta rollers.
What it's best for:
We loved using this mixer for cake, bread, cookies, whipped cream, and buttercream. To see the results of everything we tested in five different stand mixers, CLICK HERE.
Maintenance:
When cleaning your Ankarsrum, wipe down the exterior of the mixer with a damp cloth. Both of the bowls are technically dishwasher safe, but it is highly suggested to handwash them (especially the plastic bowl). All the attachments are handwash only. The Ankarsrum mixer comes with a scraper attachment that is specifically designed to fit within the dough roller and metal bowl making cleaning a breeze.
Tips:
The Ankarsrum is technically two mixers in one. The steel bowl with dough roller/adjustable arm functions as a spiral mixer. The smaller 3.6-quart plastic bowl and attachments function as a planetary mixer. For more info on the difference between spiral and planetary mixers, check out this post. Because it has two different setups, there is mixed information on which bowl to use and when. Many people love using solely the metal bowl, while others say it's best to utilize both. Depending on what you're making, you may need to play around and switch out the attachments and bowls.
The Ankarsrum's adjustable arm and dough roller are game-changers for kneading dough. When adjusting, start by moving it about ½-1 inch from the edge. When using the metal bowl, resistance is key to making sure the mixer is functioning properly. If you find that the bowl is spinning and the dough is not moving, you may need to bring the arm further forward. You'll want some friction and pressure while rolling, so don't place the arm too far away. It may take a little trial and error the first time or two that you use it, but luckily using and adjusting it is quite simple. When using the plastic bowl, don't be afraid to swap out attachments. For example, you can use the whips to cream your butter and sugar together and then swap them out for the cookie paddles to add in dry ingredients and chocolate chips.
---
Take a look at how the Ankarsrum Original mixer scored in our stand mixer testing: