It seems almost silly to call this a recipe, but this Quattro Formaggi Pizza was so incredible, we couldn't just keep it to ourselves. If you are looking for the ultimate cheesy pizza, this is it! The assembly is super easy, as long as you have the right ingredients.
It is totally fair to say we are obsessed with pizza. And the truth is, it never gets boring. Even when you are making something classic like a Neapolitan Pizza or a Quartro Formaggi, there is just something about home made that takes these delicacies to the next level. You are in full control of the oil, sauce, herbs, cheese, and toppings. The amounts you use for this "recipe" are all at your own discretion. Talk about power! And you can make this in a kitchen oven just as easily as you can in a pizza oven.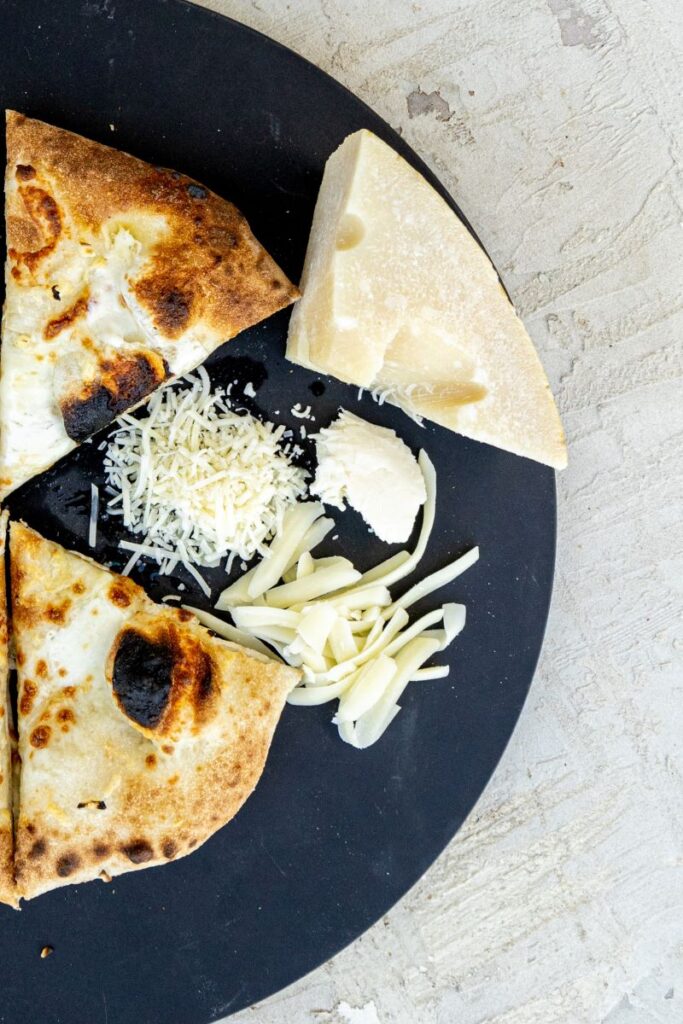 Admittedly, the secret to this little pizza is not just sprinkling the garlic on the crust, but rubbing it into the oil. This helps disperse that flavor so there is just enough in each bite. It's so delicious, you won't be able to have another pizza night without it!
Truly, this Quattro Formaggi Pizza is the prefect thing to prep before a pizza party. Right before your guests arrive, toss a couple of these in the oven so they are hot and ready. Your friends and family can munch while they put together a game plan for their own pizzas–the perfect little appetizer. You can serve it with some dipping sauce, but it is also delicious just straight up. If you prepare this pizza, or any of the other pizza recipes we have on the blog, please let us know how you like it!
Print Recipe
Ingredients
Olive oil
Minced garlic
Aged mozzarella
Fresh mozzarella
Parmesan
Pecorino Romano
Instructions
1

Preheat oven to highest setting with a pizza stone

2

Brush the premade dough with a little olive oil

3

Add garlic and rub gently into the crust

4

Sprinkle four cheeses over the top

5

Bake in pizza oven or on preheated pizza stone until crust is done
Notes
The amounts for the ingredients are completely at your discretion. But remember, with pizza, less is usually more. For your first pizzas, you will want to err more on the side of caution because you can always add a little more later after once you pull the pizza out of the oven.