Who doesn't love a show-stopping treat minus the hours and hours of decorating? Truly, a Bundt cake is so beautiful all on its own, baked to golden brown perfection with crisp edges and unique designs. But sometimes you want to do just a little bit more. Luckily, there are a ton of hassle-free ways you can decorate your Bundt cake–and eat it too. Here are just a few brilliant ideas: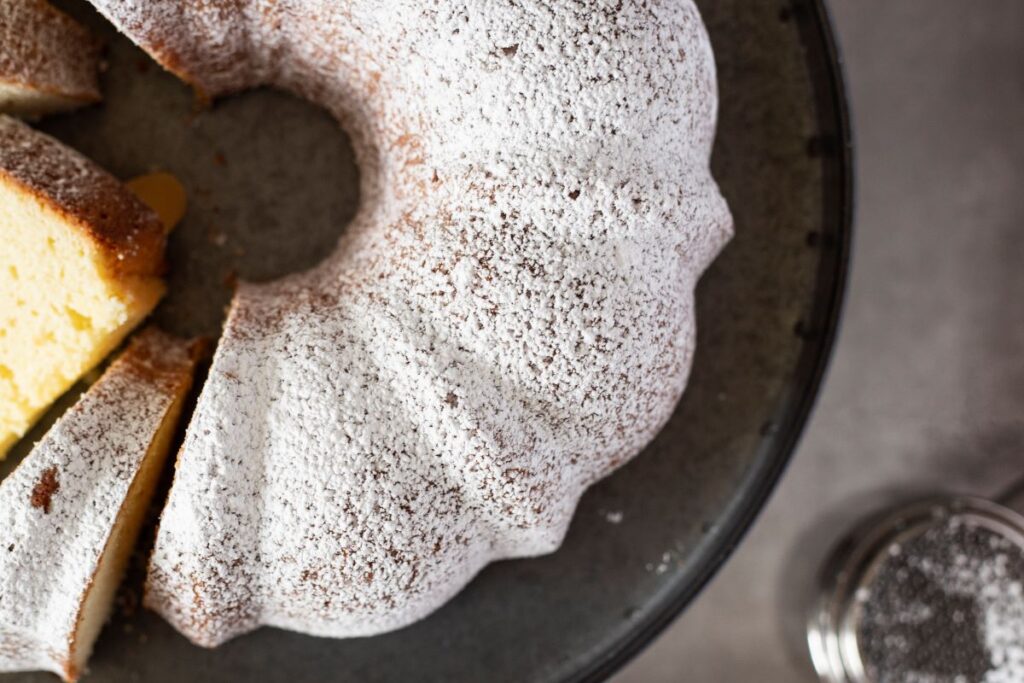 1. Powdered Sugar
This is an extremely simple way to decorate a Bundt. The powdered sugar is a great idea if your cake needs to travel, or you are going to have your cake in the heat, or you just want something fast and simple. It also highlights the shapes baked into your cake from the pan without going overboard. And though the application is pretty straight forward, there are some things you want to keep in mind. First tip, do not put powdered sugar on a hot cake. Make sure it cools to room temperature; otherwise, the heat will melt the powdered sugar. Second tip, use a powdered sugar shaker or a fine mesh strainer to get an even coating on your cake. These tools are so fun, and you always feel like a professional every time you use them. Third tip, you don't want to apply the powdered sugar too soon or it might start to dissolve into the cake. Instead, be sure and sprinkle it on right before slicing and serving.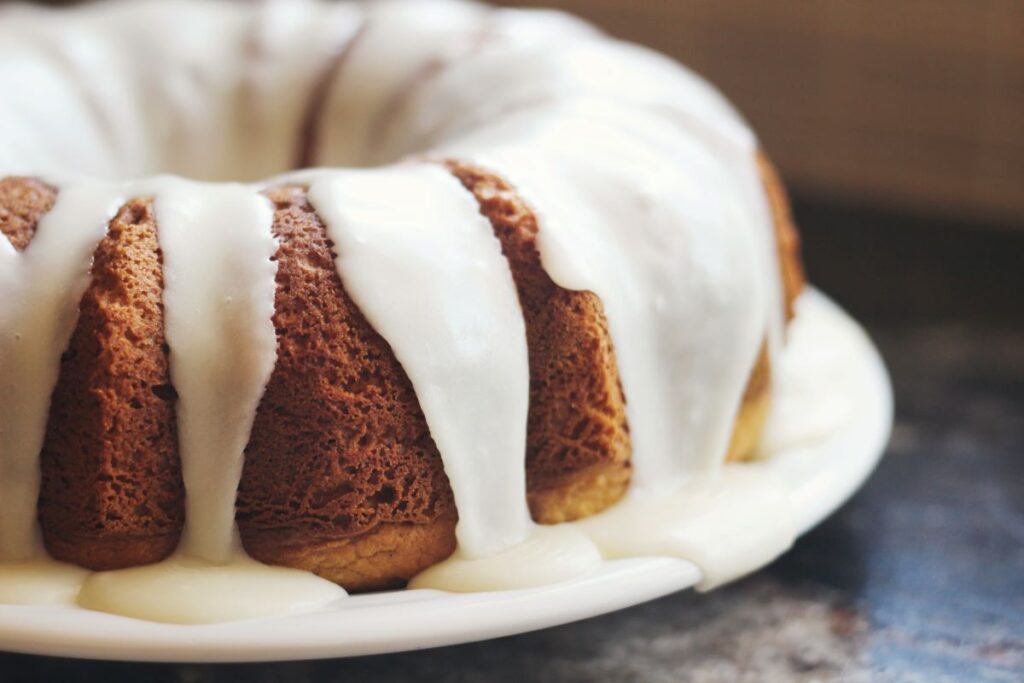 2. Simple Glaze
We love, love, love a simple glaze on a beautiful Bundt cake. And our go to recipe is from Nordic Ware. Simply use a hand mixer to combine 1 cup powdered sugar, 1 tablespoon softened butter, 1 tsp vanilla extract or almond extract, and 2-3 tablespoons milk. Once the glaze is smooth and the thickness you prefer, slowly pour glaze on top of a cooled cake so it drizzles down both sides. That's it! Done!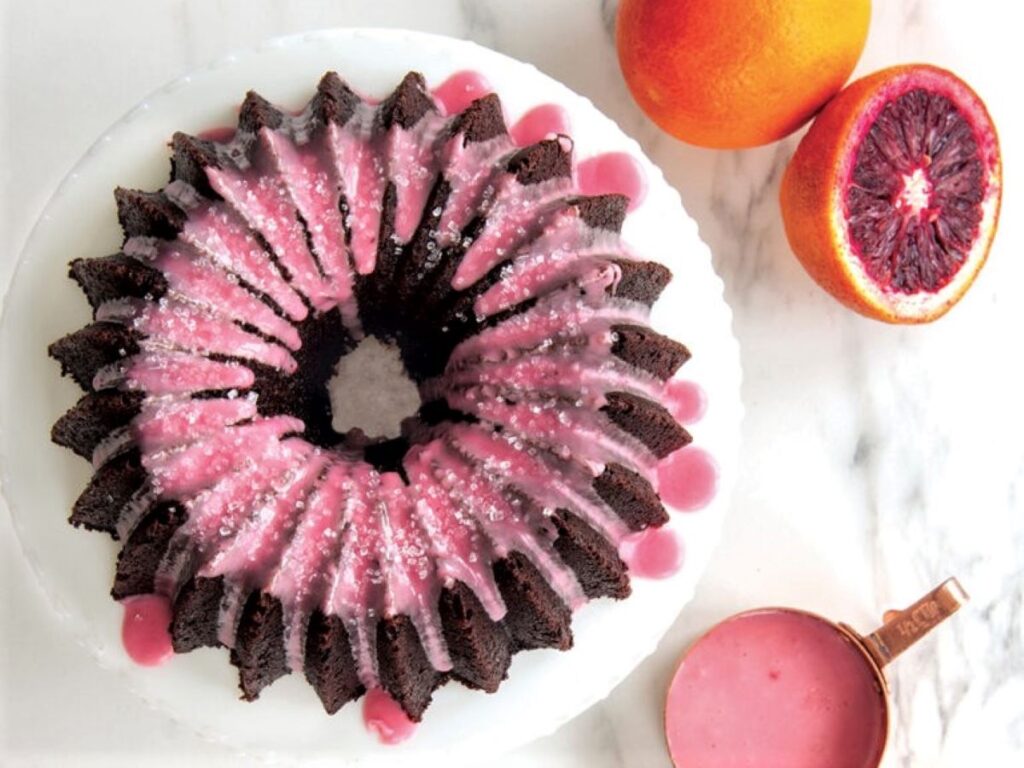 3. Colored/Flavored Glaze
Step things up, but just a notch with a colored or flavored (or both) glaze. You can follow the recipe above and swap out the vanilla extract for a different flavored extract or emulsion (red velvet or butter vanilla. Yum!). Or, for fresh flavor, you can add ¼ cup of powdered sugar and mix in 3 Tbsp of juice (blood orange, grapefruit, lemon, orange, lime, etc.). And if you really want to make a splash, you can mix in a couple drops of food coloring. A little can go a long way when you decorate your Bundt cake.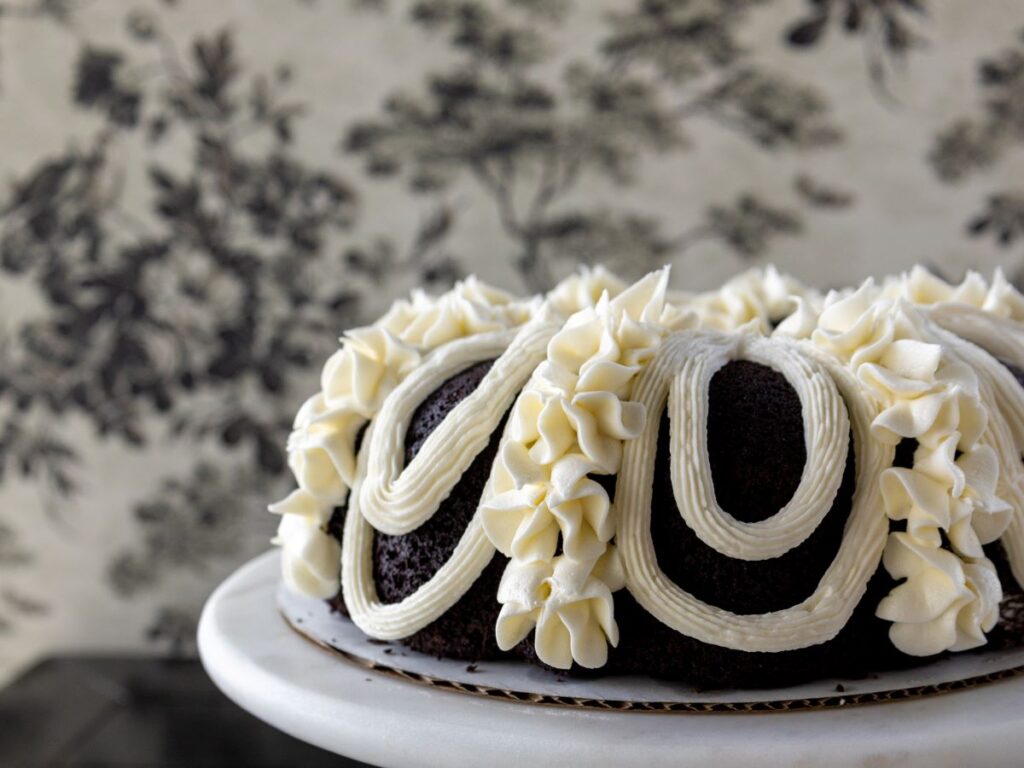 4. Frosting
Who can say no to frosting?! Not us! Butter cream, chocolate fudge, cream cheese–we want it all! And we know that frosting is often reserved for tiered cakes and cupcakes. But you can totally put it on your Bundt cakes too. You can keep things simple and just follow the lines of your cake, or you can be way more elaborate and decorate with pearls, ruffles, and florets.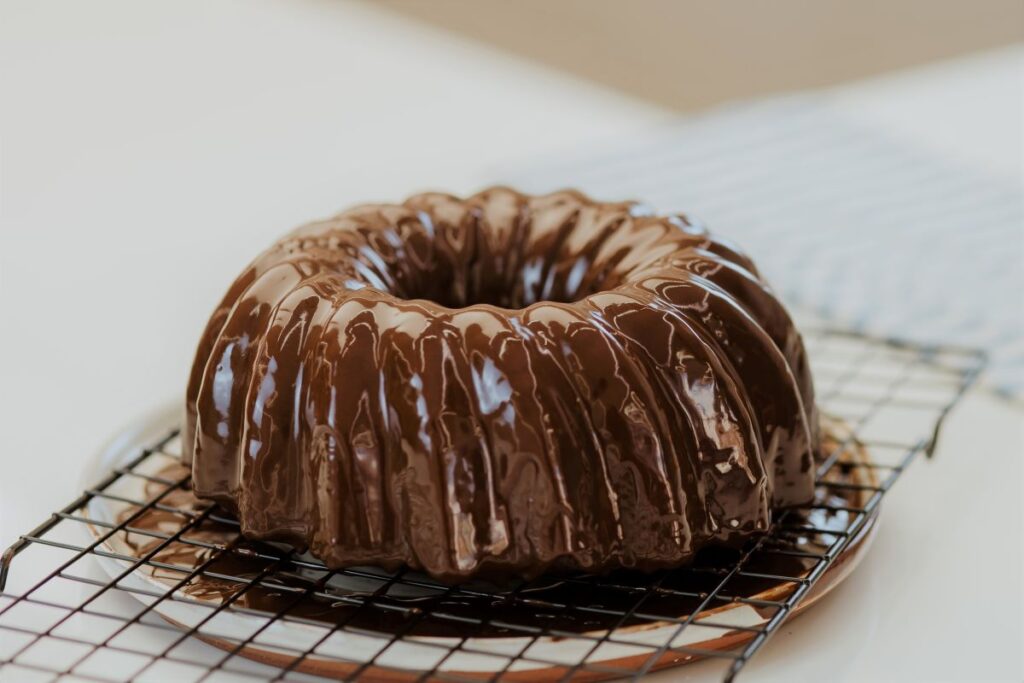 5. Magic Shell
Class things up by drizzling a cold Bundt cake with some magic shell. It is so easy to make! Melt down 1 cup of quality chocolate in the microwave in 30 second increments (we like to use dark or semisweet couverture chocolate) and then mix in 2 tablespoons of coconut oil. Place the chilled Bundt cake on a cooling rack placed inside a baking sheet and then drizzle the magic shell over the top until all the sides are coated. The cake needs to be chilled so the shell can set up. If it doesn't set up right away you can put the cake in the freezer to help things along.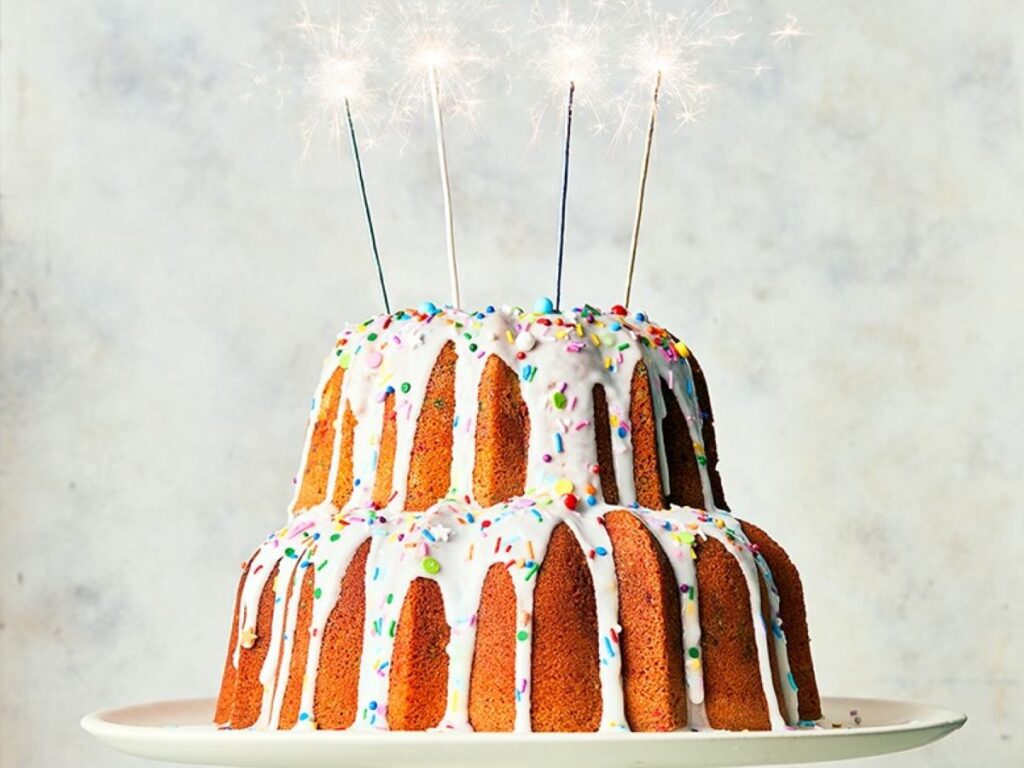 6. Sprinkles
The last thing we will talk about are toppings. There are a lot of fun ways to top a Bundt cake. Why not start with sprinkles? There are so, so many varieties of sprinkles! Confetti sprinkles. Rainbow sprinkles. Butterfly sprinkles. Unicorn sprinkles. Cactus party sprinkles. You name it–we have sprinkles for that. They can be colorful and fun or more elegant and understated. Pair the sprinkles with your favorite glaze or frosting.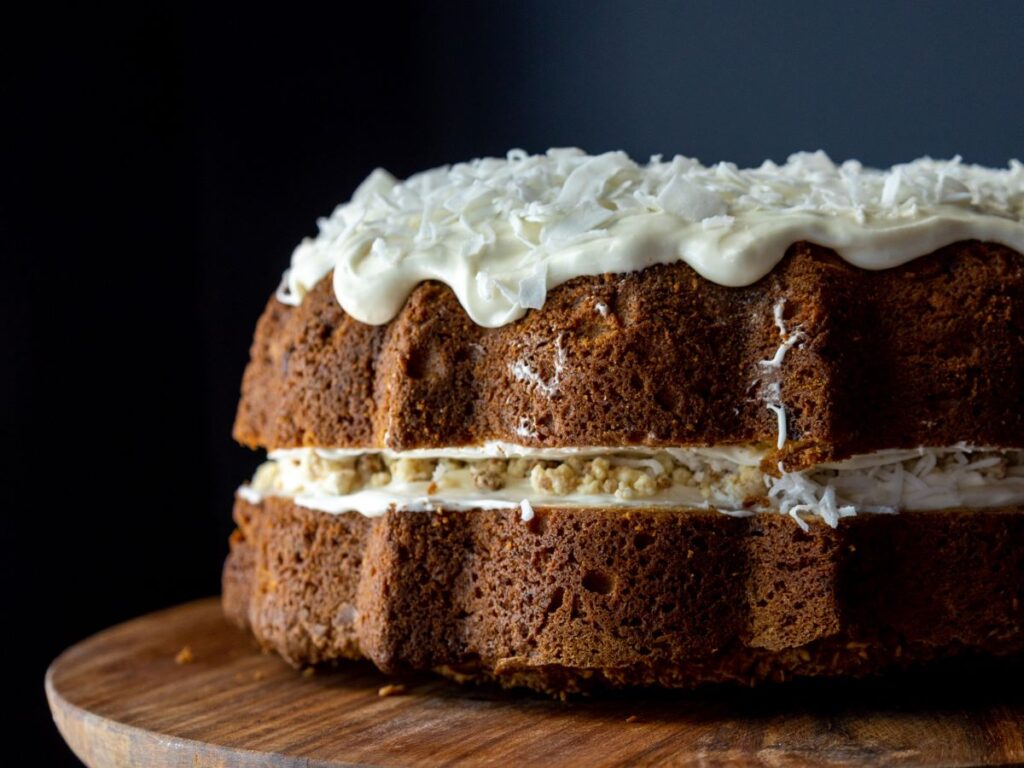 7. Coconut Flakes
Take us to the tropics! Our take on the Tom Cruise Bundt cake was such a big hit and we know the coconut contributed to that. Not only the coconut flavor in the cake, but also all the different types of coconut we were able to showcase. This cake has toasted coconut, fancy shredded coconut, and coconut chips. And the white on white of the cream cheese frosting and the coconut was chef's kiss perfection. If you are one who likes coconut, there is always room for more on top of a Bundt cake.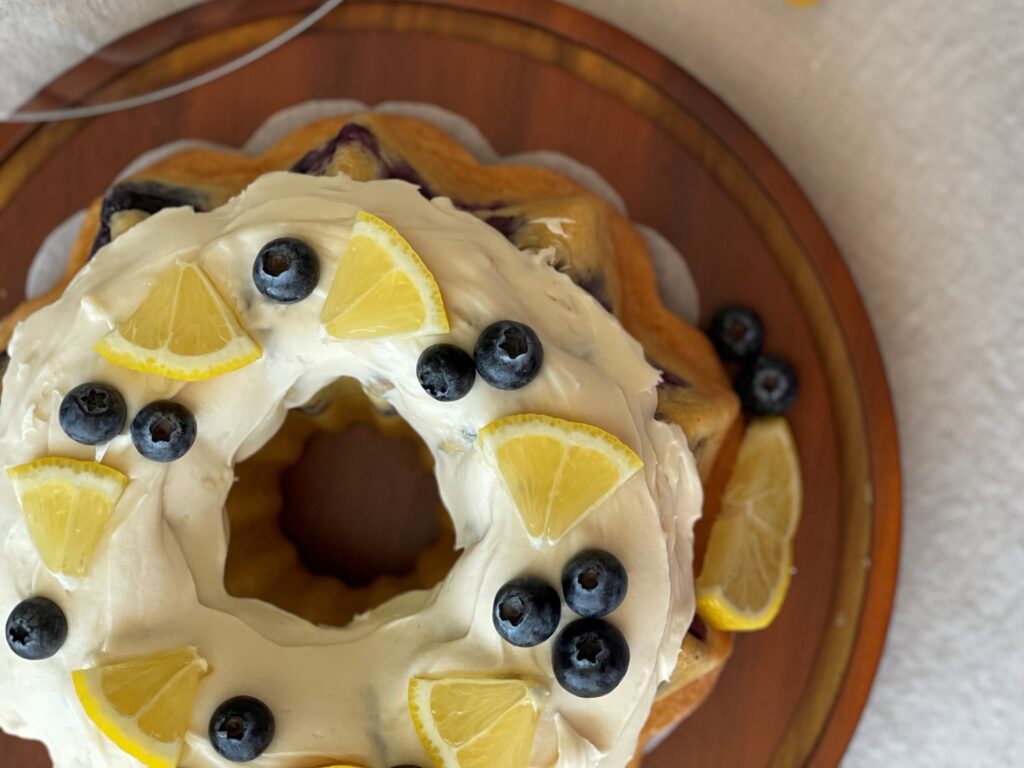 8. Fresh Fruit
Fruit is a classic topper for Bundt cakes. You can match the season and highlight the other flavors of your Bundt cake. Think strawberries or lemon and blueberries for spring. Blood orange slices or peaches for late summer. Or even cranberries for winter. Serve the cake and fruit up plain or top with some whipped cream or a scoop of vanilla ice cream. So fresh and delicious!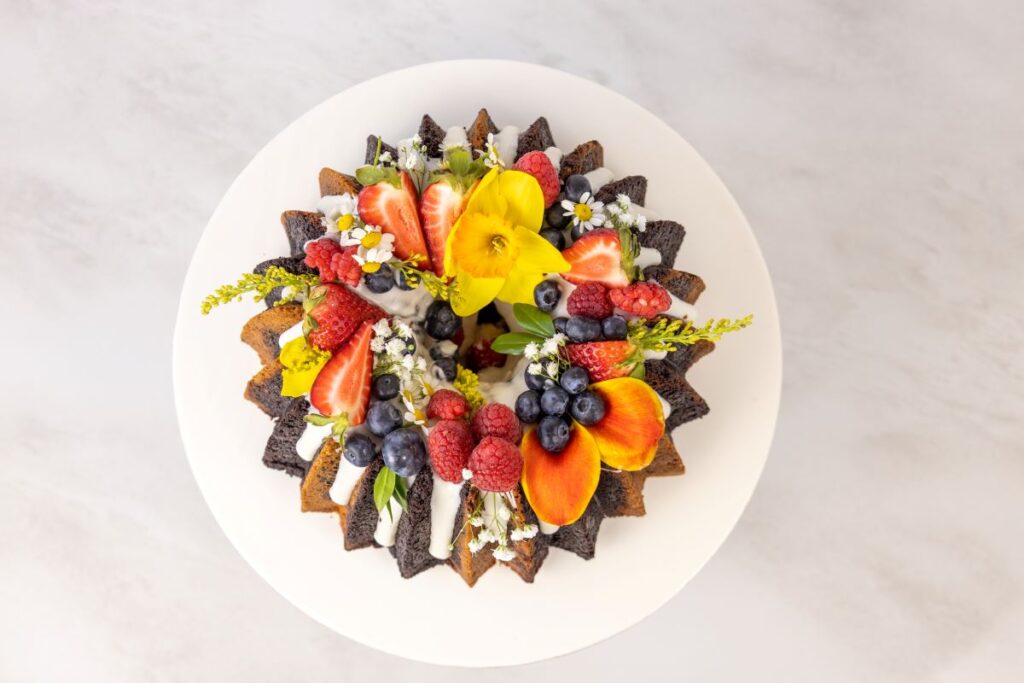 9. Flowers
Want to make a Bundt, but fancy? Just add flowers and greenery. We have seen this done several ways. You can add a small bouquet of flowers to the center of the Bundt for a show-stopping centerpiece. Or you can scatter the flowers across the top or the Bundt or loaf. Some popular edible flowers include citrus blossoms, daisies, hibiscus, lavender, lilacs, pansies, and roses. Edible greenery can include arugula, basil, mint, rosemary, and thyme. You can use some non-edible flowers as decoration, but make sure you pick everything off before you slice and serve your cake.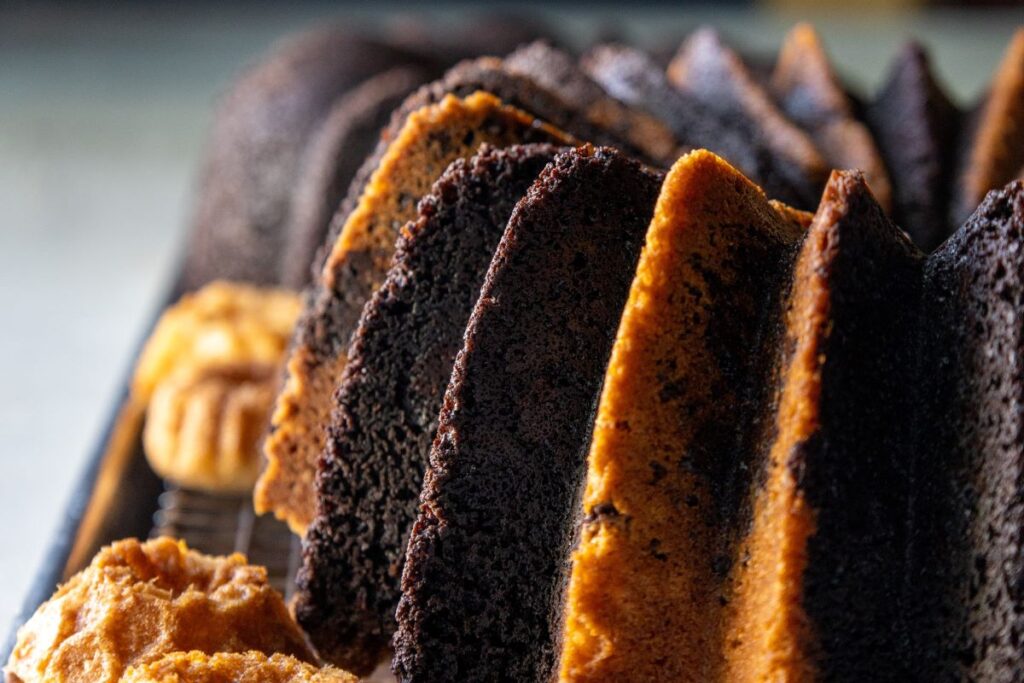 10. Naked
Use your pan to your advantage! If you bake a Bundt in a beautifully detailed pan, count that as your decorating. No need to add any extra steps after baking. But there are some things you can do beforehand if you want to make your naked cake more interesting. You make two-tone batters and create a gorgeous swirl cake. Or you can layer your colored batter into the sections of the cake pan for interesting patterns and designs. Have a Bundt pan with perfectly shaped swirls or slices in the shape of the top? Try baking your fruit right into the top of your cake, like we did with these peach slices on this Olive Oil Ricotta Bundt. Trust us, with a Bundt–less is usually more!
When it comes to making a Bundt, decorating truly is a piece of cake. From powdered sugar, to glaze, to frosting, to so much more–you can keep it simple or go as elaborate as you want. There is no way you can get it wrong. And we hope a few of these ideas have inspired you. We can't wait to see all the ways you decorate your Bundt cake!