When we take the time to reflect on past Christmas memories, so many of them are connected to cooking, creating, and sharing in the kitchen. Whether it's baking multiple batches of cookies in your home kitchen and delivering them to neighbors, or having a family party where each family brings a cookie to share, there is such a strong connection between cookies and the Holiday season.
These memories became our inspiration for the Holiday cookie guide! May you take these recipes, and mix them in with some of your yearly favorites, to create a meaningful way of sharing love throughout the Season. Bake up a variety of cookies, place a few of each into a box (this is where things can get really fun!), tie it up with some festive ribbon, and you're ready for delivery. Or, invite over some family and friends for an in-person cookie exchange! Each person brings a tray of cookies and then they are split to take home. Either way, we hope you all are able to spread love and create memories through cookies!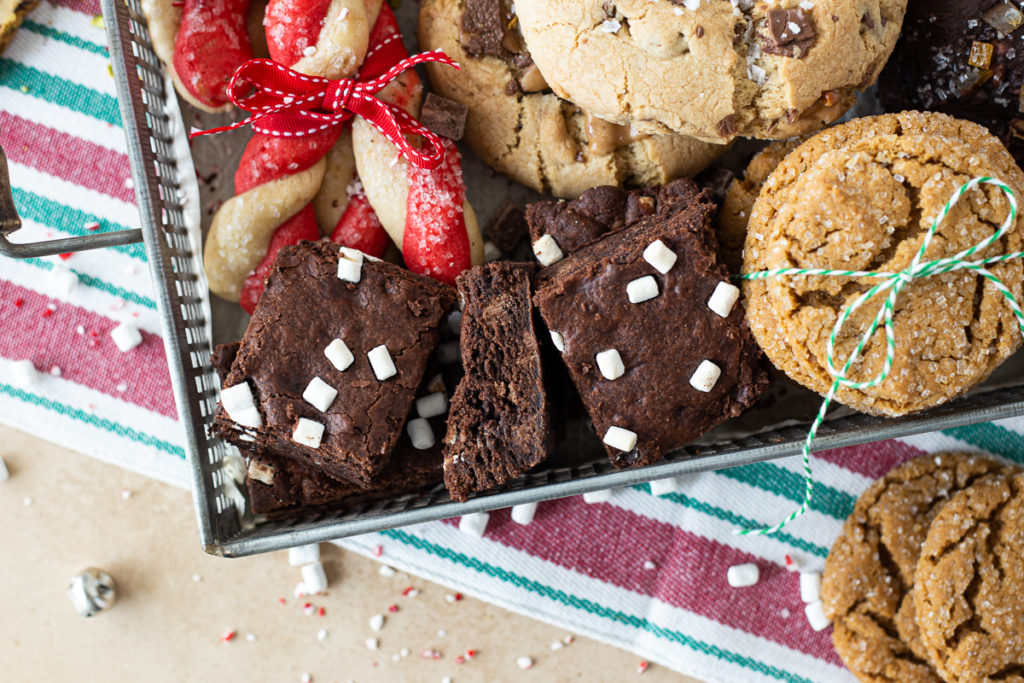 Cookie Techniques
As with everything we do here at Gygi, we love to get deep into the hows and whys of things. So before we jump right into recipes, let's take a second to talk about cookie techniques.
Drop cookies: these are the most common and generally the easiest cookies to make. A drop cookie is created when a drop of cookie dough is placed on the cookie sheet with either a spoon or a cookie scoop. Drop cookies tend to spread and flatten slightly into a perfectly imperfect disc. The classic chocolate chip cookie is a great example of this.
Shape cookies: these cookies are created when the dough is molded and shaped prior to baking. This extra step results in a fun shape or pattern that will hold when baked. Think of an almond crescent cookie or rolled peanut butter cookie.
Roll & cut cookies: are such a classic. Cookies doughs that are designed to be rolled and cut tend to be a little bit stiffer and are generally easier to work with at a cooler temperature. The traditional roll and cut sugar cookie is the most popular type of this cookie.
Cool & slice cookies: this type of cookie is known for being purchased in the refrigerator section at the grocery store but can also be made at home. The dough is created and rolled into a log before being placed in the fridge to set up. Once set, the dough is then cut into thin slices and baked. Holiday variations of this cookie can be found at the grocery store, while a pinwheel variation is the most commonly made at home.
Pressed cookies: this style of cookie usually requires a specialty dough that varies based on the technique used to press the dough into a shape. There are multiple tools that can be used to press a cookie, the most common being a spritz cookie press.
Bar cookies: are baked in a pan and then cut into squares or rectangles after baking and cooling. Bar cookies can have a variety of flavors and textures. Two of the most common bar cookies are brownies and lemon bars.
Each style of cookie has so much to offer! From a completely different baking process to diverse textures in the dough, and various consistencies once baked, we hope you'll try out each different style. Who knows, you may just find a new favorite!
The Christmas Cookie Recipes
---
Looking for a fun new tradition?
Try one of these cookie swap ideas this holiday season.
Host a Cookie Swap Party:
This is a great way to gather interested family or friends and get everyone involved.
Pick a time and date and ask each person invited to bring their favorite holiday cookie with enough to share between all invited guests.
Once everyone arrives, split up the cookies so everyone gets at least one cookie (or more if you have enough) from each guest.
You can provide cute little boxes for guests to take their cookies home in, or they can take them on the tray they brought with them. No need to deliver treats this year, just make everyone come to your house to get them!
Bonus idea: ask guests to bring copies of their recipe to share with everyone, too. Then everyone can make their favorite recipe when they get home.
Create a Cookie Treat Box:
Start by making your favorite holiday cookies and treats. We love simple recipes that can be made a day or two in advance.
Use some large candy boxes or plates, and lay out one for each person you want to share with.
Fill the box or plate with your variety of treats. You don't have to go crazy here, find three different treat options that can really get people excited. And don't be afraid to mix in store-bought treats with your homemade cookies.
Add a little ribbon or bow, and a little tag, and you've made an adorable homemade gift.
Deliver the boxes to your co-workers, neighbors or friends and see all the smiles!
---
No matter how you share (or don't share!) your holiday treats, we hope this gives you some inspiration to try something new, or maybe dust off an old recipe you've been wanting to whip up again. No matter the flavor, the memories baked in the kitchen are made to last.